UCLA administrators agree to several sit-in demands from student organizations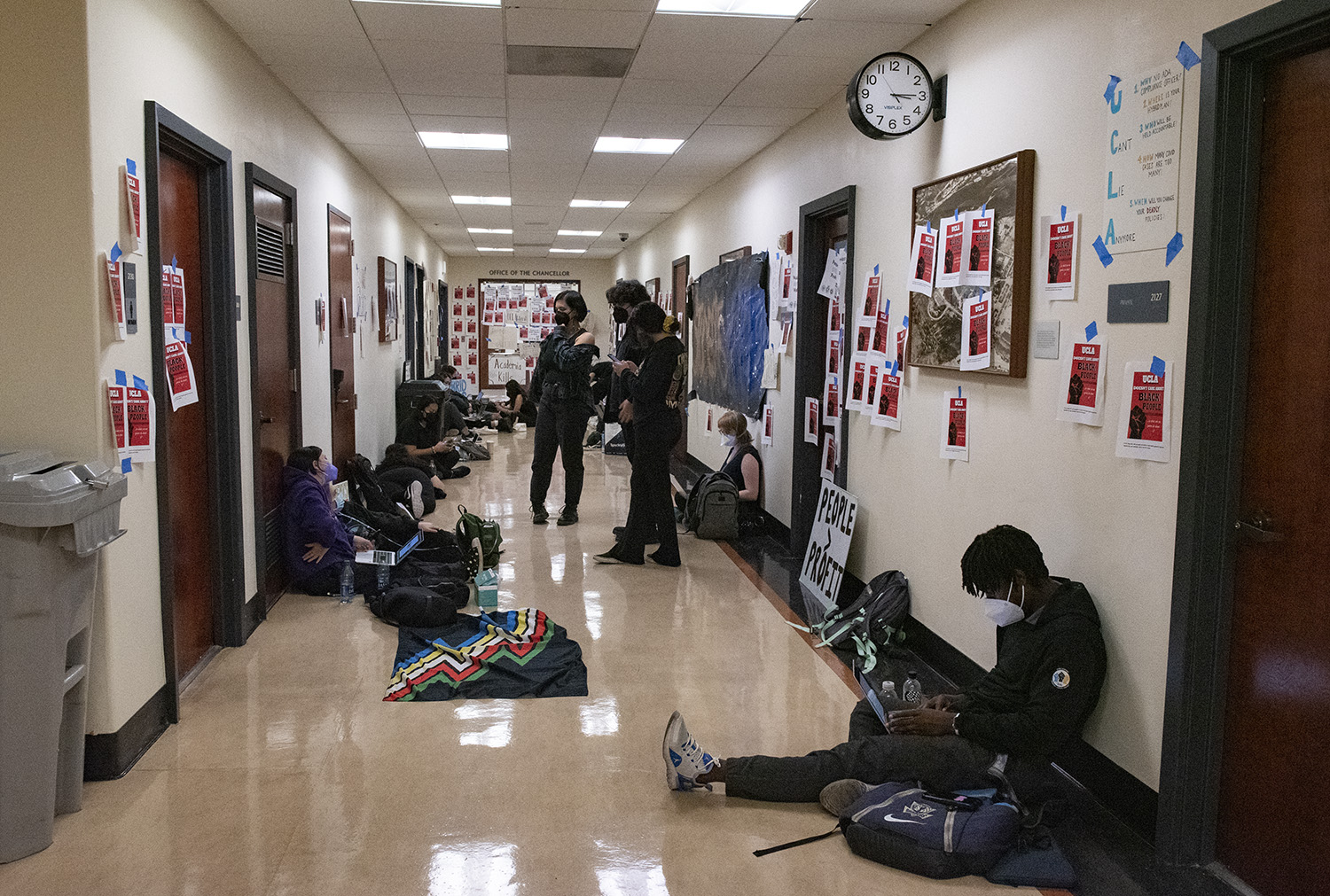 Students sit on the floor of Murphy Hall a sit-in protest. Student leaders won multiple concessions from university leaders as a result of their 16-day sit-in protest on campus. (Justin Jung/Daily Bruin senior staff)
UCLA administration agreed to most of the demands of the student leaders who organized the 16-day sit-in protest occupying Murphy Hall that took place in early February.
UCLA community members staged a sit-in demonstration in front of Chancellor Gene Block's office in Murphy Hall starting Jan. 31 to demand hybrid learning options and more support for marginalized student groups. The advocacy was organized by the Disabled Student Union, Undergraduate Students Association Council and Mother Organizations coalition. The sit-in ended on Feb. 16.
[Related: Student leaders suspend sit-in, reach agreement with UCLA administrators]
University leaders met in person with students throughout the protest to discuss the 40 requests they made, UCLA spokesperson Bill Kisliuk said in an emailed statement.
University leaders did not agree to require that all instructors offer hybrid learning options. The Academic Senate sent the DSU a letter explaining that it could not do so due to academic freedom, a university policy that guarantees that instructors can control the content of their classes.
Kisliuk said in an emailed statement that the campus currently lacks the capacity to live stream and record all classes and that classroom attendance policies are under the jurisdiction of individual instructors themselves, rather than university administration.
However, the university agreed to several DSU demands, including hiring Zoom assistants and additional Center for Accessible Education staff, writing letters to faculty in support of live-streaming lectures and supporting the creation of a Disability Cultural Center, Kisliuk said. The university will also hire an Americans with Disabilities Act compliance officer through the UCLA Office of Equity, Diversity and Inclusion, he said.
UCLA also agreed to commission an external investigation of the UCLA Community Programs Office in response to demands from the Mother Organizations coalition, Kisliuk said.
The CPO is an administrative body overseeing multiple student-led retention and outreach programs. The CPO is composed of professional staff under the direction of UCLA Campus Life, which is housed under UCLA Student Affairs.
The Mother Organizations coalition had previously called for an investigation into the CPO administration regarding alleged misconduct toward students of color, arbitrary delays of student work and a lack of transparency surrounding more than $2 million in student fees intended for student action and retention projects, said Ryan Factora, a Samahang Pilipino retention coordinator and second-year pre-human biology and society student.
The university also agreed to set up a liaison position to facilitate communication between the CPO administration and students during the sit-in discussion, Kisliuk said.
Block approved the temporary relocation of three CPO programs – the Afrikan Education Project, Students Heightening Academic Performance through Education and the Academic Supports Program – to the Black Bruin Resource Center, Kisliuk said. The chancellor supports making the temporary relocation permanent, Kisliuk added.
In addition to moving these programs to the Black Bruin Resource Center, administration agreed to allocate $50,000 in annual funding from the chancellor's office for the resource center as well as make a one-time $100,000 allocation from Student Affairs, Kisliuk said. Regarding the resource center's management, vice chancellor Monroe Gorden Jr. will work with the USAC Office of the President on demands by the Afrikan Student Union for a shared governance model, Kisliuk said. He also said administration agreed to work with the American Indian Student Association and Pacific Islands Student Association to discuss options for more funding and resources for retention projects and consider creating resource centers for them.
The university will also begin the process of establishing a Living Learning Community for American Indian students. An LLC is a specialized living space for students with similar interests to support their personal, social and academic needs through UCLA Residential Life.
UCLA Student Affairs and the EDI office agreed to mandate annual discrimination trainings for all student-athletes beginning in fall in response to the Black Student-Athlete Alliance's request, Kisliuk added.
UCLA administrators agreed to arrange regular meetings with student leaders, Kisliuk said. The Mother Organizations coalition will be able to meet with Gorden monthly and with Block at least twice before the end of spring quarter, he added. Block will also meet with the Black Alliance, a stakeholder group composed of several organizations serving Black UCLA community members, at least three times during that period as well, Kisliuk also said.
Student Affairs will meet regularly with the Black Student-Athlete Alliance and UCLA Athletics to discuss discrimination reporting with staff and coaches, Kisliuk said.
He also said Rhea Turteltaub, the vice chancellor of external affairs, will meet with the Philanthropic and Sponsorship Naming Committee to consider renaming Janss Steps to Kuruvungna Steps. Kisliuk said the university must consult with the committee before taking further steps to rename Janss Steps because renaming buildings dedicated for philanthropic gifts requires governmental approval.
University leaders rejected some student protesters' demands.
The university declined to give full control over CPO project committees and directives to the Mother Organizations coalition because doing so would place too much legal responsibility on students, Kisliuk said. In lieu of full autonomy, Student Affairs has made changes to the CPO hiring and training process to emphasize student input, he added.
The university also declined to commit to adding all committee members as recipients on all email correspondence between project staff, coordinators and CPO employees for privacy reasons, said Kisliuk.
The university declined to immediately add 10 Pacific Islander faculty to the Asian American Studies Department and one additional Native American admissions office recruiter but partially agreed to the PISA request to hire two recruiters, Kisliuk said.
UCLA administration is working with student leaders to address their administrative concerns, but legal and resource limitations prevent some proposals, Kisliuk said.
"We understand and respect the passion of our students," Kisliuk said. "At the same time, resources are finite and every commitment of funds and university resources has implications for other parts of the university and other communities UCLA works to support."
Eliana Sisman, a DSU member and second-year international development studies student, said the DSU is not yet satisfied with the university's response to its demands.
"They decided in this case that our issues are not important enough to justify making professors teach in a particular way," she said.
She also wrote in an emailed statement that if the Academic Senate continues to refuse to expand hybrid learning options, the DSU will collaborate with disabled student leaders across the University of California system and consider options to file accessibility lawsuits against their respective universities.
The Mother Organization coalition's overall goal is to obtain co-governance, said Factora.
"What our role as students should be is to set directives, to set initiatives, and to set visions for how we want our campus and how we want our community … to look like," he said.
Samone Anderson, the ASU chairperson and a fourth-year African American studies student, said she was pleased that the university committed to meeting the ASU's demands.
"We've been meeting with the chancellor for over a year, asking and advocating for an endowment and several other things for Black life," Anderson said. "We're just pleased to say that he's finally committed to it."
She also said the ASU is now working on implementing a campuswide training program to educate the UCLA community on topics such as anti-Blackness, discrimination and microaggressions.
The recent advocacy by student leaders is resulting in progress on equity, diversity and inclusion at UCLA, and the university is committed to continuing this work, Kisliuk said.
"There are many different perspectives and voices on our campus, and equity, diversity and inclusion are core values for UCLA," Kisliuk said. "We're very proud that UCLA has worked so hard to be accommodating and we continue to work at that."