UCLA football partners with nonprofits to recruit students for marrow registry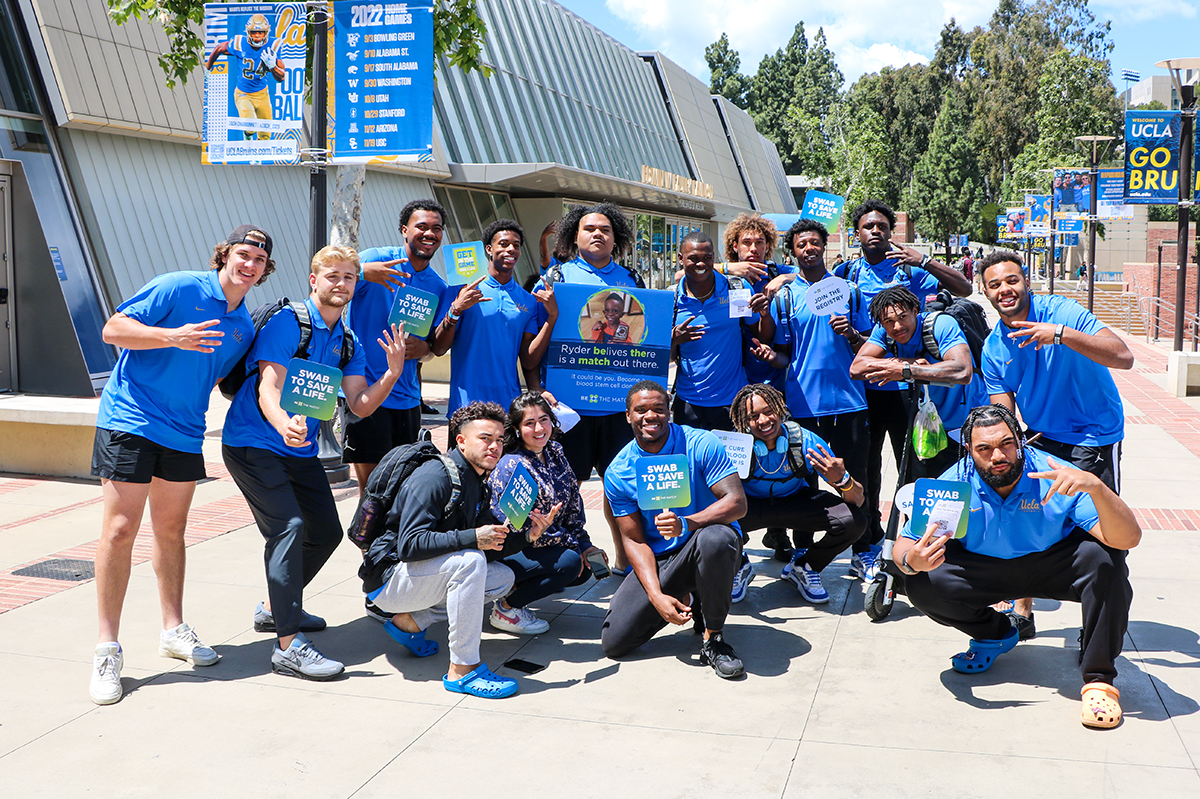 UCLA football players pose at the event with signs. The team hosted a sign-up drive Friday in partnership with two nonprofits to encourage students to register as bone marrow donors. (Noah Danesh/Daily Bruin)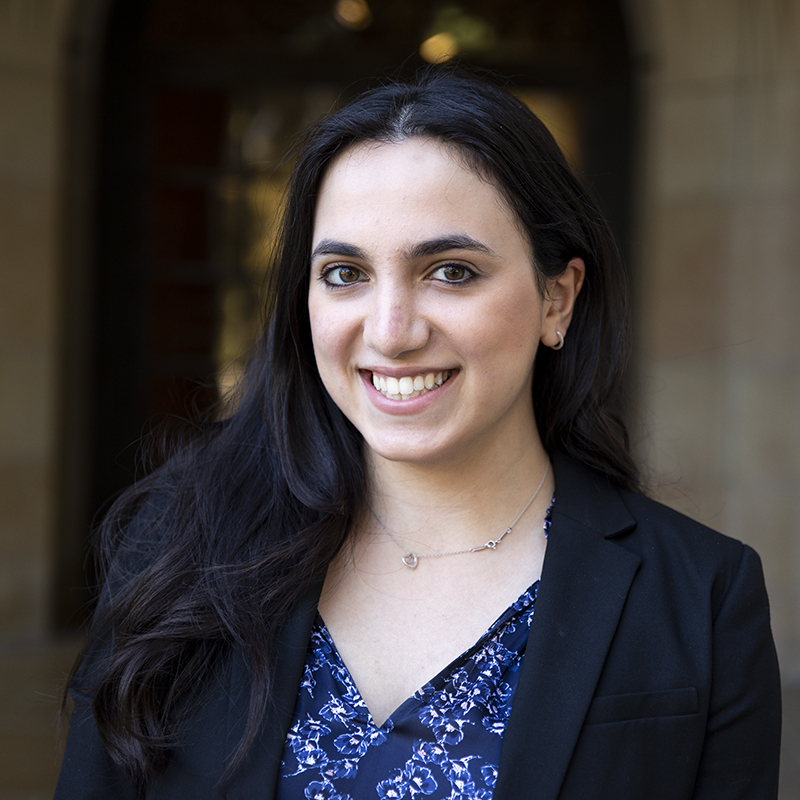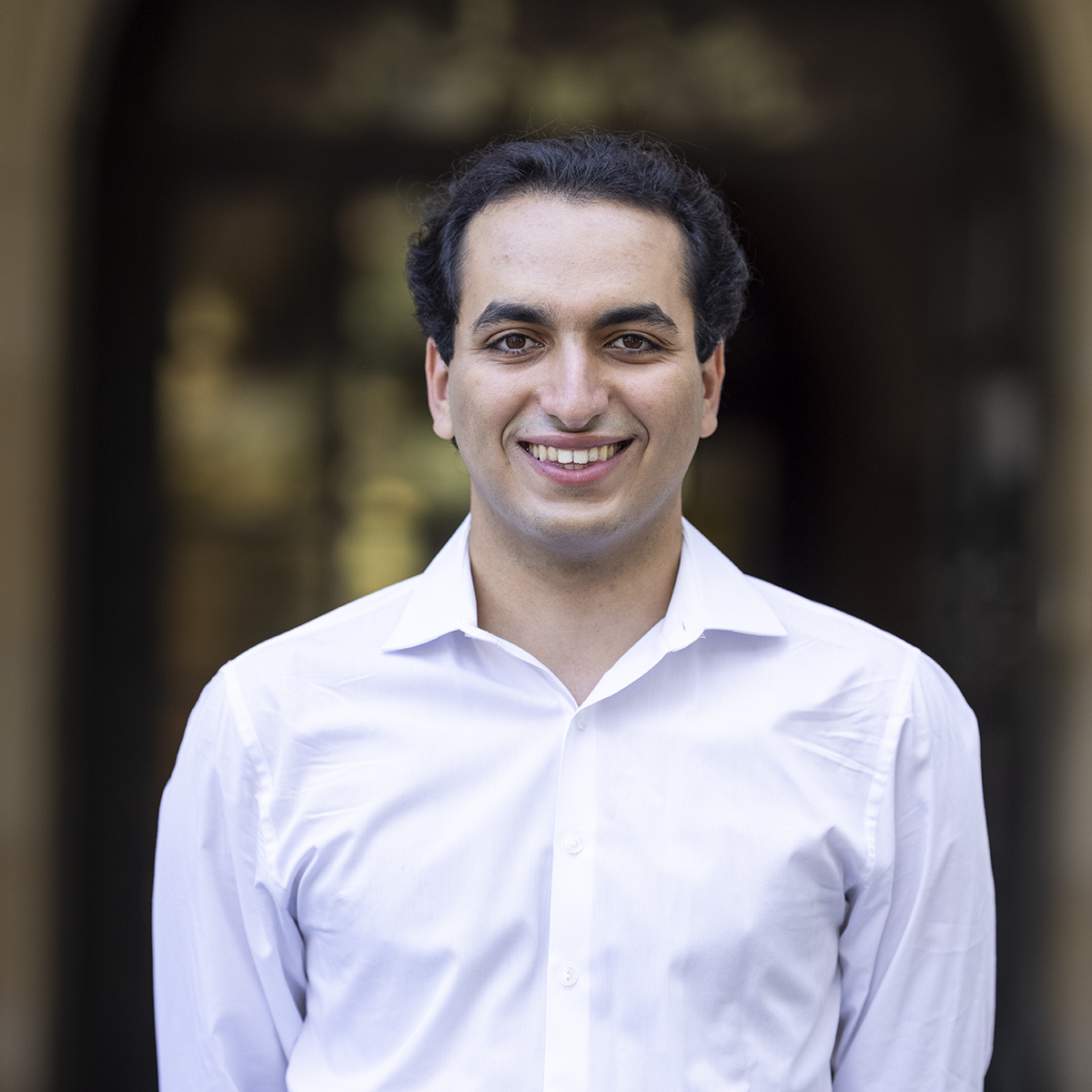 April 28, 2022 12:00 a.m.
UCLA football held an event to recruit members for a national marrow donor registry Friday.
The Get in the Game, Save a Life event was hosted on Bruin Walk in collaboration with Be The Match and the Andy Talley Bone Marrow Foundation. More than 160 college football teams around the country host these drives to register donors, said Ryan McNamee, the director of football operations. At UCLA, 400 people were registered, McNamee said in an emailed statement.
A bone marrow transplant is a method to help generate healthy cells and eliminate cancer, according to UCLA Health. Individuals with blood-related diseases and cancers – such as leukemia, lymphoma and sickle cell disease – can be treated with a transplant.
Be The Match is a nonprofit organization that works to find bone marrow matches for patients in need, said Katherine Lopez, a recruitment coordinator for the organization.
At the event, individuals conducted a digital sign-up for the registry and self-administered a cheek swab. This information will be put into a database to evaluate if they could be a potential match for a patient, Lopez said.
"When you get football coaches and football players together for a goal, they're just gonna attack it head-on … with positive energy and determination," McNamee said at the event.
[Related: Shortage of blood donors continues to affect patients with sickle cell disease]
Finding a match is not as simple as matching a blood type, Lopez said, adding that a person must have near-identical genetic traits as a patient to qualify as a match. About 1 in 220 people who join the registry match with a patient, she said.
"That's why we do events like this," Lopez said. "The more people we're able to bring to register, maybe the more hope we have to find a match for somebody."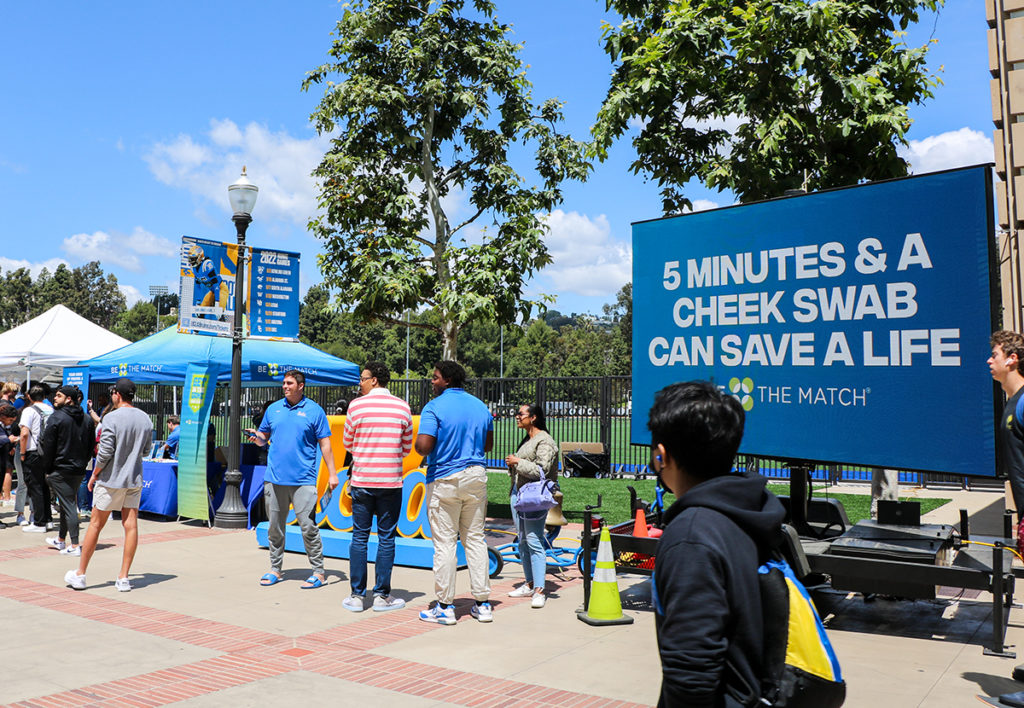 Throughout the day, UCLA football players encouraged those walking on Bruin Walk to take a few minutes out of their day to find out if they could save a life, said Kevin Jordan, director of player development for UCLA football.
"These guys have been blessed with a great opportunity to play sport, and they're healthy, strong and they have been given so much," Jordan said. "This is just the smallest thing that they could do – to just give up their time to try to help somebody else in the world."
The setup included a large LED screen encouraging donors, as well as the Victory Bell – the trophy the team won after its victory over USC last fall – which the players rang following new sign-ups. Local restaurants, including Fat Sal's and Lamonica's NY Pizza, donated food for the donors and the team members.
McNamee, who helped coordinate Friday's event, said the players' teamwork paralleled skills they use on the field.
"Part of the dynamic of this is teaching our players to be out in the community and how they can work together for a common goal," he said. "As we're working together collectively, we get people to jump in."
This was the team's first community event in two years, McNamee said, following a pause because of the pandemic. He added that many players were energized and excited to be out on campus connecting with students.
The team wanted to bring the campus together to help others, said quarterback Justyn Martin. Martin, a first-year communication student, said joining the registry is a quick way to work toward potentially saving a life.
"We're just trying to save some lives, one step at a time," he said. "It takes five minutes."
[Related: UCLA medical centers seek blood donors for liver transplant patients amid shortage]
Linebacker Devin Aupiu said hosting the event on Bruin Walk allowed the team to capture the attention of many students passing by. Aupiu, a second-year psychology student, added that it was important to include UCLA football in this event because of the platform the team has.
Matt Ford, who was visiting the campus Friday, said he was compelled by the excitement of the football players to join the registry. Ford added that he was surprised by how quick and simple the process was.
Bruins such as Savannah Ellerson, a first-year sociology student, were also drawn in by the team and appreciated the opportunity to participate.
"Their energy coupled with knowing that it's going for a good cause just made me feel really good about what I just did," Ellerson said.
Offensive lineman Siale Taupaki, a third-year political science student, said his biggest goal of the day was to have people know the event is more than giving out free food and other rewards – it was about helping others.
"It might be small to others," Taupaki said. "But to those in need, it's pretty big."