Coachella 2022: Multipurpose art installations unite festivalgoers while coloring desert landscape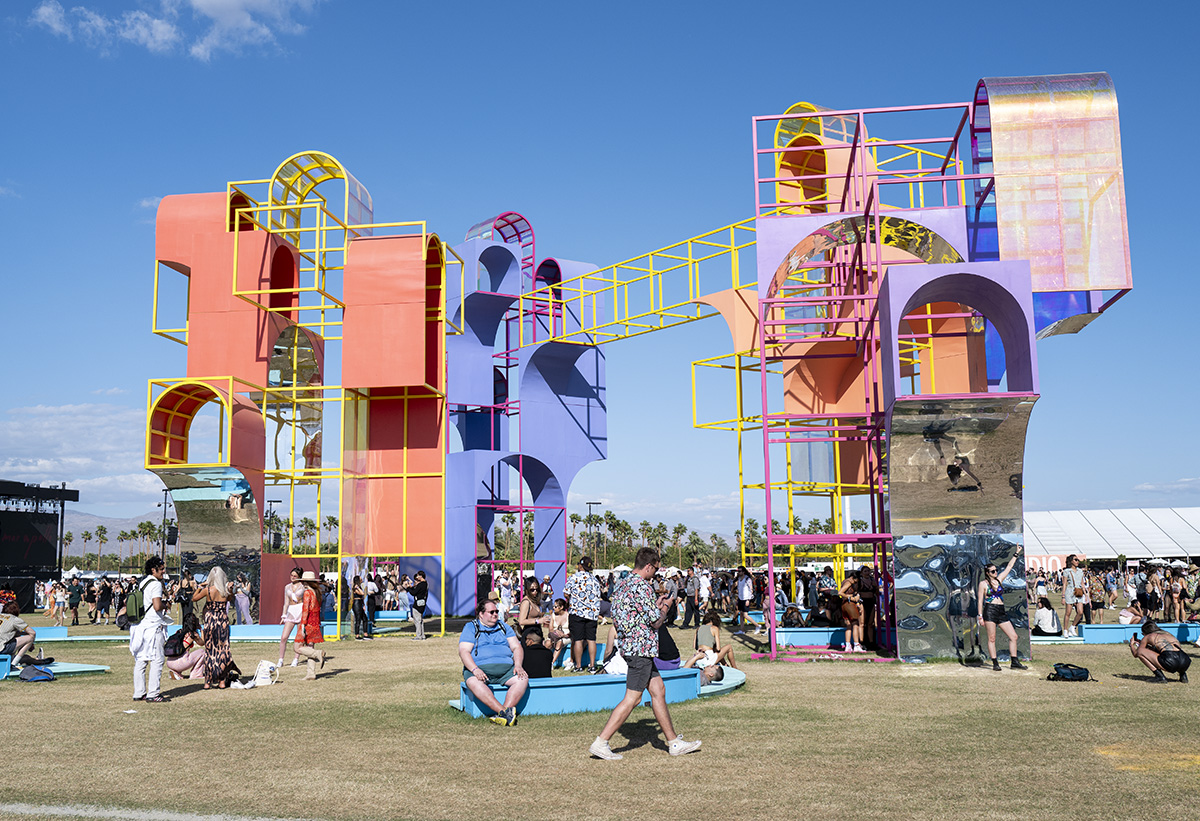 Architensions' The Playground features brightly colored towers with dichroic film at their tops, filtering ultraviolet light for festival attendees seeking shade. Alessandro Orsini and Nick Roseboro's piece was inspired by Constant Nieuwenhuys' blueprint for New Babylon. (Ashley Kenney/Photo editor)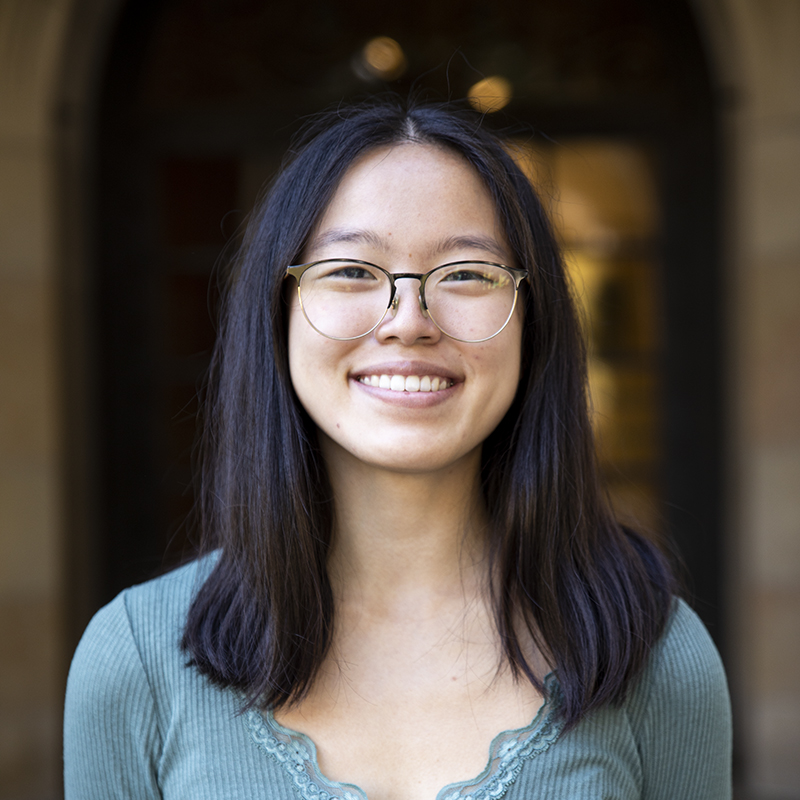 This post was updated April 25 at 12:30 a.m.
For two weekends in April, Indio's desert blooms with color.
While the Coachella Valley Music and Arts Festival is primarily known for its music, the scene would not be complete without the large-scale installations dotting the Empire Polo Club's field. Each year, a handful of architects and artists are selected to create pieces of work to be displayed for both weekends. Though this year's artists were originally commissioned to create structures for the 2020 festival that was canceled because of the COVID-19 pandemic, Dutch designer Kiki van Eijk said her piece embodies beacons of hope and gained significance during the hiatus.
"I was really already, for some time, feeling like everything is going too good in the Western world – so something is about to happen," van Eijk said. "I couldn't know what disasters would all happen. So actually, it is more relevant than ever – the theme that I had chosen before – and so there was no need at all to change it."
Her installation, Buoyed, consists of three buoys in seafoam green, pastel blue and white shades, tilted at different angles to mimic the appearance of actual buoys in a turbulent sea. Each buoy weighed between approximately 5,000 and 7,000 kilograms to resist the strong desert winds, and van Eijk said she designed the pieces with cultural diffusion in mind. The blue buoy, for instance, takes inspiration from the Dutch windmill, while the green buoy pulls from the structure of Asian temples, she said.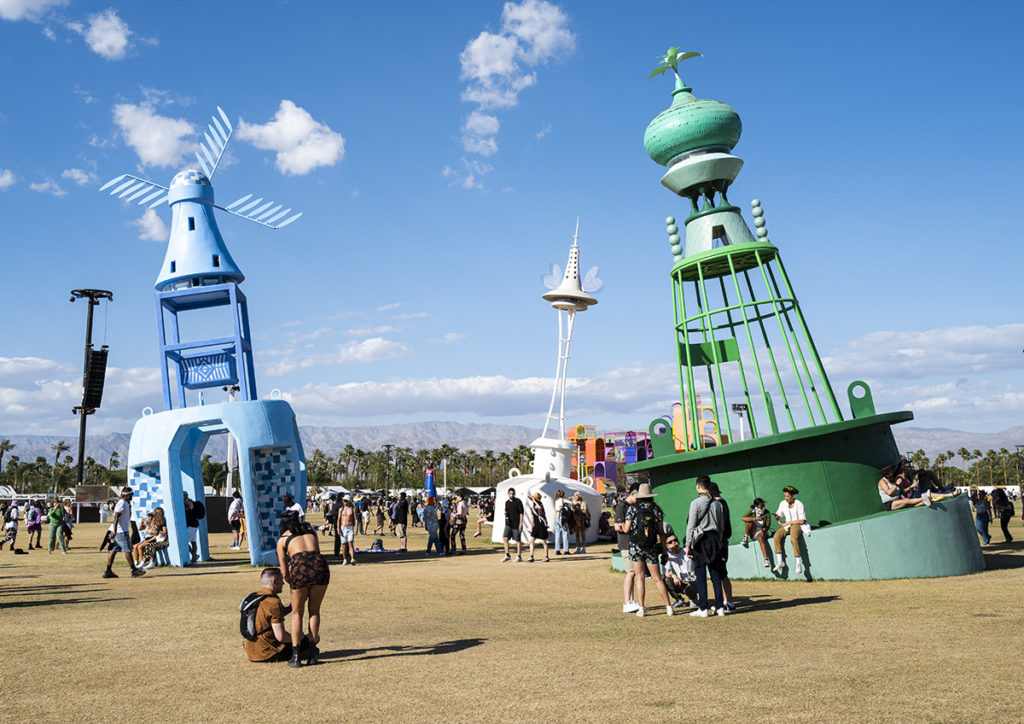 Although she was designing with artistic goals in mind, van Eijk said she also thought of the practical significance of designing for a large music festival that expects 125,000 attendees over one weekend. Given the flat and relatively barren desert landscape, van Eijk said her pieces dually function as landmarks for the festivalgoers to meet up or find each other.
"That festival with that amount of people, especially in the hours that it's getting really crowded, which is towards the evening, it's really like you're almost drowning in the sea," van Eijk said. "You need something to hold onto and to prevent yourself from sinking in this whole big crowd."
Architects Alessandro Orsini and Nick Roseboro of the Italy- and New York City-based firm Architensions also designed with the environment in mind. Their installation, The Playground, consists of brightly colored towers with dichroic film, which Orsini said filters harmful ultraviolet rays and can provide Coachella attendees with a respite from the desert sun. In terms of structure, Orsini said the duo sought to design vertically rather than horizontally, opting to create tall towers that contrasted with the dense suburban sprawl of Southern California.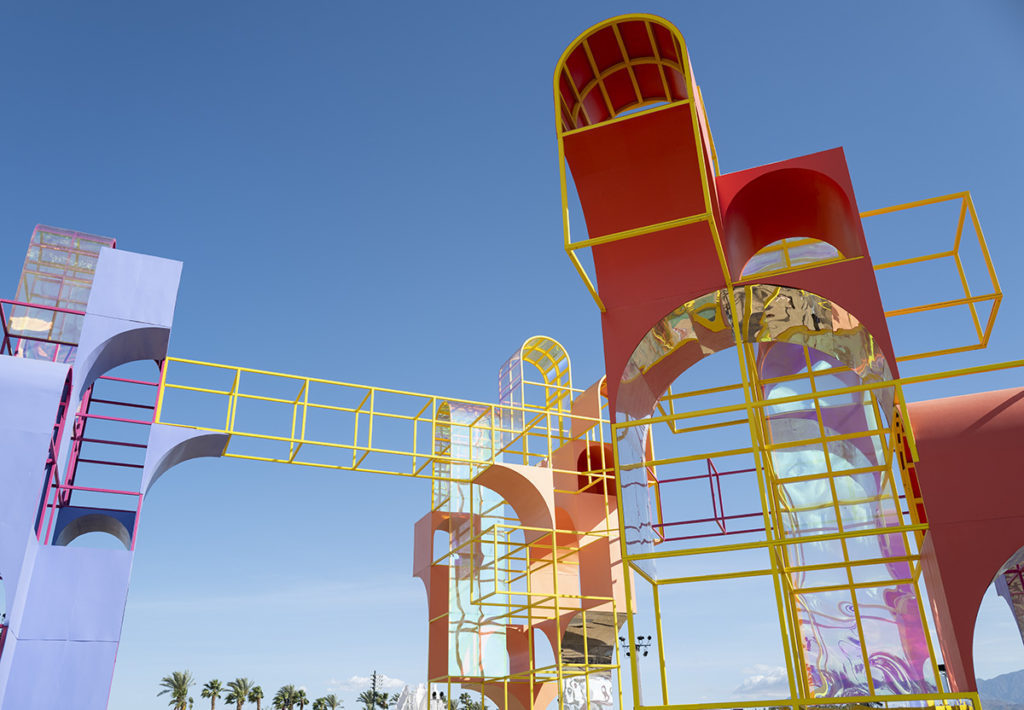 For The Playground, Orsini said the pair's primary source of inspiration was Constant Nieuwenhuys' New Babylon project, a 20th-century blueprint for a city that features various areas for social commune, including piazzas and parks. Their piece, designed several decades later, aims to share similar goals of uniting people from various demographics at one common junction, which Orsini said he witnessed live during his time at the festival.
"It was not just the place for selfies, actually, because it has incredible spatial qualities that cannot be captured through the phone," Orsini said. "We've seen the attitude changing rapidly. You try first with your Instagram thing and then it doesn't work because you can't capture the space, so you have to ask your friend, … soon after, really starting to use the piazza but also being attracted by the dichroic film that is projecting colors on the ground. So, the phenomenological aspects of the project really function as a collective experience."
The significance of a unifying experience is an integral part of Argentinian architect Martín Huberman's project. His piece Cocoon (BKF+H300) marks a decade in the making, and he said he hopes the project can elicit awe from festivalgoers who may not be sure what exactly to make out of the white spherical and angular structure.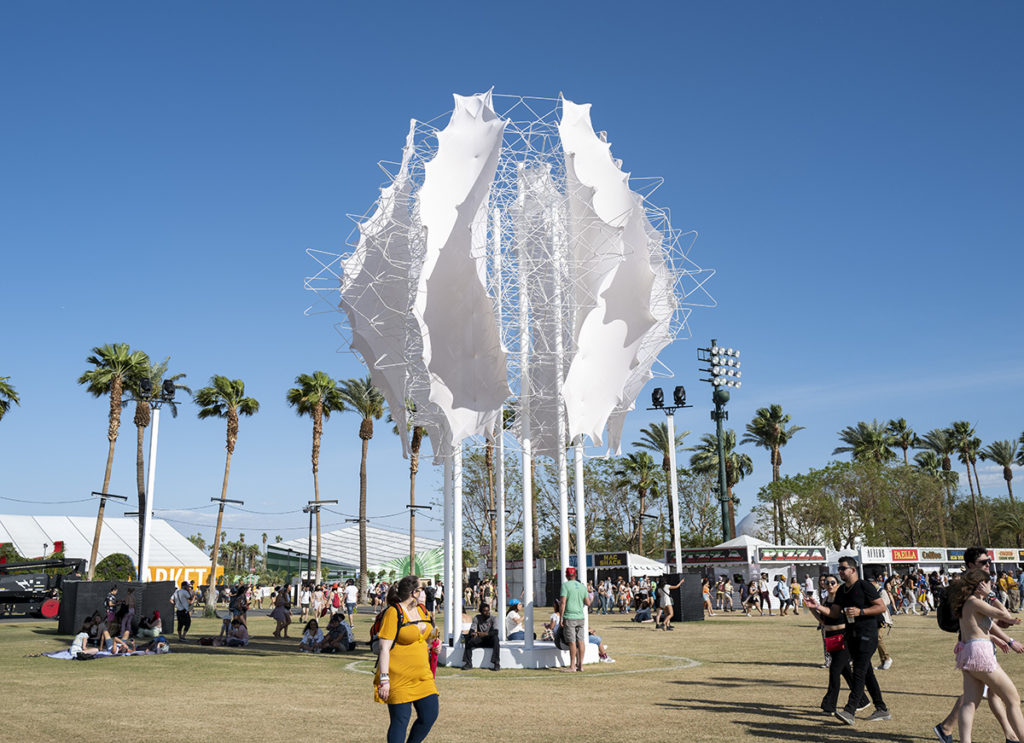 Composed of more than 300 white BKF chairs, or butterfly chairs, Huberman said the installation is an ode to the two Buenos Aires designers and one Catalan designer who first conceptualized the chair before it was copied in the Western architecture world with little attention given to its origin story. The chair's notoriety grew in warm weather climates where outdoor patio furniture experienced a surge in popularity in the 1950s, Huberman said, making Coachella's desert location a fitting place for the BKF chair to be featured.
"It (the BKF chair) for Argentinian culture … (is) our most iconic piece," Huberman said. "It has been like that since the '40s. … It (Coachella) felt like this specific moment or the specific time to regain that narrative and to start telling the story about these designers and to bring back some attention to design culture in Buenos Aires. Also, for us, to regain an understanding of how we should stand up for our culture, for our roots, for our narratives."
Regardless of whether festivalgoers will be aware of the backstory behind it, Huberman said being able to place Cocoon (BKF+H300) at a venue with a large number of spectators is a special opportunity, and all he can ask is for people to appreciate it. Similarly, with her buoys representing various walks of life, van Eijk said she hopes to unite attendees regardless of their backgrounds. For Orsini, the art installations present at the festival are chances for attendees to rejoice in a celebration of life.
"We are slowly, slowly coming out from the tragedy of the pandemic," Orsini said. "We really hope that our piazzas and our shades are an opportunity for people to actually understand that we can live collectively, and we can make it happen. This is how humanity works."
Xu is a senior staff writer for Arts & Entertainment. She previously served as the Arts editor from 2021-2022, the Music | Fine Arts editor from 2020-2021 and an Arts reporter from 2019-2020. She is a fourth-year neuroscience and anthropology student from Philadelphia, Pennsylvania.
Xu is a senior staff writer for Arts & Entertainment. She previously served as the Arts editor from 2021-2022, the Music | Fine Arts editor from 2020-2021 and an Arts reporter from 2019-2020. She is a fourth-year neuroscience and anthropology student from Philadelphia, Pennsylvania.