'Sing (to me)' harmonizes theme of understanding others with humorous style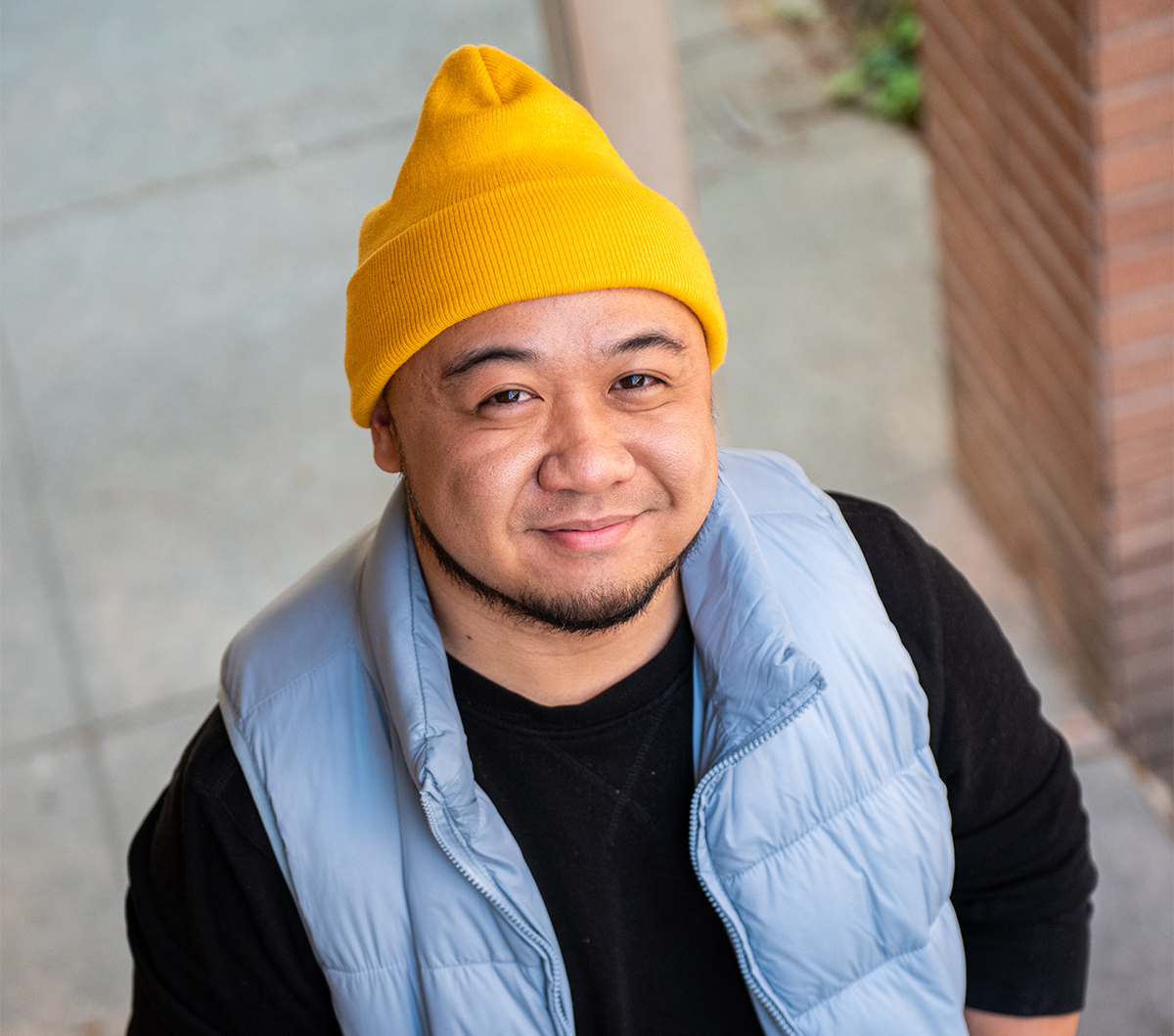 Written and directed by alumnus Andrew Acedo, short film "Sing (to me)" follows the story of a man who sings everything he speaks. (Jason Zhu/Daily Bruin staff)
With a mix of melodies and missteps, "Sing (to me)" is bringing a new song of open-mindedness.
Written by alumnus Andrew Acedo, the short film tells the story of a man born with the eccentric gift of singing everything he speaks. On Saturday, the film will be screened at the April Monthly Film Festival hosted by NewFilmmakers Los Angeles, where various Asian and Asian American filmmakers will be highlighted. Acedo said his close relationship with his brother, who has Down syndrome, inspired the film's themes of understanding and ostracization that stem from the societal stigmas surrounding the communities of people with disabilities.
"I realized a lot of times in my life, being with (my brother) is the only time that life makes sense, or I feel like I belong," Acedo said. "Even though he might not understand me to the level that others might understand me, he provides me a safe space."
As a first-generation American raised by Filipino immigrants, Acedo said he is able to understand the difficulty of holding conversations about mental health with people of different backgrounds, values or generations, such as his parents. In making the film, he said he wanted to educate and reinterpret negative stereotypes of mental health and people with disabilities by making a film that would spark conversation instead of coming off as antagonistic or judgmental toward those who may not be familiar with the film's themes.
This goal is visible in not just the plot of "Sing (to me)," Acedo said, but also in its cinematographic style – for example, the camera often holds on static shots rather than dynamic ones to maintain a sense of calm. Through this meditative technique, he said he wants his audiences to reflect on how one's treatment of others, especially those considered different, can leave its mark.
[Related: Student film 'Bedtime' aims to put stigma surrounding female experience to bed]
Since the inspiration for the film came from a personal place, Acedo said writing was his favorite part of the process, but he was also greatly interested in directing the actors and crew in order to deliver the message effectively. Influenced by dark comedies such as "BoJack Horseman" and "Ramy," which tackle difficult topics such as discrimination and toxic relationships with a lighthearted approach, he said he wanted to strike a similar balance for the project.
"I think there's a lot of humor in life," Acedo said. "There's a lot of drama and terrible tragedies that happen, but I want to take the medicine down a little smoother, and I want people to as well."
Beyond the themes of the film, the project's journey from conception to festival screenings was not simple, said producer and alumnus Francesca Escarraga. Although filming began in March 2020, she said production was halted because of the COVID-19 pandemic, limiting the producers and Acedo to Zoom meetings until they could resume shoots in April 2021.
By focusing on building a creative team that could work well together, alumnus and producer Trish Bautista said a large part of the film's success came from collaboration and shared backgrounds. Bautista and Acedo were close friends, having met at UCLA, she said, and the pair and Escarraga are connected through ties with fellow Filipino American filmmakers in LA. Beyond their commonalities, Bautista said the team's dynamic was effective because her and Escarraga's more practical attitudes balanced Acedo's idealistic style.
[Related: 'Love, Laugh, Doom, Tears' examines graduate student's experience with sexual assault]
To get the film off the ground, Escarraga said support also came from outside their creative team, as they were able to crowdfund from friends, family and supporters in the year leading up to filming. Confident in the film's universal message of inclusivity, she said various film festivals also recognized the simple message, even if the concept for "Sing (to me)" seemed far-fetched.
"It was a hard sell," Escarraga said. "But the film festivals came back to us with good reviews. That's when you realize that (the film's story) is not too different at all, it's just unique. But it's such a human condition that we feel on a daily basis."
While all three people have different roles within "Sing (to me)," empowering marginalized groups is a common goal, Bautista said. In particular, Acedo said he wants to continue creating works for the screen that feature Filipinos and Filipino Americans, groups that are still largely underrepresented both in front of and behind the camera. Growing up, he said he often felt disconnected from his directing heroes because there were few to no Filipino directors he could look up to. But by focusing on making films that feature diverse faces, Acedo said he hopes to challenge the status quo and inspire future generations of Filipino and Asian American filmmakers to create stories that universal audiences can enjoy.
"A lot of times we forget how it feels to be human, and that's what I love about art so much: It makes me feel like a human being. It makes me feel alive," Acedo said. "I want to tell stories that make people feel human."