Chinese Culture Night aims to rejuvenate students with celebration of art and culture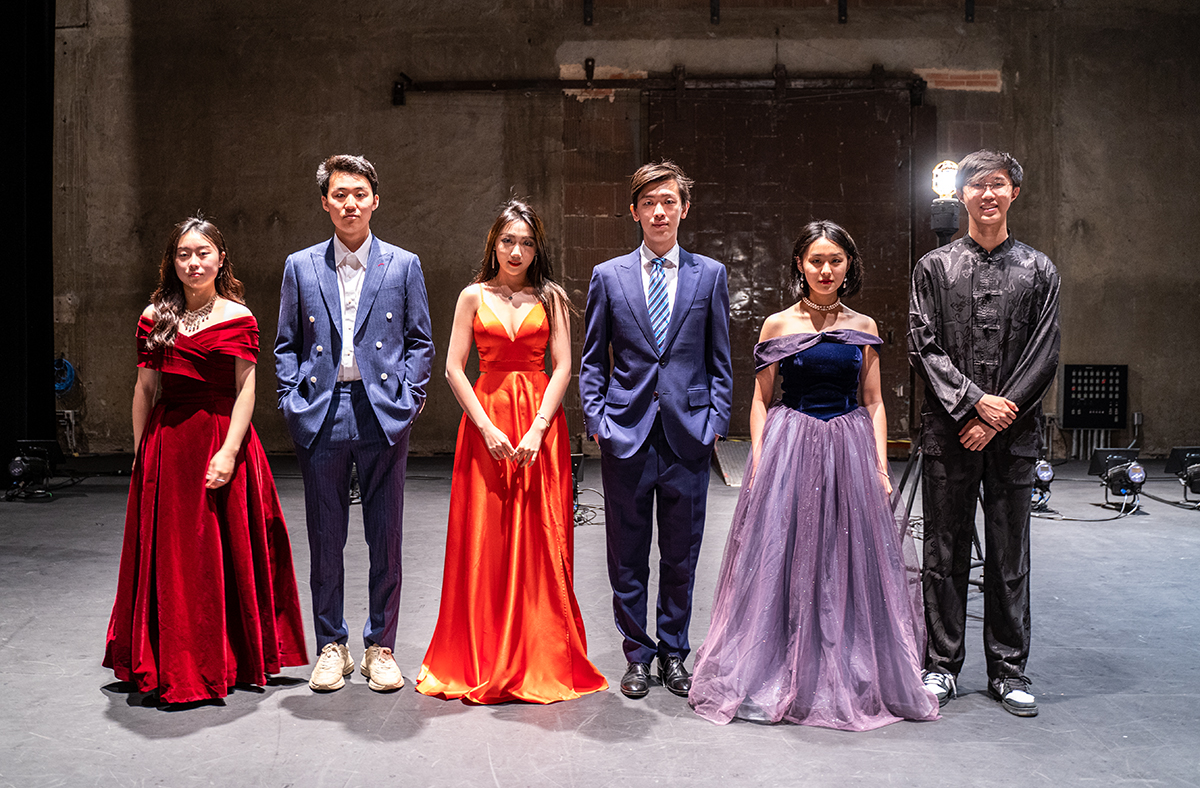 Members of the Chinese Students and Scholars Association stand in a line, dressed for the organization's annual Chinese Culture Night. The event will occur Sunday and feature multiple dance and music performances in addition to a pre-show art gallery and interactive Chinese calligraphy station. (Esther Ma/Daily Bruin staff)
"Chinese Culture Night: Reignition"
Royce Hall
April 17
2 p.m. and 7:30 p.m.
Chinese Culture Night is reigniting Royce Hall.
On Sunday, the UCLA Chinese Students and Scholars Association will host its annual Chinese Culture Night. The event consists of a pre-show art exhibition beginning at 2 p.m., with interactive activities such as calligraphy and 12 performances from different organizations – including UCLA-affiliated and independent groups – beginning at 7:30 p.m.
CSSA's Chinese Culture Night aims to serve as both a connection between Chinese international students and their homes and a showcase of Chinese traditions to the Los Angeles community, president and fourth-year applied mathematics student Monica Cheng said.
"We're all in this together – we're celebrating, we're recognizing this culture together – to cultivate a sense of community and a sense of belonging and your sense of security," Cheng said.
This year's theme is "Reignition," a nod to the COVID-19 pandemic that has disrupted the world. While Chinese Culture Night usually focuses on the arrival of the Chinese New Year, Cheng said the rescheduling of this year's event allowed for CSSA to explore different themes. Event director and alumnus Zoe Wang said "Reignition" represents the world restarting and recharging after the toll the pandemic has taken on students. CSSA's Chinese Culture Night hopes to rejuvenate students through this showcase of Chinese culture and art, Wang said.
[Related: Vietnamese Culture Night explores expressions of love through an artistic lens]
The pre-show art gallery was also a new addition to the event this year. Art curator and third-year design media arts student Yama Li said she looked for art that was both technically accomplished and expressed the theme of reignition. The gallery includes a variety of visual arts such as photography, Chinese calligraphy and various small installations, Wang said. Furthermore, the interactive calligraphy table allows attendees to practice writing in the traditional Chinese style and to engage with the exhibition, Wang said.
"When people go and watch, they might make connections from this work or learn more about this (Chinese) culture, or engage more in their own culture," Li said.
Afterward, performances by various student groups and external organizations will begin at 7:30 p.m. However, not all of them will be traditional Chinese performances, Cheng said, as some, such as hip-hop and rap routines, will be contemporary. Although seemingly unrelated, Cheng said the combination of these performances aims to bridge the gap between modernized Chinese American culture and Chinese tradition.
One group involved in the performances is the Chinese a cappella student group SouLA A Cappella, led by fourth-year computer science and physics student Eric Fang. Continuing the theme of reignition, the group's performance involves three parts: a beginning, middle and end of time, which aim to evoke both nostalgia and hope, emotions that are prevalent as the world resumes, Fang said. Each time segment will be differentiated through several songs that express the sentiments of that time period, such as using sorrowful songs for the past, Fang said.
"Despite … COVID-19, we still would like to cherish the present, look back on the past and look forward to a brighter future," Fang said.
[Related: NSU Cultural Night to spotlight Japanese American identity through 'Seishin']
In a broader sense, Wang said Chinese Culture Night is also both a celebration and welcome for the beginning of a new journey for Chinese international students. With increased reports of attacks on Asian individuals, many Chinese international students have been worried about coming to the United States, but CSSA hopes that this event can make UCLA feel more inclusive for those students, Wang said.
"Another goal of this event is also to help the Chinese students deal with that anxiety by giving them a big, big stage and big platform to express themselves, to say what they want to say to this world," Wang said.
As a whole, Cheng said the night allows Chinese international students to express common sentiments in an unfamiliar overseas environment. Most importantly, Chinese Culture Night is an opportunity for the audience to experience authentic Chinese performances, such as Beijing opera and Chinese orchestra, Wang said. For non-performers, the event can be just as invigorating given the exciting on-stage visuals and introduction to Chinese art, Wang said.
"We want to show the audience, not just the classical traditional Chinese culture, but also we do want to redefine Chinese culture in the contemporary world – how that modernness is translated into these different performances and how do we as the young generation of Chinese people challenge and redefine and enrich traditional Chinese culture in a non-stereotypical way," Wang said.