The Quad: UCLA community members chew over what influences food preferences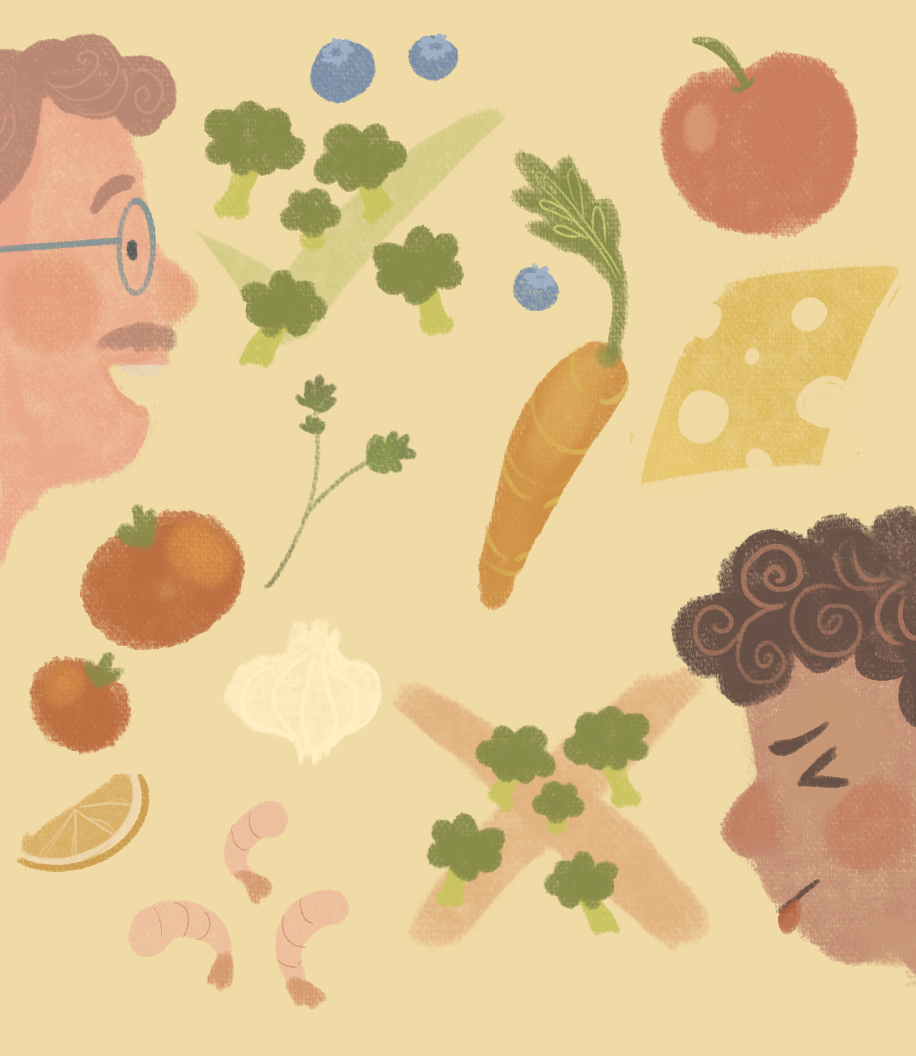 (Katelyn Dang/Illustrations Director)
I was fortunate enough to have grown up in Hong Kong, a place abundant with multicultural cuisines in close proximity. This love for eating did not stop as I traveled across the globe.
Arriving at UCLA, I was pleased to find an array of goodies in its nationally acclaimed dining halls that satiated my pickiness and vegetarian diet. Standing in the long dining hall lines begs the question: How does food attract and repel specific audiences?
Fourth-year bioengineering doctoral student Stephanie Kawecki said people tend to prefer things they were exposed to in early childhood, in combination with genetic predispositions.
"I think generally, and just from what I've seen, if people are exposed to things early, they take a liking to it. My dad would always give me raw vegetables and turnips and all that stuff as a kid, so I eat every vegetable," Kawecki said. "I think it's a combination of probably genetics, what we're exposed to and a psychological aspect as well."
First-year English student Nicole Felici said her family and culture play a significant role in her attitude toward experimenting with food, especially non-American cuisines.
"Due to cultural foods and things like that in my family, I grew a lot more used to eating things that other people would consider maybe a little abnormal," Felici said. "Being raised in America, my brain thought, 'No, that's undesirable.' But when my dad expressed to me how normal it is to just eat every part of the animal, I was like, 'Oh, OK, this is fine.' And it was really good."
UCLA Arthur Ashe Student Health and Wellness Center dietician Carol Chen said exposure to foods is crucial from a developmental-biology perspective, and preferences can develop as early as the breastfeeding stage.
"Even in breastfeeding children, if they were breastfed, they may have a better acceptance to when they tried to … transition into different kinds of foods because they were actually exposed to those flavors in the breast milk of the mother," Chen said.
Chen said our perception of foods can also be affected by associated memories and biology.
Fourth-year business economics student Claire Germano said her strong fondness for soup is tied to positive memories of visiting the restaurant Souplantation with family.
"The running joke with me and my friends is that I'm obsessed with soup. … I used to have a family tradition where I would go every Saturday to Souplantation, … and I remember that their chicken noodle soup was possibly the most heavenly thing for 6-year-old me," Germano said.
On the contrary, Chen said overindulging in raw carrots made her averse to the dish.
Kawecki said certain packaging tactics such as the use of colors can also trigger hunger signals and are often used by brands to alter consumers' decision-making process.
"For example, yellow and red is supposed to stimulate hunger. And so if you notice, almost every fast food restaurant is yellow and red, like McDonald's, Carl's Jr., In-N-Out," Kawecki said.
Chen said one's inborn microbiomes, which are microorganisms found in the gut, can similarly affect our perception of taste the more they are exposed to different foods.
"For example, fast foods can also alter our gut microbiomes – and not just fast foods, but the foods that we eat daily can affect how our microbiome look like. And that, in turn, can, for example, alter our taste preference and taste receptors," Chen said.
Kawecki added that COVID-19 can permanently reshape one's food perception, causing individuals to smell or taste differently.
"We detect flavor with our nose and taste with our tongue. And so COVID … has affected people's ability to detect flavor," Kawecki said. "And so I was just reading an article about how some people, for months after, are just disgusted by food, because it smells different to them."
While a complex combination of factors can create discrepant perception of food from person to person, it is still important to be mindful of nutritional intake.
Kawecki said cravings are often signals that our body needs certain nutrients.
"For example, I've had anemia. And so in those times, I found myself craving iron-rich foods, and it was something that I didn't really make a conscious effort towards," Kawecki said.
Chen said we can try to broaden our preferences for food using social cognitive theory to find more enjoyable ways to experiment with and experience food.
"This is based on social cognitive theory, where you're … modeling people around you. We might find ourselves when, amongst friends, somebody's eating this food and it looks pretty tasty to them, it might actually encourage us to try more of those," Chen said.
Chen said being open-minded to new foods is a great avenue into expanding one's palate.
"I would just say more exposure. You don't have to force yourself, … but I think that if you would like to give it a try, I think more exposure may potentially help you accept this," Chen said.