Oscars 2022: Q&A: Alumnus discusses process behind visual effects in 'Don't Look Up'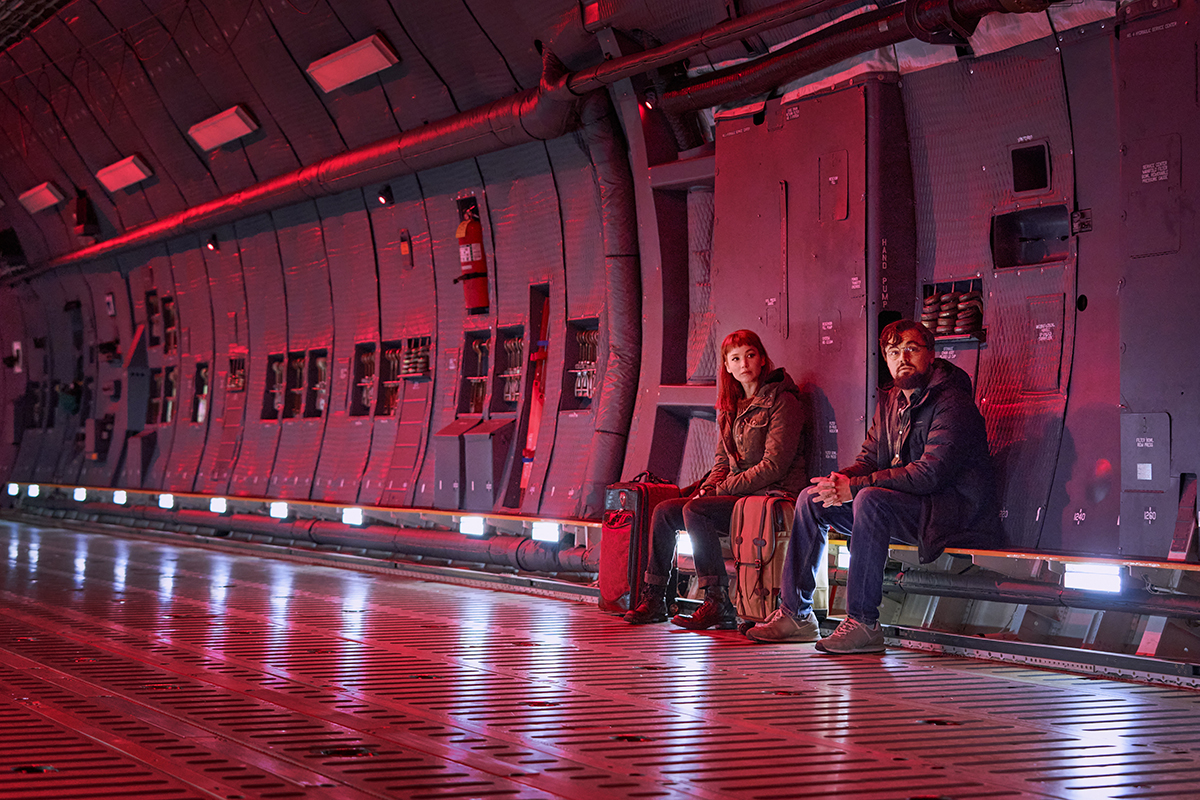 Jennifer Lawrence (left) and Leonardo DiCaprio (right) play Kate Dibiasky and Dr. Randall Mindy in "Don't Look Up." (Courtesy of Niko Tavernise/Netflix)
This post was updated March 27 at 9:46 p.m.
Otherworldly visual effects take center stage in "Don't Look Up."
Nominated for four Academy Awards including Best Picture and Best Original Screenplay, Adam McKay's "Don't Look Up" follows the story of astronomy graduate student Kate Dibiasky (Jennifer Lawrence) and her professor Dr. Randall Mindy (Leonardo DiCaprio) as they make the disturbing revelation that a planet-killer comet is headed toward Earth. Alumnus Eric Guaglione served as animation visual effects supervisor for the film and used visual effects to enhance numerous scenes depicting space.
The Daily Bruin's Paria Honardoust spoke with Guaglione about the role of visual effects in "Don't Look Up" as well as the facilitation of its technical aspects.
[Related: Oscars 2022: Alumnus's visual effects work brings 'Spider-Man: No Way Home' magic to big screen]
This interview has been edited for length and clarity.
Daily Bruin: Initially, when taking on the role of animation supervisor for this film, were there any specific visual goals, aspects or styles that you and your team aspired to achieve?
Eric Guaglione: For one, I know that the director Adam McKay was really keen (on) observing natural phenomena and space. They (hired) an astronomer from the Jet Propulsion Laboratory, and she was brought on as an advisor to the project to guide people working on all things space. It was really helpful for us to visualize some of the concepts in the movie that were rather abstract.
What was also really helpful is in the last couple of years, especially this past year, there have been so many amazing efforts in the private area for space travel. SpaceX, of course, was a big one, and we were observing absolutely everything that SpaceX was doing and getting a sense of what the modern technology looks like out in space compared to some of the NASA operations, which, of course, have been around for a very, very long time. It was nice getting a fresh perspective on what new space design looks like. We incorporated a lot of those ideas into the space vehicles, the propulsion systems. In some ways, it is feasibly accurate in terms of the vehicles that were depicted.
DB: For those who are unfamiliar with visual effects, could you briefly break down the visual effects processes of this film?
EG: I could use the very end sequence of the actors descending from the spacecraft and onto this planet (as an example). In there, some of the spacecraft was actually a prop that was built, but not the whole spacecraft. It's pretty much the ladder where they're walking down onto the planet surface, and so there was a very small area on stage that they could walk around on, but everything in the background was done as a blue screen. That way, we can later replace that blue area that was on screen with the environment of entire alien planets.
In the meantime, we wanted to create a place that felt like it was alive, so we have designs of alien birds flying and, of course, we had to animate those. The other teams put the details onto the characters like feathers, colors and the appropriate lighting. But it looks like a realistic image after it's been activated.
Then, of course, the more tricky things to do are when you would have, let's say, this alien, birdlike creature that attacks Meryl Streep's character. There you would have something that's pretty challenging because you have a human that is shot on set, and then all of a sudden, you have an alien that attacks that human. Well, you can't really kill an actor on set – so you have to do that through digital means.
[Related: Oscars 2022: Score producer on 'King Richard' talks matching music with story]
DB: How did the visual effects play a role in the film's storytelling?
EG: The interesting thing about Adam McKay's films is that he's telling you a story in a way that is very mainstream, yet he always has these interesting political views. He tends to gravitate towards a lot of tragic comedy and irony and all that woven into his stories. We were very mindful in creating the visual effects that would be true to that kind of storytelling. A good example of that, for instance, is the sequence at the very end of the movie. They arrive in their home planet and within 10 minutes all get eaten by these creatures – that's the kind of dark humor that Adam McKay loves.