Concert review: Still Woozy brings dizzying energy despite technical difficulties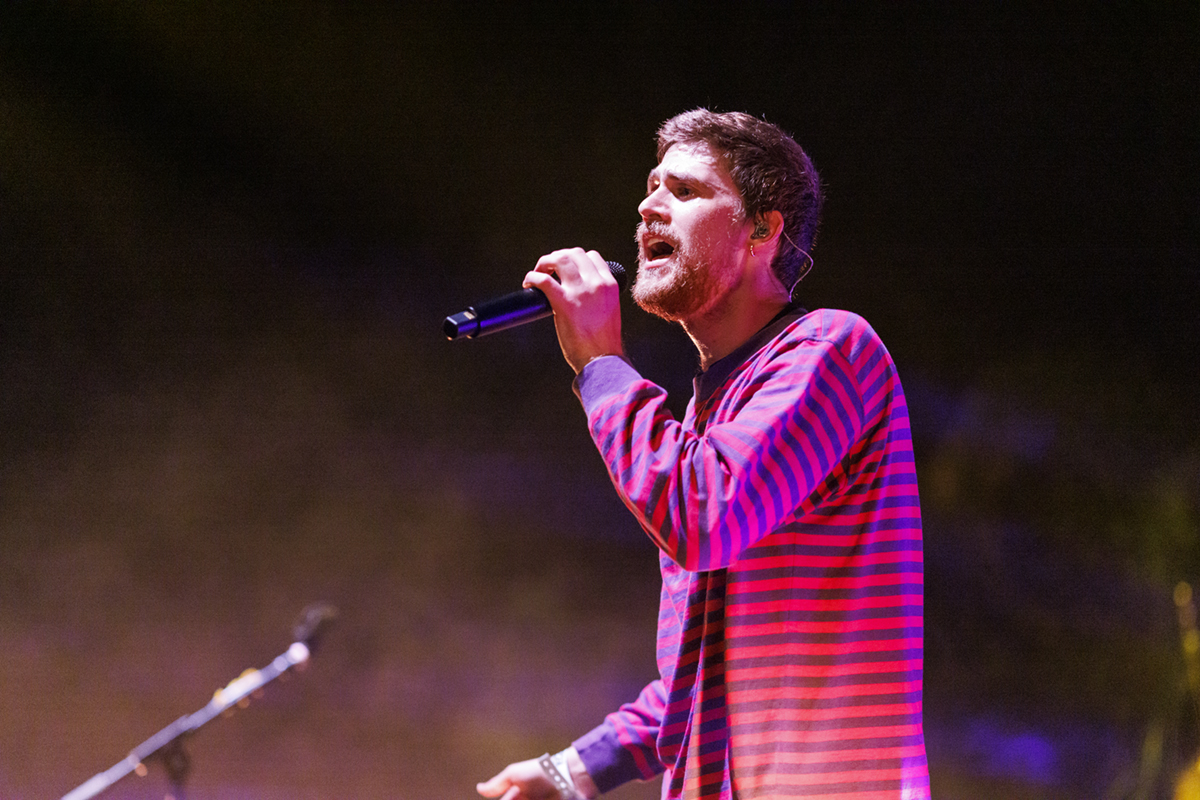 Sven Gamsky, better known as artist Still Woozy, performed Tuesday and Wednesday night at The Novo in Los Angeles. (Anika Chakrabarti/Assistant Photo editor)
Still Woozy
The Novo
March 15 to March 17
Still Woozy never fails to woo.
After numerous show date changes, Woozy finally graced the stage on Tuesday at The Novo and unleashed a flurry of pent-up energy, all while remaining true to his soft artistic persona. His constant energetic movements, while antithetical to the mellow tone of his discography, made for a pleasant concert-going experience that kept the audience engaged all throughout his set.
The culmination of numerous stage elements effectively set the cozy atmosphere that his music already evokes. A sprawling drawing of greenery was featured in the backdrop accompanied by his iconic logo, a bright fuchsia color of his stage name in whimsical lettering. Meanwhile, the junglelike setting of the stage was decorated with a myriad of plants wherein he entered alongside his guitarist Caleb Buchanan. On stage, Woozy sported a black puffer jacket and a checkered bucket hat, which he later removed after a few songs to reveal a comfortable and simple striped long sleeve underneath, appropriately elevating his homely and snug aesthetic.
[Related: Q&A: Still Woozy talks new album 'If This Isn't Nice, I Don't Know What Is']
But long before the audience was able to immerse themselves in Woozy's energetic performance, he first teased them by turning down the waiting music several times, jokingly indicating that he was coming onstage. The prank may have potentially caused some frustration from concertgoers who had to adjust to several schedule changes and sit through two opening acts just to see him. Fortunately, Woozy offset such feelings by treating them to a lively opener in which he and Buchanan left no area of the stage untouched while they jammed to "Window," the stage lights flashing to the beat of the music.
Woozy's stage presence remained consistent throughout his set, a contrast from openers LoveLeo's and Wallice's performances, both of which came off as either too overbearing or underwhelming, respectively. In a welcome change, Woozy enthusiastically interacted with the crowd, asking them questions like, "Who wants to shake their butts tonight?" before proceeding to sway his hips side to side, convincing them to do the same as he swore that, "Nobody is watching." He also did not restrict himself by learning choreography, giving the audience the pleasure to watch him spontaneously gyrate and jump on stage platforms with Buchanan.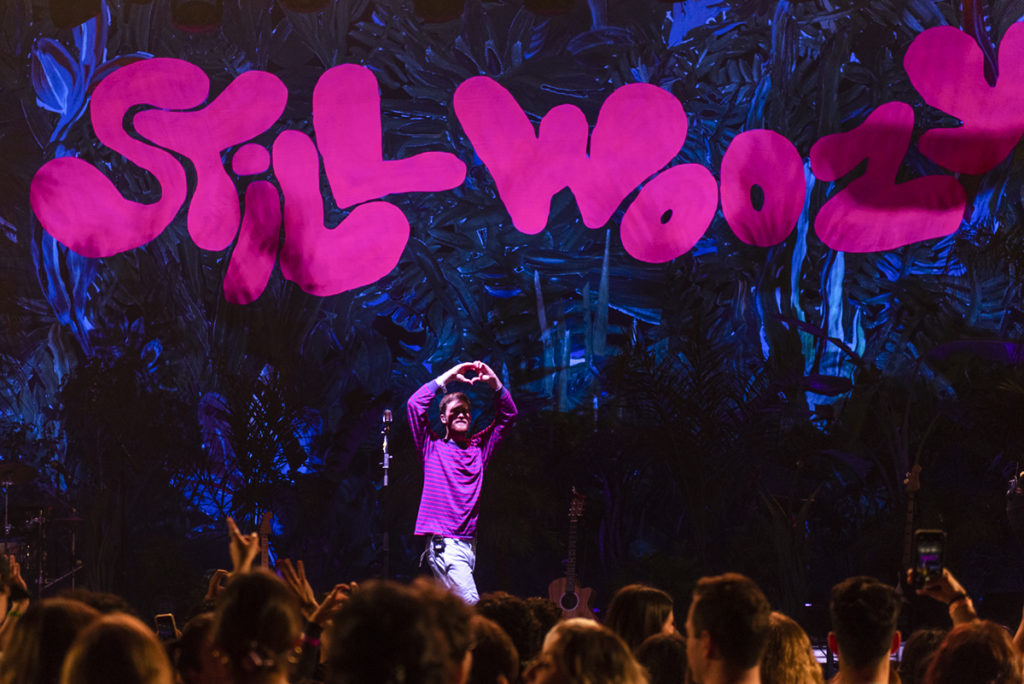 The guitarist's interactions with Woozy throughout the set also added to the dynamism of the performance, perfectly matching the main act's energy onstage and establishing himself as an integral component to the set. Most notably, the duo accented some beats with synchronized head bangs and the occasional lean overs as they played their instruments. The chemistry between the two was also apparent in mellow moments of the show, especially during times when the two would crouch down the floor in brief brotherlike intimacy.
Despite Woozy's stellar performance, the poor handling of the sound system scaled back some levels of enjoyment among audiences. There were one too many moments in which his vocals were drowned out by the barrage of instrumentation coming out of the speakers, which could have been saved by amping up the volume of the microphone. This issue also arose during Wallice's earlier set, whose obvious nervousness could have been spared by her incredible vocal performance had The Novo's sound system not betrayed her.
[Related: Concert review: The Neighbourhood's lineup spans years of discography, theatrics save show]
However, Woozy's vocals shone through the most when he performed stripped versions of his songs, most notably during his live rendition of "Kenny" in which he asked the audience to hold up their phones with their flashlights on. During the melancholic performance, he took center stage and sang in front of the mic stand for the majority of the song, playing the guitar as though he was serenading the audience for added connection and intimacy. The moment served as a nice change of pace after a series of high-energy performances, demonstrating yet again his impeccable stage command that his openers failed to master.
Although plagued with technical shortcomings, Woozy still managed to put on a spectacular show for the audience. His attempt to turn his mostly mellow music into dance tracks was a difficult undertaking that he managed to succeed at, thanks to his stage presence and skillful command of the crowd. Even with the show's imperfections, Woozy's apparent confidence in his artistry is an indication that he's only going to improve from here on out.
Hopefully, he still won't be woozy by then.