Film review: Playful animation elements color adolescent experience in Pixar's 'Turning Red'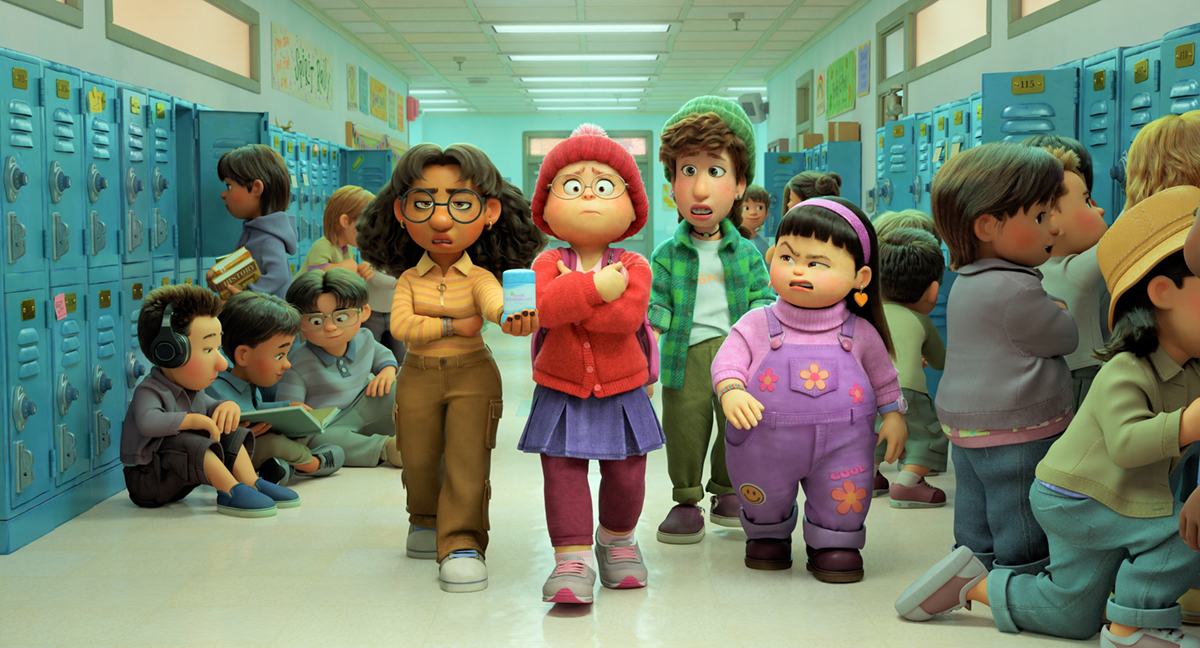 Pixar's "Turning Red" follows young Chinese Canadian teenager Meilin Lee as she navigates puberty and cultural identity after transforming into a giant red panda. (Courtesy of Disney+)
"Turning Red"
Directed by Domee Shi
Pixar Animation Studios
March 11
Everyone grows up – some into giant, fluffy red pandas.
Pixar's latest feature "Turning Red" is centered around the story of a Chinese Canadian 13-year-old girl named Meilin Lee (Rosalie Chiang). With her dynamic girl squad, stellar grades and precious mother-daughter bond, Meilin seems to be killing the eighth-grade game. That is, until she wakes up one morning as a giant red panda and must learn to find balance in the dualities of her life – red panda and human; family and friends; and growing up and staying her mother's daughter. Throughout Meilin's journey, the film delivers a refreshing coming-of-age story that nails the comedy and pulls at the audience's heartstrings.
Set in the early 2000s, the film nostalgically pays homage to the era through Tamagotchis and a '90s-esque boy band called 4*Town, which is the latest obsession of Meilin and her friends. The vibrancy of the decade is brought to life with pastel colors, which also provides a picturesque palette for the culturally rich streets of Toronto.
Meanwhile, the backdrop is also peppered with nuanced detail – roast duck hangs in a storefront, senior citizens push shopping carts and fresh produce lines the streets. There's even an easter egg on a restaurant sign referencing director Domee Shi's short film "Bao." Any given Chinatown is likely to share aspects of these scenes, placing the audience directly in the mix of Meilin's Chinese heritage.
[Related: Film review: 'KIMI' fails to explore nuances of isolation in technology-ridden world]
The plot begins when Meilin wakes up one morning to find herself transformed into a giant red panda and discovers that the only way to contain her furry side is through a family ritual that is a month away. But after she accepts the inconvenience with the help of her friends, the momentum drags as the conflict shifts to the subplot of the girls' hustle to buy 4*Town concert tickets. However, with her inner beast conflict lingering in the background, the seemingly minuscule crisis over the concert is still engaging as the film nails the comedic relief with a vivid montage of their outlandish fundraising antics – with the '90s-style background music as the cherry on top.
But beneath the humor of her physical transformation, Meilin wrestles with prioritizing her family's cultural values over her own identity. While Meilin's reckoning with the pressure of fulfilling her mother Ming's (Sandra Oh) hopes and dreams is a common conflict in many cultural stories, "Turning Red" takes a creative, yet still relatable, route by approaching it through a furry metaphor for her double life. Her struggle to be understood by her mom manifests in smaller instances of conflict that many children of immigrants can also resonate with, such as needing to beg her parents for permission to go out only for an immediate rejection from her mom.
With Shi being the first sole female director on a Pixar film, "Turning Red" also boasts a female-led cast. Like a few of its Pixar predecessors, namely "Coco" and "Soul," the film addresses representation with Meilin's multiethnic friend group and its highlighting of Cantonese dialect; audiences can hear bits of Cantonese in the streets of Chinatown and catch a glimpse of a television logo inspired by the Hong Kong channel TVB playing in the living room. In choosing to highlight Cantonese people and their culture, the film presents a robustly relatable portrait of immigrant enclaves.
[Related: Film review: Marvel's 'Eternals' features stellar cast but disengages viewers with dense plot]
Pixar also plays with a new animation style in the film that takes a more playful approach than the studio has explored in the past. A common recurring element is the usage of anime-inspired puppy dog eyes in scenes where obsession and fangirling are dramatized. This style as well as indulgent montages of food and dorky fantasies of boys not only enhance the film's comedic effect but also highlight the characters' overactive imaginations during this tumultuous period of their lives. It's melodramatic. It's emotional. And well, quite frankly, it's puberty.
Aside from the portrayal of adolescence, perhaps the most heartfelt moment in the film is when three generations of Lee women confront their generational trauma and mend the emotional distance between them in a tranquil and ethereal bamboo forest. However, as sweet as it is, the story seems to oversimplify the decadeslong rift between Ming and her mom by instantly erasing the cold, disapproving demeanor of Meilin's grandma through an easy apology. Nonetheless, the scene is effective in rounding off the film in classic Disney fashion, encouraging its audience to reflect on their own experiences with not only family but grappling with seeking approval and the pressure of expectations.
And after Meilin's embarrassment fades and the red panda calms, all that's left are the bittersweet memories of her early teenage years.