The Black Bruin Experience: UCLA must abolish UCPD, keep students safe from police violence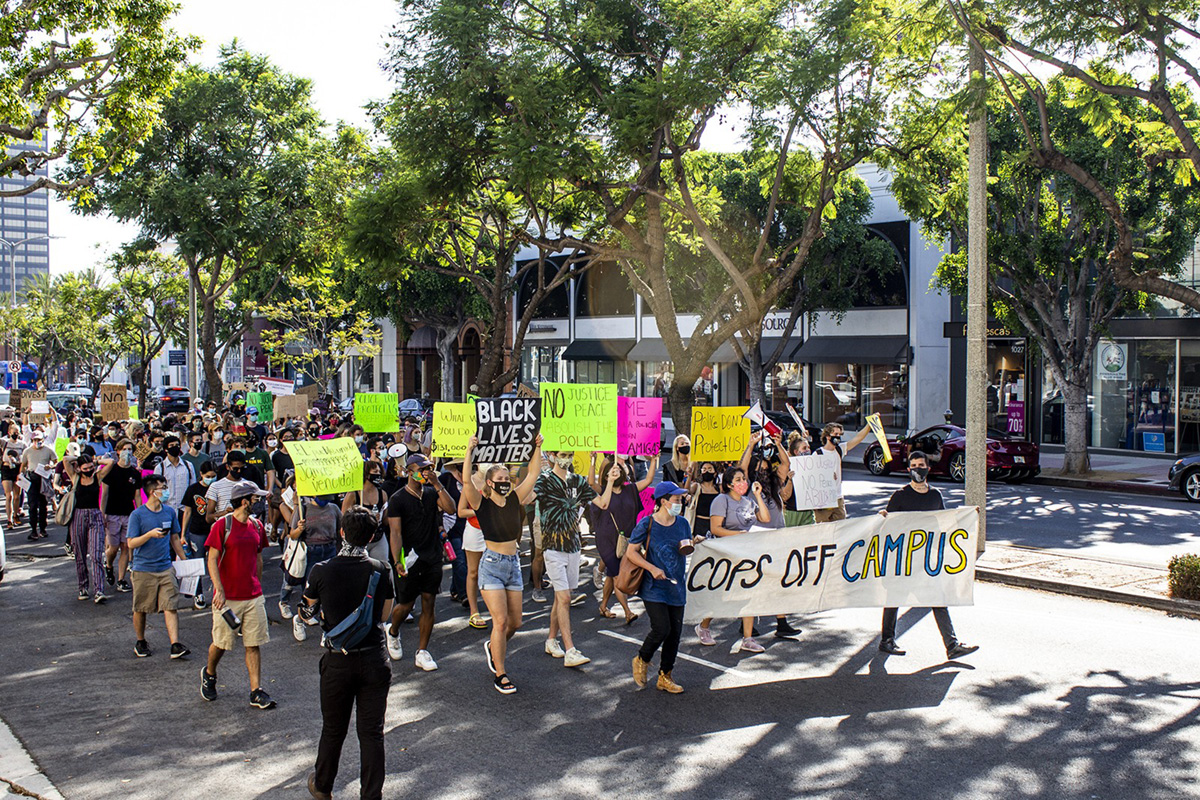 Protesters walk down the street holding signs against UCPD on campus. UCLA must enact policies to protect Black and Latino students from racial violence and the police. (Daily Bruin file photo)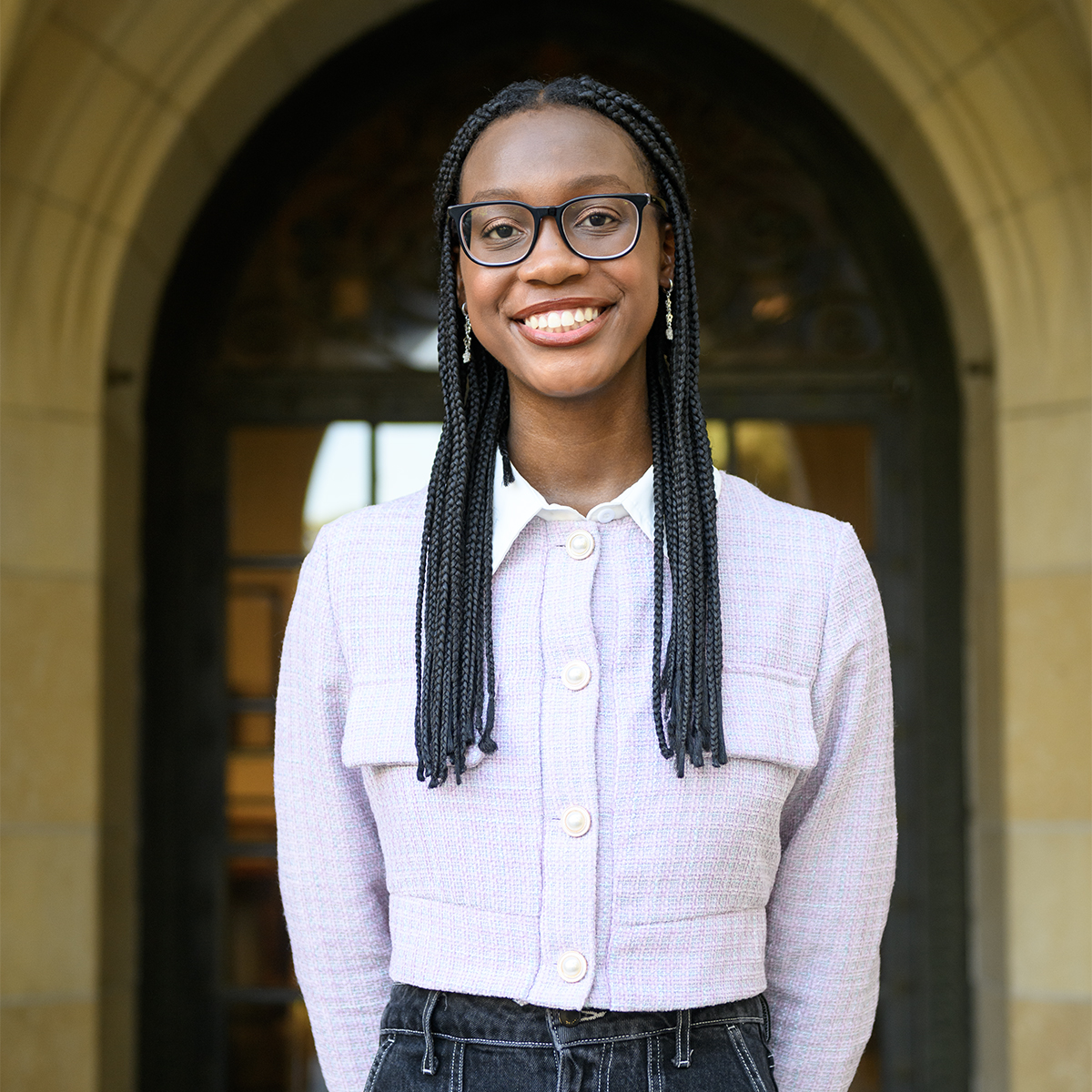 "The Black Bruin Experience" is a series by Opinion columnist Laila Wheeler, a first-year sociology student. As a Black student at UCLA, she will be exploring a variety of Black issues, from institutional racism to anti-Blackness to the everyday experiences of being Black in the higher education system. These columns will not only focus on Black trauma, but they will also highlight the multidimensionality of Blackness, including Black creativity, Black success, Black leadership and Black excellence. The Black community at UCLA has been tirelessly advocating for its demands to be heard, and these columns aim to amplify Black voices and call on UCLA administrators to actively work toward creating an anti-racist institution. Black Bruins are welcome to submit op-eds or letters to the editor to be published as part of this series to fully represent the diverse experiences and viewpoints of the Black community.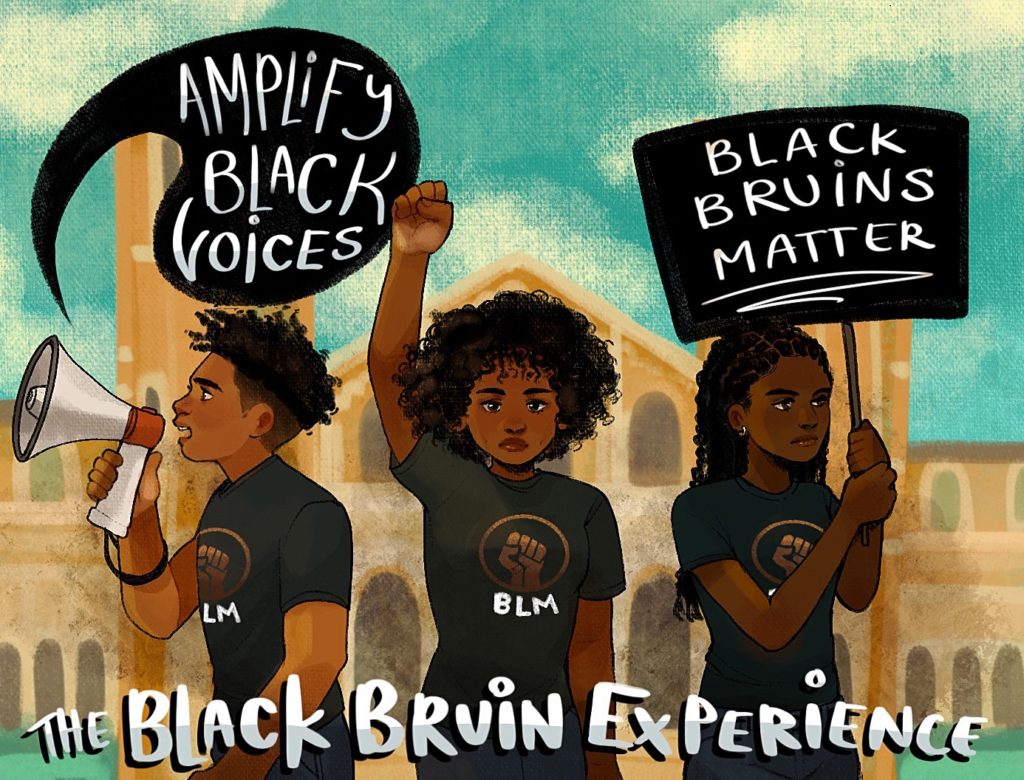 Returning to campus should be a celebratory moment for all Bruins.
Unfortunately, for some the return is marked by fears of campus police.
The UCPD has a long history of disproportionately targeting Black and Latino people, which places these marginalized groups at a greater risk relative to their white counterparts.
Although the policing system pledges to "protect and serve," its protection and servitude are far from inclusive, as it predominantly benefits white people.
Like many American institutions, our nation's policing system is rooted in racism and anti-Blackness. The institution originated from slave patrolling during the Antebellum Era – just one of slavery's many legacies. Since then, police have infiltrated all aspects of society, including the education system.
UCLA must implement policies to eradicate racial violence and ensure all students, particularly Black and Latino students, are kept safe from the police. This has been an ongoing issue, and the safety of underrepresented students is at risk.
Andrew Guerrero, a UCLA alumnus and doctoral student at Harvard University's American Studies program, is the co-founder of the No UCPD Coalition, a student-led organization that aims to "defund, disarm, and disband the UCPD." Guerrero said the UCPD has perpetuated racialized violence, which not only harms Bruins of color but also impacts people in Westwood who are poor, part of the working class or experiencing homelessness.
He added that in the 1950s and 1960s, there was a small population of students of color on campus, and the police force intensified in the 1980s when more people of color came to Westwood from South Central and East Los Angeles.
"The UCPD shifted their focus onto this population, and concerns about 'gang violence' and the degradation of Westwood were at the forefront of (its) mission," Guerrero said. "Ever since then, … the targeting of Black students on and off campus, Black residents, and houseless people has been continual."
According to a No UCPD Coalition report analyzing UCPD arrest data from 2013 to 2018, Black people only represented 2% of the Westwood population, yet comprised 29% of all UCPD arrests. In comparison, white people represented 56% of the Westwood population and only comprised 36% of UCPD arrests.
Racial disparities in arrests are not the result of a "few bad apples" or individual police officers who may have racial bias. This is a structural issue that reflects the racism ingrained in policing.
UCLA spokesperson Bill Kisliuk said in an emailed statement that all UCPD officers are required to attend implicit bias training. The police academy also addresses racial and cultural diversity, use of force, and de-escalation, Kisliuk added.
However, implicit bias training often does not accurately transfer to high-stress environments officers will encounter.
Bringing police onto our campus is a direct act of racial violence because its presence perpetuates fear among underrepresented groups, ultimately distracting them from their education. Policing codifies the surveillance and criminalization of Black and Latino students, contributing to the school-to-prison pipeline and the low graduation rates of these marginalized students.
At UCLA, police continue to harm people of color. Amid the longest sit-in in the university's history, student organizers, many of whom are students of color, pushed for permanent access to hybrid options and were met with police surveillance and mistreatment, according to an Instagram statement by the Disabled Student Union and Mother Organizations coalition.
The DIVEST/INVEST UCLA Faculty Collective sent administrators a letter Feb. 12 condemning the university for allowing surveillance of students and calling on it to end its tacit approval of these actions.
"Students of color … being profiled, stopped, and interrogated for documents by UCPD officers with their hands ready on their guns indicates the complete failure of the UCLA administration to address concerns about policing that have been documented, researched, and foregrounded by students, faculty, staff, workers, and community members," said the DIVEST/INVEST UCLA Faculty Collective in its letter.
The use of police surveillance and force to disrupt student activism is unacceptable and should never have happened in the first place.
It's time that Chancellor Gene Block takes action to defund UCPD and invest in social services that will keep the campus community safe.
In the 2020-2021 academic year, UCLA's police budget was the second highest of all University of California campuses at more than $22 million, according to a July 2020 UC Board of Regents report. In comparison, UCLA Counseling and Psychological Services, which provides Bruins with mental health resources and support, is severely underfunded and has only 90 staff to serve more than 45,000 students, as pointed out by a 2021 Undergraduate Students Association Council resolution calling for the abolition of UCPD.
The safest communities are not the ones with the most police – they are the communities with the greatest access to resources. At minimum, the university must redistribute work to more qualified social services and rebuild a campus community that is filled with extensive resources, such as mental health services, substance abuse rehabilitation centers and financial support.
Kahlila Williams, a first-year sociology student and organizer for Students Deserve – a grassroots coalition that advocates for police-free schools in the Los Angeles Unified School District – said if schools were to redirect the large budgets for campus police to students' education, they would see an increase in students' well-being.
"It's normalized in our society to use punitive punishments that don't actually rehabilitate individuals and then cause more harm than it does good," Williams said. "(Restorative justice) is a way for individuals to learn, but it's hard if they're not given the access in which they are learning rehabilitation strategies and being shown what that truly means."
At the moment, UCPD is responsible for intervening in mental health-related calls that are emergent and nonemergent, which essentially criminalizes mental illness and often escalates the situation. Fortunately, UCLA is in the process of implementing a program that would send mental health providers to students instead of UCPD. The UC Community Safety Plan also establishes the foundation of inclusive and holistic response services that prioritize students' well-being and crime prevention.
But at the end of the day, there is still a dominant police presence on campus that continues to harm the most vulnerable populations. True liberation is not achieved through reform. We need abolition.
Society has been convinced that police are necessary to keep us safe, but that is far from the truth. Black, Latino, Indigenous, LGBTQ+, disabled and other marginalized communities have historically been endangered by the police.
UCLA must work to dismantle systems of oppression and create a multidimensional approach to community safety. If administrators fail to make radical change, the police surveillance, harassment and criminalization of racial groups on campus will persist.
Silence is violence. It's time that UCLA abolishes the UCPD.
Wheeler is a 2022-2023 assistant Opinion editor. She currently serves on the editorial board and was previously an Opinion columnist. She is a second-year public affairs and sociology student.
Wheeler is a 2022-2023 assistant Opinion editor. She currently serves on the editorial board and was previously an Opinion columnist. She is a second-year public affairs and sociology student.