UC Community Safety Plan requires campuses to design tiered crisis response models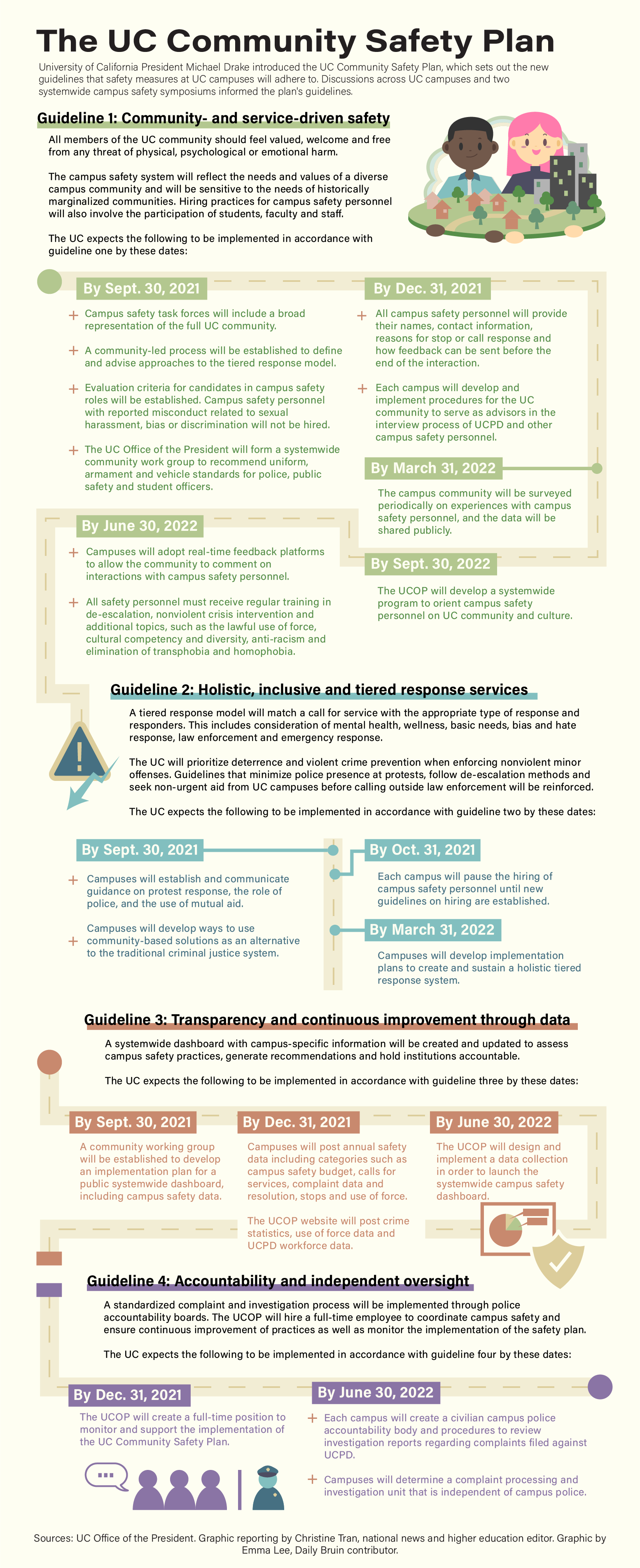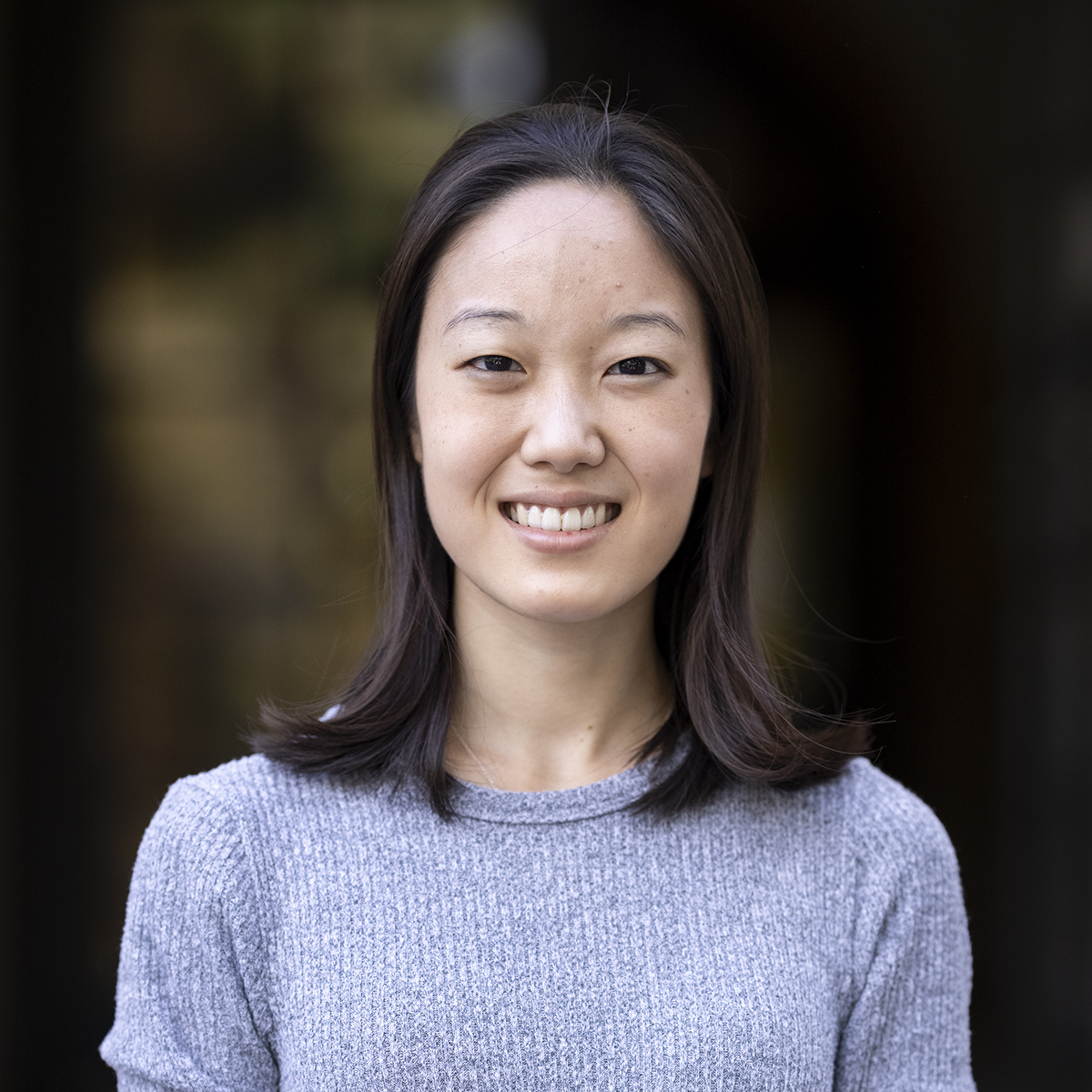 This post was updated Aug. 29 at 9:35 p.m.
The University of California released a plan in mid-August that aims to make policing activities more transparent and responsive to community concerns.
The new UC Community Safety Plan, released Aug. 16, requires UC campuses to create a tiered response model to crises and establish safety personnel training in topics such as verbal de-escalation and anti-racism. The University, under the plan, would also require campuses to release their annual data on issues such as the campus safety budget, use of force incidents and police stops by the end of 2021.
The plan's tiered response model would establish 24/7 crisis teams that match individual calls to response personnel that range from mental health and social service workers to law enforcement.
As part of the new safety plan, UC leadership also recommended campuses redistribute UCPD budgets and reallocate resources to fit the needs of the tiered response model.
A July 2020 UC Board of Regents report projected that UCLA's police budget was over $22 million for the 2020-2021 school year, the second highest of all the UC campuses.
For more than a year, students and faculty have formed organizations such as the No UCPD Coalition and the Divest/Invest UCLA Faculty Collective, which have advocated for the university to end its relationship with law enforcement and reallocate police funding to programs and research supporting racial justice.
To increase police accountability, the plan also calls for campuses to establish procedures for investigating complaints against the UCPD and form independent oversight bodies consisting of students, faculty and staff, who would review the investigation units' reports.
Although UCLA does not currently have a complaint processing and investigation unit, it plans to create one by June, UCLA spokesperson Bill Kisliuk said in an emailed statement.
UCLA's police department would also have to secure accreditation from the International Association of Campus Law Enforcement Administrators and start the process by the end of 2021. IACLEA accreditation requires police departments to show compliance with the most up-to-date practices in training and operations while also adopting policies that minimize the risk of complaints and lawsuits, according to the IACLEA's website. Currently, only police departments at UC Berkeley, UC Davis and UC San Francisco have the accreditation.
All UC campuses must meet the plan's safety guidelines and implementation deadlines, which vary by requirement, between September and June 2023. UCLA administrators said in a press release that the university would support the plan and work to implement it alongside the UC Office of the President.
[Related: UC students, faculty discuss future of campus policing at safety symposium]
Gwen Chodur, the president of the UC Graduate and Professional Council, said she thinks the plan's tiered response model will create improvements but does not provide sufficient details about the different tiers of response and the campus personnel involved.
Chodur, who is also a doctoral student at UC Davis, also said she was disappointed that the plan's temporary hiring freeze of campus safety personnel would only last until campuses have submitted their tiered response implementation plans, due in March. Chodur added that she, along with other UC student leaders, had called for a much longer hiring freeze that would permanently cut the number of campus police officers and reduce the UCPD budget.
Naomi Waters, the UC Student Association Racial Justice Campaign chair, who spoke at both the February and March symposiums the plan neglected the budgetary recommendations made by her and other students that called for the disarmament and divestment from UCPD to programs that address homelessness, food insecurities and mental health services.
Humberto Flores, a graduate student at UC Riverside, said he did not support the plan's provision to implement additional training for safety personnel because training would allocate more resources to UCPD without solving underlying problems.
Students said new requirements for campuses to release annual safety data is a step in the right direction, but the University needs to do more.
Flores said he likes the plan's push to increase transparency in campus policing data but is concerned universities may not present data in a way that can be easily understood by the public. He added that he hopes this data will enable students to conduct their own research on campus police practices.
While Waters also supports the plan's public data section, the fourth-year public policy and African American studies student at UC Riverside said if data collection only focuses on current policing records, older complaints may not be adequately reviewed.
Moving forward, Chodur said she believes the UCOP will need to closely monitor each university to ensure that individual campuses uniformly implement the plan.
"I will say that these recommendations are the minimum," Chodur said. "So it will be very disappointing if we are dealing with a couple of campuses who can't make this bare minimum of an effort."