South LA Cafe provides community affordable produce, cultural hub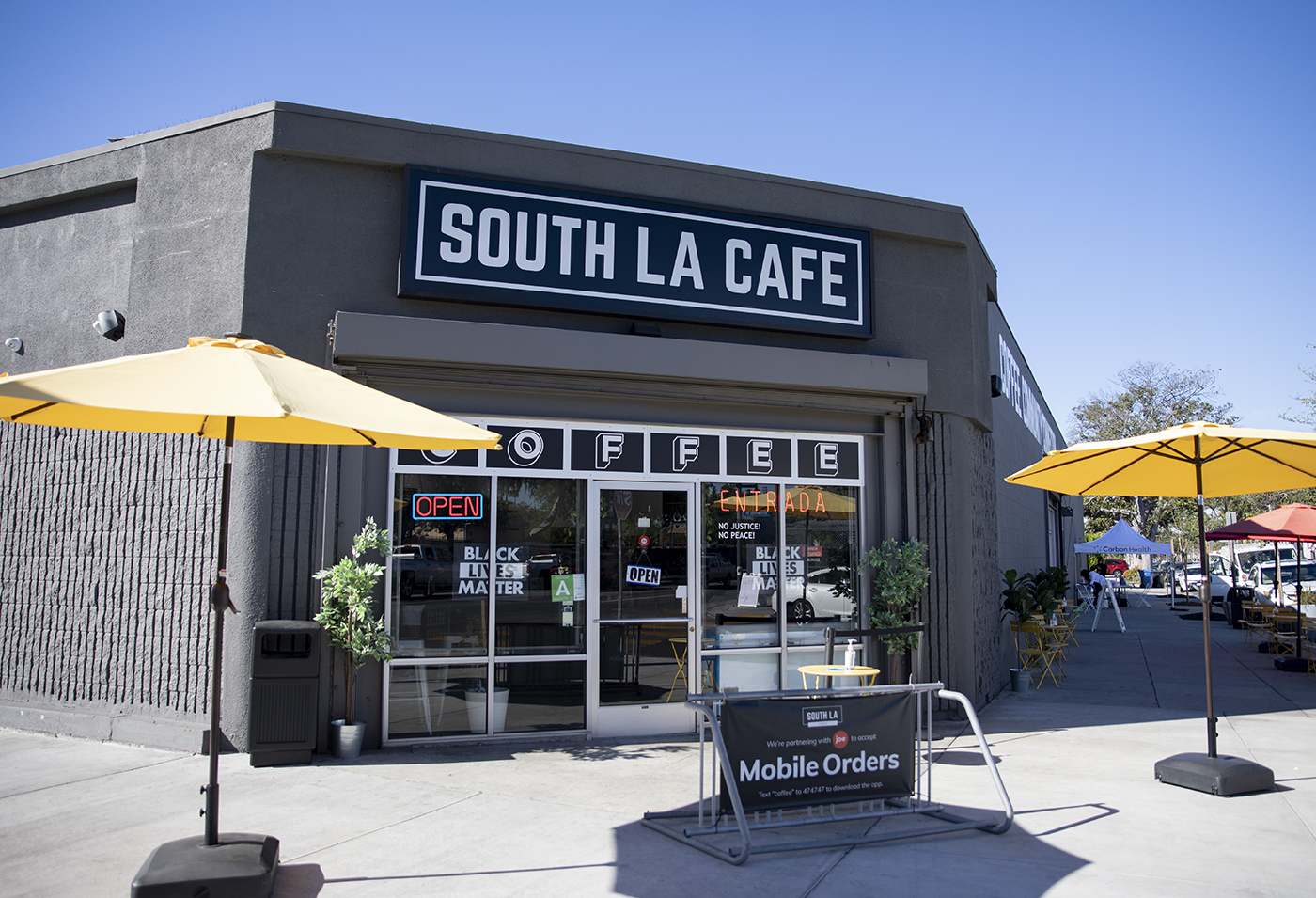 South LA Cafe is connecting coffee, community and culture. The business, owned by alumnus Celia Ward-Wallace and Joe Ward-Wallace, was started in 2019 and aims to provide neighborhood members with healthy, affordable food options and honor the heritage of the South Central region. (Ashley Kenney/Photo editor)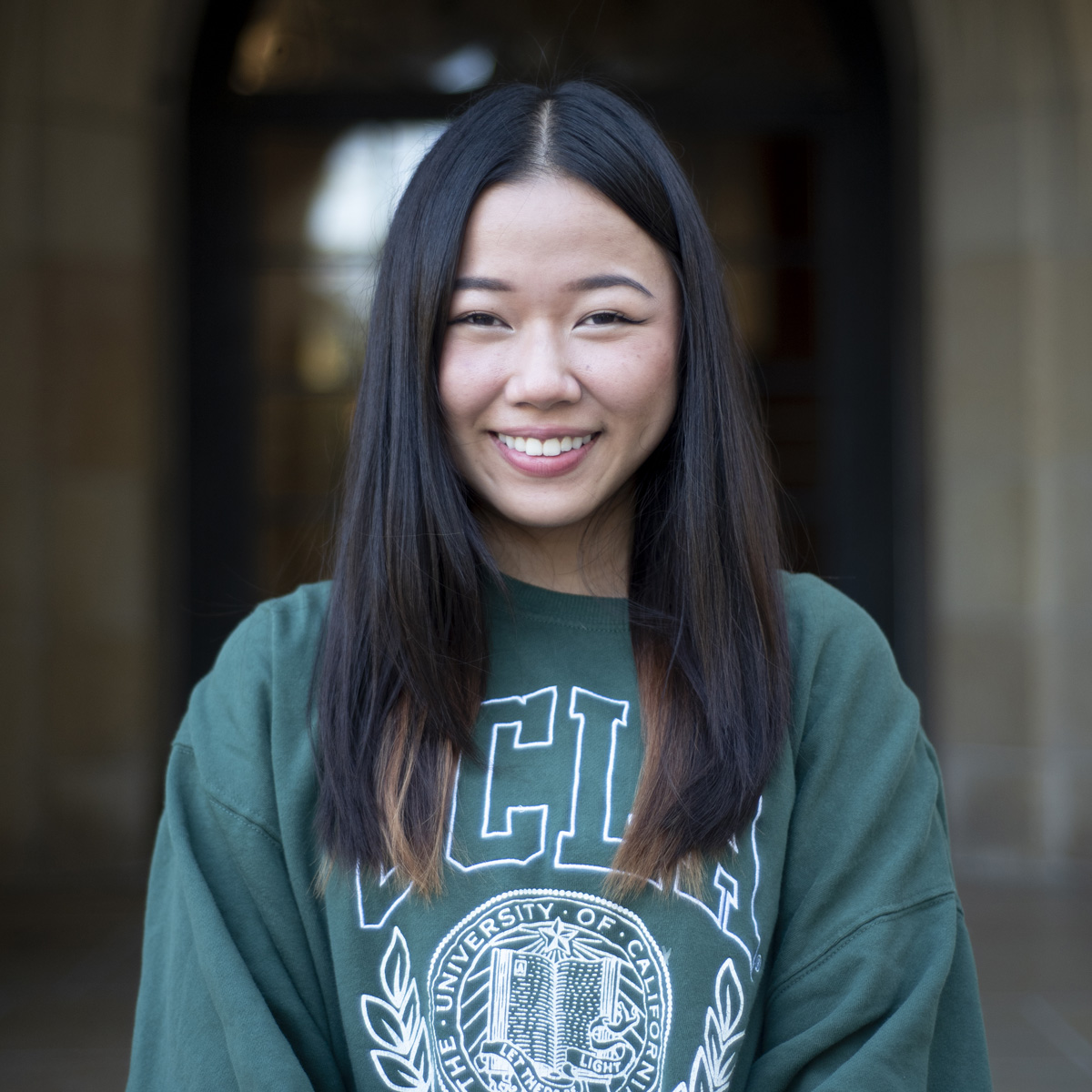 This post was updated Feb. 23 at 10:05 p.m.
South LA Cafe is serving up coffee, community and connection.
A Black-owned, woman-owned and family-owned business, the cafe doubles as a market and cultural hub for the South Central Los Angeles community. Both long-term residents of the area, alumnus Celia Ward-Wallace and her husband Joe Ward-Wallace opened the business in November 2019 when they noticed the region's limited access to healthy food, Celia Ward-Wallace said. She said the area is considered a food desert, containing only a few low-quality grocery stores which often carry considerably more processed foods than fresh produce.
"Through centuries of disinvestment and racial inequity, this community has resulted in basically a barren desert for fresh and healthy, affordable food," she said. "We just felt, with the combination of the gentrification that was coming and the lack of access to food, that we really had to do something about it."
To meet this demand, the pair decided to open South LA Market next door to the cafe in the same month. While the cafe functions as a typical coffee shop, serving drinks and pastries, the market is a mini grocery store offering affordable produce to purchase. Celia Ward-Wallace said opening the market was crucial in the fight for South Central residents' rights to food justice.
"The people who live in this community deserve to have access to fresh, healthy and affordable food," Celia Ward-Wallace said. "They're no different than any other community, other than that they are predominantly Black, brown and lower income."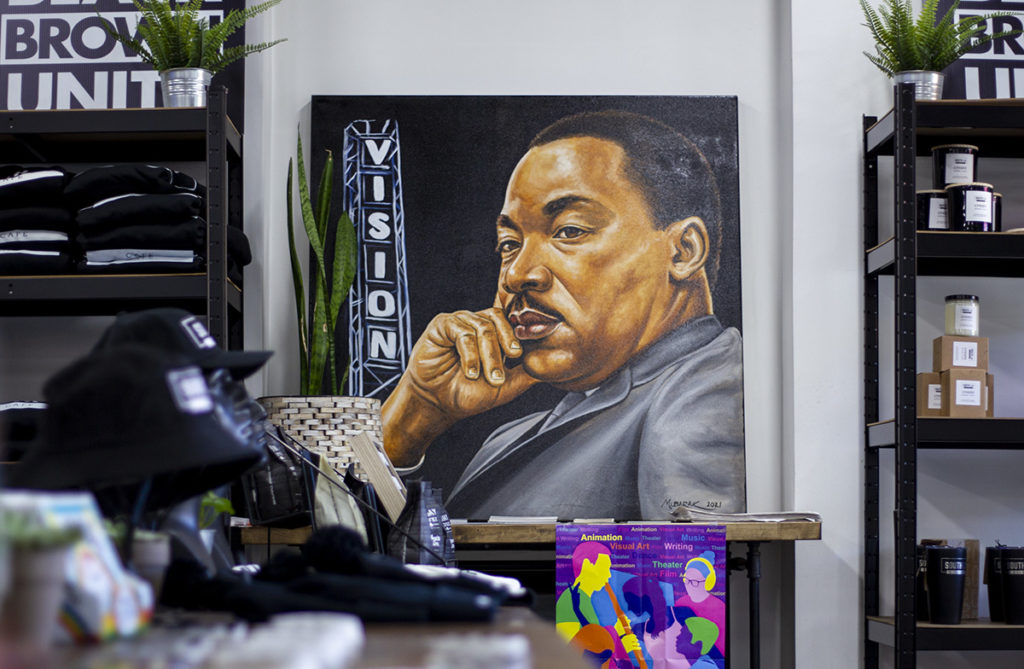 [Related: UCLA student cooks up traditional recipes with vegan spin]
To fill this critical gap in resources, the pair came up with the idea to host a grocery giveaway every Wednesday to help fight food insecurity, Celia Ward-Wallace said. Anyone can visit their website and donate $40 to sponsor a box that can feed a family of four, and people have the option to either get these boxes delivered or pick them up in store.
Along with the boxes, the market's priority is giving people access to healthy foods they can cook for themselves, Joe Ward-Wallace said. South LA Market differs from a typical food bank as it offers mostly fresh vegetables, rice and beans, helping change the notion that the only meal option for low-income individuals is fast food, he said. Started during the pandemic, the program has been going on for 84 weeks and has resulted in approximately 17,000 boxes of groceries being delivered to community members, he said.
"We saw that there were so many boxes being sponsored because of George Floyd's murder, like social uprising around racial equity," Celia Ward-Wallace said. "People wanted to do something, … so we came up with this idea where you could sponsor groceries for a neighbor in need."
Additionally, she said the cafe spent time building relationships, functioning more as a community center people can depend on. In return, she said South LA Cafe uses the resources given to them by the community to cater toward its specific needs. For instance, Celia Ward-Wallace said the cafe hosts mental health workshops, health clinics and recipe demonstrations to help the community beyond fighting food insecurity.
Besides serving coffee and groceries, the cafe also aims to be a community space that can celebrate and preserve South Central's rich history and culture, Celia Ward-Wallace said. The business showcases local artists through open mic nights, art shows and poetry readings, she said. Longtime volunteer CJ Hammond said he envisions the cafe becoming akin to a Soho House of South LA where people can invest their time and resources to see the community art sphere grow.
"A lot of times, through gentrification, the work of people of color is often overlooked or underappreciated and then appropriated by white culture," Hammond said. "My hope is that South LA will turn into … a place of love, community (and) connection."
Hammond said he first stumbled across the cafe in October 2020 while working with the elementary school across the street. After Joe Ward-Wallace and Celia Ward-Wallace invited him to visit the cafe one day, Hammond said their mission statement immediately resonated with him. More than a year later, Hammond said he has spent every Wednesday since helping pack grocery boxes, organizing inventory and interacting with customers as they wait in line.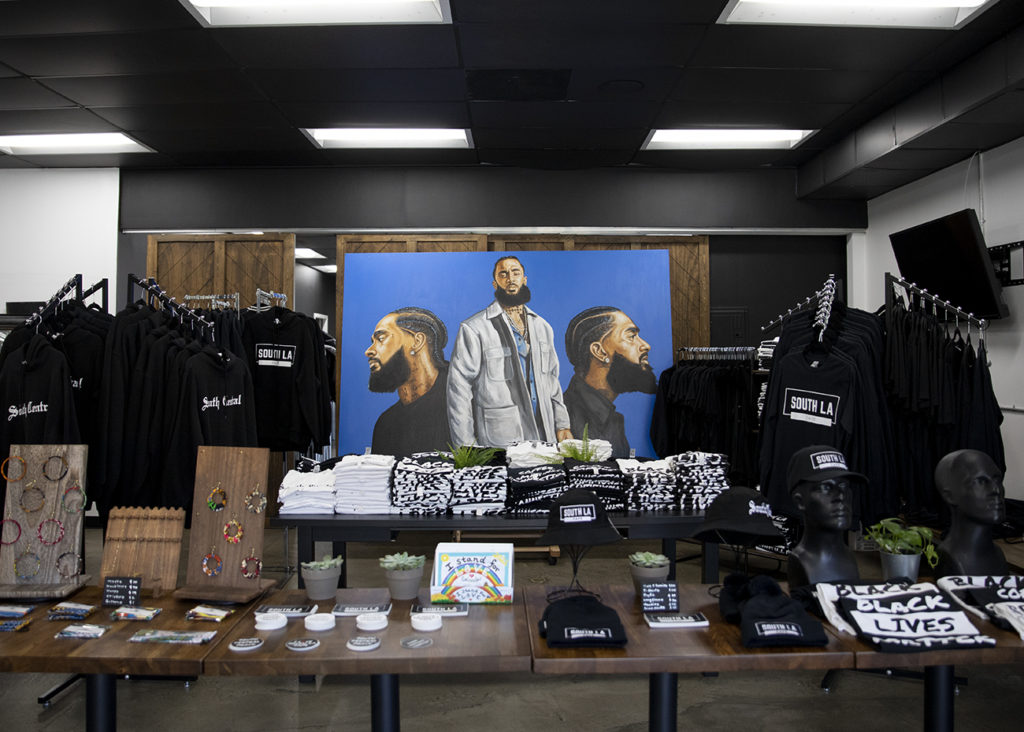 [Related: UCLA student channels passion for cooking into apartment pop-up restaurant]
Despite the seven-mile distance between Sherman Oaks, California, and South LA, Hammond said he has noticed a stark difference in the standard of living. As a resident of a wealthier area, Hammond said he is afforded more resources than those living in South LA. In addition to more grocery stores to choose from, he said other factors showcase his privilege, such as accessibility to public transport and the speed at which the government fixes streets and sidewalks.
"It's systematic in the ways (the government) treats (South LA)," Hammond said. "There should be a grocery store with fresh produce on every street corner, but that's not what they live with."
Despite the COVID-19 pandemic delaying their plans, Joe Ward-Wallace said the pair aims to open two other stores in South Central by the end of the year. Although some people have requested that they expand the business beyond the South Central area, he said the company is prioritizing taking care of its community first.
The familial atmosphere Hammond said he feels a part of while volunteering at the cafe is what keeps him returning every week.
"There's a godly feeling every Wednesday when I'm there – that you are in the presence of something bigger than just handing out food," Hammond said.