The Quad: UCLA Dining continues pursuing student-driven sustainability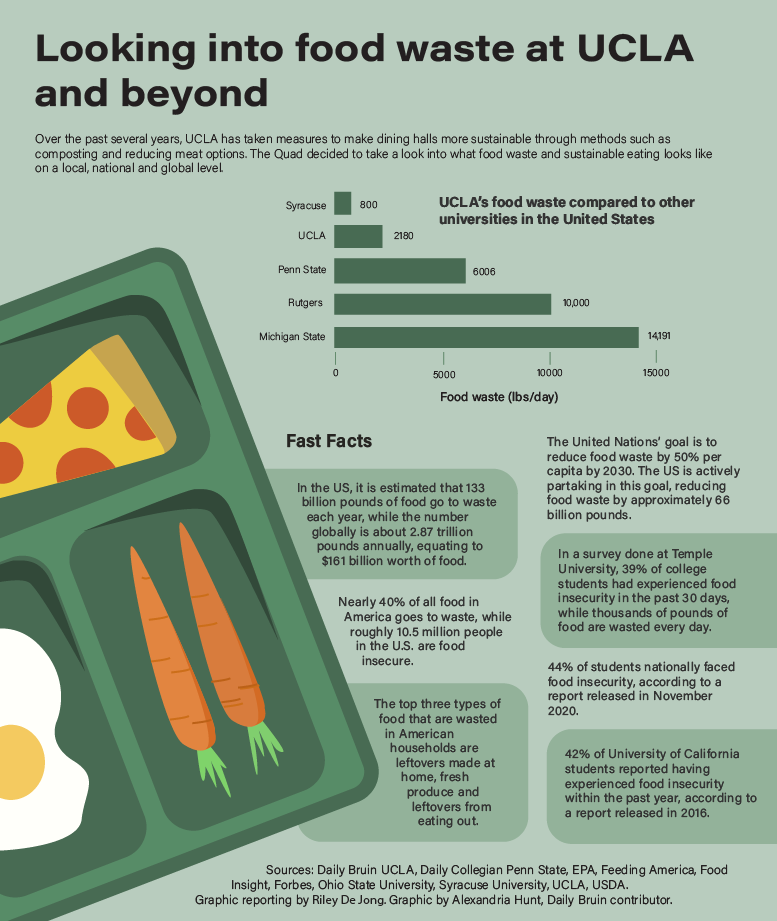 As the pressure of environmental crises increases globally, institutions have taken it upon themselves to make efforts to increase their sustainability. One route many have chosen is the implementation of more sustainable dining practices.
In 2021, UCLA was awarded a Gold Star by the Association for the Advancement of Sustainability in Higher Education, the second-highest honor bestowed by the organization. But what is UCLA doing behind the scenes to reduce food waste and improve its sustainability?
According to the UC system's Food Service Policy, the UC system's goals include increasing sustainable food usage to 25% at all UC campuses by 2030. UCLA's 2018-2019 Foodservices Sustainability Policy Report said that 20% of the food used in the dining locations at UCLA was considered sustainable.
Bonny Bentzin, the Deputy Chief Sustainability Officer at UCLA, said the sustainability program is influenced by the relation of student productivity to food.
"In-sourced food service, historically, has been better food, and better food is about retention," said Bentzin. "Students do better work when they have better food. That's just human … good food makes happier humans who do better work."
According to a 2017 article by Higher Ed Dive, roughly 22 million pounds of food are wasted on college campuses annually, with the average college student generating roughly 142 annual pounds of food waste.
To avoid contributing to statistics like this, UCLA dining has taken steps in an effort to reduce the amount of food waste Bruins produce.
Al Ferrone, Senior Director of Dining Administration Services, said that UCLA takes measures that allow dining staff to determine student eating habits.
"We've done a study many times, where we'll sit at a station where (students) are clearing their plates and we'll weigh and break down the dishes for several hours, and measure out what's being wasted," Ferrone said. "Some people do take more than they can eat and they throw (the excess) away, but that's very low for us, so that's a good thing."
Ferrone added that UCLA repurposes the food thrown away in the dining halls through composting and donation methods.
"Each dish-(washing) station has this massive grinder … that takes all that waste – food, bones, whatever it is – and mashes it into a meal … and the pulp goes back to the farms," Ferrone said.
Ferrone said UCLA also saves food scraps that have not been served from various meals and reuses them to reduce the produce that goes into the compost.
"We look at products and try to make as much stuff from scratch as we can. For example, if we're peeling carrots, if we're peeling onions, we'll save the peelings so that we can make a stock out of it," Ferrone said.
Bentzin said the university had previously worked with organizations to reduce pre-packaged or untouched food waste by collecting it and passing it out to those who are food insecure.
Bentzin added that as of recently, the sustainability committee has been working to receive grant money to create a better system of food preservation and distribution.
Ferrone said that before the pandemic, the university implemented a simple system to increase student awareness of the carbon footprint of their diets with small green and red earth symbols placed by each dish served at all dining locations.
"If you go to our menu you can see all the symbols," Ferrone said. "Whether it's an allergy, whether it's humane, whether it's sustainable … so (students) are paying attention to that, there's no question about it."
Ferrone added that the cycling of dishes within the dining halls allows the dining staff to track what dishes students prefer and what they are not picking up.
"Really it's about what (students) consume and that drives what we buy," Ferrone said.
First-year neuroscience student May Jiang said that she does not base her meal choices on the small carbon impact symbols on the dining menus, but does believe that the amount of meat used in the dining halls could be reduced.
"I feel like sometimes the way that they use meat is unnecessary…Like, B-Plate is supposed to be environmentally conscious, but sometimes they put meat in stuff that I feel like doesn't need it," Jiang said.
Andrew Brown, a first-year economics and statistics student, said it is important to view sustainability on a broader spectrum related to large-scale corporations, rather than just an issue for dining halls.
"I don't think that me stopping (from) eating one thing will have that much of an impact," Brown said. "If we just make individual decisions, that's not going to change what UCLA will do, or every college in the nation or like, all these meatpacking industries … you need to do, like, political, governmental restrictions."
Bentzin said that the work towards sustainability largely stems from educating students on food production and sustainable eating. With a larger idea of sustainability in mind, Bentzin said she is hopeful that UCLA can continue to improve its sustainability efforts.
"We've done a lot of work on this," Bentzin said. "Are there areas that we can improve? Absolutely. But it's that tension of supply and demand and what our audience wants, and those are the things that drive those decisions."