California assembly bill aims to increase accountability for gun violence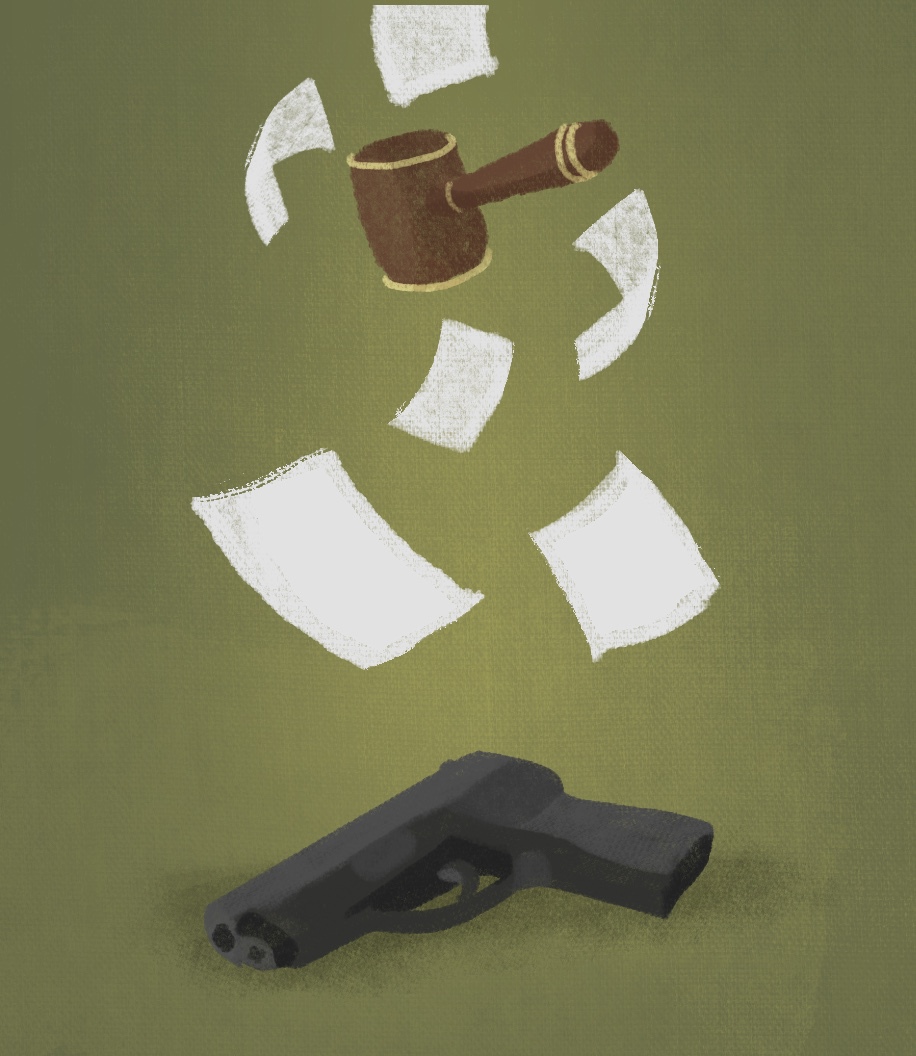 (Katelyn Dang/Illustrations director)
This post was updated Jan. 23 at 10:44 p.m.
California lawmakers unveiled a new assembly bill that would make it easier to hold firearm manufacturers and distributors accountable for illegal gun violence.
Introduced Jan. 3 by Assembly members Phil Ting, Mike Gipson and Christopher Ward, Assembly Bill 1594 aims to hold gun manufacturers, dealers and importers responsible for engaging in unfair business practices by allowing gun violence survivors and local governments to file lawsuits against them for failing to follow federal, state or local law.
On Dec. 11, Gov. Gavin Newsom called on the California Legislature to create this bill, modeled after the 2021 Texas abortion law that allows private entities to sue abortion clinics and providers for providing most abortions after six weeks.
[Related Link: UCLA students, faculty worry for future of abortion rights amid new Texas law]
Currently, many types of civil lawsuits against firearm sellers and manufacturers are prohibited under the Protection of Lawful Commerce in Arms Act, passed in 2005 to prevent unreasonable burdens on this type of commerce.
Eugene Volokh, distinguished professor of law at UCLA, said this bill would provide a new way to enforce existing laws but would not add additional responsibilities on gun industry members to prevent misuse.
He added the law is not very distinct from existing legal rules, and it wouldn't add new obligations for gun distributors.
The bulk of gun crime in California is not because gunmakers have violated any laws, but rather because gun users have violated the law, Volokh said. AB 1594 will target gun manufacturers involved in illegal or unfair business practices, not gun users, he added.
Adam Winkler, a UCLA professor of law, said it is likely the bill will succeed because of the Democratic majority in the state legislature and the state's strong track record of passing gun measures in the past decade.
However, Volokh added that there are still questions surrounding whether the bill would be effective in limiting gun crime or gun misuse.
"Opponents are likely to say that Newsom is violating the Second Amendment (of) the Constitution," Winkler said. "They might also say that it's an ineffective way for Newsom to try to combat conglomerates."
Following Newsom's statement to create this bill, the National Rifle Association issued a statement criticizing Newsom's plan, stating he is infringing on constitutional freedoms.
"Newsom's statement comes at a time where brazen crime continues to plague the state," the statement said. "But, instead of rightfully focusing his attention on criminal conduct, he continues to harass and demonize law-abiding gun owners."
The timing of Newsom's announcement to form this bill suggests he was inspired by the Supreme Court's decision to allow the Texas law to stand, Winkler said.
This bill and the Texas abortion law both ask the question of whether constitutionally protected rights, such as the right to bear arms and access legal abortions, can be regulated by states and enforced by private citizens, said Jim Newton, a communication and public policy lecturer.
Newsom's approach seems to suggest that if Texas conservatives can use the law to restrict abortion, the California progressives can use the law to discourage certain kinds of gun possession, Winkler added.
The Supreme Court decided not to block the Texas law prohibiting most abortions on Sept. 1, allowing private citizens to enforce the law through civil suits.
Newton added that AB 1594 is most likely intended to remind the court that in passing the Texas law, they are opening the door to similar issues in the future.
"If (the bill) were actually put into effect and it would allow private citizens to make claims against gun manufacturers, then that would change the way we enforce gun control," Newton said. "It would even expand the universe of enforcement in the same way or in a similar way to what Texas is doing with respect to abortion."
He added he would not be surprised if the bill passes, but it may not have much of an effect – it is intended to draw attention to the Texas example.
"This law is really, … more than anything, meant to underscore how outrageous it is that the court has been unwilling to strike down the Texas law so far," Newton said.