UCLA students, faculty worry for future of abortion rights amid new Texas law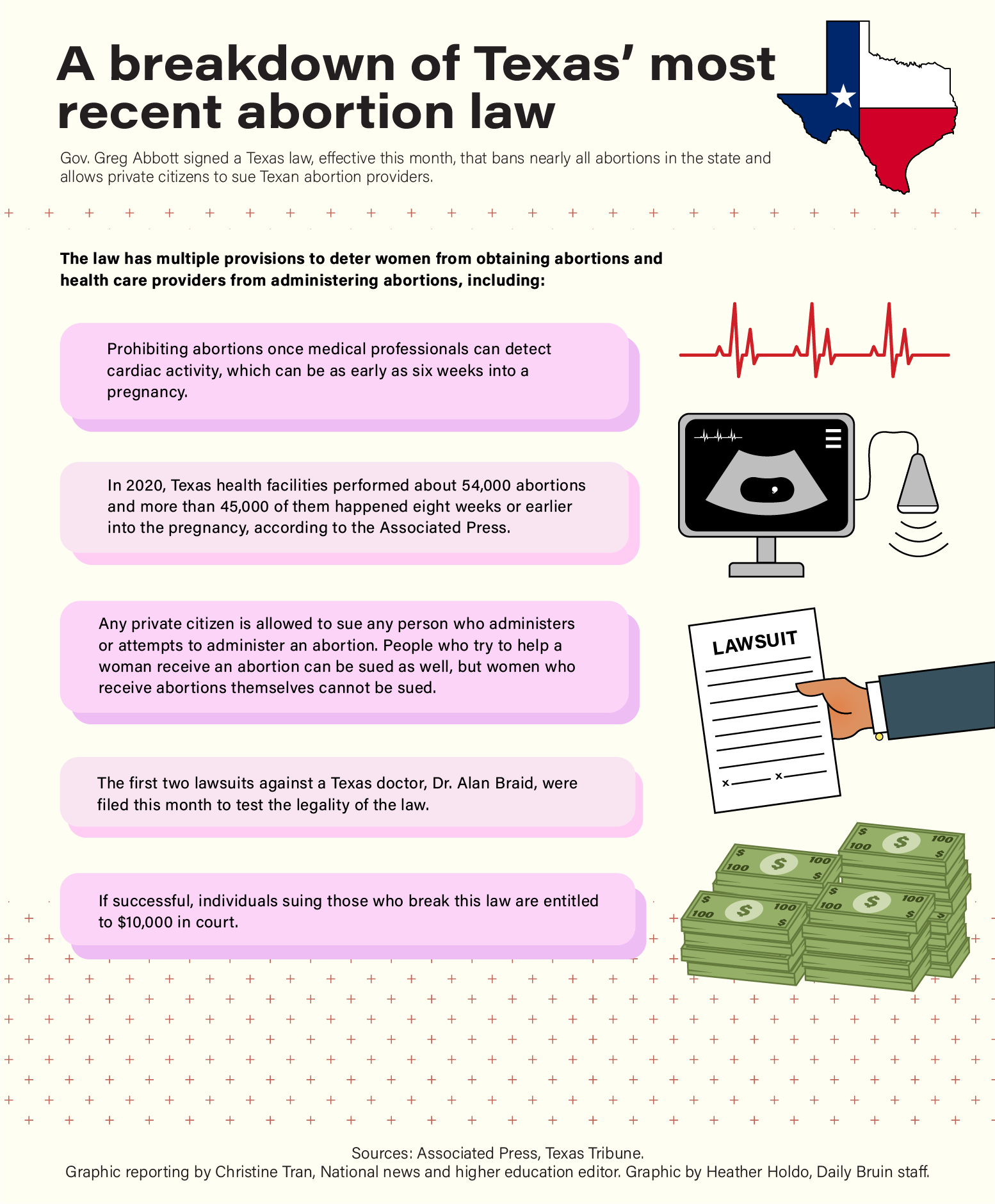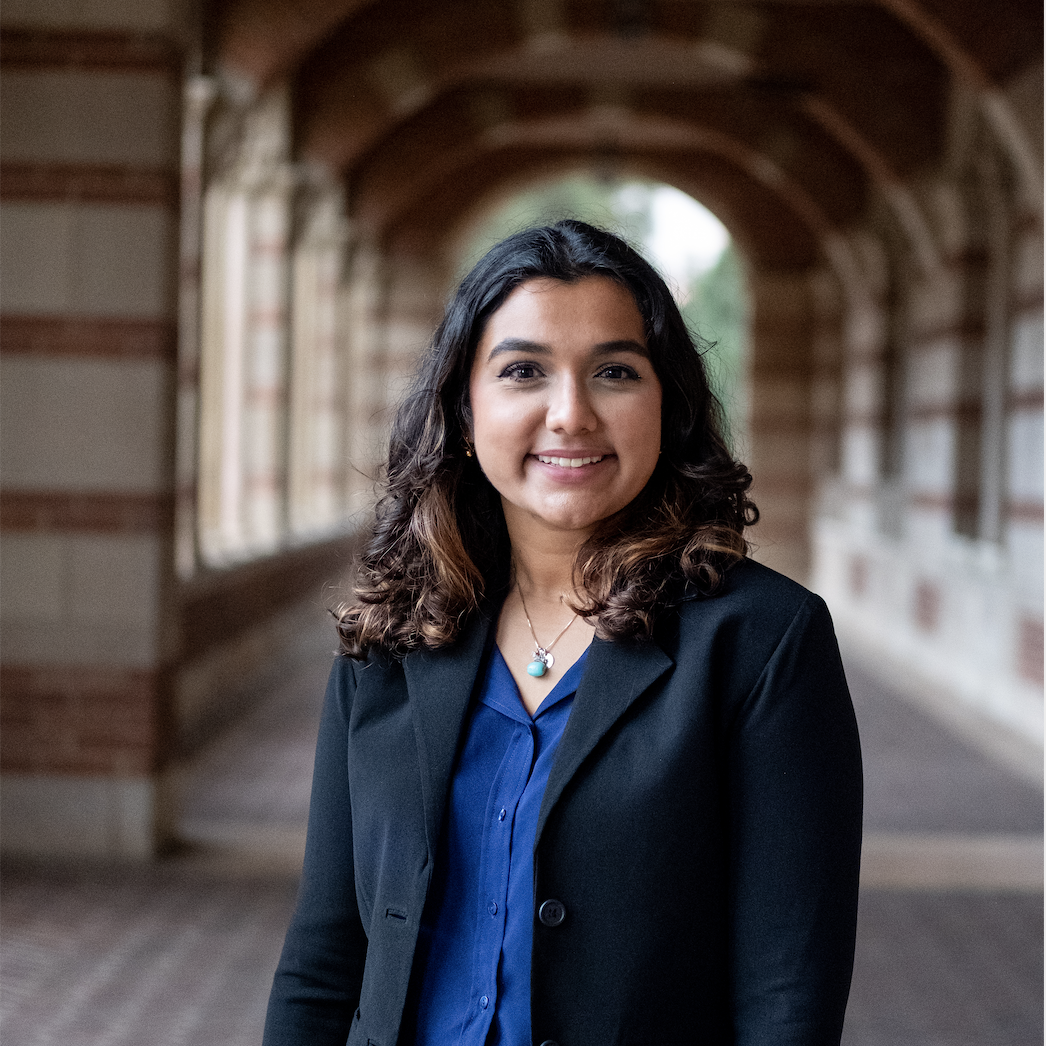 Sept. 27, 2021 12:22 a.m.
UCLA students and faculty expressed concerns about a recently passed Texas law that further restricts access to safe abortions.
Senate Bill 8, a Texas law passed Sept. 9, authorizes private citizens to sue people for up to $10,000 if they assist an individual getting an abortion past six weeks of pregnancy. The law evaded judicial review and bypassed Roe v. Wade because it utilizes private citizens to enforce the law.
In September, the Supreme Court declined to block the law from going into effect, according to the New York Times.
The law is unique compared to heartbeat laws, which refer to restriction of abortions once a heartbeat of a fetus is detected, because it creates a private enforcement mechanism that works similar to bounties, said Sapna Khatri, a Sears clinical teaching fellow with the UCLA School of Law and Williams Institute.
"This basically means that they – a private citizen – can sue anyone, from the Lyft driver who was driving a woman who's trying to access abortion care, to the abortion provider that is actually providing the abortion service, to a family member that's helping this person get access to funding or information about abortion care," she added.
Companies such as Uber and Lyft have stated that they will provide financial support to any driver who is sued under the law for aiding an individual accessing an abortion.
Generally, when someone opposes the enforcement of a law, they can sue the official who enforces the law, said Adam Winkler, a law professor and a specialist in American constitutional law and the Supreme Court.
However, since there are no state officials enforcing SB8, individuals can not oppose the enforcement of the law, he added.
According to NPR, two individuals recently sued a doctor who wrote an op-ed about performing an abortion in order to force a court review of the Texas abortion law.
The short time period for legal abortions – up to six weeks of pregnancy – is another complicated aspect of this legislation.
Roe v. Wade, which ensures individuals a constitutional right to abortion up to the point of viability, is being challenged by SB8, said Mark Peterson, a professor of public policy, political science and law. He added that the point of viability refers to when a fetus can survive on its own outside a woman's body.
SB8 is not going to have a net positive effect but instead will create a dangerous effect for individuals seekings abortions, Khatri said.
"The solution is not that they're going to still stay there with their pregnancy and give birth," she added. "The harsh reality is that they're going to find an unsafe and potentially dangerous way to still abort that child."
Lyndsey Garrett, a fourth-year gender studies and sociology student, said the unique nature of the bill brings up larger concerns around reproductive justice.
"It is very scary … just due to the fact that Roe v. Wade can now be circumnavigated. Then you can design other bills like this that are not easily enforceable, and so they're not easily challenged as well," said Garrett, who is also the co-director of UCLA Sexperts.
Despite the concerns over the abortion law, faculty members said that California has one of the most comprehensive abortion protection laws in the country.
California has a range of protections for abortion rights, including safeguards written in the state constitution, legislative protections and a majority in the state assembly of Democrats who support abortion rights, so there is no chance of a similar law in California, Winkler said.
Some UCLA community members added that they are worried about legislation resembling the Texas law being introduced in other states.
Florida recently introduced House Bill 167 – a bill similar to the Texas law that allows individuals to file civil lawsuits against doctors who fail to check for a fetal heartbeat prior to performing an abortion, according to ABC News.
"We're seeing legislators who are not even in session right now make commitments to introduce similar legislation as SB8 when their legislative session does come to be, and so I think what's scary for Texans right now is going to become a reality in other states," Khatri said.
As the original sponsor of the first #HeartbeatBill to pass in America in 2013, today I have ordered a bill be filed in Arkansas to update our law to mirror the Texas SB8 bill which was just passed as a Model Bill at @ChristLawmakers & upheld by the US Supreme Court. #arpx 1/2 pic.twitter.com/cjoeTmCKdz

— Jason Rapert (@jasonrapert) September 2, 2021
Peterson also added that there are at least six states where conservative legislators are indicating they want to pass similar legislation but have not done so yet.
"The real thing is that there (is) a great deal of uncertainty about how this is going to unfold in the future, both legally and politically," Peterson said.
Chakrabarti is currently the 2021-2022 News editor. She was previously the 2020-2021 assistant News editor for the science and health beat, and she was a former contributor for online. She is also a third-year mathematics and economics student at UCLA.
Chakrabarti is currently the 2021-2022 News editor. She was previously the 2020-2021 assistant News editor for the science and health beat, and she was a former contributor for online. She is also a third-year mathematics and economics student at UCLA.