Art exhibit review: UCLA alumnus Richard Wyatt Jr. uses art to encapsulate emotion and resilience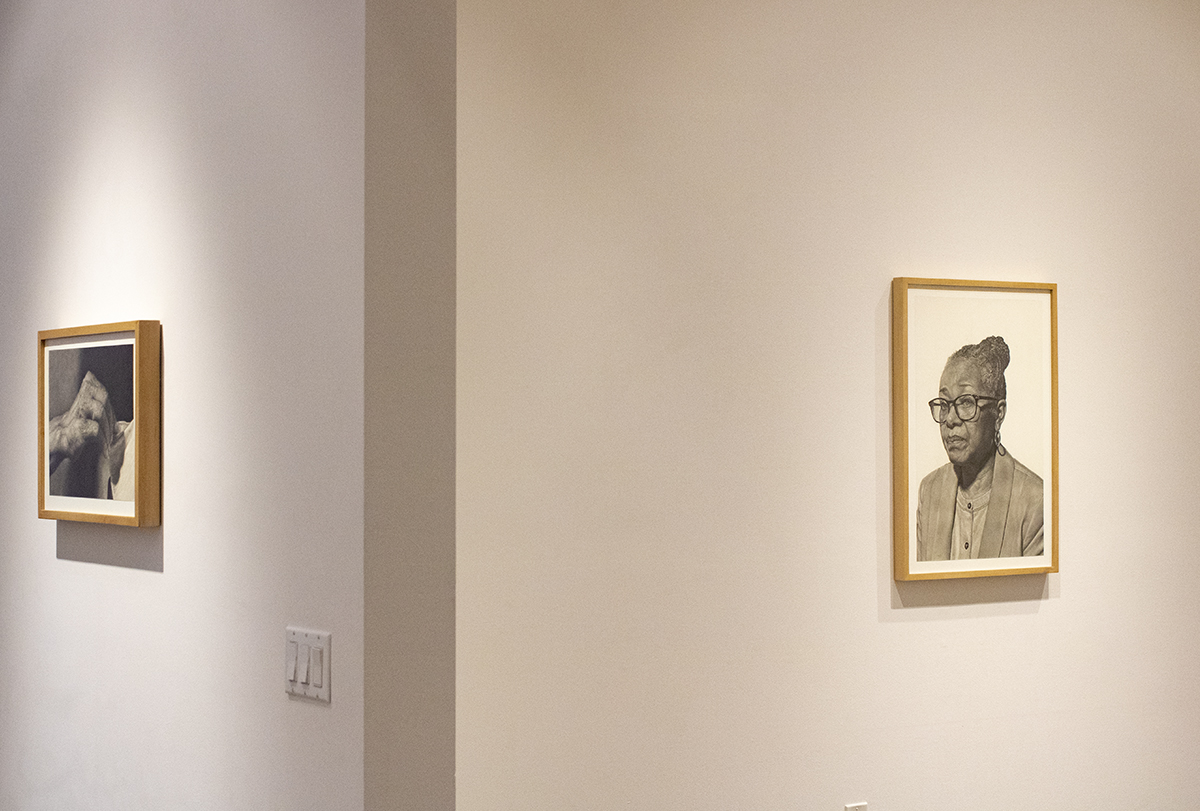 Alumnus Richard Wyatt Jr.'s show, "Loss, Healing & Restoration," is on display at Steve Turner gallery. (Finn Chitwood/Daily Bruin)
"Loss, Healing & Restoration"
Richard Wyatt Jr.
Steve Turner
6830 Santa Monica Blvd.
Los Angeles, CA 90038
Jan. 8 to Feb. 5
This post was updated Jan. 23 at 11:51 p.m.
Just in time for the new year, UCLA alumnus Richard Wyatt Jr.'s latest drawings are surprising pictures of hope and healing.

The eight charcoal, graphite and pencil on paper drawings in "Loss, Healing & Restoration" are placed inside and outside the second of three rooms at Steve Turner gallery in West Hollywood. The show is intimate – Wyatt delicately renders portraits of family, himself and Bryant, as well as two drawings that reference St. Paul the Apostle. In "Loss, Healing & Restoration," the artist draws the emotional gamut of pain and recovery, offering an ode to resilience.
Considering his oeuvre of iconic public works, it is hard to picture Wyatt as an undergraduate art student at UCLA in 1978 – that he walked through the Franklin D. Murphy Sculpture Garden, studied on North Campus and was as young and zealous as current-day art students. Growing up, Wyatt studied at the Watts Towers Art Center, where he later painted a mural of Cecil Ferguson, and at age 17, he displayed work in the Los Angeles County Museum of Art's "A Panorama of Black Artists" exhibition. With 50 years of practice behind him, Wyatt is at the peak of his technical abilities in "Loss, Healing & Restoration."
Wyatt pulls viewers into the gallery room with three large drawings. "Glory Cloud," the full-body drawing of Wyatt's father, looks straight ahead with thunderous authority as the largest drawing in the show. Works to the left and right – "Joyce," a portrait of Wyatt's wife that fixates viewers with its complex emotion, and "The Gifted One," a portrait of late basketball star Bryant, perhaps the most moving in the show – attract viewers with their graphic sharpness.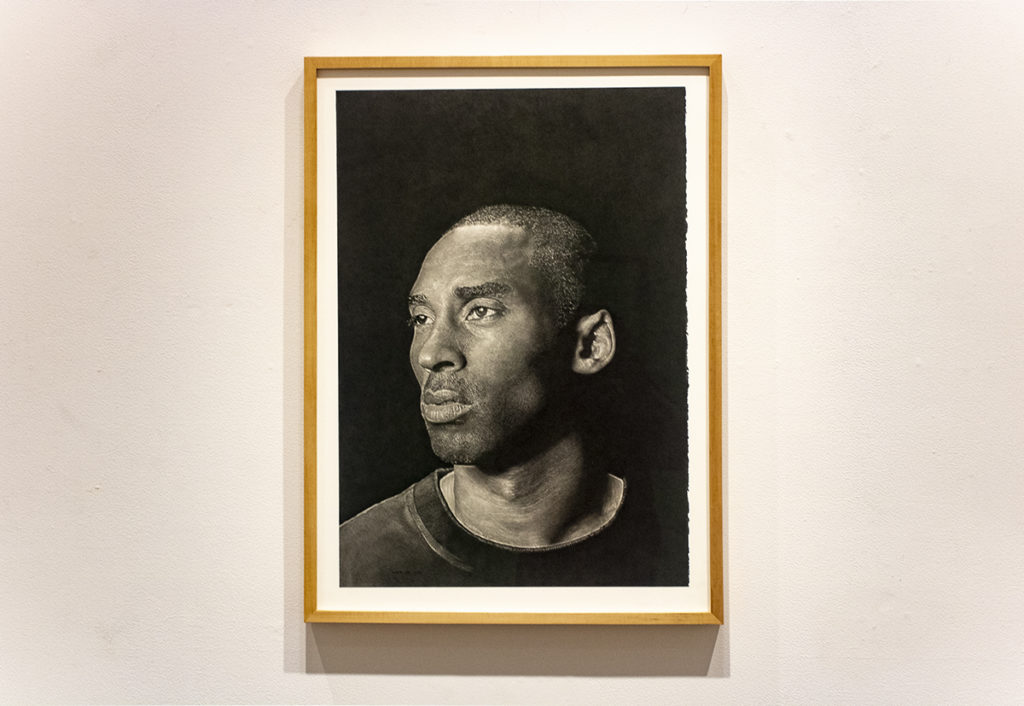 [Related: Art exhibit review: 'There's No Place Like No Place' encodes language in colorful symbols]
But bringing the St. Paul drawings and the portrait of Wyatt's daughter into the gallery room could have made a more immersive experience. To the chagrin of these works, which are flanking and right behind the room's entrance, it is impossible not to be pulled inside the space. As the muralist who made the front-and-center "City of Dreams/River of History" at Union Station and "Hollywood Jazz: 1945-1972" at the Capitol Records building in Hollywood, Wyatt knows how to absorb attention from afar.
Though they are striking from a distance, all eight works are best seen up close. Wyatt's two self-portraits are each smaller than one square foot and depict a zoomed-in portion of the middle of his face. The area depicted is right below the eyes – teardrop territory; but in this show of restoration, there is only the skin, time-worn and resilient, a theme also present in the St. Paul drawings. In "Paul's Work Clothes #2," the hand is as weathered as the jeans it reaches for.
After the initial pleasure of seeing the drawings, it is hard to wrap one's head around two aspects of "Loss, Healing & Restoration." The first is that Wyatt made almost all of these drawings in 2021. Subjectwise, it is clear he made them recently – the stoic portrait of Kobe Bryant and of Wyatt's daughter in an N95 mask are familiar reminders of the loss and tragedy of the past couple of years. But Wyatt's traditional realism and chiaroscuro treatment of light and shadows, as well as his subjects' subtle emotional power, give the drawings a timeless quality.
The second astonishment of the show lies in its realism – that the works were made by Wyatt's hands, mark by mark. Realism is not a golden ticket to good art, but it is an indication of talent and a surefire way to impress viewers. According to a press release, Wyatt states he does not copy but rather observes, using abstract lines to interpret subjects. This is splitting semantic hairs – Wyatt seems to copy more than he admits, and skillfully at that. Still, up close to the drawings, one can see skin rendered with countless little grayscale lines.
[Related: Graduate student's art exhibit speaks on diasporic communities through soil]
"Loss, Healing & Restoration" is so artistically successful because Wyatt's techniques and materials are perfectly aligned with his figurative and thematic content. It is a show about humble persistence. Wyatt's father stands with his right hand clenched; his wife's face is tightened by a pursed mouth. "The Gifted One" assumes a slight snarl and St. Paul works toward his story of redemption. The work is made with commonplace pencil, graphite and elemental charcoal, with evidently painstaking concentration and dedication.
As the show's title suggests, these eight works offer a fulfilling emotional arc of healing from tragedy. Even the eyelashes on "The Gifted One" are heartbreaking as reminders of humanness and fragility as well as heartwarming details of Wyatt's maximum tenderness. The gallery is satisfying, which may not be a virtue for viewers who want subversion, incisiveness or abstract chaos.
But for those who need expertly rendered, thoughtful drawings of resilience, "Loss, Healing & Restoration" is the show to start off 2022.