Transfer student shares experiences, advice through YouTube channel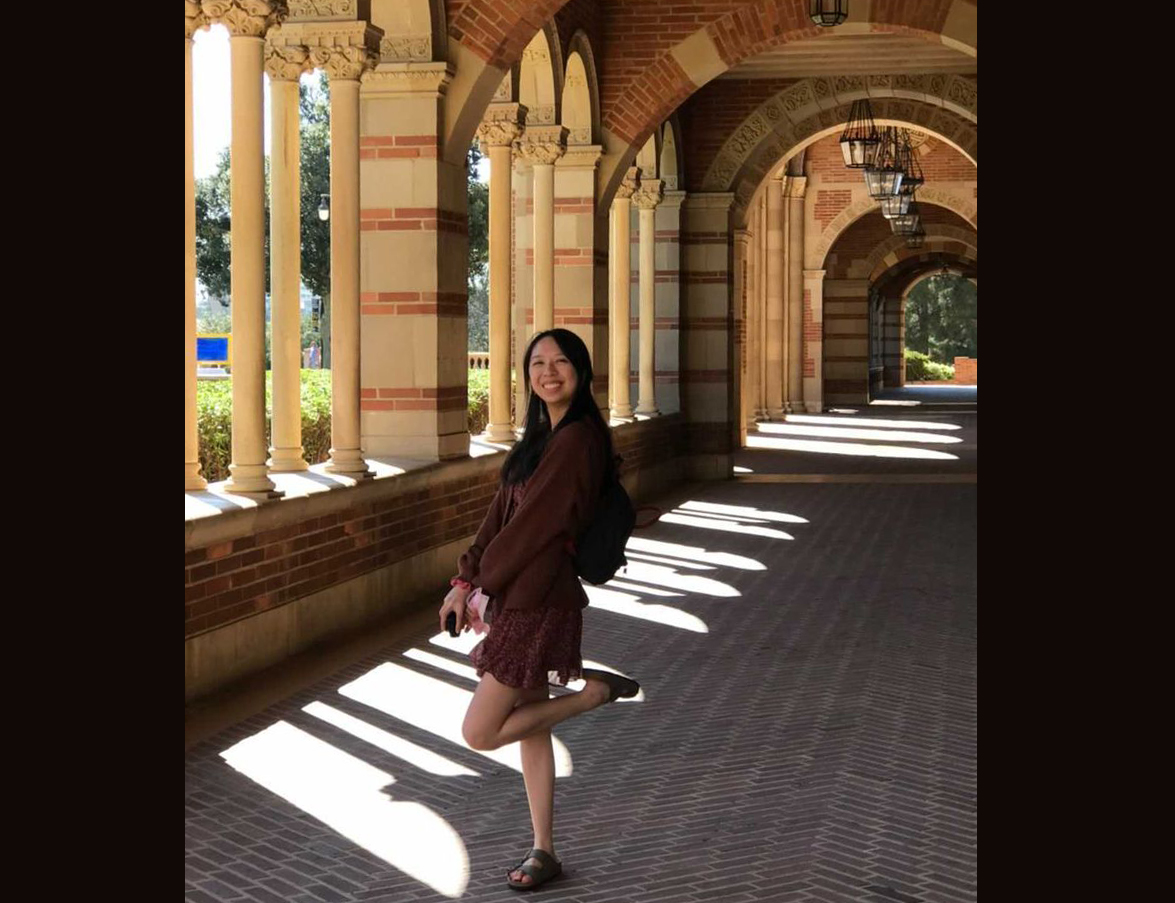 Fourth-year mathematics of computation student Jessica Win started her youtube channel in hopes of giving advice to aspiring transfer students, and to provide viewers with a realistic look at her day-to-day experiences as a Bruin. (Courtesy of Jessica Win)
This post was updated Jan. 17 at 9:41 p.m.
Jessica Win is the transfer mentor she never had.
The fourth-year mathematics of computation student runs a YouTube channel with nearly 1,700 subscribers, posting content surrounding her college life and career. Inspired by her love for K-pop and video editing, Win said she originally began her journey on YouTube as a way to combine these interests. Her K-pop fan videos currently have more than 100,000 subscribers, which Win said was a pleasant surprise, considering she now finds her old content on this channel to be cringeworthy.
"I realized that I really loved the feeling of making people happy and making people laugh and just being able to help others through my content," Win said. "So from there, I wanted to keep creating."
As time went on, Win said she gradually lost interest in her old K-pop content and started her new vlog channel, dvyjessica, to shift her focus and represent her real-life experiences. Rather than creating clickbait titles and concentrating on optimizing views, Win said she wanted her audience to learn about and appreciate her as an individual. By shifting from behind the camera to in front of it, Win said she has been able to connect with and help her viewers on a deeper level.
[Related: UCLA student crochets for a cause by donating business profits to charities]
On her new YouTube channel, Win uploads videos about her college career and daily life at UCLA. As a second-year transfer student, she said she aims to provide thorough advice and helpful tips regarding college applications, community college and UCLA's curriculum to viewers in similar positions. There is very minimal structure and planning to her videos, she said, especially because her content is produced on a whim. From vlogs of her move-in day to what her life looks like during finals week, Win said her channel represents a visual diary of real, unfiltered moments.
Since it is her first and only year physically on campus, Win said she discusses many related worries and frustrations within her school vlogs. As a fourth-year student, she said she has been trying to balance her busy schedule with the challenges she faces as she adapts to multiple new environments: shifting from online to in-person classes, living with other people for the first time and taking much harder courses than those at her community college.
"(Fear of missing out) is really bad, especially for fourth-year transfers because it's our only year on campus," Win said. "Most of us are trying to make the most of the social experience … along with doing well academically."
In addition to her YouTube channel, Win manages her own Discord server of almost 200 members. Driven by her popularity on YouTube, the server acts as another way for her viewers to connect with and learn from her. Subscriber Anh-Thu Tran has been active on the server since following Win a year ago.
As a student who also uploads college content on YouTube, Tran said Win's content has motivated her personally. Watching Win's videos have inspired Tran to create her own daily vlogs at UC Irvine, especially as she noticed the lack of documented transfer experiences at her own school. Tran said transfer students usually don't have the same resources as students admitted during their freshman year.
"Those that are straight out of high school have so many resources provided for them," Tran said. "Whereas for transfers, the resources are very limited because they're already in their third, fourth year in college, and most transfers already have a different perspective on their social lives before they even get into college."
[Related: UCLA student celebrates Indigenous heritage through handmade beadwork business]
Before her first year as a Bruin, fourth-year chemistry student Cece Nguyen said she met Win through UCLA's transfer Facebook group to room together this school year. She said she watched Win grow more comfortable with vlogging in public and with other students, especially with their new in-person college experiences. Many different elements such as living in the transfer residence hall and relating to other students have guided the pair through some of the toughest adjustments of the school year, but Nguyen said she recalls being clueless at one point in the past.
"If I (were) planning to transfer in, I would really appreciate (Win's) videos because I remember watching structured, surface-level videos of other people's experiences," Nguyen said. "She's just more human, and I appreciate how transparent she is with her channel."
While Win's future plans for her YouTube channel are unknown, she said her main goal is to share advice for her viewers that she is qualified to be providing through her own experiences. Currently, she sees her vlog content transitioning from college to postgraduate life as a software engineer.
"I have enough experience to make advice videos for community college, but I don't think I have enough experience to share advice on software engineering just yet," Win said. "I'm just going to see where life takes me and go with the flow."