Restaurant review: Sweetgreen sprouts in Westwood, serves fresh finds at premium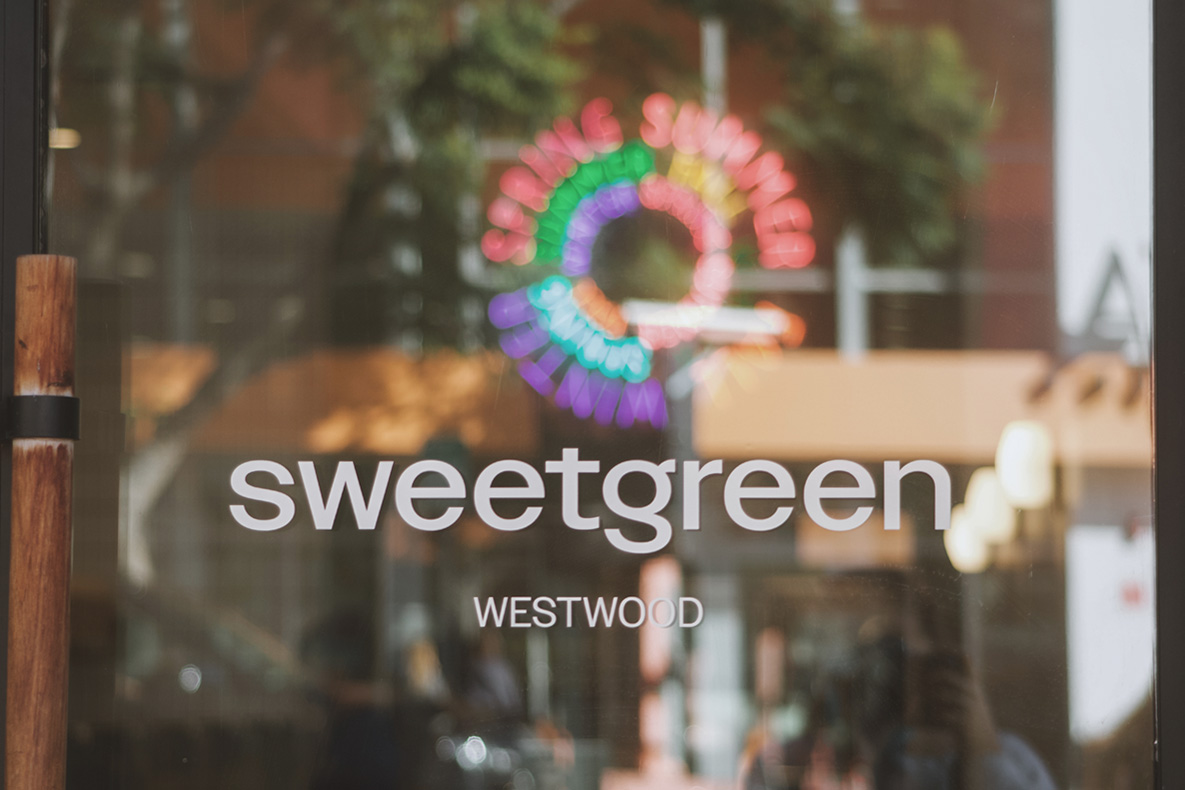 Sweetgreen opened its new Westwood location on Dec. 14. Offering a variety of healthier vegetables and proteins in a sleek and convenient setting, the restaurant chain is hoping to bring fresh and nutritious options to Bruins. (Alex Driscoll/Daily Bruin staff)
Sweetgreen
10922 Kinross Ave
Los Angeles, CA 90024
Sweetgreen is keeping it fresh as Westwood's newest dining addition.
Since opening their doors on Dec. 14, the store is bringing healthy and refined bowls to the Bruin community with its aesthetically pleasing atmosphere and friendly customer service. Adhering to its mission of redefining fast food, Sweetgreen's menu offers a wide assortment of vegetables, proteins and superfood toppings for customers to curate their own salad bowls, alongside signature and seasonal offerings that are catered to indecisive or first-time customers.
Upon walking in, the restaurant is accented with earthy shades of sage green and lush foliage, which perfectly complements the store's wooden built-in tables and exposed brick wall, welcoming customers with a warm ambiance in a sleek, clean fashion. Embellishing its walls with vibrant prints and neon signs, Sweetgreen brings a West Hollywood sophistication that cannot be seen in many other Westwood restaurants.
[Related: Restaurant review: Lulu elevates the museum cafe, hammers home environmentally conscious menu]
When ordering, the food bar fully presents every ingredient in an enticing manner, and the menu gives a clear walk-through of the options available. Customers choosing to build their own bowls are greeted with a diverse array of freshly prepared toppings ranging from Brussels sprouts to spicy broccoli, setting Sweetgreen apart from most bowl places in Westwood with blander options. Approaching the end of the bar, customers are also given the option of topping their salad with a light, medium or heavy pour of dressing – an aspect that allows the natural ingredients to shine on their own.
Among their signature bowls, the Harvest Bowl is presented as a popular favorite on the menu. The sweet palate derived from the apples and sweet potatoes is an enjoyable juxtaposition to the tangy notes of the balsamic dressing, elevating it from a basic salad with homogenous flavors. Likewise, the bowl did not fall short of varying textures as the almonds provided a pleasant crunch to every bite.
Presented as a seasonal dish, the Chicken and Brussels Bowl is also a delightful fall treat, providing a toasty, autumnal touch that is much needed on a chilly day. The golden brown, roasted Brussels sprouts contain zesty hints of balsamic, which highlight the seasonal vegetable. All expectations were met through the bowl's combination of different textures, for the bite of apples and almonds complemented the softer tones of the sprouts, which were the star of the dish and were enhanced by a refreshing cranberry maple vinaigrette.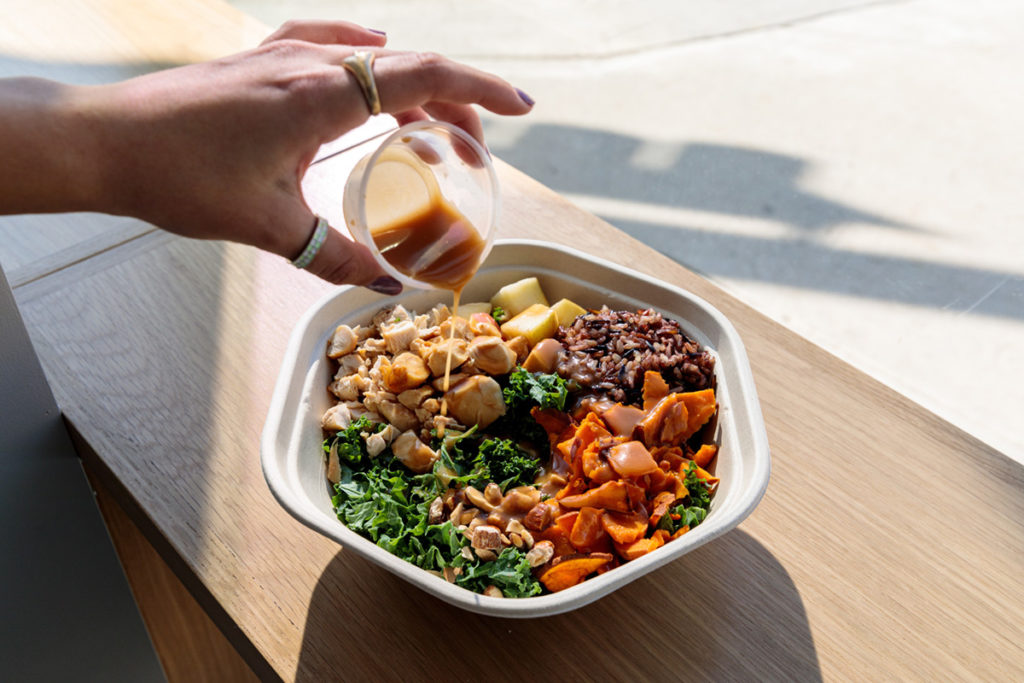 Conversely, Sweetgreen's seasonal item of a side of buffalo cauliflower fell short of its potential. The dish, served cold, was underwhelming as the crispy rice failed to add a crunchy element after being doused with Caesar dressing and Sweetgreen hot sauce. As for spice level, customers with a lower spice tolerance might appreciate the light kick from the buffalo sauce, but otherwise the item didn't deliver much flavor.
To complement its bowls, Sweetgreen also offers a selection of beverages from kombucha to bottled teas. Although fragrant with floral notes at first sip, the store's hibiscus clover tea didn't deliver the punch it intended to, as the drink tasted flavorless and watered-down. At $3.50 a bottle, it's simply not worth the price with the variety of cafes available in the area.
[Related: Restaurant review: Primo's Donuts caters to its college audience, diverse options sweeten experience]
When compared to other build-your-own bowl restaurants in Westwood, Sweetgreen's $12 to $15 bowls also fall on the expensive side of Chipotle or Cava's $11 to $13 price point. Its most budget-friendly option is a build-your-own bowl for $8.95, but the inclusion of a protein bumps it up an additional $3. These steeper prices could be a deterrent for college audiences, but the restaurant's fresh ingredients do justify the high price tag.
Despite the higher price point, the dine-in seating was designed with a college crowd in mind. The restaurant's open dining area features a plethora of seating options for small and big groups alike, with conveniently placed outlets under every table. Though the Kinross Avenue location is planted a bit further from the heart of Westwood than similar dining options, the transparent ingredient preparation and welcoming customer service makes the eatery worth the trek.
But only time will tell if Sweetgreen fully takes root.