Concert review: Joji jokes with fans, delivers joy in latest concert journey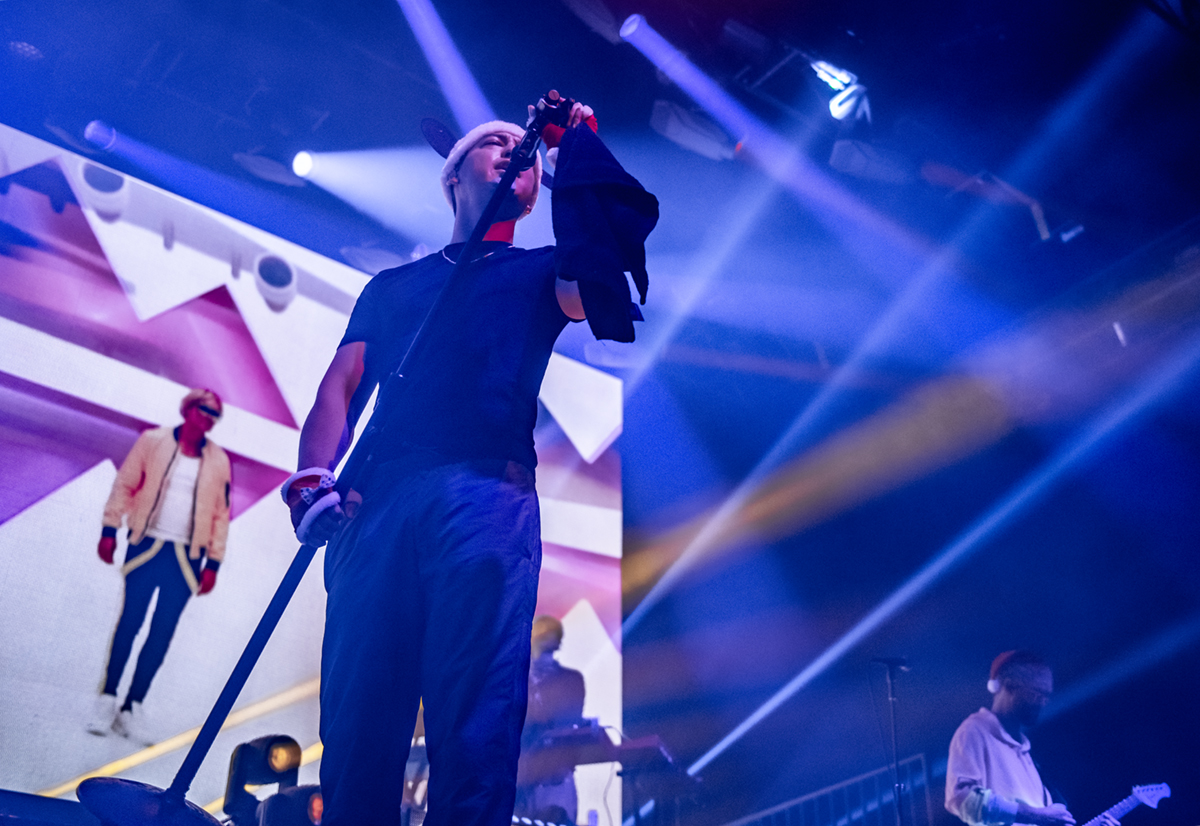 Joji commanded the stage with holiday festivities, albeit with little crowd interaction. (Sakshi Joglekar/Assistant Photo editor)
"Nectar: The Finale"
Joji
The Novo
Dec. 10
The holidays just came early for Joji fans.
Sporting Santa hats and elf ears, Joji and his accompanying band gifted not only merchandise, but a set list that provided a cathartic journey to eager fans at the Novo on Friday. Though the three openers, SavageRealm, Lil Toe and Austin Millz, were welcomed on stage with relative disdain as fans had to wait more than an hour and a half for the main act to take the stage, nothing could stop audiences from cheering when he finally did. An elf-ridden spectacle interspersed with poignant piano keys and uplighting finally ushered Joji and his haunting vocals to stage, kickstarting a night of exhilarating yet precise performance.
Punctuating his entrance with a reckless scream of "Los Angeles," Joji opened his set with the retro-wave inspired synths of "Sanctuary" as audiences in the upper level who had been difficult to rally finally took to their feet. While the three openers before him played relatively short songs with interludes of long dialogue, Joji performed like there wasn't a crowd at all, relentlessly launching into song after song. His short moments of verbal interaction with the crowd were pointed, if not comically casual, as he wished fans a merry Christmas just before yearning for some daylight.
[Related: Festival review: Joji dazzles crowds with out-of-this-world performance at Head In The Clouds]
After clumsily hinting at it in his monologue to fans, Joji crooned "Daylight" to eager crowds with the same echoey depth his studio performance held in both vocals and instrumental performance. Reflectively leaning on the stage stairs as the song finished, the singer laid on the ground and thrusted into the air as he introduced his "sexy" keyboardist, drummer and guitarist, who enlivened crowds with a short cover of meme-worthy song "A Thousand Miles" by Vanessa Carlton. Before getting too caught up with this non-Joji melody, the singer jokingly fired his keyboardist for his performance before stealing back the attention of the crowd with a giveaway, which he introduced by rhyming merry Christmas with "merry pissmass" and a request to "get festive."
Attempting to bridge the wide divide between artist and fan as a result of his minimal verbal interaction with the crowd, Joji threw both merchandise and underwear into the crowd to raucous approval. But still, the "slingshot time" was much less exhilarating for crowds than the deep bass that punctuated each throw may have suggested. Yet audiences were untamable as Joji ditched the Santa getup for ballad-adjacent track "Mr. Hollywood," followed quickly by an artfully stripped back version of "i don't wanna waste my time" and "ATTENTION," which featured the singer picking up his mic stand to hold it to the crowd.
As opposed to previous live performances, Joji spoke to his audience almost exclusively in song lyrics as he repeated "Ew" in a valley girl accent before performing the song of the same name. But while the singer kept mostly to the upper parts of the three-tier stage, the fast-paced set list kept audiences engaged even through breaks of silence between songs.
[Related: Concert review: COIN lead singer develops connection with audience but outshines ensemble]
Joji's connection with the crowd wasn't lost altogether though, as he cut his studio-identical rendition of "Run" short at the request of fans who had spotted a concertgoer passed out. After handing water to concertgoers and cheering on the security team, the singer restarted "Run." The rendition held a much more eerie and hellish tone until the relief of the chorus, which finally had the potential to shake the discomfort from fans who had witnessed the emergency.
"Run" and the two songs that preceded it, "worldstar money" and "Your Man," built tension that was only released in the singer's encore. Taunting fans with their incorrect assumption that the show was over, the singer closed the concert with an acoustic version of "SLOW DANCING IN THE DARK" before tricking fans once again with a fully-fledged version of the hit directly after.
Crescendos and bright white lighting filled the auditorium, making for a cathartic experience for fans who seemed to have been waiting to scream the lyrics of Joji's most popular hit back to him all night. The show acted as a narrative journey in and of itself, creating tension with slow builds and breaking them with climaxes like his final track. Fans leaving the venue seemed to feel nothing but satisfied as a result of the singer's masterful pacing and powerfully performed final track.
After all, a story is never complete without a good ending.