Nia Sioux discusses balance between artistry, academics at UCLA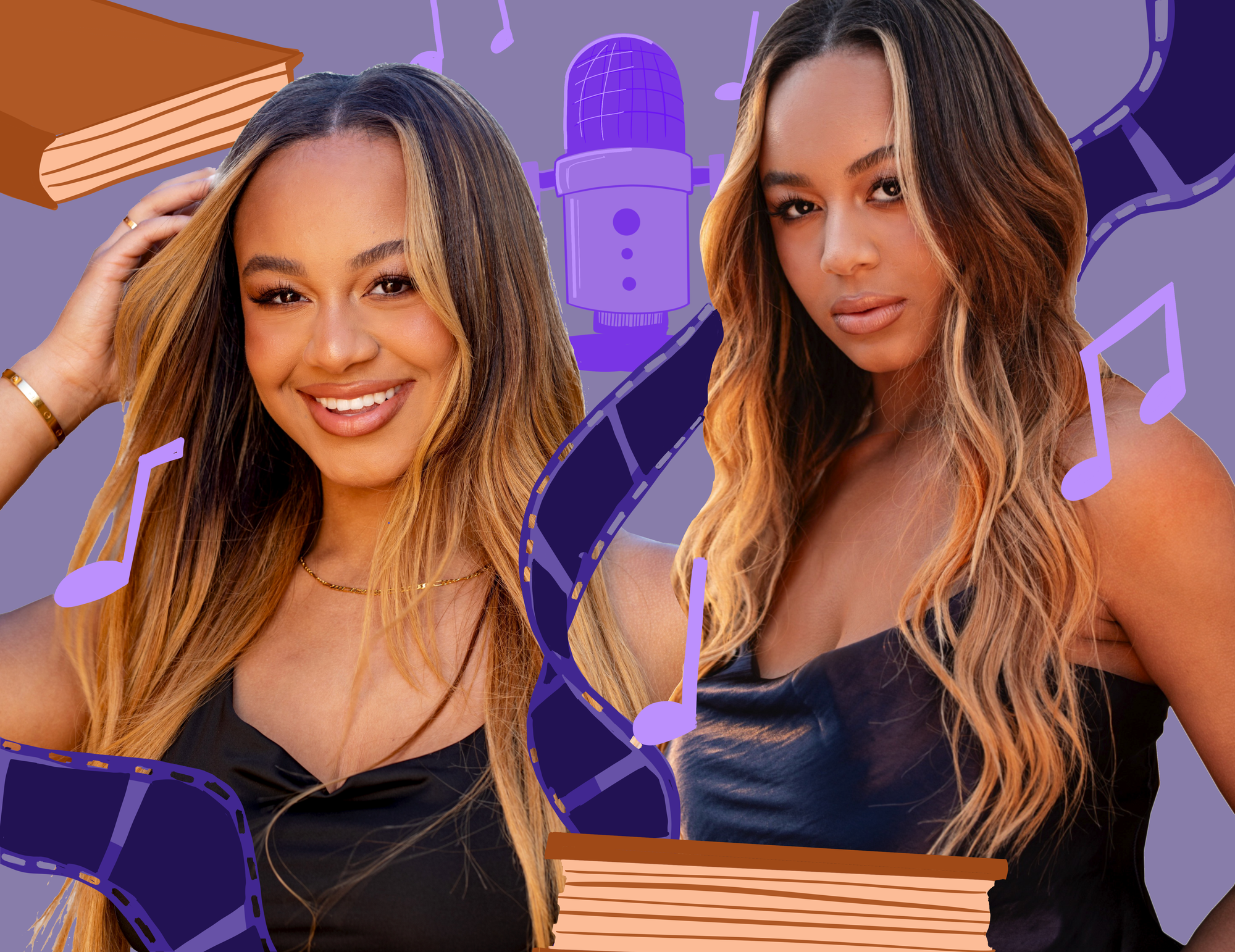 Through acting, dancing and podcasting, Nia Sioux is pursuing creativity alongside her degree. The second-year American literature and culture student said she prioritizes her education, but aims to upkeep her artistry with personal projects such as her digital dance series, "Dance with Nia," and her podcast, "Adulting 101." (Courtesy of Veronica Kelly. Photo illustration by Emily Dembinski/PRIME art director)
Nia Sioux is no longer constrained to the bottom of the pyramid – instead, she is climbing to the top.
As the longest tenured dancer on the show "Dance Moms," the second-year American literature and culture student said being introduced to the media at 10 years old provided her with a platform to pursue multiple career paths in the creative fields she enjoys. From acting in cinematic projects such as "I Am Mortal" to showcasing positivity through her social media platforms, Sioux said her early career accomplishments have not steered her away from seeking an education.
"I've always loved to learn and take classes," Sioux said. "I didn't get to go to regular school for most of my childhood, so getting to actually be on campus and meet people and be in classes with professors, … it's really nice to get hands-on experience in a school environment."
When enrolling at UCLA, Sioux said she decided to major in American literature and culture because she enjoys both reading and writing, and she hopes to potentially author her own stories one day. Additionally, Sioux said majoring in literature can also help her in her creative career pursuits outside of the classroom. The class English M104A: "Early African American Literature" has sparked her consideration in adding the African studies minor as well, she said.
Aside from academics, Sioux said UCLA has helped her build community and continue pursuing her love for dance by performing with Icarus Contemporary Dance Company. Executive director and fourth-year environmental science student Caroline Cheng said the club consists of undergraduate students who perform contemporary and jazz at various school events such as Spring Sing and basketball games. Cheng – who is also Sioux's "big" – said Sioux's talent and positive energy has been a valuable addition to the team.
While she feeds off her peers' motivated energies, Sioux said balancing her academic and artistic careers can be difficult. But, she said she has been encouraged by her fellow students to develop resilience in figuring out how to balance her two lives and complete work-related tasks in between classes or on days off from school.
Particularly, Sioux said her social media aspirations can sometimes conflict with school, but she enjoys posting on Instagram and TikTok, as she gets to be personal with her fans by posting a broad range of content – from dance challenges to glimpses into her daily life. Through following her life on social media, Sioux said she hopes to uplift and inspire her followers to do good.
"My biggest message is to just do good and spread positivity," Sioux said. "I want people to strive for their best … but also uplift others around them."
One way Sioux strives to spread positivity is through her digital series, "Dance with Nia," which is featured on her Instagram and Facebook pages. The series' choreographer and creative director, Kristin McQuaid, said the show puts the spotlight on dancers with different disabilities while Sioux, the executive producer, mentors them and provides a platform for them to exhibit their dance skills. Along with focusing on dance, the guest dancers share their stories on how the art form has helped them overcome adversity.
"(Sioux) wants the best for everyone," McQuaid said. "It was always about the guest and that came across so well in these performances because she was giving her heart and soul into it."
Continuing to immerse herself in purposeful projects, Sioux was featured in the September Lifetime drama "Imperfect High," which follows a high school student moving to a new town while dealing with anxiety amid the tensions of a love triangle. Playing the lead alongside Sherri Shepherd, Sioux said she sought to bring justice to the role as she tackles the challenges associated with mental health and substance abuse.
In addition to her films, Sioux said she takes on other real-world topics with her podcast "Adulting 101" alongside her co-host Teala Dunn. Sioux said she and Dunn discuss their experiences living on their own in Los Angeles, sharing anecdotes about their roommates and romantic relationships.
With the concurrent pursuit of multiple career paths in entertainment, Sioux said she is still figuring out her ultimate career goals in relation to her degree. But for now, Sioux said she feels content with professional avenues that stimulate her cravings for creativity.
"Whether it's singing, dancing, acting, I just want to perform and do something artistic," Sioux said. "So (if I do) anything in that realm, I'll be happy."