Theater Review: Geffen playhouse production 'Paradise Blue' delves into the dark side of paradise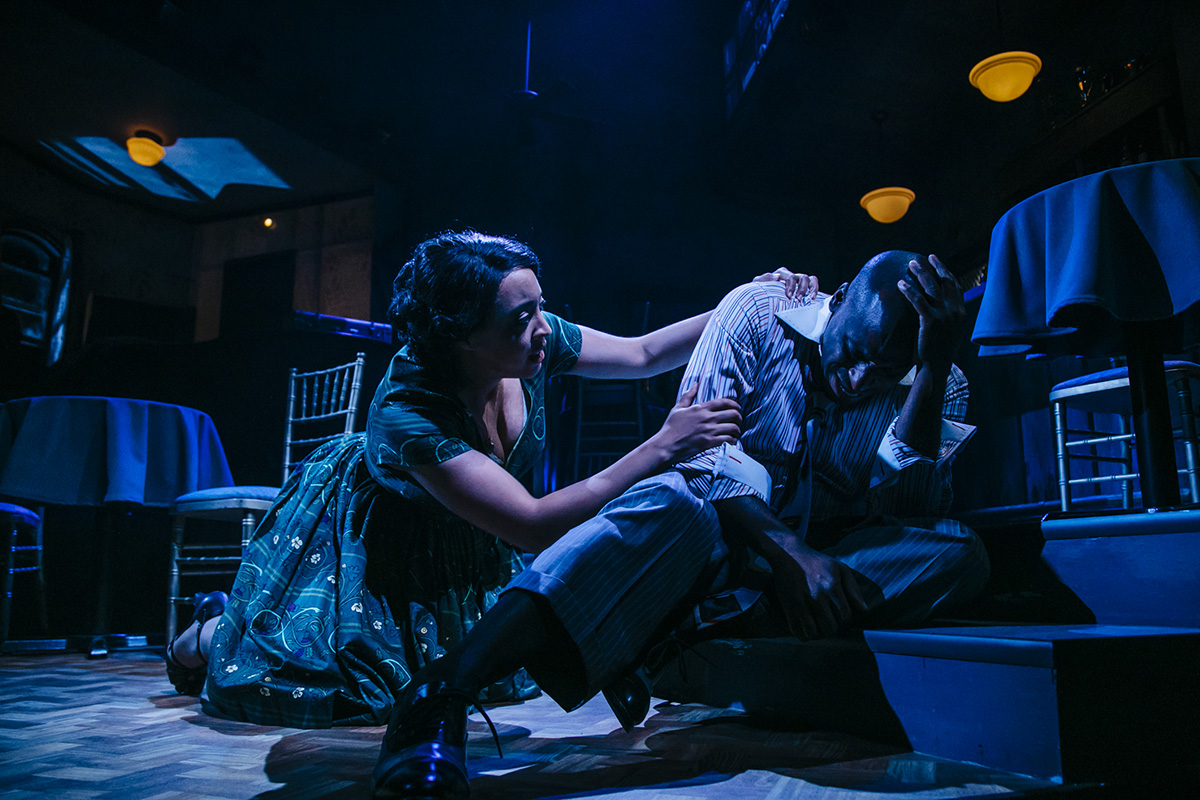 Shayna Small (left) and Wendell B. Franklin (right) play Pumpkin and Blue in "Paradise Blue."(Courtesy of Jeff Lorch)
"Paradise Blue"
Nov. 9 - Dec. 12
Geffen Playhouse
$30-$129
This post was updated Nov. 28 at 10:33 p.m.
Paradise isn't always what it seems, especially in this Detroit jazz club.
Running until Dec. 12, the Geffen Playhouse's production of "Paradise Blue" transports audiences to 1949 Detroit's Paradise Club as the city faces demographic restructuring due to gentrification. Touching on everything from poetry to domestic abuse, the five-character play walks audiences through the final days of Blue's Paradise Club. Though the play's pacing is slow and some plot points are underdeveloped, it successfully brings to light the difficulties many women face when contemplating leaving an abusive relationship.
The production opens with jazz trumpeter and club owner Blue (Wendell B. Franklin), playing his trumpet alone – a scene that is revisited various times throughout the play. The scene is then followed by one with Blue's charming girlfriend, Pumpkin (Shayna Small), who is attempting to memorize poetry while cleaning the club as she fulfills one of her many duties as the venue's sole caretaker. The first few scenes effectively set up Pumpkin's relationship with poetry as her only refuge from serving the club and provide an intimate look into Pumpkin's feelings, immediately establishing trust between the character and the audience.
Later, two jazz club performers, P-Sam (Alani iLongwe) and Corn (John Earl Jelks), walk in with a sign explaining that the group's bassist has quit, which sets the stage for the group's tumultuous dynamic. Though this entrance effectively provides background for continual conflict among the characters, the subplot of finding a new bassist for the group is quickly forgotten as other plot points such as character backgrounds and Blue's attempt to salvage his jazz club present themselves.
[Related: Geffen Playhouse to premiere Dominique Morisseau's 'Paradise Blue']
The final character to make an entrance, completing the five-person cast, is the seductive Silver (Tyla Abercrumbie), a recent widow who comes into the club with the intention of buying it off Blue using the money she inherited from her late husband. A catalyst of Pumpkin's character development, Silver's mysterious background and unwavering confidence make her susceptible to suspicion. But her role as a plot motivator is clear and Abercrumbie successfully embodies the role of the secretive widow through her confident body language and smooth verbal timbre.
After the character introduction, however, the plot moves slowly and tries to juggle too much at once as Blue attempts to salvage his dying club while fighting against PTSD that stems from his childhood with an abusive father. Much of the dialogue meant to provide background information remains vague in the first act, and the slow buildup seems like it could be condensed to a shorter running time. Despite the slow pacing, audience engagement never diminished, with frequent audible responses throughout the theater as the dialogue progressed.
In the second act of the play, the focus skillfully shifts from trying to piece together the multiple plot points to delving into the abusive side of Pumpkin and Blue's relationship. Blue's abusive tendencies are pinpointed to be a result of events he witnessed as a child. But by using his musical gift as his only redeeming quality, his villain redemption arc feels underdeveloped as it is unclear exactly how being a star trumpet player makes up for his role as a domestic abuser. However, this lackluster attempt to humanize an abuser helps highlight elements of domestic abuse that are visible in real-life relationships, like the inability of the victim to justify leaving the relationship.
[Related: Performance review: One-man show 'The Enigmatist' delivers engaging puzzles, illusions]
Silver's backstory as a widow also plays a role in the plot's exploration of domestic abuse and her situation identifies another problem found in many of these relationships: the pressure placed on female fertility. As Silver explains to Pumpkin how tensions rose between her and her late husband when she found out she could not get pregnant, she becomes a mentorlike figure who also acts as a catalyst for Pumpkin's surprising final actions in the play. But even so, Pumpkin's stunted character development throughout the play makes her actions in the concluding twist feel out of character, as it is a bit unbelievable that Silver's advice is all Pumpkin needed to make that choice.
Despite a slow first act and unclear plot points, the play finally redeems itself in the second act by demystifying some character backgrounds and continuously engaging audience members with the pleasing stage setup and proficient acting. It also provides insight into some gendered relationship dynamics that make leaving abusive relationships difficult and leaves viewers pondering many of the characters' ambiguous morals. None of the characters come out of the play unscathed, regardless of their apparent personalities at the start of the play, and the ending shows that even innocent characters have a dark side.
By exploring the complexities of domestic abuse, "Paradise Blue" shows that even in paradise, demons can be found.