Editorial: UCLA must do more to support survivors of sexual violence, improve accountability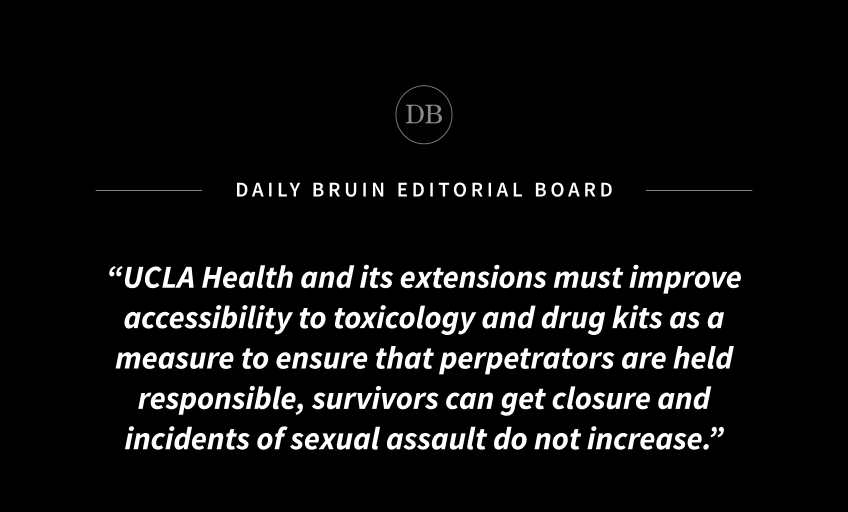 Editor's note: Editorials are intended to serve as the jumping-off point, not the conclusion, to discussion. As part of the Daily Bruin's commitment to its readers, the board hopes to present a responsible and clear analysis of relevant events and news items affecting the lives of those we serve, but our editorials are not representative of the Daily Bruin's views on issues as a whole. We encourage all readers to reach out to our board members and to respond to our editorials.
Parties are a staple of the classic college experience: fun, carefree nights of dancing, laughing and being with friends.
But they can have a dark side. Parties are often sites of sexual violence, especially at fraternities.
The University of California Office of the President is collecting comments on changes to the Presidential Policy on Sexual Violence and Sexual Harassment. Most of these changes were made to conform to the newly passed Senate Bill 493.
SB 493 aims to standardize campuses' responses to sexual violence by releasing guidelines on employee trainings and procedures for handling accusations of sexual harassment, among many other things. UCOP is required to comply with the bill before Jan. 1.
The University's proposed reforms, however, are lacking a crucial element – accessibility to drug kits and other survivor-centered practices.
And while modified provisions to the policy include strengthening the definitions of sexual assault, such as the designation of sexual assault by a health care provider as "aggravated," this does not affect what continues to happen at fraternity parties and elsewhere.
The proposed revisions come amid heated rallies and calls for reform at nearby University of Southern California, which is reviewing more than 20 allegations of drugging and sexual assault against fraternity Sigma Nu's USC chapter.
UCLA may not be far behind, with an alarming increase in reports of alcohol abuse, drugging, hazing and sexual assault on campus.
UCLA Health and its extensions must improve accessibility to toxicology and drug kits as a measure to ensure that perpetrators are held responsible, survivors can get closure and incidents of sexual assault do not increase.
Currently, the Arthur Ashe Student Health and Wellness Center will only allow for toxicology testing at law enforcement's request or when it is medically necessary. This is ineffective at supporting survivors, especially when a drugging or assault occurs at a party and they need a kit immediately.
Besides accessibility, the university should advertise the availability of toxicology tests so students know how to get help.
Additionally, the UCLA Office of Fraternity & Sorority Life needs to drop the hammer on fraternities that endanger students rather than imposing short-term solutions to sexual assault allegations. It must investigate fraternities accused of unlawful behavior and hold them accountable in a manner befitting the seriousness of enabling their members to commit these violences. Fraternities with multiple infractions shouldn't remain at our university, and there must be transparency about investigations, violations and suspensions.
The proposed revisions are a step in the right direction. However, it's clear that so much more can be done to aid survivors. Without making it easier to prove allegations through accessible toxicology reports, it's hard to say how much of an effect these proposed changes will really have.
Regardless, UCLA and other colleges must do more to prevent sexual assault by taking concrete steps. The university also needs to prioritize survivors in any way necessary to ensure that sexual assault doesn't go ignored.
Maybe then we will all be able to attend the college party we envisioned without a looming feeling of unease.