UCLA community reacts to proposed revisions to sexual violence, harassment policy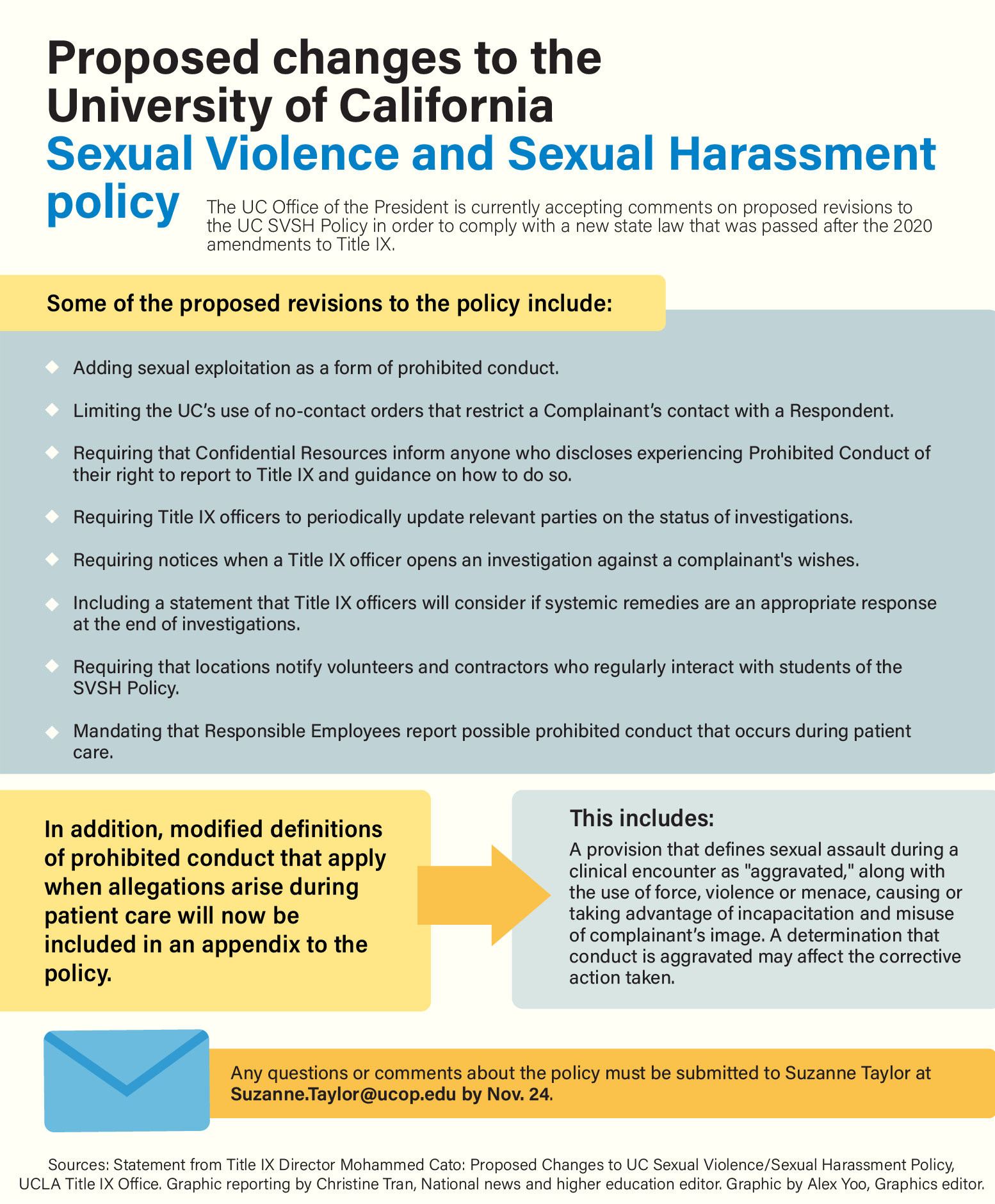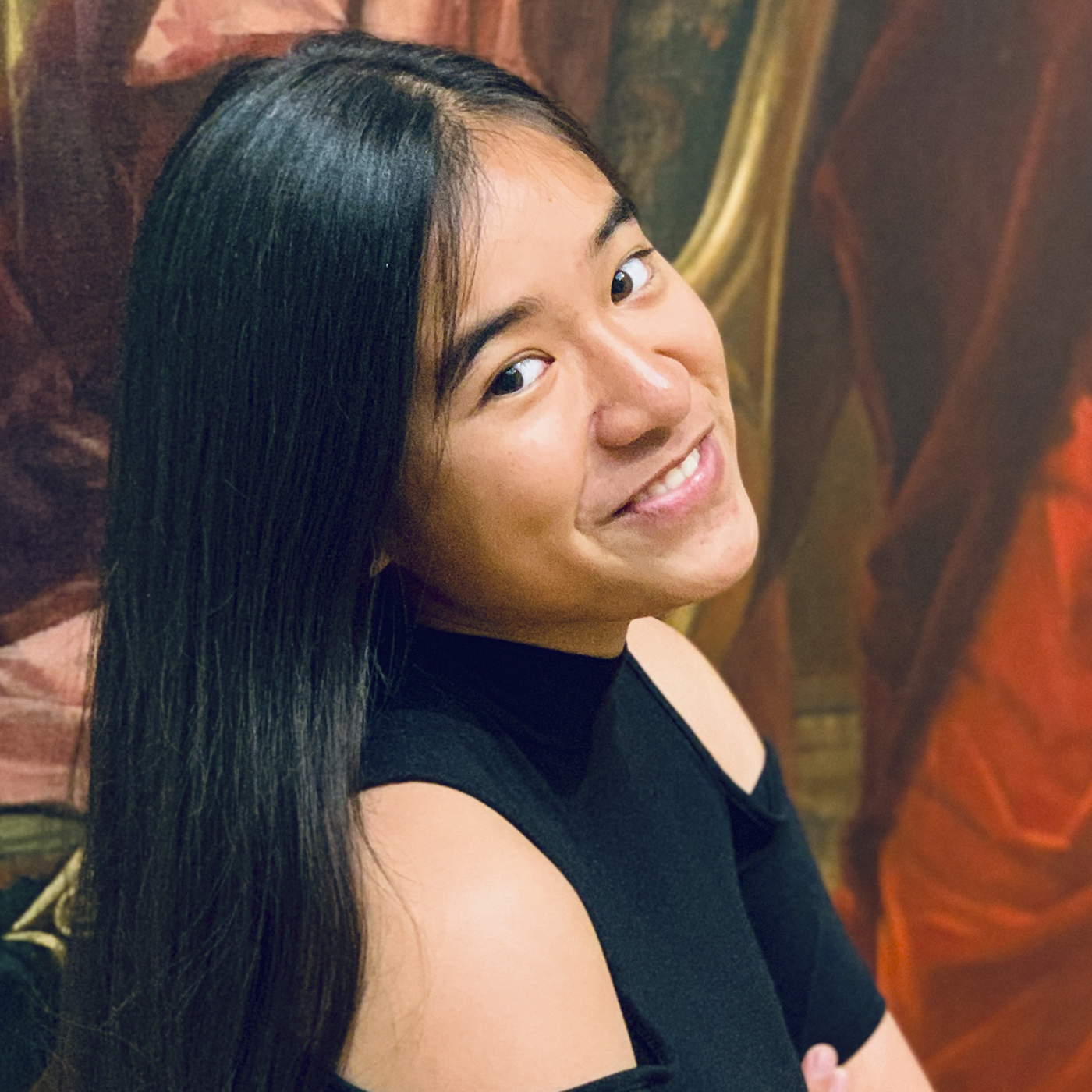 Correction: The original version of this article incorrectly stated that the proposed changes relating to sexual assault in clinical settings were made in compliance with California's Senate Bill 493. In fact, the proposed changes relating to clinical settings were made independently of the bill.
This post was updated Nov. 16 at 3:11 p.m.
UCLA students advocated for accessible, survivor-centered practices in response to recent revisions to the Presidential Policy on Sexual Violence and Sexual Harassment.
The proposed changes cover a broad range of topics, including survivors' confidentiality and Title IX processes. The University of California Office of the President made the changes to be in compliance with California's Senate Bill 493 before Jan. 1. Changes to procedures dealing with sexual assault in clinical settings were made independently of the bill.
SB 493 aims to standardize college campus offices that work on sexual safety, from widespread employee trainings to clear, publicized procedures on how to deal with sexual harassment allegations. Gov. Gavin Newsom signed SB 493 into law in September 2020.
UCOP is accepting comments and suggestions regarding the policy until Nov. 24, according to a press release by UCLA Title IX director Mohammed Cato.
Policy changes should always prioritize survivors, said Sonia Liu, a second-year public affairs student.
"If a survivor doesn't feel like they are able to have that healing process, … it makes it harder for someone to come forward," she said. "A lot of the policies that we should be putting in place should be more focused on what survivors want."
Restrictions on confidentiality can also negatively impact survivors who are seeking support, Liu added.
According to UCLA's press release, a proposed revision would require UCLA staff who are confidential resources to inform students of Title IX resources if an instance of sexual misconduct is brought up.
However, it is not always clear who is a confidential resource and who is required to report to the Title IX office about what a survivor discloses, and information regarding confidentiality needs to be more accessible, according to an emailed statement from UC Survivors and Allies, a UC-wide organization that advocates for survivors of sexual violence.
While the policy changes are a step in the right direction, UCLA itself can implement solutions that center survivors, said Sara Wilf, a member of UCSA.
"Our current UC policies still put far more funding into Title IX instead of mental health and other healing resources for victim-survivors," Wilf said in an emailed statement. "For example, our Title IX office has 4 investigators while CARE, which focuses on healing, education, and advocacy, only has 2 advocates to support the entire UCLA community."
Policies that give Title IX offices the power to open investigations without survivors' consent also take away survivor autonomy, the UCSA statement said.
Confidentiality and consent are crucial in making survivors feel safe, Liu said.
"There's many different cases where a person will go to a UCLA employee to talk about an experience that happened to them, and then that story ends up not being their story anymore," she added. "They now have to deal with … a legal case that they weren't really mentally prepared to have."
However, according to UCLA's press release, the changes propose that Title IX officers give survivors more notice requirements when doing so. Opening investigations without survivors' consent is a rare occurrence, said Suzanne Taylor, Systemwide Title IX director, in an emailed statement.
"A Title IX officer may open an investigation despite the complainant's wishes because they determine it's necessary to mitigate potential risk to the campus community—for example, if they have received multiple allegations against the same respondent, or the respondent allegedly used a weapon," Taylor added. "If this happens, the Title IX officer will tell the complainant of their decision before beginning the investigation, and also inform the respondent that the complainant did not request the investigation."
The UCLA community remains largely unaware of the policy changes, said Hailey Boehm, a fourth-year human biology and society student. Title IX policies are also written in difficult language that makes information hard to understand, Boehm added.
"No one could really sum this up in a few sentences, which is why maybe it's so hard for everyone to know about it," Boehm said.
Making true change requires schools to create safe spaces and encourage student voices, she added.
"Create a culture … where people feel safe to ask questions and feel like they're educated on the right things," Boehm said. "(UCLA has) to keep doing so in order for the culture to change."