Geffen Playhouse to premiere Dominique Morisseau's 'Paradise Blue'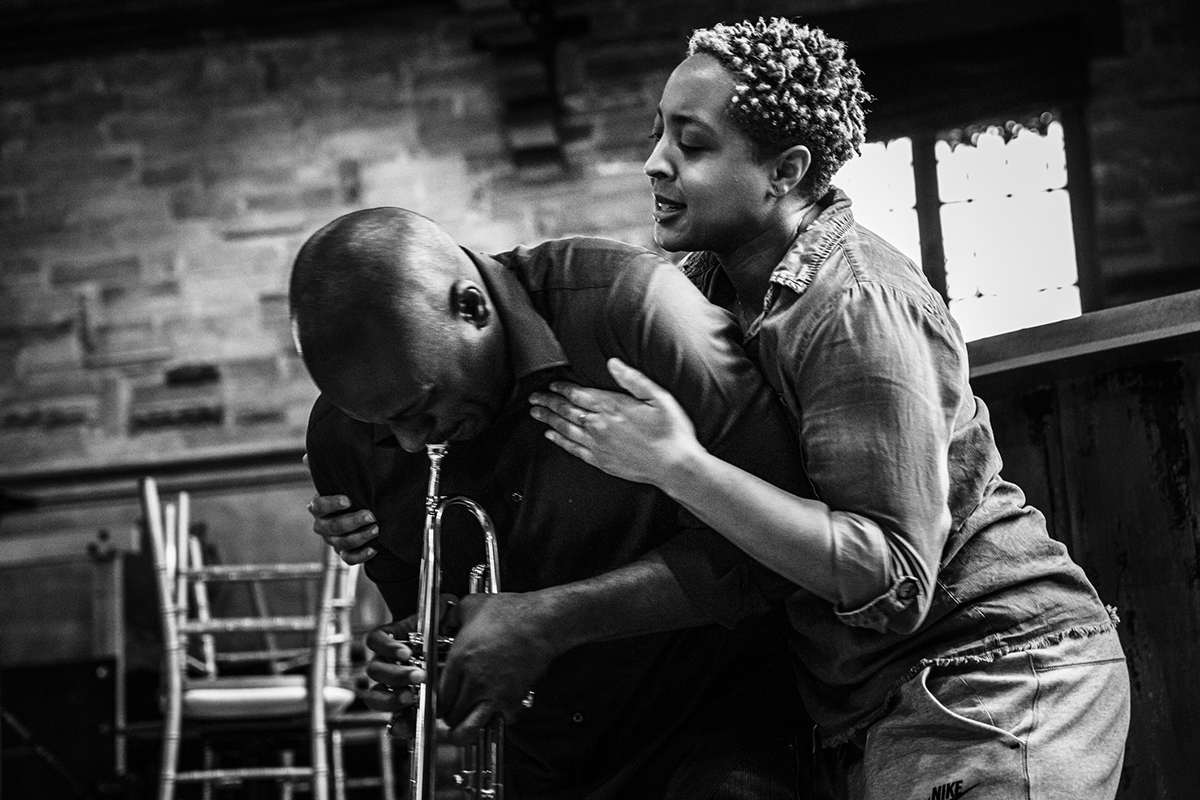 Wendell B. Franklin (left) and Shayna Small (right) play Blue and Pumpkin in "Paradise Blue," premiering at Geffen Playhouse on Tuesday. (Courtesy of Jeff Lorch)
"Paradise Blue"
Nov. 9 - Dec. 12
Geffen Playhouse
$30-129
"Paradise Blue" is jazzing up Westwood.
The West Coast premiere of the noir-inspired drama will take place at the Geffen Playhouse from Tuesday to Dec. 12. Written by Dominique Morisseau and directed by Stori Ayers, "Paradise Blue" explores gentrification and women's evolving role in the 1949 Detroit community Black Bottom. The story follows five characters – named Blue, Pumpkin, Silver, Cornelius "Corn" and Percussion Sam "P-Sam" – and explores shifts in multiple aspects of the community against a backdrop of jazz music, Ayers said.
"I'd say the play operates on three different levels," Ayers said. "Jazz music is shifting to bebop, the Black community's relationship with the city of Detroit is shifting and Black women's relationship to men within the Black community is shifting."
While working on the production, Ayers said her goal was to honor Morisseau's vision for the play: investigate the history of Detroit and its residents. Ayers said the pair had a close personal and professional relationship, which helped her gain a deeper understanding of how to direct "Paradise Blue."
Ayers said she took special care to preserve the show's aesthetic in the way Morisseau wanted it, such as making sure the film noir aesthetic was apparent while hiring light and sound designers and crew. Most importantly, Ayers said she wanted the actors to feel artistically fulfilled – the ultimate way of honoring Morisseau's vision.
"(Morisseau) became less of a boss and more a mentor and big sister to me, as she was always first interested and invested in me as an artist and as a woman before anything else," Ayers said.
[Related: UCLA theater returns to in-person performance with eclectic mix of one-act plays]
Along with perfecting the visual aspects of the production, Ayers said the purpose of "Paradise Blue" is to explore the effects of gentrification in 1949 Black Bottom after the election of Mayor Albert E. Cobo, who focused on cleaning the "blight" out of the city to build a highway. Ayers said Cobo's mention of "blight" referred to the Black community in Black Bottom, specifically the Paradise Valley trip where there were dozens of thriving Black-owned businesses.
Although the play takes place in Detroit, Shayna Small, who plays soft-spoken waitress Pumpkin, said it parallels the stories of other cities in America – such as Tulsa, Oklahoma – which were built upon the shoulders of gentrified Black communities. Despite numerous stories like this one, Small said they are not taught enough in schools, and the goal of "Paradise Blue" is to prompt the audience to dive in and investigate issues for themselves.
Small also said the play has a considerable focus on land being taken from people of color. Small said "Paradise Blue" reminded her of areas such as Oakland, California, where Black Americans had to fight to hold on to their communities and maintain control of their lives.
[Related: Q&A: Magician David Kwong talks creation of immersive puzzle show 'The Enigmatist']
The jazz club setting adds another 1940s aspect that was on the cusp of change, Ayers said. Jazz music brought the five characters together and John Earl Jelks, who plays the sweetheart saxophonist Cornelius "Corn," said music also has the ability to unify communities.
"Music is everything to Black people and people of color," Jelks said. "Music is in everybody."
Additionally, "Paradise Blue" looks into the ever-changing role of Black women in society through the characters Pumpkin and Silver. The play examines domestic violence and post-World War II gender roles placed upon women, topics that went largely unaddressed at the time, Ayers said.
Small said the dichotomy between a woman in 1949 and one in the 21st century can be seen in Pumpkin's character arc. Additionally, Ayers said Pumpkin's evolution from the former to the latter is important to the overarching theme of change in "Paradise Blue," because it allows the audience to watch women of color learn and grow from each other. Even so, the women are not the only ones changing – the Black community as a whole is changing and searching for a new way to take ownership of their lives, Ayers said.
"(Black Americans) want today the same thing that the characters in Black Bottom want," Ayers said. "(They want) … a home and a place to grow and not have to worry about … the oppression or the systems of racism that are constantly oppressing Black life."