UCLA theater returns to in-person performance with eclectic mix of one-act plays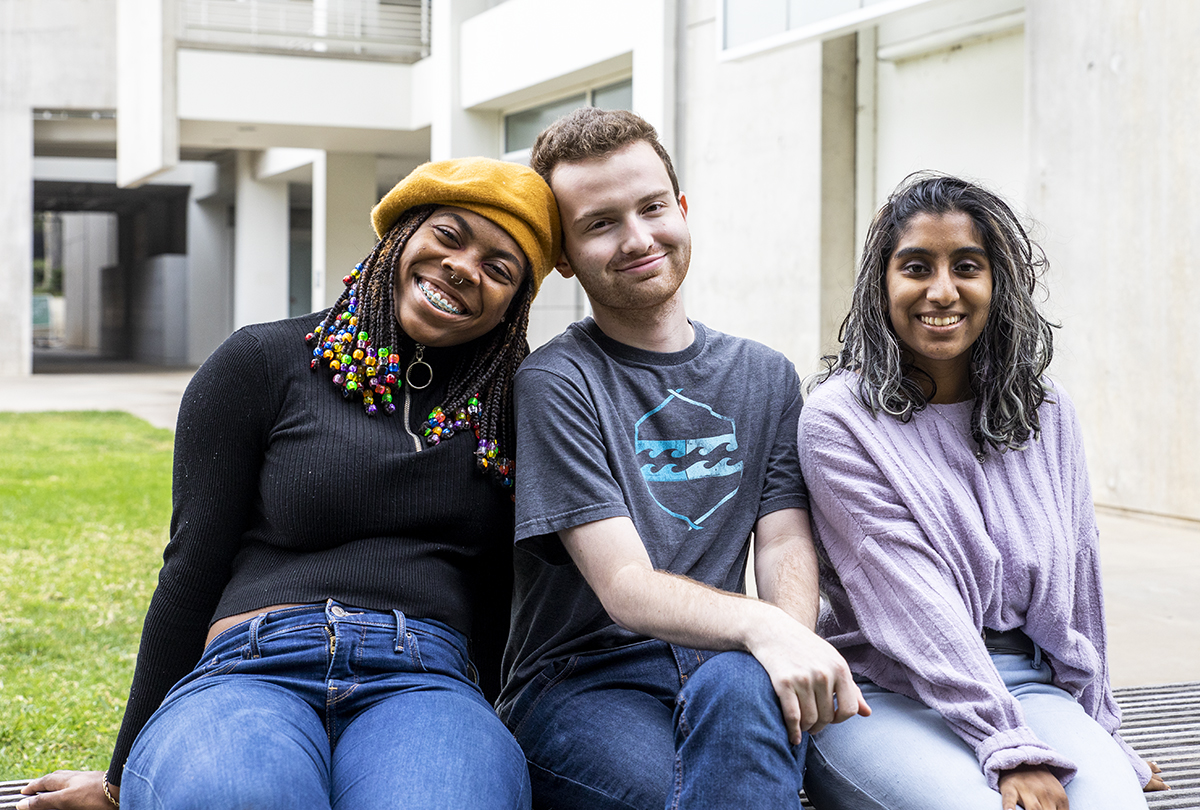 Undergraduate theater students (from left to right) Wanye' Yoakum, Jake Goldfarb and Kristy Maanavi will be presenting their self-directed and produced acts in the theater department's first show of the season, "Undergraduate One Acts." (Ashley Kenney/Photo editor)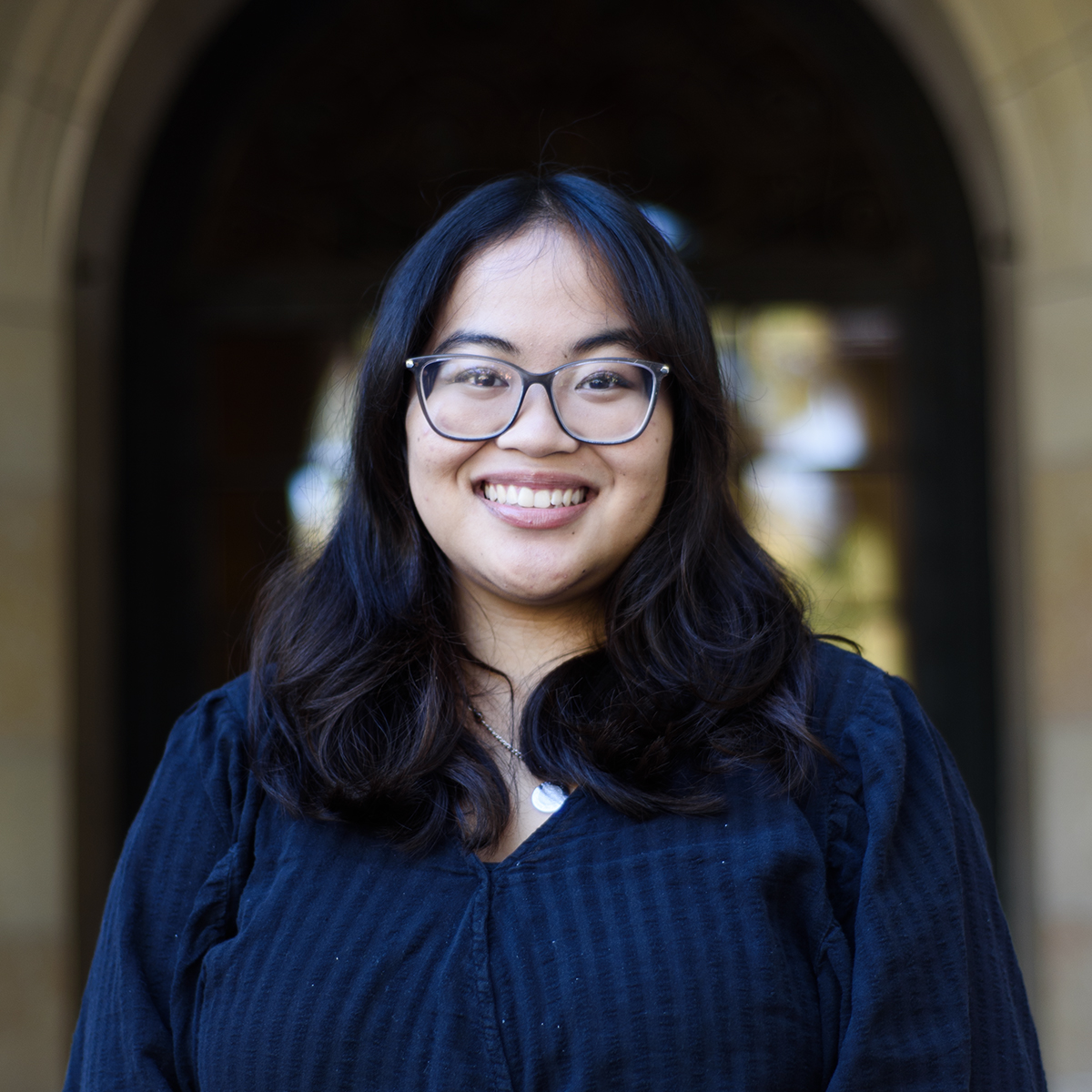 Three undergraduate students are taking one-act plays in entirely new directions.
From Thursday to Saturday, the UCLA theater department will be presenting three student-directed and produced one-act plays at Macgowan Hall. Undergraduate students Kristy Maanavi, Jake Goldfarb and Wanye' Yoakum will each present a self-directed one-act play, ranging from musical to drama. The performances are the culmination of the Directing Continuum, a program available to upperclassmen in the theater department, said fourth-year theater student Maanavi.
"To be able to say, 'I was part of my school season as a director,' … that is just a really cool thing," Maanavi said. "I just hope that every time I direct a show, I grow."
For Maanavi, taking a light-hearted, comic approach to her directing style was key to her creative process. Although she is directing Anton Chekhov's 19th-century play "The Proposal," she said by taking inspiration from modern sources, such as reality dating show "Love Island," she hopes the audience will enjoy themselves. Maanavi said she wants her audience to walk away not only with laughter but also with a consciousness of the futility that comes from arguing about trivial matters.
[Related: UCLA professor weaves in sensory experiences, new perspectives through films]
Given that these one-acts are the first show of the department's season, Maanavi said she is aware that the show might be some audience members' first experience with theater back in person. While Zoom theater was rife with technological issues, she said directing an in-person show is tangibly different.
"There's just an energy and a level of performance, especially for a show like 'The Proposal,' where the characters are just bouncing off of each other in a way that you wouldn't be able to get on Zoom," Maanavi said.
Maanavi is not the only one transitioning to new in-person pressures. Fourth-year theater student Goldfarb said he also felt the reality of returning to live theater. However, unlike Maanavi, he is directing a very new play, "Charlie," written by his close friend and fourth-year theater student Jacob Cherry. Goldfarb said he sees this in-person directing experience as an opportunity to learn and grow as a director facing new challenges.
For Goldfarb, this particular one-act play marks a lot of firsts – the first show of the theater season, his first time directing in person since the pandemic, his first time being truly back in Los Angeles – but also the first time "Charlie" is being directed and performed. Its premiere offers him the distinct opportunity to put his creative stamp on a show he has been working on from inception to opening night, Goldfarb said.
"Charlie" deals with both sweet and sour themes, such as growing up and the new perspectives that accompany it, as well as childhood ideas of creativity and imagination. Goldfarb wants the audience to use the show as an opportunity for reflection around key concepts such as nostalgia and identity. He said he is determined to let the audience create their own interpretation of what the play means, rather than telling them outright.
"People leaving the theater and diving back deep into the personal is the most important thing," Goldfarb said. "We as people tend to bend to what we want other people to perceive us as, when in reality it's not worth it to be something you're not."
The ideas of personal identity and reflection are also important to fourth-year African American studies and theater student Yoakum, who is directing "21 Chump Street," a short musical written by Lin-Manuel Miranda. The play is based on the true story of Justin Laboy, a high school student who unknowingly sells drugs to his crush, who is actually an undercover police officer. Yoakum said she chose the one-act because she wanted to tell a story about how choices – either bad or good – can affect impressionable youth.
[Related: Documentary captures humanity, resilience of LGBTQ+ motherhood experience]
Inspired by visual movement and geometry, Yoakum said she wants her creative choices to remind the audience that even small, brief moments can create a large impact. For example, while some of the show's ensemble members do not have dialogue, they still have their own miniature visual plotlines in the background. Yoakum said she wants the audience to think about her directorial decisions and how they contribute to the main story, which highlights themes of race and societal oppression.
"I hope to continue making these types of works, especially because Justin Laboy is a Black man," Yoakum said. "I hope people take this work and see that I am attempting to put minority voices on the forefront, and I hope they'll keep supporting our work."
Even though each director is presenting different one-act plays, perspective remains a common theme for all three. Yoakum said she hopes the ideas of retrospection and consequences from "21 Chump Street" stay with the audience, while Maanavi said the opportunity to direct an official department show is nerve-wracking, yet personally momentous. For Goldfarb, he said he aims to learn the same lessons as the audience: the importance of childlike wonder, imagination and introspection.
"This is a continual process," Goldfarb said. "I'm constantly reminded of how joyous theater is – how joyous it is to be in front of people."
Lagrimas is the 2022-2023 lifestyle editor. She was previously an Arts contributor from 2021-2022. She is also a second-year communication and political science student from Temecula, California.
Lagrimas is the 2022-2023 lifestyle editor. She was previously an Arts contributor from 2021-2022. She is also a second-year communication and political science student from Temecula, California.