The Quad: Scratching the surface of skin stressors' effects on students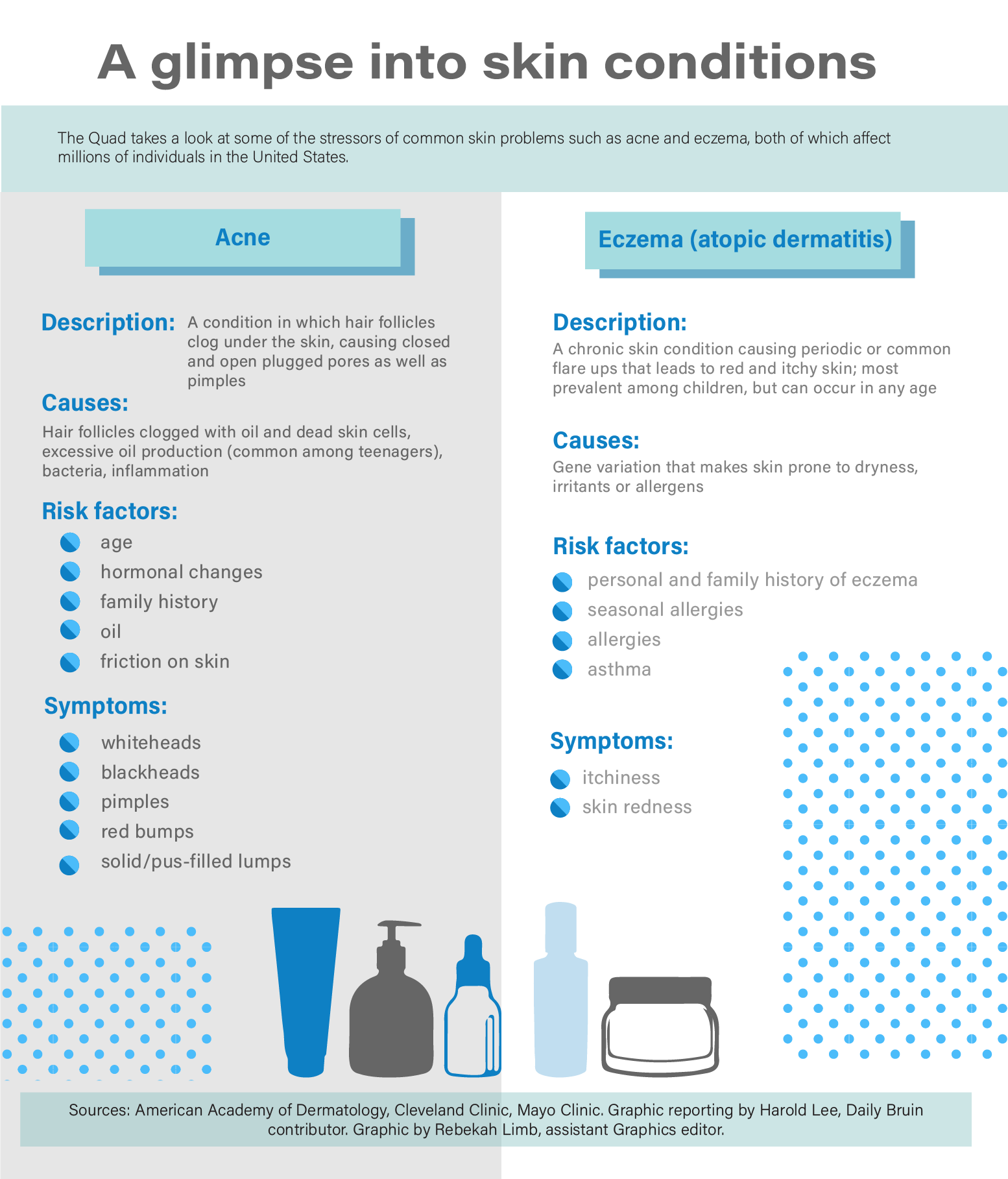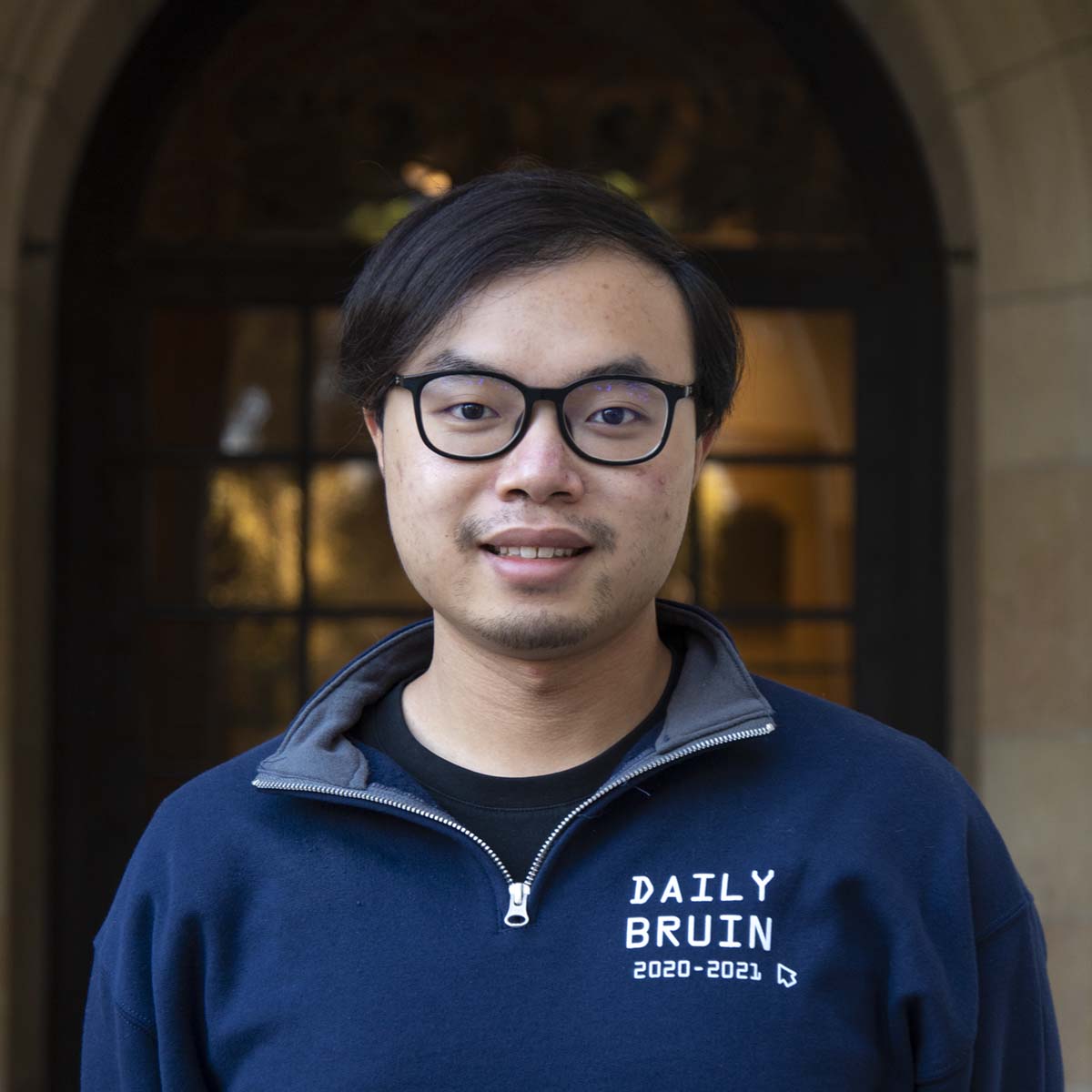 Amid a jumble of schoolwork, clubs and internships, constantly having to remind oneself to apply lotion or wipe down one's hands is the last thing on students' minds. But for those with chronic or temporary skin conditions, there is often little choice.
According to the American Academy of Dermatology, eczema and acne are two of the most common skin problems in the United States, and Bruins are no exception to this.
Fourth-year political science and global studies student Leanna Phan said that external factors such as weather and physical environment have been triggering her eczema since she was 15.
"(My eczema is triggered) by extreme weather, like when it's really cold or super hot," Phan said. "And then there's also whenever I swim because I'm a competitive swimmer, the chlorine … makes my body really dry, so I get flare-ups."
Dr. Erin Gleason, a primary care provider with the Arthur Ashe Student Health and Wellness Center, said in an emailed statement that acne could also be caused by factors such as increased sebum and inflammation. Genetics, diet and stress are also associated with the severity of acne, according to Gleason.
UCLA Health dermatologist Dr. Teo Soleymani said acne and eczema can also be caused by a combination of genetic predisposition and psychological stressors.
"Most of these problems are a combination of the two," Soleymani said. "There's a component of genetic predisposition. So if family members have had acne, you're more likely to have acne. If family members have had eczema or things that go into the eczema family, such as seasonal allergies or asthma, you're more likely to have that."
Soleymani added that psychological stressors can alter certain hormones, which may also exacerbate skin conditions.
"There's definitely a component of stress-induced flares. Stress, particularly during exam times, just like stressors, increases a hormone in our body called cortisol. And cortisol increases things like acne skin inflammation," Soleymani said. "So definitely during stressful times like finals week, for example, a lot of students come in for worsening of their skin (conditions)."
UCLA Health dermatologist and dermatologic surgeon Dr. Emily Newsom said that stress, the immune system and skin conditions are all interrelated.
"Acne, eczema, psoriasis, rosacea – they're all inflammatory, so they're basically related to your immune system," Newsom said. "When you're feeling stressed, your immune system kind of gets out of whack. … You're sort of overreacting to other chemicals in your environment."
Soleymani said skin conditions and physical environment are certainly related, but the extent to which it affects the skin is unclear.
"We definitely know that environmental allergens – dirt, grime from just activities of daily living – can definitely make your skin worse," Soleymani said. "But it's hard to tell whether there's anything beyond that, or whether smog or something like that plays an important role."
Beyond the biological factors and psychological stressors, eczema could affect how students handle their school work and progress.
"I got really stressed out, thinking that I would be run by this condition, and not be able to get good grades, like I planned. But then I had to really just tough it out," Phan said.
According to UCLA Health dermatologist Dr. Jeremy Davis, chronic skin problems like eczema can negatively impact students' self-image and as a result, hinder students' mental health and confidence in their sociability.
"We know that chronic skin conditions like eczema and psoriasis have a significant impact on people's self-image and mental well-being," Davis said. "Being much more connected to your peers is definitely helpful for your mental health. And it's tough to do that when you're really worried about how you look."
Similarly, consciousness about self-image could lead to a detrimental cycle of habits.
"I see a lot of young patients like that. They have acne, for example. They get bothered (that) they have pimples so they try to pop them or use something to fix them, and it makes the acne worse. So then they get more stressed out about it, and they get more acne," Soleymani said.
Newsom said that practicing self-care and maintaining a good sleeping schedule can benefit one's skin.
"Getting enough sleep is super important for all parts of your health but also for the skin as well," Newsom said. "For students, (it's) making sure that you're taking care of yourself."
But despite all the hurdles that come with skin conditions, there are many resources available to help mitigate their effects.
According to UCLA medical student Karen Lam of the Dermatology Interest Group, students are encouraged to reach out to local dermatologists with questions regarding skin health.
"A lot of (local dermatologists) love to teach and be around students who are interested in their field," Lam said. "That would be a great way to explore and learn more about the skin."