UCLA student's pre-med journey goes beyond pen and paper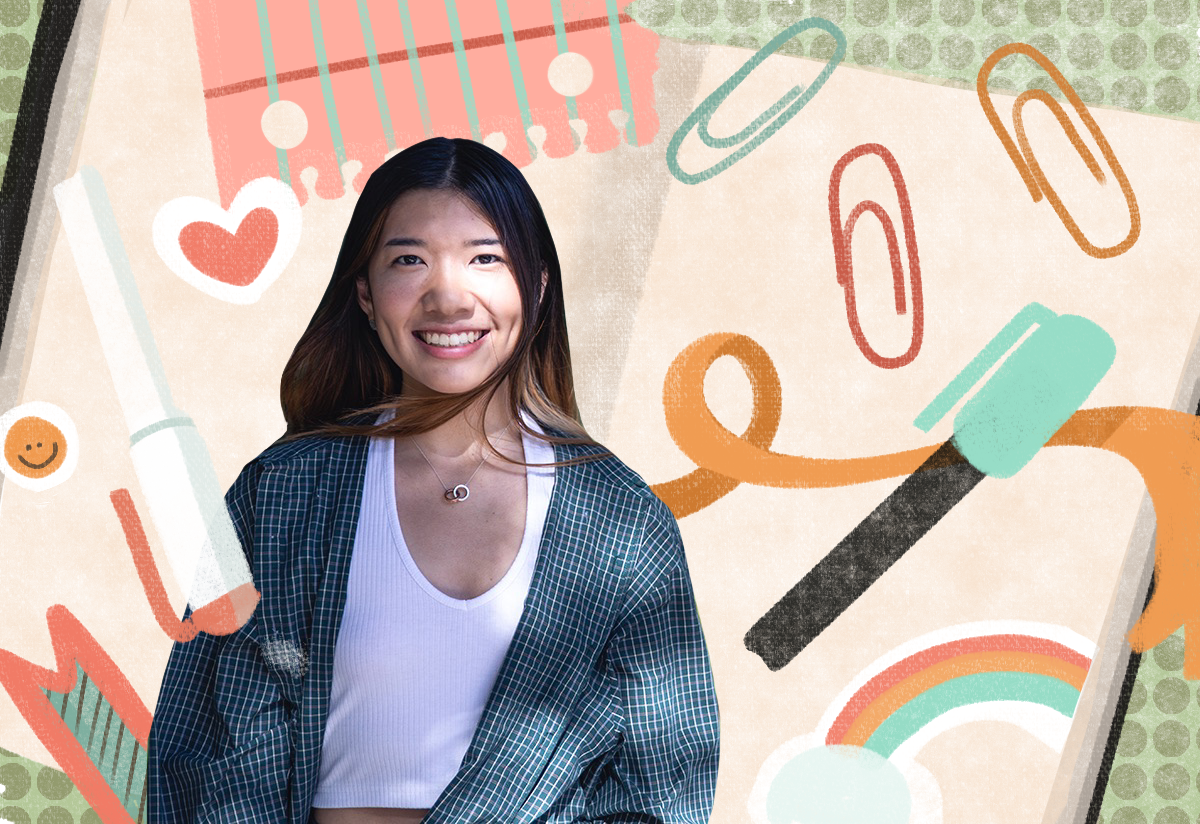 Third-year human biology and society student Megan Vu started her bullet journaling Instagram account as an organizational and creative outlet during the pandemic. Incorporating stickers and personal diary elements, she said enjoys how the hobby reduces stress and offers a space for her to share her pre-med journey. (Ashley Kenney/Photo editor. Photo illustration by Katelyn Dang/Illustrations director)
This post was updated Oct. 27 at 11:22 p.m.
From stickers to scheduling, Megan Vu is journaling her pre-med journey.
Spurred by the pandemic, the third-year human biology and society student has been running her bullet journaling Instagram since June 2020. Vu said she uses the activity as both a form of artistic expression and to organize her schedule. With more than 14,000 followers, Vu said creating the account gave her an opportunity to share a creative side of herself with a wider community.
"For me, (the account) is mostly about having a place where I can find my creativity," Vu said. "I'm a pre-med student, and I find that a lot of times I don't have a chance to relax. I've been using (the account) as a way to use bullet journaling for artwork but also managing my time and organizing it."
In high school, Vu said she began to bullet journal because it was a growing trend at her school and she thought it would be a fun new hobby to try out. After many of her classmates complimented her handwriting, Vu said she decided to create an Instagram account during senior year to share her bullet journaling with friends. She ran this account for a few months but decided to delete it when she became busier with school.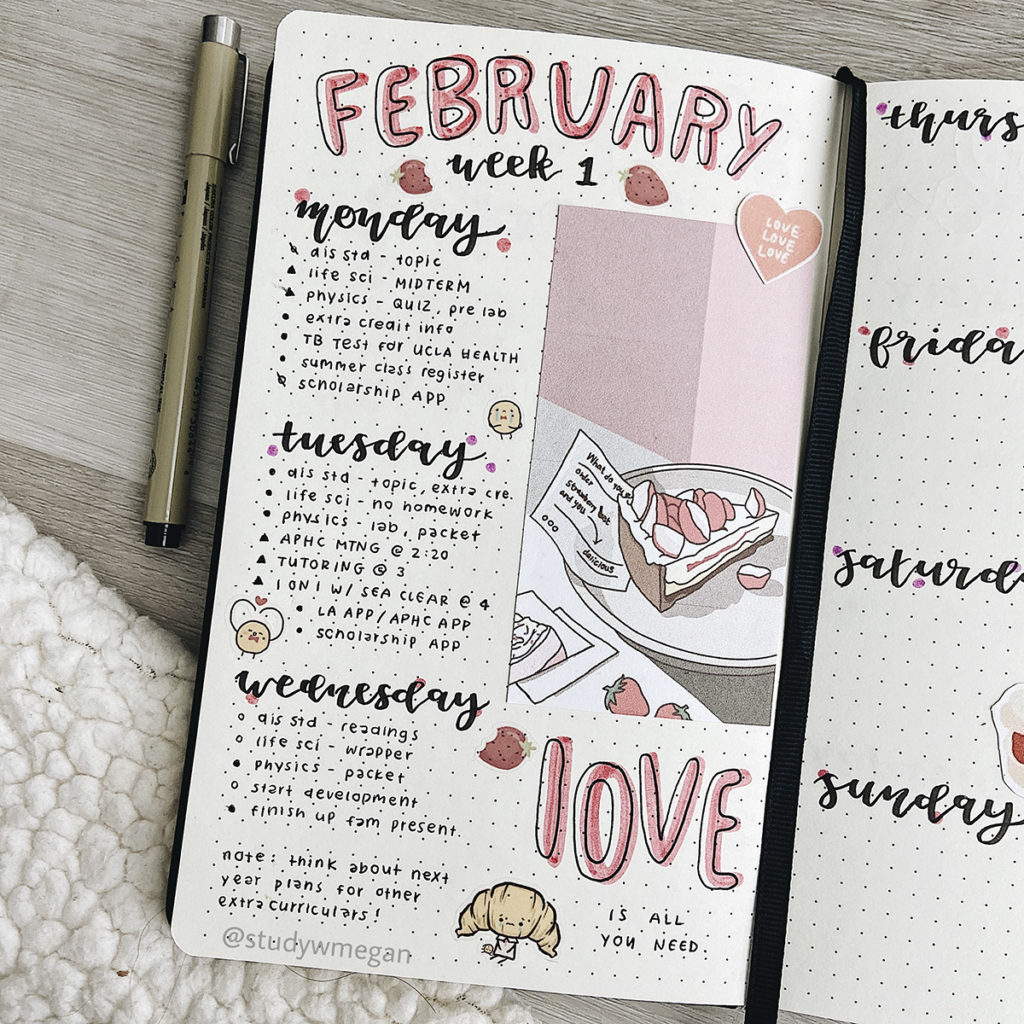 [Related: Student spreads joy making crocheted hats for close-knit friends, family]
During this brief time, however, Vu said she was exposed to a very supportive online study community. Therefore, when classes moved online in 2020, she said she started bullet journaling more often after being at home for a while. Choosing to rejoin the virtual study community, Vu said she did not expect her online success.
"I'm a very talkative person, so it's nice knowing that I can share (bullet journaling) with anyone online," Vu said. "It's just crazy to think that I'm able to do this as a hobby but also give inspiration to other people. That's one of my favorite parts about being on social media."
One of Vu's friends, third-year human biology and society student Anna Wu, said she connected with Vu over their shared interest in bullet journaling during their freshman year. Wu said she enjoys seeing how Vu presents herself online and shares her journey as a pre-med student as sort of a diary. She said she was inspired by Vu to briefly create and run her own bullet journal Instagram last year.
"I was really proud of her," Wu said. "It was just really cool to see one of my friends take off on one of their hobbies. Bullet journaling was something that she did for herself before, … so it's cool how (her work) can spread to people."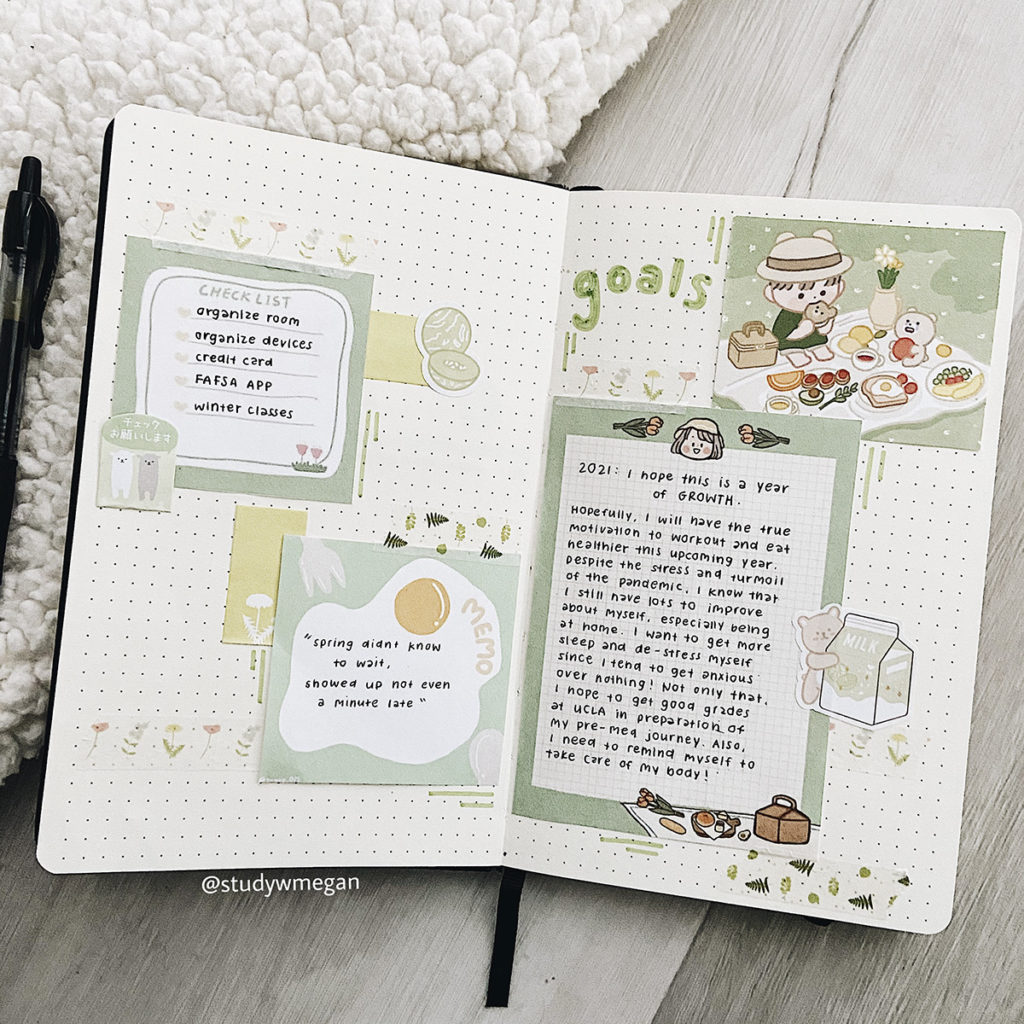 For her own inspiration, Vu said she usually looks at collages on Pinterest for spread ideas or decides on a specific monthly color or theme. Sometimes she said she gets ideas from a particular film or show she is interested in at the time, such as Studio Ghibli films. However, bullet journaling doesn't always have to be extremely artistic, Wu said, as it is just another way to help one's productivity.
Depending on how busy she is, Vu said the spreads are planned out one to two weeks before the end of a month. After coming up with a concrete idea, she likes to bring her plan to life in her room where most of her stationery is. The types of spreads include monthly title pages, mini monthly and weekly calendars, as well as mood and sleep trackers. More recently, she said, she has been doing simpler spreads because of the big readjustment that has come academically and socially with returning to school in person.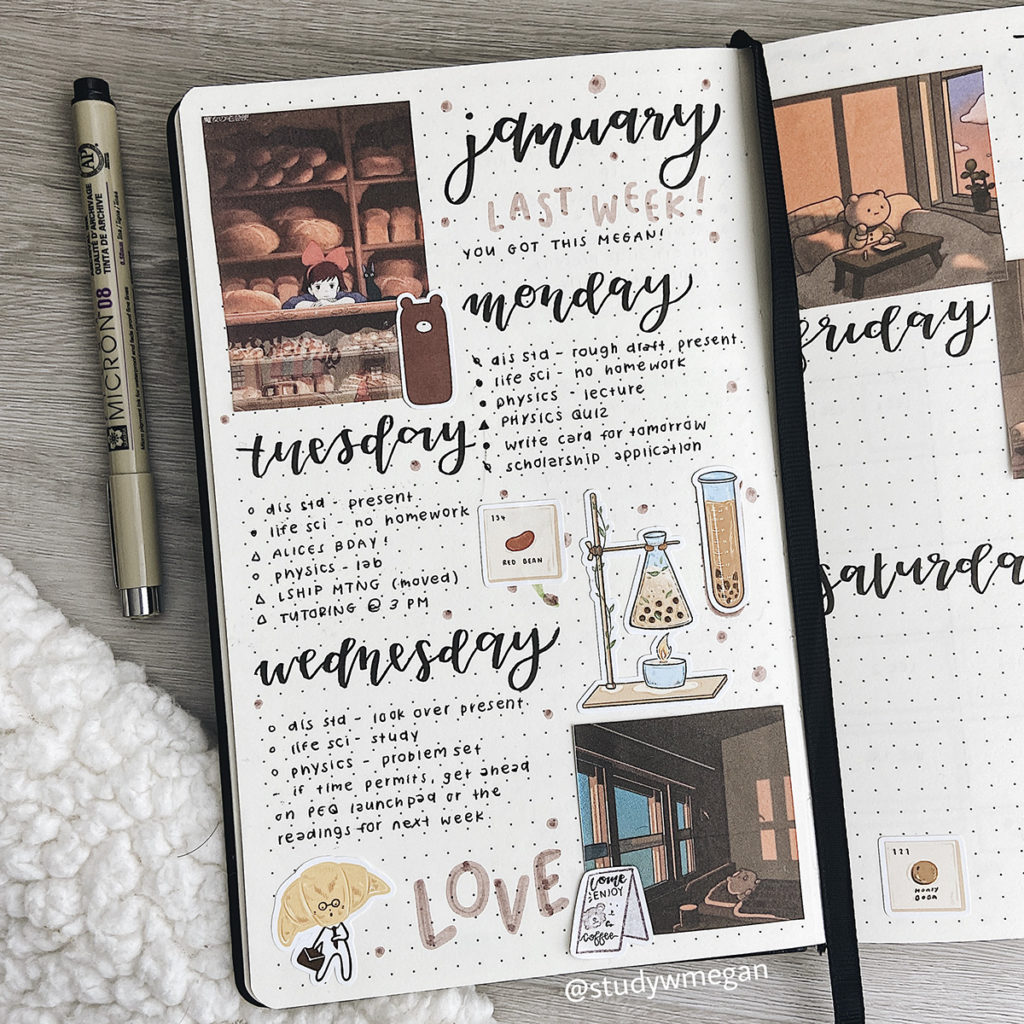 [Related: UCLA student conveys both art, activism through bullet journal spreads]
Another aspect Vu enjoys is using her account as a blog of her life, she said. She shares her pre-med journey and daily life by making story posts or adding life updates in her captions, such as sharing her experience working as a medical assistant this past summer. Third-year human biology and society student and Vu's friend Alice Chien said her favorite parts of seeing Vu's spreads are when she incorporates personal or certain aspects of her life because she connects most with those posts.
"In September she did a specific spread for one of her classes, … and I thought it was really nice because it incorporated her heritage and her personal thoughts," Chien said. "She did a couple of drawings that were related to her Vietnamese culture. I really like those in particular."
As her account continues to grow, Vu said she enjoys looking back and seeing how she has progressed academically, in social media and in her bullet journaling skills. Going forward, Vu said she would like to continue using bullet journaling as a source of stress relief and creative expression and to keep sharing blog posts and spreads on Instagram. Most importantly, Vu said she wants to continue having fun organizing her life through bullet journaling.
"I find that (bullet journaling) is really relaxing," Vu said. "Stress is a huge factor, especially as a college student, so just being able to have fun with it is a great way to relieve that stress."