UCLA alumnus sheds light on spiritual energy in objects in 'Mondegreen Nursery' exhibit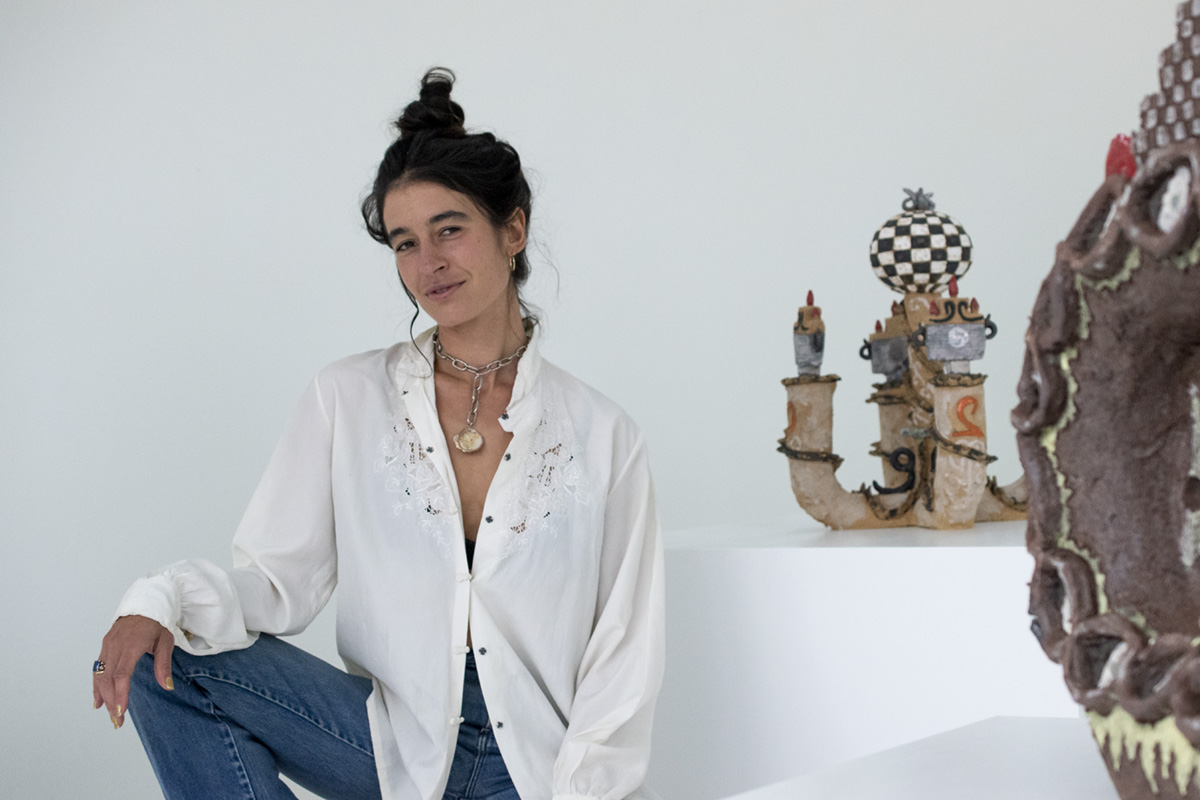 Alumnus Amelia Lockwood's art exhibit, "Mondegreen Nursery," displays numerous ceramic sculptures in the shape of chickens and candelabras with themes of fire, board games and maps connecting the pieces. (Chelsea Rose Westman/Daily Bruin staff)
"Mondegreen Nursery"
ODD ARK•LA
7101 N. Figueroa Street Unit E
Los Angeles, CA 90042
Oct. 2 to Nov. 6
This post was updated Oct. 27 at 11:19 p.m.
The whimsical oddities of Amelia Lockwood's ceramics are now on display at ODD ARK•LA.
The alumnus's "Mondegreen Nursery" exhibit marks her first major project as a ceramist since her thesis show during the COVID-19 pandemic, which she said involved submerging surrealist sculptures into a pool in order to safely facilitate an engaging viewing experience. At the outdoor thesis show, Lockwood met Dani Tull, the co-owner and operator of the Highland Park-based gallery ODD ARK•LA, who said the gallery focuses on displaying up-and-coming and midcareer artists' solo exhibitions. Lockwood said the title of her exhibit is meant to reveal the overall meaning of the pieces, since "mondegreen" is a term for a misunderstood word while "nursery" has a connotation of life and growth.
"The 'Nursery' is a birthplace," Lockwood said. "I'm seeing it as seeds to create a universe. Instead of plants that are growing, objects are growing and sprouting out of things."
As implied in the title of the exhibition, Lockwood said her art aims to highlight both the utilitarian nature of ceramics and the cultivation of the human spirit. "Mondegreen Nursery" in particular investigates the fusion of a basic household candelabra with childlike themes ranging from board games to chickens, Lockwood said. When brainstorming the project, she said she took the idea of the candelabra's ability to provide fire and translated it into the metaphysical implications of light entering a darkened space. She said the final result of these experiments are 15 sculptures connected through a flame motif.
"To me, I see my work as power objects – objects that have a purpose, that can hold, cultivate and distribute specific (ideas)," Lockwood said. "That accessibility is nice and important in terms of the accessibility of arts and objects."
[Related: 'The Big Embrace' installation opens in person with physically engaging theme]
A friend of Lockwood's and fellow alumnus Zoe Koke said she sees an illustratively dense narrative within the pieces rooted in energetics and filled with mysticism. Koke said she has always been impressed with Lockwood's instinctual approach to making art, especially in the way her work can evoke different meanings, regardless of a viewer's literacy or prior exposure to ceramics. She said Lockwood tends to stumble upon projects based on life experiences and philosophies, which causes additional ideas for pieces to appear as if on instinct.
"She's a very spiritual person, maybe more privately so, but in her work, there's always this mystic conversation happening," Koke said.
The idea for a candelabra-centric motif first came from working during the early stages of quarantine, Lockwood said. After her boyfriend's father was diagnosed with COVID-19, Lockwood said she coped with the ensuing stressful period by leaning on the idea that candelabras are bringers of light, no matter the type of darkness. She said she thought about how candles are lit for various reasons ranging from prayer to lighting a home, and how candles and candelabras can act as metaphorical defenses against the bleak atmosphere of the pandemic.
Candelabras became objects of great power to her as a result, Lockwood said, and she wanted to feature this newfound idea of power objects in her latest exhibit. She said she defines the term "power objects" as items that hold, distribute and collect energy from their surroundings. There is a connection evident between the idea of an object having power and the idea of ceramic objects giving their users an increased sense of self-utility, Lockwood said, so clay became a fitting vehicle for conveying the importance of power objects to her viewers.
"Why I'm interested in ceramics is its utilitarian function. … That was how I started making the candle, and that's how I started seeing the work in general," Lockwood said. "(The sculptures are) power objects that inhabit a space and can live with people in their homes."
Alongside abstract interpretations of candelabras are multiple life-sized chicken sculptures that carry hints of the flame motif in their ornate patterns and structures, Lockwood said. She chose to include chickens in this display because of their large personalities but odd nature, which she said comes from the wisdom of evolving from wild animals that freely roamed the Earth prior to the advent of farming. Because of her rural Pennsylvania upbringing, Lockwood said she appreciates the duality of chickens being primarily domesticated animals that provide produce for a household while maintaining a spirit that embraces their strange wisdom.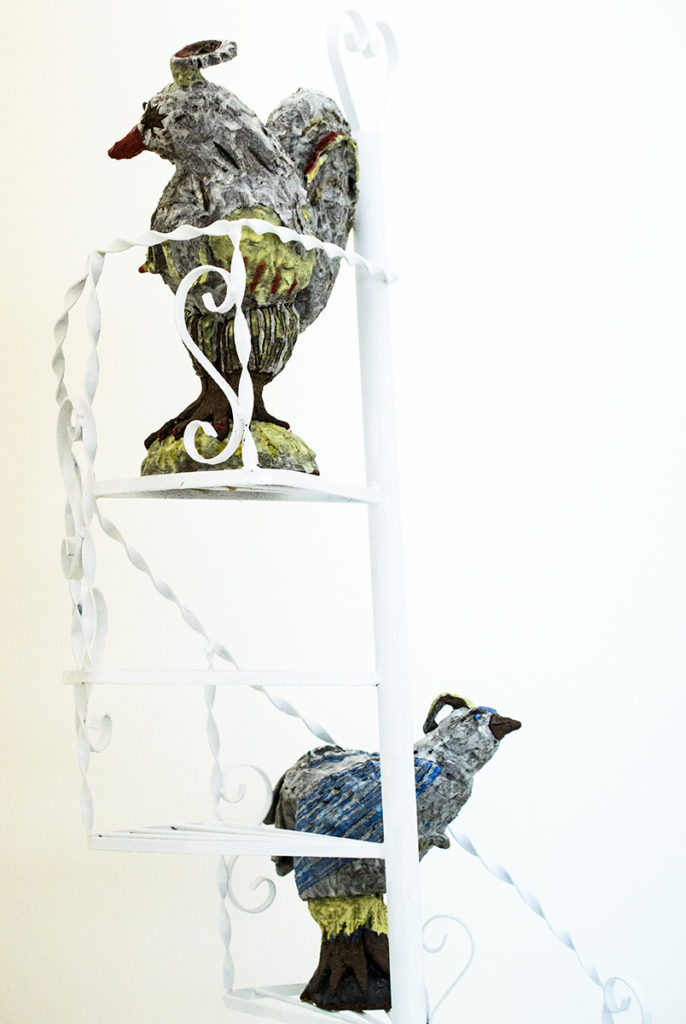 [Related: Graduate students immerse viewers in 'Perspective Slip' exhibit with surreal art]
Another dominant theme across all of Lockwood's sculptures are patterns reminiscent of game boards and maps, she said. While preparing for the creation of "Mondegreen Nursery," Lockwood said she noticed an overlap between the aesthetics of game boards, maps and spiritual maps. She said the paths depicted in all of those illustrations reflect the circuitry of both the body and the world.
"(I use) structural language to produce objects that are reflections of our energetic surroundings," Lockwood said. "I'm just interpreting things."
Tull said there is a unique, deeply felt sensation about seeing a piece that is made by hand rather than witnessing the art from behind a screen, which underscores the importance of displaying the ceramics in a walkable space. Lockwood said despite their stagnancy, she views her art as living objects. For Tull, the tangibility of Lockwood's 3D pieces creates an immediacy to her project that other visitors to ODD ARK•LA can appreciate.
"That's something else that I responded to – I didn't sense that she was being overtly careful in her process even though she's obviously very well-studied and trained as a ceramicist," Tull said. "She's still allowing for improvisation and a really pure and open process in her creation of the work."