Editorial: UCLA administration should increase COVID-19 monitoring, hybrid learning options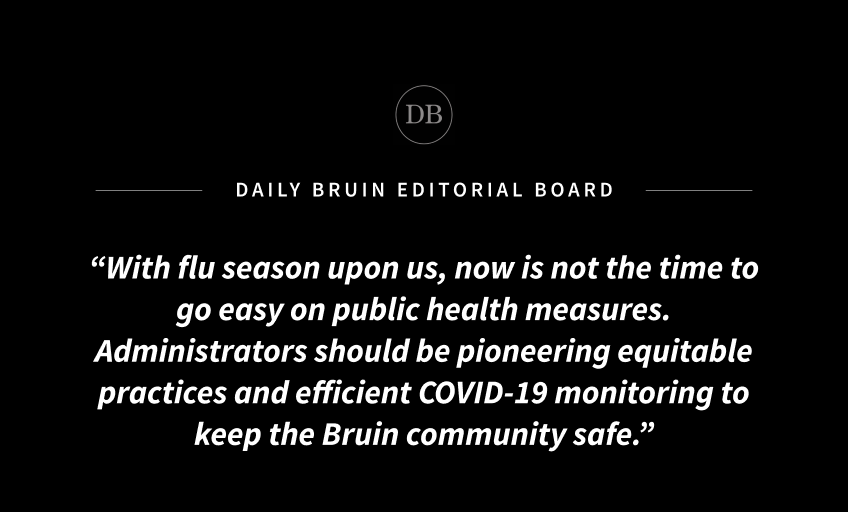 Editor's note: Editorials are intended to serve as the jumping-off point, not the conclusion, to discussion. As part of the Daily Bruin's commitment to its readers, the board hopes to present a responsible and clear analysis of relevant events and news items affecting the lives of those we serve, but our editorials are not representative of the Daily Bruin's views on issues as a whole. We encourage all readers to reach out to our board members and to respond to our editorials.
We've all been there. You're sitting in a lecture and realize you forgot to fill out the COVID-19 Symptom Monitoring Survey.
And yet, nothing has happened. Your instructor hasn't kicked you out, and your classmates have no idea.
With many of us experiencing this, it's obvious the COVID-19 prevention systems UCLA has in place are not cutting it.
The current symptom monitoring survey does not push students and staff to adhere to safety protocols, nor does it mitigate any of the risk. Students can easily ignore the survey or lie on it without facing repercussions.
In addition, not all students are being treated with the same rigor of monitoring. While student workers are asked to mark the locations on campus they will be visiting, students who don't work on campus are not asked the same question.
The COVID-19 pandemic is still a pressing threat. In the last month, Los Angeles reported at least 300 new COVID-19 cases each day. With flu season upon us, now is not the time to go easy on public health measures. Administrators should be pioneering equitable practices and efficient COVID-19 monitoring to keep the Bruin community safe.
There is no excuse for anything less.
First off, the university must make better use of the symptom monitoring survey. High-traffic buildings could have BruinCard scanners similar to those already on the Hill and in libraries with staff members requiring students to show their clearance certificates before entering. This can encourage students to fill out the survey before reaching campus – which is what they're supposed to do anyway.
Even with these changes, the system would still allow for students to falsify information on the surveys. Here, greater investment in accessible online learning options can help.
Since the beginning of the school year, the Disabled Student Union has been advocating for the school to do just that. Currently, instructors are not required to record or livestream their classes – a serious problem for students with COVID-19 symptoms or underlying health conditions.
Even when instructors do attempt to provide that reasonable accessibility, technical issues can and have emerged, diminishing efforts to create an equitable learning environment.
The Academic Senate has frequently cited its academic freedom requirements, which means they cannot mandate instructors to follow specific guidelines such as offering remote learning options. Academic freedom for instructors is important, but the senate can still make online learning options easier to implement.
For example, it can call on the university to offer instructors more technological support in the classroom. Many classrooms already have Zoom streaming or recording capabilities, but these are useless if teaching staff do not know how to handle audio or video issues that may arise.
Hybrid options are possible, but only if administrators are willing to give sufficient guidance. Students should not have to advocate for more accessible learning options when the pandemic has taught us the feasibility of online learning. It's the responsibility of those in power to make a UCLA education safe and attainable.
Increasing safety, eliminating in-person attendance requirements – including the implicit ones – and following through on better virtual learning resources may not solve all the issues surrounding the pandemic, but these actions are certainly better than what we have.
Continued complacency is not acceptable.