TV review: 3rd season of 'You' brings fresh plot lines but falls short of potential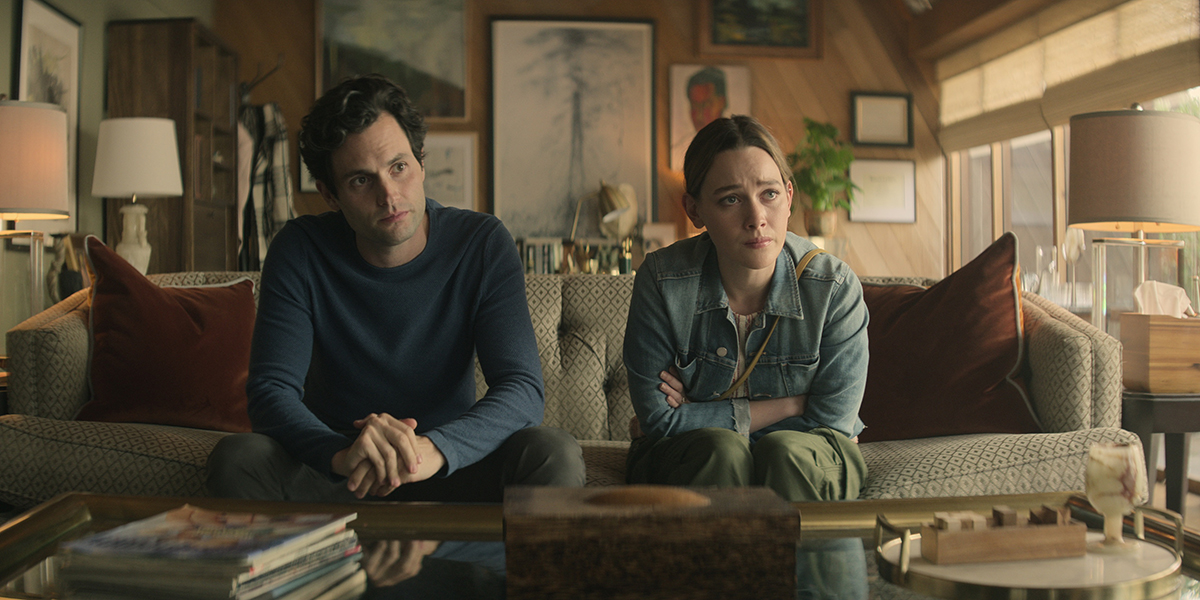 "You"
Created by Greg Berlanti and Sera Gamble
Netflix
Oct. 15
Correction: The original version of this article misspelled Travis Van Winkle's name in a sentence.
This post was updated Oct. 17 at 11:21 p.m.
Wherever Joe Goldberg goes, chaos follows – and the peaceful suburbia is no exception.
Stepping away from the busy metropolises of New York and Los Angeles, the third season of "You" transports audiences to the fictional San Francisco suburb of Madre Linda where Joe (Penn Badgley) and his now-wife, Love (Victoria Pedretti), navigate married life and parenthood. The move is supposed to signify a fresh start for the two lovebirds who are eager to quell their murderous impulses. But new places come with new obsessions, and as made evident by the Bonnie-and-Clyde duo, old habits also die hard.
The new season deviates from the formulaic plot structure of the first two seasons in which Joe spirals deep into his obsession, stalks a woman and kills anyone who stands in the way of their romance. Instead, Joe now has a wife possessing a similar thirst to kill, leaving room for some gripping tweaks in the storyline.
For instance, Joe can no longer freely indulge himself in a late-night stalking session knowing his wife's capacity for murder. He is also not the only one responsible for this season's killings – Love is as well. The third season further sets itself apart from its predecessors in that it focuses more on the unraveling fantasy of their toxic relationship and less on Joe's stalking rampage with another woman, though it remains integral to the plot.
Despite being a problematic bunch, the lovebirds remain aware of various systemic social issues. In an effort to keep up with current events, the show embeds various commentaries regarding race, gender and public health and – for the most part – seamlessly integrates them into the plotline.
The third episode, "Missing White Woman Syndrome," for example, employs a nuanced discussion of intersectionality as Joe and his colleagues examine the disparaging media attention women of color get compared to white women when they are reported missing. Two episodes ahead, the show masterfully tackles toxic masculinity as Joe bares his vulnerability in front of his male neighbors in a hunting trip and cries about his childhood traumas, challenging traditional gender norms and opening discourse surrounding men's mental health.
[Related: TV review: Round 3 of 'Sex Education' is fulfilling yet leaves room for improvement]
But the show falls short in its attempt to advocate for COVID-19 vaccination as it does little to move the story forward. While the writers effectively evoke the vulnerability of children amid the pandemic, the message they wish to impart is undermined by the fact that none of the characters appear to be COVID-19 conscious. Characters are maskless all throughout, and social distancing protocols aren't enforced during scenes in which they are in social gatherings. References to the pandemic are only made in one episode out of 10, further dulling the point the show is trying to make.
The season was also presented with an opportunity to aptly represent bisexuality through Cary Conrad (Travis Van Winkle), the husband of Love's best friend Sherry (Shalita Grant). Unfortunately, the writers missed the mark as his identity is simply glazed over, made evident in episode eight, "Swing and a Miss." The tokenization of his sexuality seems like a futile attempt to signal the show's adherence to progressive values, producing the opposite effect of its original intent as it could easily be construed as an example of performative allyship.
Moreover, the denouement of the third season is underwhelming as it doesn't leave the audience with a plot twist that could have saved it from its shortcomings. For a show famous for its ability to surprise its viewers, it instead presents a shockingly predictable ending. Given the satisfying season one and two finales, fans of the show are bound to be disappointed with the ending of Joe and Love's life in suburbia.
[Related: TV preview: Fall features premieres of highly-anticipated new and returning series]
But there are still some features to be admired about the third season. The editing and the camera work for episode three, reminiscent of Joe's experience with LSD last season, features hauntingly trippy transitions and strategically placed angles. This fully immerses the viewers in the auditory and visual experience of Joe's measles-induced hallucinations.
The cast performances deserve high praise as well, especially by scene stealers Grant and Van Winkle who provide some instances of comic relief amid the frenzy of the season's last episodes, all while encapsulating the fear and paranoia of being held captive.
Overall, the latest season had the potential to be the best one yet. But because the writers didn't push their pens past the safer side, they were unable to achieve such an undertaking. Although this season can be lauded for its cinematography and the actors' delivery, they certainly aren't enough to save it from its lackluster writing.
But with Netflix announcing a season renewal, perhaps Joe's life in another location will be the much-needed fresh start he needs to revitalize the show's past allure.