Coterie Couture: Glam rock flaunts extravagance, persists in modern ideas of superstardom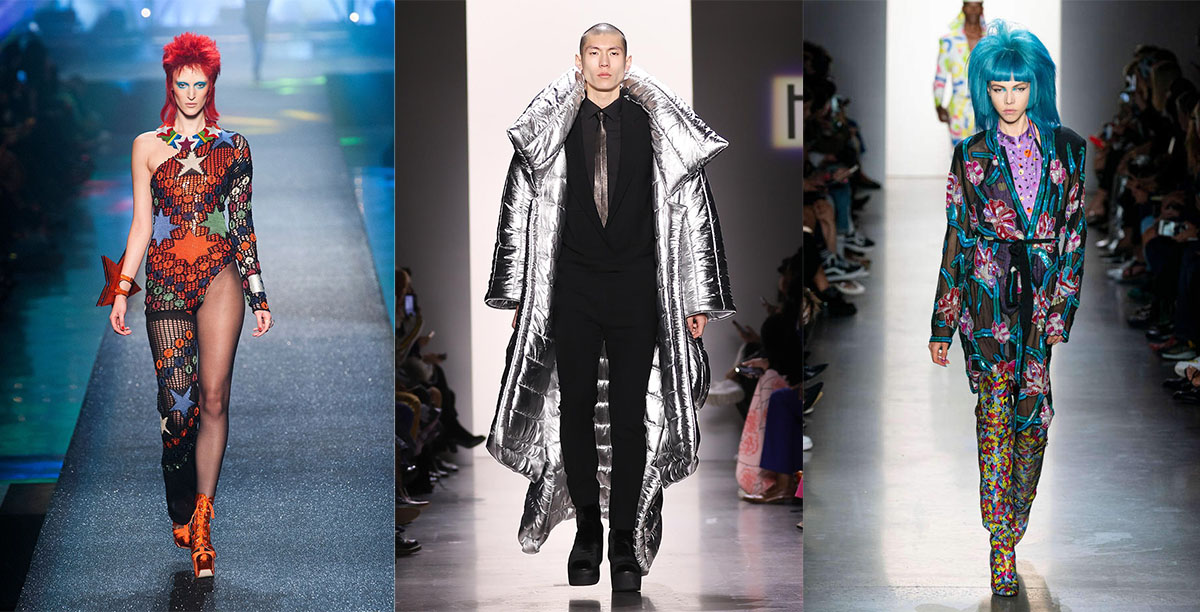 Flamboyant and extravagant, glam rock originated in Britain as a novel entity of the 1970s. Straying from the era's common goal of blending in with the crowd, the movement melded patterns from the past and future in ways which influenced the blueprint of superstardom today. (From left to right: Courtesy of Harper's BAZAAR, Fashion Week Online, Fashionista)
What someone wears speaks volumes about who they are as a person, and the same can be said for the styles associated with various movements and cultures. As a cyclical art form, fashion – and its attached politics – almost always reemerges from the past. Follow columnist Natalie Brown in "Coterie Couture" as she chronologically explores the impact of different subcultures and their corresponding fashion each week.

Strap on your knee-high glittered boots – '70s rock is about to get glam.
While glam rock can be considered extravagant in almost every sense, its rich history reveals an intervention to the cultural discourse of the time. This short-lived British musical movement from 1971-1974 shaped both mainstream fashion and society's modern ideas of superstardom. With artists like David Bowie, Alice Cooper and Lou Reed at the forefront of the movement, glam rock bridged aspects of music and fashion – establishing a point of inspiration for young artists and fashionistas, Alwyn Turner, author of "Glam Rock: Dandies in the Underworld," said.
"(Glam rock was) mostly a British phenomenon that is concerned with spectacle, make believe and artifice, rather than the dominant strand of authenticity that was characteristic of American music at the time," Turner said.
[Related: Coterie Couture: Bohemianism fashion, art continues to counter the mainstream]
Individuals like Bowie, who became influential in Britain's glam rock scene, grew up listening to 1950s rock 'n' roll, which Turner said was a rather odd phenomenon. Given that the long-standing traditions of popular American genres like folk music and R&B were non-existent in Britain, rock music emerged as an almost alien entity, he said. This absence of organic growth of these particular genres in Britain directly translates to ideas of lacking authenticity seen later in glam rock, Turner said, which favors the superficial and material spectacle over the down-to-earth. He said it is this over-the-top glam attitude that aimed to recapture rock and roll's original excitement 20 years later.
"(The 1970s) was a time when serious bands tended to go on stage in as much denim as possible," Turner said. "They wanted to look at as much like the audience as possible and not be stars."
Glam rock, however, could not be any further from this attitude of assimilation. Rooted in artifice, the music and its associated ideas of invention seep into the fashion of the culture as well. Turner said glam rock was a predominantly male form of performance, redefining traditional tropes of masculinity through its unisex portrayal of male fashion. In terms of glam rock attire, anything goes, as long as an individual is wearing over-the-top extreme ensembles, he said, removing the definitions and labels attached to gender and specific clothing pieces.
British men in 1972 and 1973 did not dress very flamboyantly, Turner said. By wearing the hallmarks of glam rock fashion – such as glittery outfits, jumpsuits, makeup and feather boas – glam rock artists were disrupting the plain and ordinary norms, inspiring fans across the country to dress like their favorite superstars and experiment with this futuristic wavelength. As a visual culture, Turner said glam rock's aesthetic taps into the foundational ideas of eccentric performance and transcending humanity that govern the genre.
[Related: Coterie Couture: Cultural resurgence of psychedelia encourages optimism through fashion]
Across the ocean in America, everyday dress during the 1970s for men was not as inventive as it is today. UCLA alumnus and communications professor Jay Keister said the fashion norm during the '70s was rather sloppy and unimaginative in comparison to the glam scene. Opting to play around with gender roles and traditional conventions of style, glam rock introduced the idea of sensational dressing.
"Glam (rock) looked to the future, so you saw people wearing space boots and outer space-style outfits," Keister said. "But glam (rock) also looked back to the 1950s – to the early rock 'n' roll era."
In addition to wearing extraterrestrial platform shoes and boots, Keister said glam rock artists also donned leather jackets and ducktail haircuts. Glam rockers were reaching for styles that were so old they were no longer in fashion, choosing to combine them with things that appeared too futuristic to be in fashion yet, he said. This particular juxtaposition of styles provides a visual escape from reality and more importantly, the present.
Though glam rock music has certainly run its course, Turner said the aesthetic and ideological aspects of the genre are still prevalent in today's pop culture. Artists like Janelle Monáe and Lady Gaga both possess these hallmarks of glam and are devoted to its inherent theatricality, making cultural statements with ostentatious pieces such as Lady Gaga's 2010 MTV Music Video Awards meat dress.
"Every artist in Britain grew up as glam rock fans," Turner said "They all grew up with posters of Marc Bolan and David Bowie on their walls, and there's a very strong influence of glam going into punk. It has a very long legacy."