Dance Disassembled: Hip-hop, ballet offer contrasting opportunities for expression through dance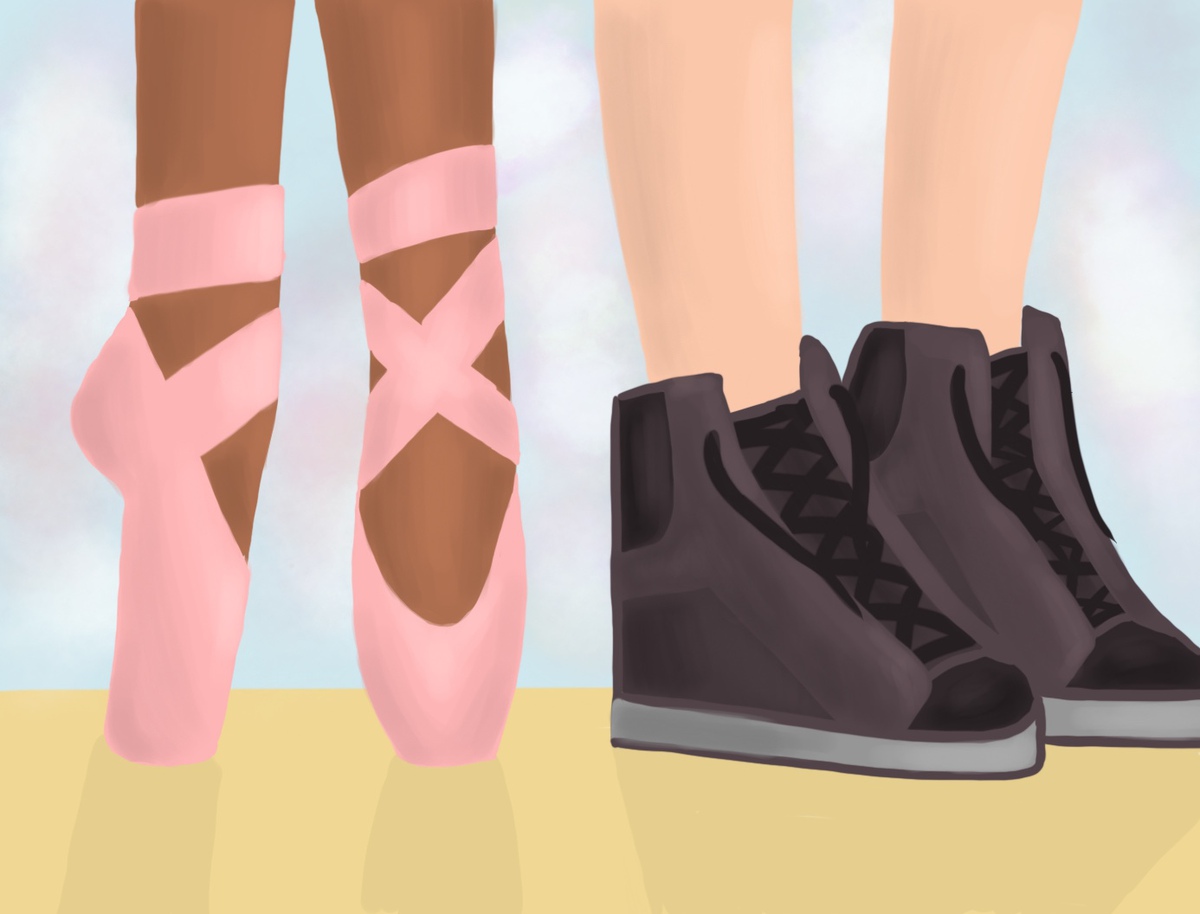 From selecting music and choreography to perfecting costumes and makeup, the ins and outs of putting on a dance performance are complex and detailed. Put on your dancing shoes and follow along as columnist Laura Carter takes a behind-the-scenes look at dance, disassembled.

Hip-hop and ballet groups on campus get to the pointe of dance through choreography.
Arguably one of the most important elements of any dance performance is the choreography itself. From ballet to hip-hop and everything in between, the technique needed for and explored in choreography differs greatly across dance styles. For third-year human biology and society student and co-founder of the Ballet Company at UCLA Moe Kawakami, the defining element of ballet lies in its structured technique and formulaic choreography. With positions like an arabesque – where one leg is extended behind the body – rotation of the standing leg is essential to maintain technical accuracy, the co-director said, and this technical precision is developed in everyday ballet classes.
"Technique is something (that) takes time to build," Kawakami said. "So, every time I go to class, it's not like I'm seeing progress instantly. I really like that. I'm working every day towards my goal, my love for ballet."
Depending on the type of ballet technique, this structure within the dance style may have more room for artistic interpretation, Kawakami said. In a performance especially, she said technical elements of the choreography are important – like making sure dancers' legs are turned out and their feet are pointed – but the dancer's take on the choreography is ultimately what makes ballet interesting to watch. Ballet performances are meant to be enjoyed by audience members, and she said sometimes technique takes a back seat for the sake of creating an engaging performance.
[Related: Dance Disassembled: Student dance groups bring K-pop dance routines to UCLA]
On another end of the dance spectrum from ballet sits hip-hop. The structure present in dance styles such as ballet and contemporary are not as prevalent in the genre, said fourth-year physiological science student and co-director of student group Vibe Check @ UCLA Nyoko Brown. The freestyling element in hip-hop – where dancers are given more improvisational space – creates more freedom in the technique and choreography, she said. Freestyling also allows for more participation by people who may not have a strict background in dance, Brown said.
"Hip-hop is extremely accessible," Brown said. "Not to discount that it is technical and has its own set of rules and specific style, but at the same time, it's very community-based, so it's something that everyone can participate in."
In Vibe Check, hip-hop is the primary dance style that appeals to the largest group of people, said fourth-year chemical engineering student and co-director Roma Modi. Similar to ballet, hip-hop creates a space that allows for physical expression but with different musical elements, Modi said. When choreographing for the group, the co-director said she tries to use elements in the music other than the main melody and rhythm. Also, because hip-hop technique doesn't rely heavily on specific dance moves like pliés and tendus or skills that require development like turnout and flexibility, the choreography is more accessible to dancers with different backgrounds, Modi said.
"I knew I wanted to choose a song that I could do counts to as well as focus on textures and backbeats," Modi said. "I focus on separating a few beats or noise such as bases or snares, … and that way the moves I make have emphasis on those certain sounds."
In contrast to ballet, hip-hop allows for individual performances that focus more on personal expression than technique-centered choreography. Brown said individual freestyling in hip-hop allows for the most technical freedom in dance. If a performer makes a mistake, there is less of a chance that it will be noticed, she said, as opposed to ballet where much of the solo performances in full-length ballets come from pre-choreographed repertoire where mistakes are easier to identify. However, in group performances, Brown said staying within a framework of pre-determined choreography is important to make the group look cohesive.
"If you're dancing by yourself and you mess up, it's not really messing up because you're not being compared to anyone," Brown said. "You can do whatever feels right within whatever framework that you've preestablished."
[Related: UCLA's first ballet company a safe haven for pliés, dégagés and fun]
Part of what makes the difference so vast between ballet and hip-hop is the difference in accessibility between the two dance styles, Modi said. Because many ballet dancers start training at a young age, she said they have time to build up foundational technique that carries through the entire dance style.
This barrier expands beyond experience, as ballet is more financially involved, Kawakami said. From needing years of technical foundation to needing specific clothing items like pointe shoes, she said the expense of ballet can sometimes unintentionally deter people from the art form.
"Many beginner dancers are scared to try (ballet) because there's a lot of technique valuing flexibility or natural turnout that you have to work on (starting when) you are young," Kawakami said.
Despite the barriers to entry present in the ballet world, dancers of any style are looking for an outlet to creatively express themselves, and Kawakami said this self-expression is what drove her to start the Ballet Company at UCLA. She said she wanted to create a space where ballet dancers of all skill levels could explore the style without the stresses of intense training.
Ultimately, the different styles of dance make the community as a whole more accessible to people who have different preferences – ballet for dancers who prefer stricter technical structure and hip-hop for dancers who like improvisational dance. Creating a casual space where people can express themselves regardless of their dance background is the goal of different on-campus groups like Vibe Check, Romi said.
"Our eventual goal is to have everyone comfortable dancing in front of others and creating choreography," Modi said. "We want to make sure that after attending practices, (dancers take) something away from it."