BeGreenBruin promotes sustainability through gardening, volunteer projects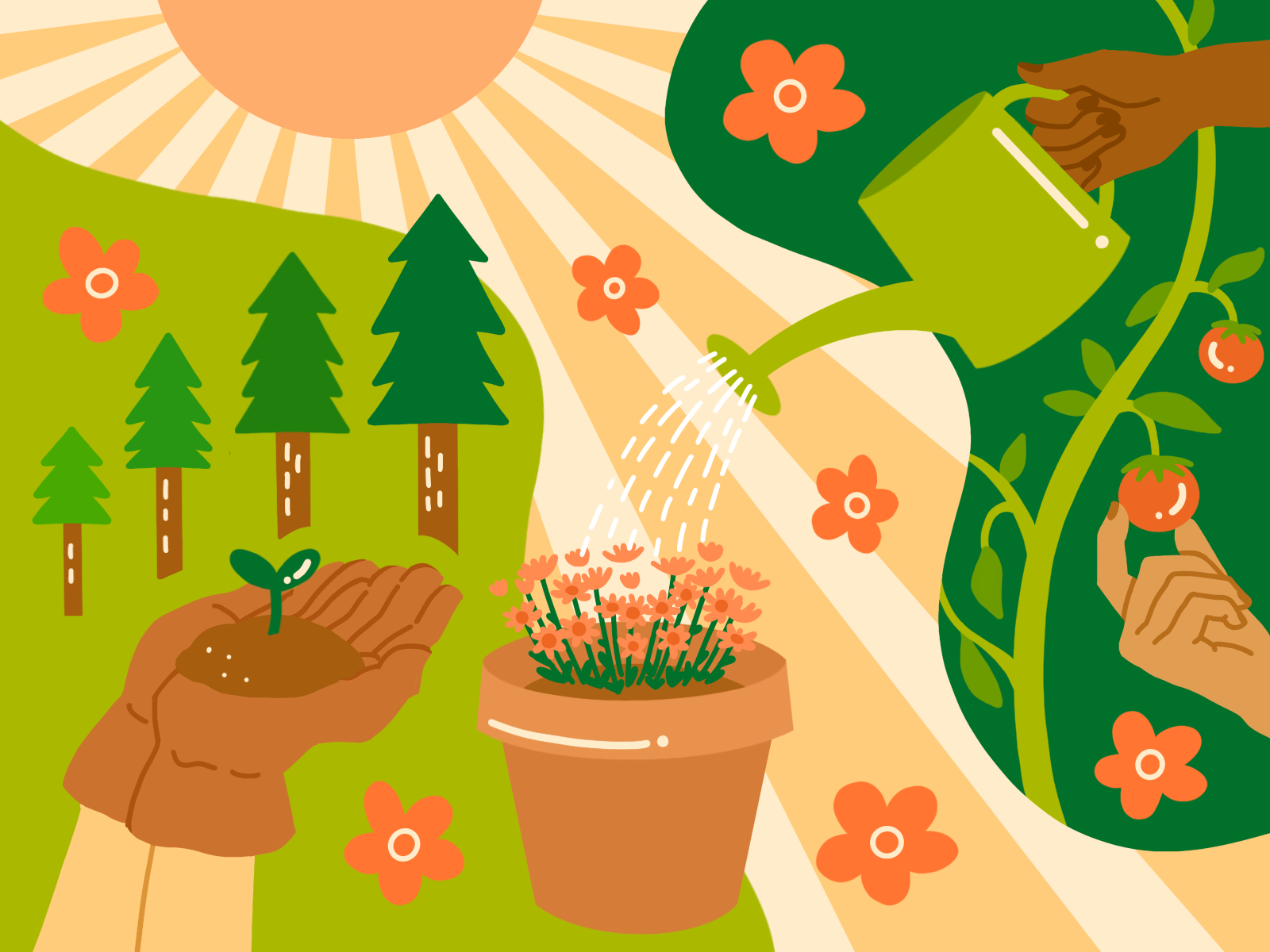 (Isabella Lee/Daily Bruin)
This post was updated Oct. 13 at 10:24 p.m.
BeGreenBruin is planting seeds of sustainability.
Founded in 2020, the club provides students with opportunities to learn about food culture and environmentalism and use this knowledge to implement small habits into their own lives. On a larger scale, the club promotes sustainable practices through hands-on gardening and work at local farmer's markets, said Zanasia Graham, social media director of the club and fourth-year international development studies student.
"Being part of a project like this is sustainable because you're not wasting any money, labor, carbon – all those kinds of things," Graham said. "That's one aspect of why having a community garden is also related to sustainability, and you're also building connections with your community."
To grow this mentality on campus, Graham co-founded BeGreenBruin with third-year molecular, cell, and developmental biology student Emily Xing and third-year mathematics/applied science student Kathy Wu. Xing, the current activities director, said she and Graham met in an environmental science course, which inspired the duo to start the club.
[Related: Melanin & Medicine creates supportive, safe space for Black STEM students]
For Xing, the class opened her eyes to how soil health connects to the environment and overall health of the population. The class also introduced her to the notion of "you are what you eat," she said, and inspired her to spread the message that fertilizers, chemicals and herbicides will alter food. Graham said she is interested in how food systems – farmers markets as well as farm labor – operate, and she appreciates that BeGreenBruin allows members to reconnect with food systems.
"When we go to the market and pick up an apple, you don't really think about all the steps that have been taken to have that apple there," Graham said. "Whereas if you go to a community garden, you get rid of all those unnecessary emissions."
To transform this sentiment into action, BeGreenBruin is effecting change through volunteer projects at community farms as well as planning on starting its own on-campus portable gardens. In order for the club to be more accessible for students, Xing said that it is working to collaborate with UCLA's Zero Waste team to create community gardens. The goal for the initiative is for students to be able to take and utilize produce from these gardens, Graham said.
In addition to promoting healthier habits, fourth-year biology student Jose Haro-Aldana said he joined the club to teach the importance of sustainability, environmentalism and gardening. As this year's outreach director, he said he wants communities to benefit from these practices.
"We hope that our club can teach members not only how to produce a garden but to also realize the importance of these gardens," Haro-Aldana said. "How much carbon you're exactly reducing with these gardens and what exactly does that mean for the rest of the community – like the benefits that these gardens can provide."
As a concrete goal, Haro-Aldana said the club also hopes to transform vacant lots into self-preserving gardens. These plots of land can become sustainable, which is especially important for those who live in areas such as food swamps or food deserts because they do not have a lot of access to fresh produce, Xing said. As opposed to driving miles to the nearest grocery store, Haro-Aldana said they could efficiently get their food from their front door or close to their homes.
Since BeGreenBruin was established during the COVID-19 pandemic, it is a fairly new club and is still working to become established and organize events. Haro-Aldana said the organization is working to plan weekly volunteer opportunities at different sites until it finds somewhere to establish its own garden. The club also recently had a volunteer day, during which participants went to the Los Angeles Green Ground's Teaching Garden to become familiar with the club, other members and the gardens, he said.
[Related: Alumnus-run jewelry company rooted in sustainability puts the planet first]
For this quarter, Graham said the focus is volunteering, but in coming quarters, she hopes to have an event with guest speakers and workshops where students can discover practices they can incorporate into their dorm rooms, such as having a compost bin, not purchasing packaged food and making their own toothpaste.
In practice, Haro-Aldana said he hopes BeGreenBruin and the gardens can teach members and students the importance of environmentalism and sustainability as well as that the ecosystem needs to be preserved and well-maintained.
"Being environmentally friendly is just one facet of the picture," Haro-Aldana said. "Sustainability is also a big, important part, and sustainability to us is something that is self-preserving, that is self-maintaining."