Film, TV show recommendations for Hispanic Heritage Month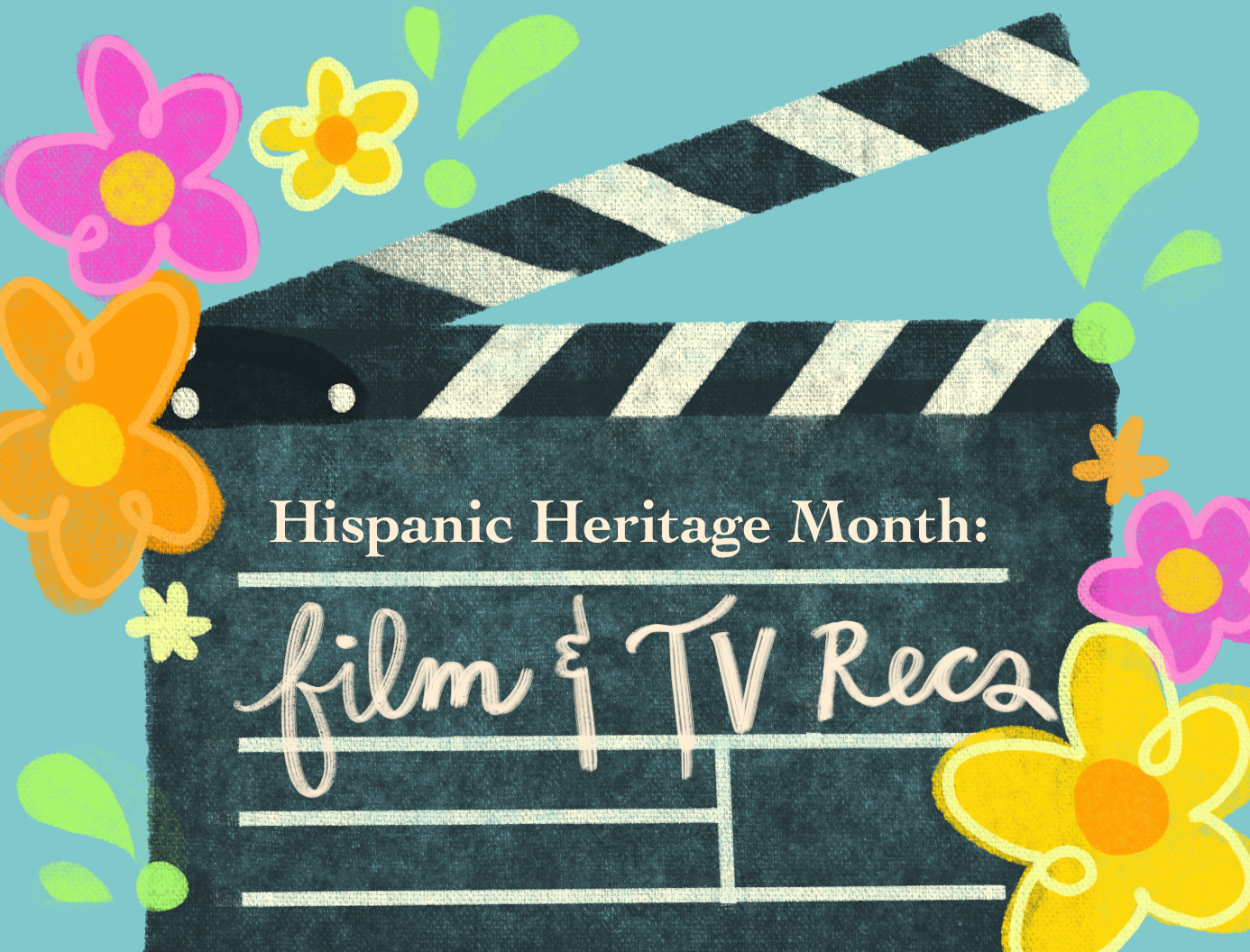 (Katelyn Dang/Illustrations director)
Hispanic film and television offer a window into the wide range of creativity from Hispanic cultures.
This Hispanic Heritage Month, delve into the humorous antics of some rising comedians, learn about Mexican countercultures or take a road trip to an enigmatic beach to discover the multifaceted artistry of Hispanic film.
Read on to catch the Daily Bruin's recommendations for films and series made by Hispanic filmmakers and featuring primarily Hispanic casts.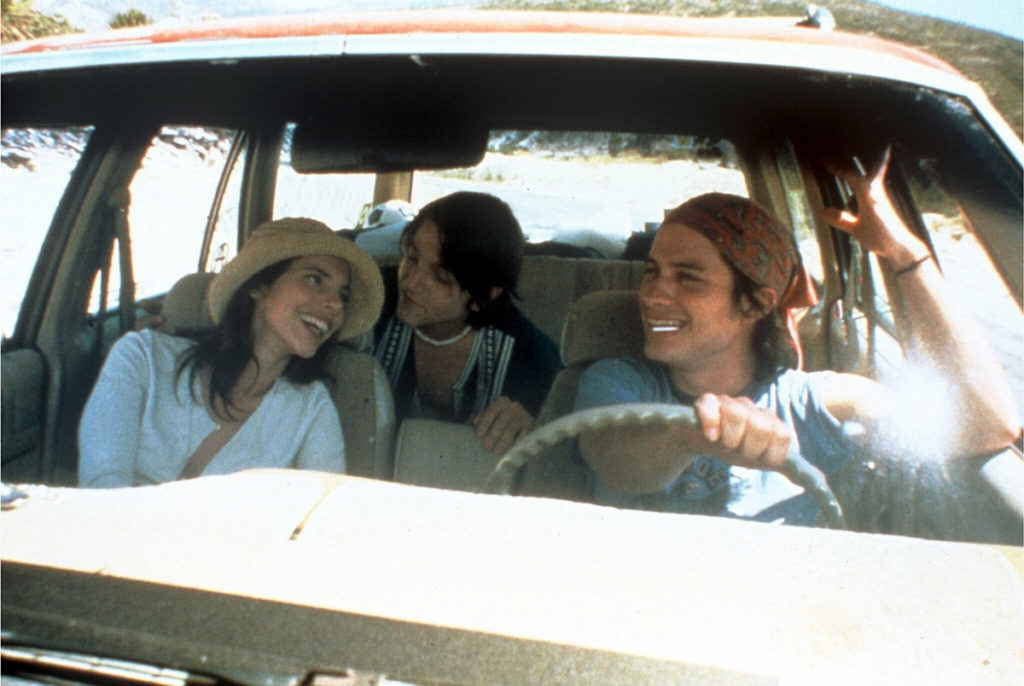 "Y Tu Mamá También" (2001)
A road trip movie is never really about the road trip.
Award-winning Mexican director Alfonso Cuarón's filmography is packed with must-sees, but "Y Tu Mamá También" is as essential to Cuarón's repertoire as it is to Mexican cinema as a whole. The film follows two teenage best friends on the cusp of adulthood, Julio (Gael García Bernal) and Tenoch (Diego Luna), as they take an impromptu road trip to a distant beach with an enticing older Spanish woman, Luisa (Maribel Verdú).
Beneath the throes of passion, sexual exploration and seemingly unbreakable friendships, Cuarón masterfully explores class dissonance, sexual identity and social conflict. The camerawork and cinematography evoke a sense of lingering and encourage the viewer to reflect on characters' interactions and the stillness of the scenery. Cuarón's painfully beautiful and subtle visual style says so much with so little as he traverses the Mexican landscape, highlighting the expansiveness of the country and the niche communities that constitute it.
Set to a soundtrack blending rock and roll, musica nortena and rancheras, Cuarón utilizes the deceptively simple road trip concept to comment on masculinity and Mexico's class divide. The nameless narrator breaks up the cadence of the film to portray knowledge of both the past and present, peeling back the layers of the story to reveal tragic tales of Mexico and its people that would have otherwise been lost.
While Mexico is the fundamental backdrop for this literal and metaphorical journey, the film is universal in the conversation it creates about who people believe they are, which memories are left in the past and what it means to find oneself. While Julio, Tenoch and Luisa may have taken a pivotal road trip to an elusive beach, each one's path to finding themselves – even if the revelation lasts for just one night – is timeless.
[Related: Film preview: Upcoming fall film releases promise to captivate audiences]
"Ya No Estoy Aquí" (2019)
All good things must come to an end.
Director Fernando Frías de la Parra breathes life into the niche Mexican counterculture Kolombia, which modifies cumbia songs to a slowed, melancholic pace that embodies the mood of "Ya No Estoy Aquí." The film, which can be streamed on Netflix, intertwines two timelines in the life of 17-year-old Ulises (Juan Daniel Garcia Treviño), the leader of a group of Kolombia followers called Los Terkos.
After a misunderstanding ends in violence – putting Ulises' life in Monterrey, Mexico, at risk – he is left with no choice but to leave behind his friends and family and migrate to New York City. By bouncing between Ulises' past in Mexico and his present in New York, Frías de la Parra delves into the unbearable pain of loneliness and the inevitability of loss.
Frías de la Parra carefully constructs Ulises' world with rich detail and nuance. Los Terkos' bold haircuts and flashy clothes as well as their rituals and dance routines are explored with a depth and stillness that invite the viewer to participate and allow the counterculture to come to life. The story also captures the dichotomy of finding a sense of belonging in the vastness of Monterrey and the inescapable loneliness found in a dense metropolitan area.
Without ever veering into stereotypical depictions of Mexico or immigrants, Frías de la Parra delivers an emotionally moving narrative reflecting the real dangers teenage migrants encounter in their home countries and abroad – including violence, homelessness and isolation. "Ya No Estoy Aquí" is as authentic in its themes as it is in its plot, and its spot on Netflix's United States catalog will hopefully invite more viewers to explore international films.
[Related: Film recommendations for AAPI Heritage Month]
"Los Espookys" (2019-present)
Sometimes, it's what scares people that brings them together.
Created by Saturday Night Live alumni Fred Armisen and Julio Torres along with comedian Ana Fabrega, HBO Max's "Los Espookys" blends elements of magical realism and the supernatural with the affable humor of its three creators to craft a feel-good comedy series. Despite its name, the Spanish-language show is not at all spooky. Instead, the series features a group of horror-loving friends, dubbed Los Espookys, who create haunted experiences for clients while aiming to stay true to their passions.
Colorfully imaginative production design shapes a mystical and ambiguous Latin American country – where a haunt-selling business can thrive, cursed mirrors can trap people and demons will go to great lengths to watch "The King's Speech." No episode shies away from the outlandish or avant-garde, and marks of Torres' ability to make the mundane ridiculously funny punctuate the series.
Each of Los Espookys' fabricated supernatural experiences leaves viewers wanting more, and the six half-hour episodes currently available to stream make for a quick, fun watch. Joining forces with the three creators, co-stars Cassandra Ciangherotti and Bernardo Velasco form a charming ensemble as Los Espookys, each bringing their own distinct personality and humor to the series.
Despite the audacious humor, "Los Espookys" is a reminder of what really matters: never losing sight of the passions and people one loves.