Student-made short film addresses Asian American mental health, family dynamics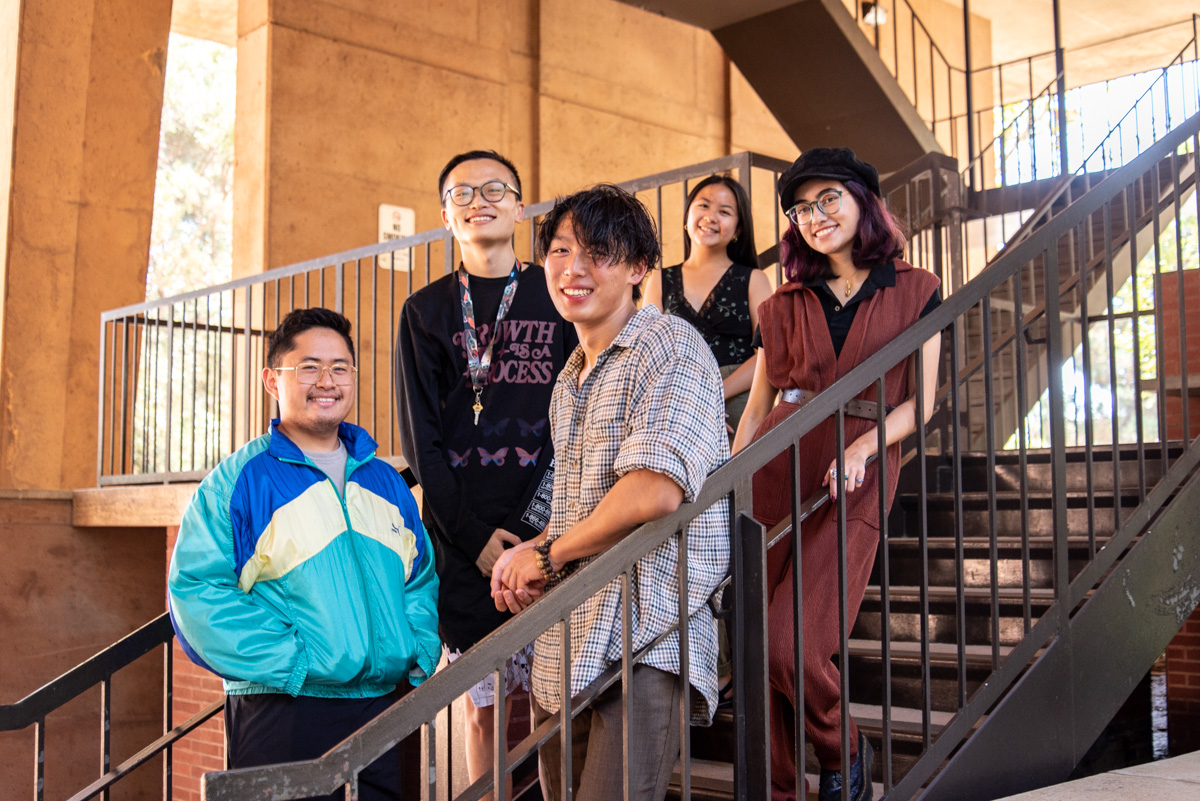 "Iridescence" seeks to destigmatize the topic of mental health in the Asian American community. The student-made film follows a young artist's journey expressing himself through his work as he simultaneously works to better understand his family. (Anika Chakrabarti/Assistant Photo editor)
In the same way that iridescent colors shift in the light, "Iridescence" is shimmering with meaning.
The student-made short film, which is currently in postproduction, follows the life of an 18-year-old budding artist named Christian (Patrick Zhang) as he experiences his first panic attack amid the stress of college applications. Zhang, a fourth-year communication student, said that throughout the course of the film, Christian has to confront his inadvertently narrow-minded view of the world and his family in order to properly articulate his love for his family members.
"(The film is) essentially about this kid who is applying to colleges, but at the same time, he experiences a lot of tension coming from within his family," Zhang said. "He's trying to figure out who he is as a person and as an artist."
After being asked to proofread an early draft of the script, Zhang said he joked about playing the lead – not knowing this wish would come to fruition – and was drawn by the truthfulness of the story. Zhang said he was excited to have the chance to represent the lesser-known details of the Asian American experience, such as cultural foods and family dynamics, with which he was able to personally resonate.
With the film's principal photography lasting three days in early August, Zhang said his favorite part of production has been the on-set experience. He said he admired the cast and crew's willingness to learn. For example, Zhang said he watched students step into their own as sound mixers despite not having experience in that realm of film production.
"We're all students, and we're not getting paid, (but) we're all there out of pure passion and love for the project," Zhang said. "That really fosters a good work environment."
[Related: 'Apart, Together' explores Chinese cultural identity with universal themes]
As for the production, producer, first assistant director and fourth-year anthropology student Tiffany Hue said the production process was built from many moving parts, with frequent Zoom calls juggled between the student crew's various full-time jobs. Despite the online format of the initial stages, she said the cast came together well once it was time for them to meet in person on set.
Following the production's wrap, animator, painter and third-year design media arts student Paige Brunson said she is now responsible for guiding the work required to complete the postproduction process of "Iridescence." A major emotional crux of the film occurs during an entirely animated scene, Brunson said, as Christian presents one of his paintings to his family. The animation aims to encapsulate the ultimate message of "Iridescence" by acknowledging the fears of growing up coupled with the difficulties of losing touch with loved ones, Brunson said.
When audiences watch "Iridescence," director, writer and fourth-year psychology student Jeremy Hsing said he wants viewers to feel like they are not alone in their mental health experiences. Christian's turmoil is a natural response to the pivotal, transitional stage of growth that his whole generation is currently experiencing, Hsing said, which is delivered in part by the title of "Iridescence."
"(The word) 'iridescence' is about how something's color changes just when you view it from another angle," Hsing said. "This is such an amazing metaphor for life because so many people stay in a box and perceive others as stereotypes, but once you step out of this box and get to know humans outside of these preconceived notions within our culture, that's when bigotry ends."
[Related: Screening of 'Verbena Trágica' to open up discussion of Latin American film history]
Once "Iridescence" completes postproduction, the film will be submitted to festivals before being made available for public viewing, where Zhang said he is excited to witness the exhibition of a film spotlighting the experiences of nonhegemonic groups that often seem to be overlooked in the media. Additionally, Hsing said the film's official website has tabs dedicated to resources related to Asian American and Pacific Islander mental health advocacy, which he hopes audiences will explore prior to the wide release of "Iridescence."
In the context of current events, Hue said the film is especially relevant right now since the inspiration for the script came from the feelings of isolation that many students experienced at the height of the COVID-19 pandemic. During that time, it was difficult to find support systems because everyone was struggling in their own different ways, Hue said, and many students subsequently found themselves turning to their parents, requiring them to relearn how to communicate with them as adults.
"Creating a film that essentially paints a portrait of how people deal with (disconnection from their loved ones) and how real and relatable these issues are, it makes you feel less alone," Hue said. "Hopefully, when (postproduction) is done next year, when 'Iridescence' does hit the student body, people will watch this film and say, 'I see myself in this person.'"