School of Theater, Film and Television professors prepare for in-person courses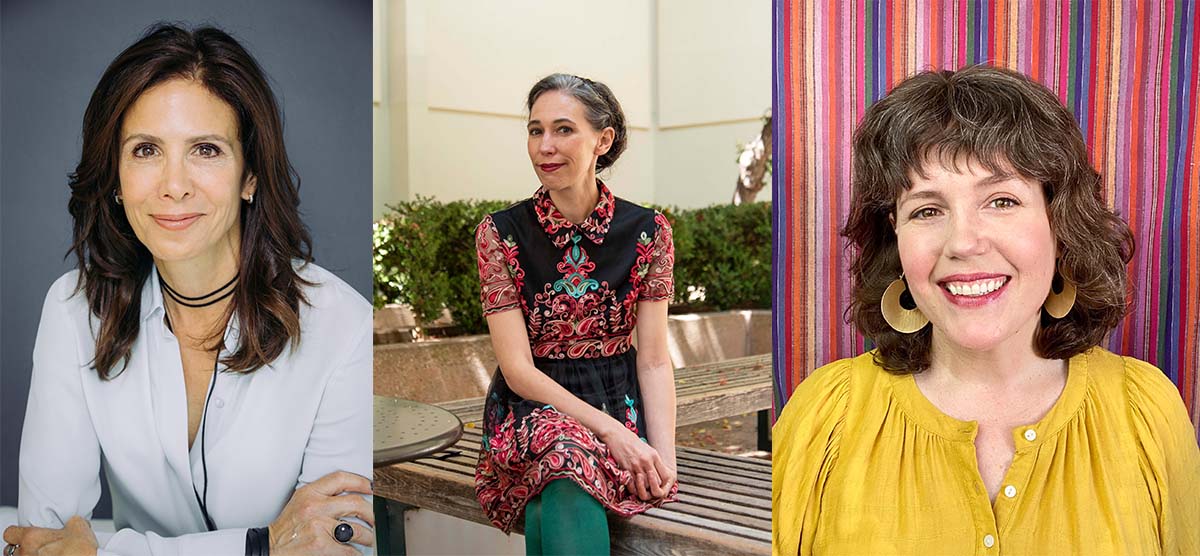 After more than a year of adapting to Zoom classes and online learning, students and staff are preparing to return to more in-person settings. Three professors from the UCLA School of Theater, Film and Television, Wendy Kurtzman (left), Michelle Liu Carriger (center) and Perry Daniel (right) share their teaching plans for the upcoming school year. (From left to right: Courtesy of Wendy Kurtzman, Anika Chakrabarti/Assistant Photo editor, Courtesy of Perry Daniel)
Rehearsals are underway in preparation for in-person classes this fall.
After a year of fully online courses, the UCLA School of Theater, Film and Television has prepared a variety of courses for a hybrid or in-person setting that will allow students to engage in an interactive environment. While the selection of courses being taught ranges in size from larger lectures to smaller seminars, assistant professor of theater and performance studies Michelle Liu Carriger said the basis of her course preparation entails in-person activities and backup plans in the event that classes are moved online.
"I am trying to think of ways I can build that kind of bridge work from online classes into regular in-person classes," Carriger said. "The things that helped get students acclimated to in-person learning are also just the things that make a better class: being clear about expectations, trying to make my pedagogical goals and having rules as clear as possible to students."
The past year has inspired new ways of teaching in person, such as mimicking the Zoom chat function to engage students who may otherwise participate less, or encouraging a shared annotation system for students to collaborate on readings, Carriger said. Rather than transitioning back to in-person classes with a dated mindset of engaging students, she said leveraging a shared reading system from virtual learning can create incentives for students to recognize readings as an important and ultimately social activity.
[Related: Alumna's film 'I Blame Society' brings humor to dark side of entertainment industry]
While Carriger's "Drama of Diversity" course will continue in its online format, she said her in-person classes such as "Global Histories of Theater and Performance I" and "Special Topics in Theater and Performance Studies" will support the social aspect of having organic conversations arise between students in the transition between activities and classes. These unstructured moments foster a highly collaborative environment distinctive of in-person teaching, Carriger said.
Similarly, lecturer Wendy Kurtzman said she is excited for the in-person dynamics in her course, "Career Preparation for Actor." Since students can take a passive approach to learning in an online setting, Kurtzman said her course will instead embolden them to actively navigate their career through organizing their own management and potential agency representation. The course will cover students' transition from academia to the entertainment industry and the pragmatic approach they should take in the career management, she said.
"One of the things that sabotage most artists is the lack of feeling that they have control over their careers and the insecurities that get bred from that lack of control," Kurtzman said. "Whether I'm a writer and somebody bought my script, or I'm an actor and I got the audition, or I'm a singer and somebody books you in the musical, we're all dependent on the business to push us along and accept us, place us and see who we are."
Since students may feel lost or discouraged given these unpredictable circumstances, Kurtzman said she hopes her class will help students pursue their industry aspirations. The in-person setting of the class will also support her teaching goals, as she'll have the ability to read students' body language and emotional energy, Kurtzman said.
[Related: Alumnus explores Black love, everyday life in feature film 'Love Like Winter']
While Kurtzman's class engages students in career preparation, lecturer Perry Daniel's class "Creative Dramatics" will aim to immerse students in teaching a K-12 curriculum using performance and visual arts techniques. The physical setting bodes well for the course, as students will be required to be on their feet and actively engage with their peers to problem solve through the arts, Daniel said.
Daniel will also be teaching "Introduction to Performance," a course she said is geared toward first-year students. Since this will be one of the first in-person courses for many students in the incoming class, Daniel said it will address theater's shared physicality and the impact the pandemic has had on the art form from conceptual and personal perspectives. By developing an empathetic approach to teaching the class, Daniel said she aims to introduce these new topics of discussion that have emerged over the past year in a mindful way.
"I hope to create a really solid space where we can exhale and reengage with curiosity when it comes to investigating storytelling, and reemploy all those basic things like sensory experiences to both receive and share a story," Daniel said. "There's a certain passivity that can happen with Zoom because we're just staring at a one-dimensional screen, so I would love to make in-person classes as interactive and stimulating as possible but in a very grounded way."