Sam Settles It: Transfer students are indispensable to UCLA's athletic success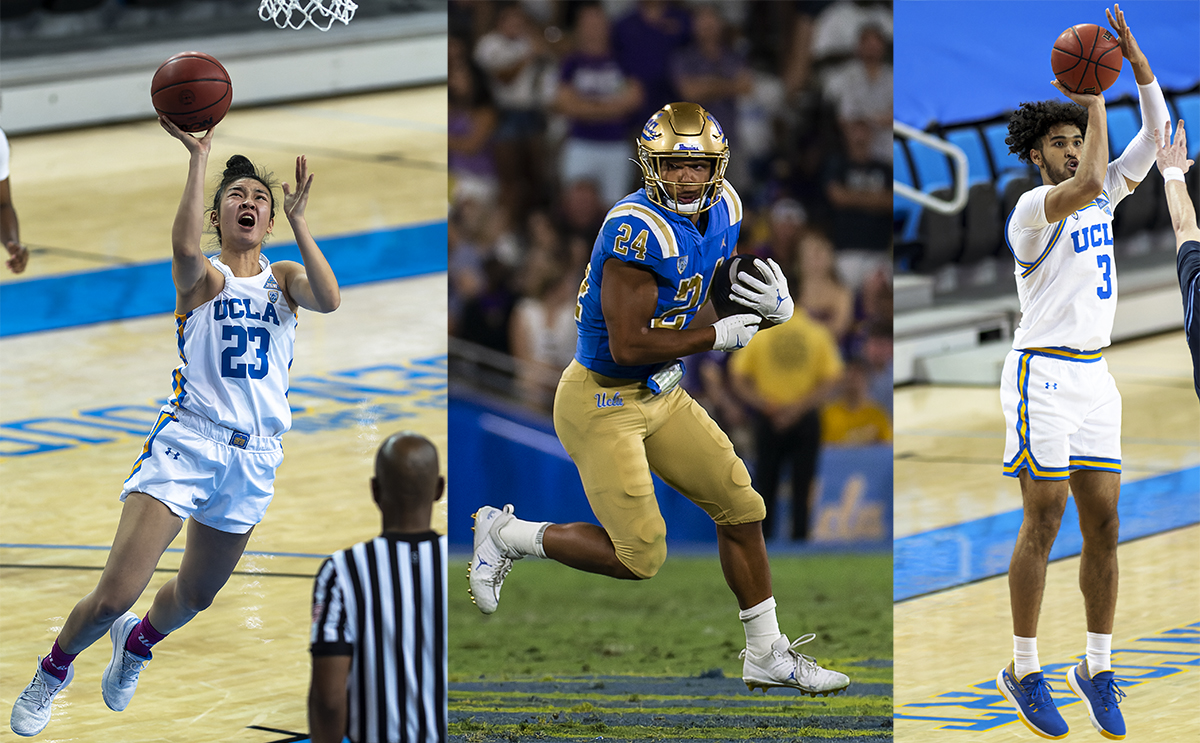 UCLA women's basketball graduate student guard Natalie Chou (left), UCLA football junior running back Zach Charbonnet (middle) and UCLA men's basketball junior guard Johnny Juzang (right) are just a few examples of the many transfer student-athletes who have helped bring the Bruins athletic success since they transferred to UCLA. (Left to right: Christine Kao/Daily Bruin staff, Anika Chakrabarti/Assistant Photo editor, David Rimer/Assistant Photo editor)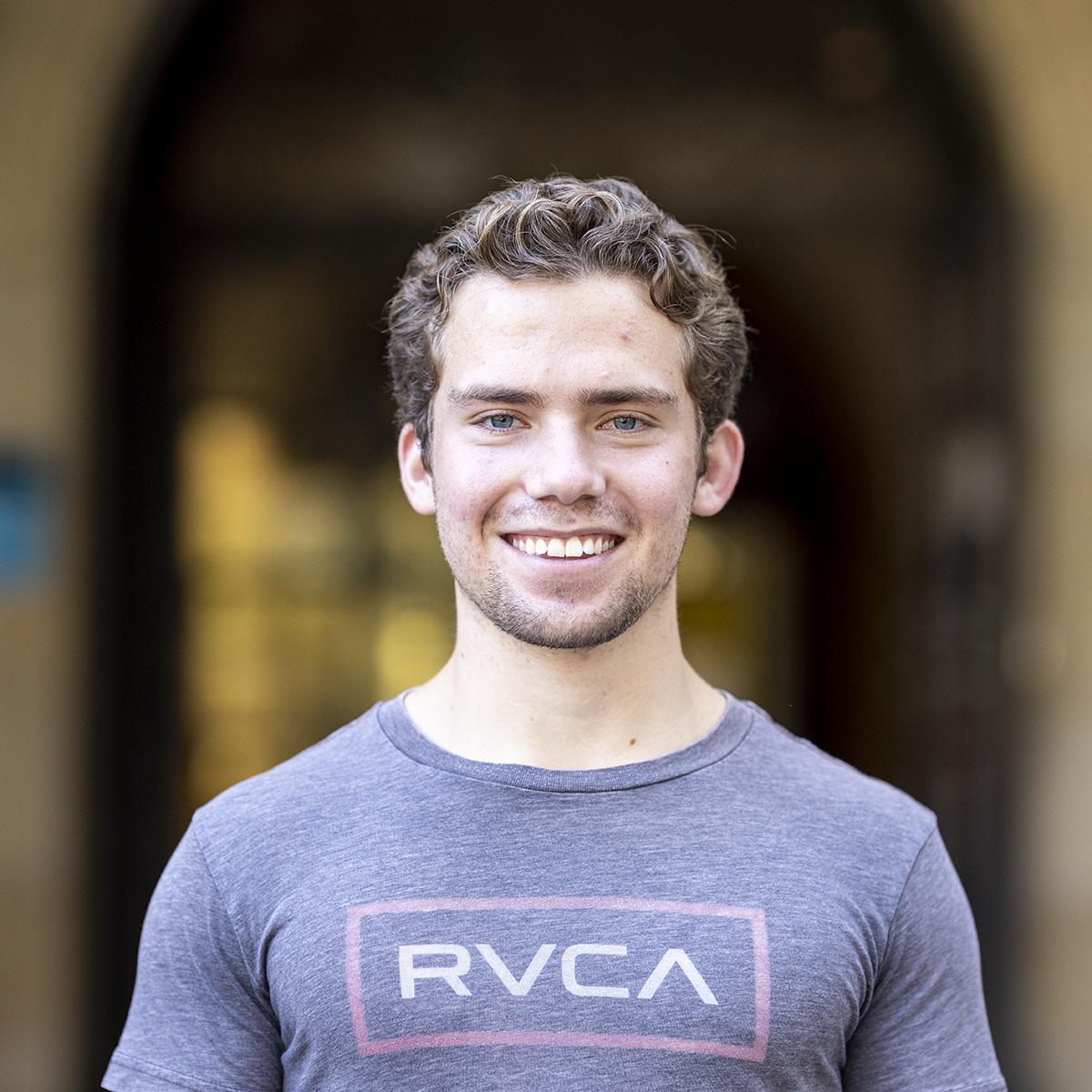 The grass isn't always greener on the other side.
But it sure seems like it is in Westwood.
Across the country, it is estimated that more than one-third of undergraduate students will transfer schools before earning their degrees. While student-athletes don't transfer at quite the same clip, thousands of collegiate athletes enter their names in the transfer portal every year.
Over the past year, no school has been a greater beneficiary of the transfer portal than UCLA. From basketball to football and everything in between, the Bruins can thank transfer student-athletes for putting the blue and gold back on the map.
It's impossible to talk about the impact of transfers without starting the conversation with UCLA men's basketball junior guard Johnny Juzang, who arguably did more for his school than any transfer student in the nation last year.
A top recruit coming out of high school, Juzang committed to Kentucky in 2019. But after a freshman season that saw the guard put up fewer than three points per game, Juzang traded one blue blood for the next, opting to come back home to Los Angeles and play for the Bruins.
One year later, he etched his name into UCLA lore with a March Madness performance for the ages. With his former squad watching from their living rooms, Juzang served as the catalyst for an improbable run to the Final Four, featuring 22.8 points per game from the guard and clutch shot after clutch shot. A benchwarmer for the Wildcats, Juzang has become a potential first-round NBA prospect with the Bruins.
But Juzang isn't the only transfer making waves in Pauley Pavilion.
UCLA women's basketball graduate student guard Natalie Chou – a former top-10 recruit out of high school – left powerhouse Baylor after two seasons with the Bears and has since developed into a perennial starter for the Bruins and a marksman from the outside.
Like Juzang and Chou, UCLA football junior running back Zach Charbonnet ditched a smaller role at a presumed stronger program to make a name for himself in Westwood. Charbonnet – who had a monster true freshman season at Michigan but was seemingly left in the dust his sophomore year – needed just one week in the blue and gold to start earning Heisman buzz.
Early in the season, Charbonnet has already established himself as one of the best backs in the country with a dynamic combination of vision, power and agility. While he became an afterthought on the Wolverines' sidelines a season ago, he has put himself on the radar of NFL scouts in just a few weeks with the Bruins.
In fact, much of UCLA's production on both sides of the ball so far this season can be attributed to transfers. Charbonnet's partner in the backfield, redshirt senior running back Brittain Brown, has been an integral part of the Bruins' rushing attack since transferring from Duke in 2020. Leading the way up front is redshirt senior offensive lineman Paul Grattan Jr., who earned first-team all-conference honors at Villanova before transferring to UCLA.
Defensively, three of the Bruins' top four tacklers in their statement win over then-No. 16 LSU were transfers, including redshirt senior defensive back Qwuantrezz Knight and senior linebacker Mitchell Agude, who both tacked on a sack as well. Agude racked up four forced fumbles through UCLA's first two games, making him the school's all-time leader in forced fumbles just nine games after transferring from junior college.
But the list doesn't stop at just basketball and football.
Redshirt senior sprinter Shae Anderson left the historic track and field program at Oregon only to put up one of the greatest seasons in Bruin history in 2021 before becoming an Olympian this past summer. Georgia transfers and recent graduates Annette Goulak and Vivian Wolff enjoyed a breakout year with UCLA women's tennis, posting an 18-3 doubles record and helping the team to its first-ever outright Pac-12 regular-season championship.
On the diamond, recently graduated right-handed pitcher Adrian Chaidez transferred to the Bruins from community college and was subsequently selected in the MLB Draft two years later. UCLA softball redshirt senior infielder Delanie Wisz made her way to Westwood from Loyola Marymount and proceeded to start 79 games for the Bruins in two years, hitting .314 and launching 19 bombs.
I could go on, but you get the point.
Westwood has become not only a prime destination for transfer student-athletes searching for greener pastures, but it also has become a place where transfers can make an immediate impact. And it's a trend that's not slowing down anytime soon.
The women's basketball program will welcome four more transfers to the team in 2021, including last season's American Athletic Conference Player of the Year, graduate student forward IImar'I Thomas, and a pair of former all-conference guards in graduate students Gina Conti and Jaelynn Penn.
Similarly, men's basketball is set to add redshirt senior center Myles Johnson to the mix. The big man, who developed into one of the best shot blockers in the country with Rutgers a season ago, fills a position of need for UCLA after forward Jalen Hill left the program.
Whether it's Juzang and Johnson sharing the spotlight on the parquet, Charbonnet and his transfer teammates on the gridiron or one-third of the entire women's basketball roster, transfers will continue to be the driving force behind much of the Bruins' success in 2021 and beyond.
Student-athletes across campus are proving that it's not about where you start but where you finish – especially if your finish line is UCLA.
Settleman is currently an assistant Sports editor on the gymnastics, women's soccer, women's golf, women's water polo and men's water polo beats. He was previously a contributor on the gymnastics and women's water polo beats.
Settleman is currently an assistant Sports editor on the gymnastics, women's soccer, women's golf, women's water polo and men's water polo beats. He was previously a contributor on the gymnastics and women's water polo beats.