Running back Zach Charbonnet's homecoming, strong debut against Hawai'i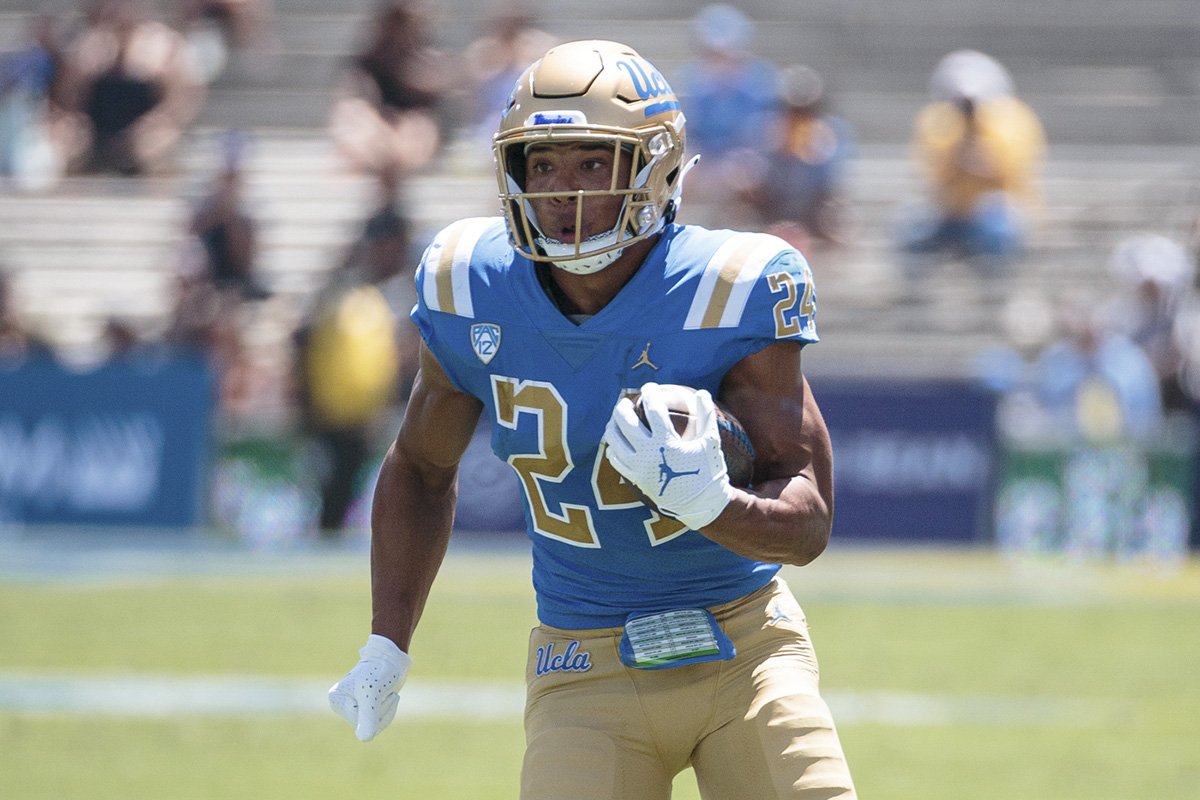 In his first game as a Bruin, running back Zach Charbonnet tallied six carries for 106 yards as UCLA football picked up a season-opening win over Hawai'i on Saturday. (Tanmay Shankar/Daily Bruin senior staff)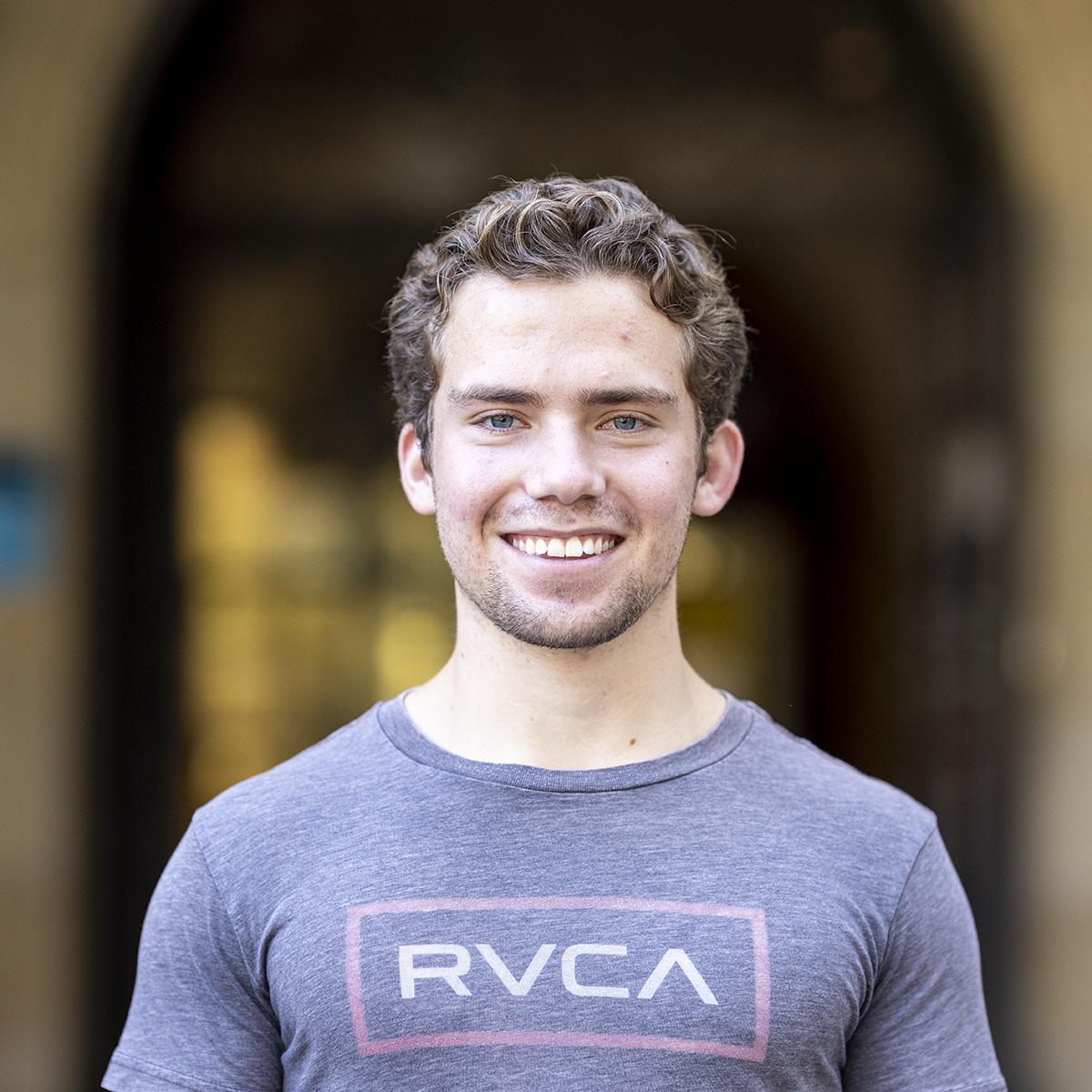 One game into Zach Charbonnet's Bruin career, his teammates are ready to anoint the transfer running back with college football's highest honor.
"Zach Charbonnet for Heisman is what I'm saying," said senior linebacker Bo Calvert.
Playing in his first game for UCLA football after transferring from Michigan in the spring, the junior needed just six carries to break the 100-yard mark for the third time in his collegiate career in the blue and gold's season-opener against Hawai'i on Saturday.
Charbonnet carried the ball 155 times in two seasons with the Wolverines, but took on a much more limited role in his sophomore campaign – with just 25 touches – after scoring 11 touchdowns with the maize and blue as a true freshman.
Coach Chip Kelly said the Bruins aggressively pursued Charbonnet out of Oaks Christian School and did the same when his name popped up in the transfer portal in January.
"We recruited him really hard coming out of high school," Kelly said. "When he put his name back in the portal, we went after him again. We swung and missed the first time and we hit the second time."
For Charbonnet – a Southern California native – transferring to UCLA represented a homecoming and a chance to reunite with some of his high school teammates.
The Bruins' roster touts four products of Oaks Christian, including Calvert. Charbonnet's former high school teammate said Saturday's showing was nothing new for the running back.
"Last week's show was kind of an every-week thing for me," Calvert said. "I'm not really surprised at how great he did. He was doing that every week at Oaks, so it's now just the rest of the nation seeing what I saw for the other four years in high school."
With three touchdowns on just six carries, Charbonnet's debut was highlighted by a 47-yard scamper into the endzone that featured multiple broken tackles.
"He's just going to run through people's faces," Calvert said. "You could just run a zone read and the kid's gonna find a way to get to the end zone."
While Calvert said Charbonnet's power and agility were on full display Saturday, he added that there is a lot more to show for the newest face of the Bruins' backfield.
In addition to being a physical runner and a good blocker in pass protection, according to Calvert, Charbonnet is also a polished route runner with great hands that can be a deep threat in UCLA's passing game with his breakaway speed.
"Trust me, the kid hasn't shown you everything he's got yet," Calvert said.
Filling up the Rose Bowl
The Rose Bowl will likely look a little less empty for the Bruins' next contest.
After a near-record low attendance in its season opener, UCLA is expected to see a significant increase in attendance when No. 16 LSU comes to town. Around 20,000 Tiger football fans are estimated to make the trip to Pasadena in a venue that held 32,982 total spectators for the Bruins' first game of the year.
The marquee matchup will be featured Saturday night on Fox as Week 1 of college football kicks off, but Kelly said the best seats in the house are in the Rose Bowl.
"It's picked as one of the feature games from a TV standpoint this week, but the best place to go watch football is at the Rose Bowl," Kelly said.
Senior quarterback Dorian Thompson-Robinson said LSU – which features multiple potential first-round NFL talents – will likely be his team's toughest matchup of the season.
"It doesn't get any bigger than this," Thompson-Robinson said. "I hear they're handing out free tickets. Free tickets to come watch the Bruins play is definitely a blessing, so I say they take advantage of it."
UCLA's athletic department has made multiple efforts to fill the Rose Bowl's sparsely populated seats for the matchup with LSU, including dishing out complimentary tickets to UCLA students, local high school students, local youth athletes and more.
High school students in the area were also offered the opportunity to purchase up to eight extra tickets for the game at $30 each, with the Bruins ultimately taking down the offer less than 48 hours later after the allotted tickets for the promotion were exhausted.
Thompson-Robinson said the team's confidence has reached its peak heading into the game, but taking down the Tigers will still be a tall order.
"(We're) as confident as ever," Thompson-Robinson said. "We obviously know the task at hand and we know what type of opponent Hawai'i was compared to LSU, so we know we got our work cut out for us."
A UCLA program that had an average home attendance of 76,650 just seven years ago has not eclipsed the 70,000 mark in the Rose Bowl since a duel against crosstown rival USC in 2016.
Whether Saturday marks a return to the Bruins' attendance of old or not, Calvert said he hopes the matchup draws a bigger crowd than the season opener.
"We're going to put on a show – come out and watch," Calvert said.
Settleman is currently an assistant Sports editor on the gymnastics, women's soccer, women's golf, women's water polo and men's water polo beats. He was previously a contributor on the gymnastics and women's water polo beats.
Settleman is currently an assistant Sports editor on the gymnastics, women's soccer, women's golf, women's water polo and men's water polo beats. He was previously a contributor on the gymnastics and women's water polo beats.