'Dating & New York' puts modern twist on traditional rom-com themes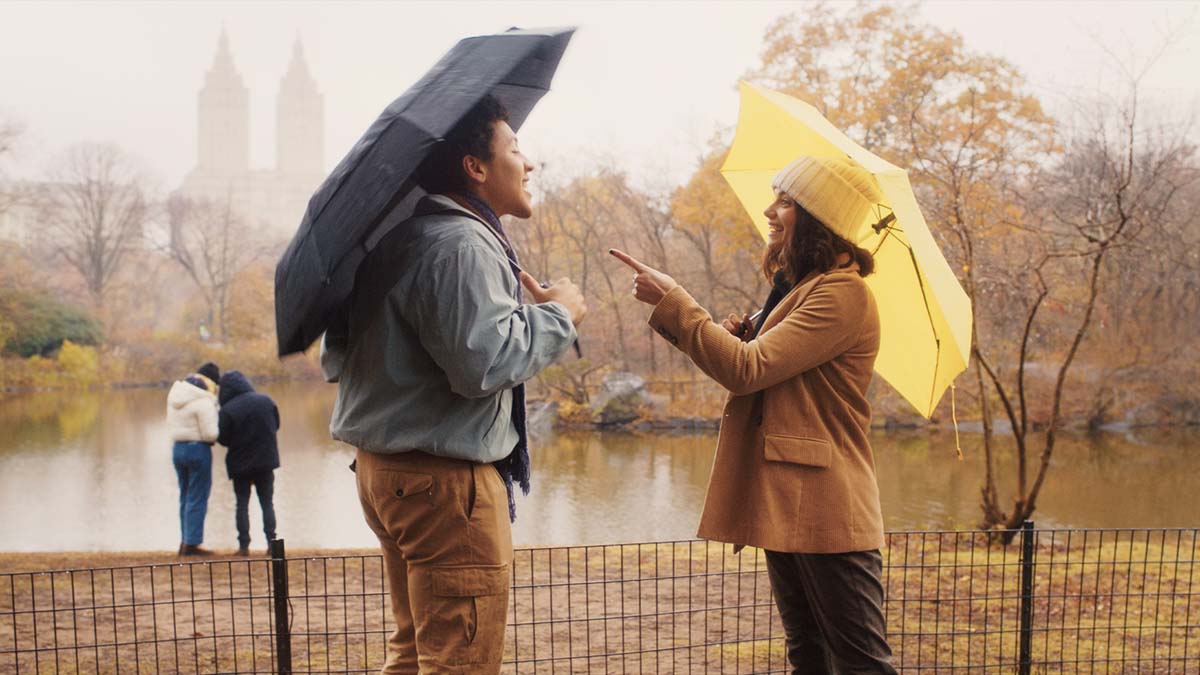 "Dating & New York"
Directed by Jonah Feingold
IFC Films
Sept. 10
"Dating & New York" tells a tale as old as time – but with a millennial twist.
Releasing Sept. 10 in select theaters, the indie rom-com shines light on the tech-filled world of modern dating. The story follows Wendy (Francesca Reale) and Milo (Jaboukie Young-White) after the two millennials meet on a dating app. With the help of their best friends Jessie (Catherine Cohen) and Hank (Brian Muller), the pair continues to explore their relationship as "best friends with benefits" against the romantic backdrop of New York City. Influenced by traditional rom-coms such as "You've Got Mail" and "When Harry Met Sally," writer and director Jonah Feingold said the inspiration behind the film stemmed from a desire to feature a romantic relationship through the lens of a modern generation.
"(I wanted to make) a film that could feel timeless and doesn't have any handheld shots, uses classical score and homages movies like 'His Girl Friday' and 'The Shop Around the Corner,'" Feingold said. "That was the impetus for 'Dating & New York' – a movie that I think is sincere and original but also pays homage and pokes fun of the (rom-com) genre."
As a New York native, Feingold said he knew he would be most comfortable shooting the film in the city. Cohen said filming in New York created a sense of community within the "Dating & New York" team, as they traveled to restaurants and subways together to shoot on location. In particular, New York City acts as a backdrop for a number of great films, Feingold said, because of its diverse and eclectic population.
"New York is definitely one of the most romantic cities in the world, but (there's also) rats and trash," Feingold said. "I wanted to try to portray the city in a glamorous way yet also highlight its imperfections."
[Related: Alumnus, cinematographer contributes intimate visual language to 'No Man of God']
Along with the film's realistic representation of NYC, Cohen said Feingold's script was able to use a tech interface in a genuine manner through the inclusion of a dating app meet cute, Snapchat mentions and text message sentiments that demonstrate the large role texting and social media play in modern dating. This authentic incorporation of technology mirrors Cohen's everyday conversations with her friends, she said, who frequently reference social media.
Furthermore, Feingold encouraged authentic performances through improvisation, which led to a natural chemistry on set, Cohen said. In addition, Reale said Feingold approached directing without being adamant about sticking to his script, meeting with her before shooting to discuss how she intended to portray certain scenes based on her past experiences with dating. Likewise, Cohen said she was able to genuinely embody her role, as she was acting opposite her real-life boyfriend, Brian Muller.
Throughout the film, Wendy and Milo conflict on defining their commitment to one another, which Cohen said felt very true to the common resistance to commitment and labeling within real modern relationships. Feingold's script articulates the different types of relationships and connections present in current society, Reale said, as the film touches upon both the humor and anxiety that come with navigating the hectic maze of today's dating world.
[Related: UCLA Film & Television Archive to host virtual screening of "The War Widow"]
The script also re-contextualized the traditional rom-com narrative by straying away from conventional gender roles, Reale said. With female characters that are clear and intentional with their romantic relationships, Cohen said Feingold created an interesting and fun concept that flipped the established romantic storyline.
"Rom-coms traditionally try to make the woman seem crazy," Reale said. "It was nice to have Catherine with me to chat about our roles and create these characters who accurately portray straightforward women who know exactly what they want and aren't villainized for that."
As Feingold's feature-length debut, he said "Dating & New York" provided him with a platform to tell a longer narrative, despite some setbacks along the way. The film wrapped shooting in December 2019, but some post-production work – including scoring and coloring – was done remotely, Feingold said. Even so, he said he focused on not letting such roadblocks discourage him by working with optimistic people who were passionate about the project.
"What you need to (do) as a director is inspire confidence and support and surround yourself with people who are going to believe that it can all happen," Feingold said. "Movies are a lot like magic – and you want people to believe in the magic of it all."