Film review: 'Shang-Chi and the Legend of the Ten Rings' brings unique plot to the big screen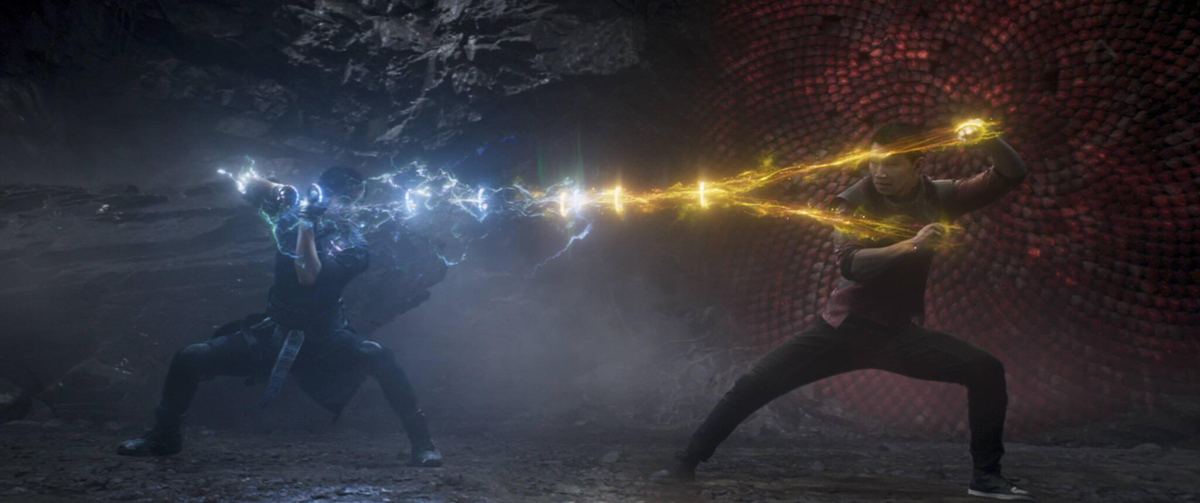 (Courtesy of Marvel Studios)
"Shang-Chi and the Legend of the Ten Rings"
Directed by Destin Daniel Cretton
Walt Disney Studios Motion Pictures
Sept. 3
Marvel's latest legend has arrived, and his name is Shang-Chi.
Released Friday in select theaters, including Westwood's Regency theater, "Shang-Chi and the Legend of the Ten Rings" centers around lazy hotel valet, Shang-Chi (Simu Liu), as he is forced to return home to fight the demons of his past, including his father and leader of the powerful Ten Rings organization, Xu Wenwu (Tony Chiu-Wai Leung). With Wenwu as the film's antagonist, the deep familial tension between him and Shang-Chi creates the driving force of an intense movie.
The film uses flashbacks to introduce Shang-Chi's chilling backstory, in which Wenwu trains young Shang-Chi to become a killer he could later utilize in his quest for revenge against those who have wronged him. This plan, however, is tarnished when teenage Shang-Chi runs away to live a life of his own in San Francisco, where he remains until the present day. This changes when he returns to China after learning his sister Xialing (Meng'er Zhang) may be in danger. The film's insightful choice to disclose Shang-Chi's origin story through a series of flashbacks allows audiences to see the close bond his family once had and how it crumbled after years of resentment and separation.
Cutting through the tense family drama is lighthearted comedy, often delivered by Shang-Chi's best friend Katy (Awkwafina), who accompanies him to China. Her sarcasm, emotive facial expressions and loud American personality that starkly contrasts with the traditional Chinese characters make for some of the funniest moments and lines of the film.
But though she may be introduced as comedic relief, Katy becomes more important to the film's plot as she becomes increasingly engrossed in Shang-Chi's real world, first being a bystander to fights and eventually joining them herself. Offering constant emotional support for Shang-Chi throughout their 10 years of friendship and the new struggles he faces, Katy manages to establish herself as more than just a quirky sidekick archetype, but as a strong and caring friend.
[Related: Movie review: 'Snake Eyes' is visually artistic, albeit predictable action flick]
Though the film's characters have never been introduced in the Marvel Cinematic Universe before, they are complex, lovable and funny, with as much depth – if not more – as previous Marvel protagonists. It is easy to empathize with Shang-Chi, a relatable character who just wants to live a normal life, as he instead embarks on a hero's journey with Katy and Xialing. The three endure formative changes – whether it be within themselves or in their relationships with each other – building anticipation for each characters' development in future MCU projects.
The complex character development and rich storylines are further complemented with unmatched action sequences as the film proceeds. The actors' dynamic martial arts skills paired with formidable locations, such as moving buses and skyscraper scaffoldings, make for visually stunning and gripping fight scenes. With characters flipping each other over, knife fighting and dodging punches, the movements in each fight sequence are sharp and fast-paced, creating an air of excitement and suspense until the scene ends.
On top of being skilled martial artists, several of the characters, such as Shang-Chi's relatives Ying Nan (Michelle Yeoh) and Li (Fala Chen), also harness natural elements – such as air and water – as they fight, giving them extra power and agility as they strike, distract and trap their adversaries. The natural elements almost serve as characters of their own, fighting alongside their human counterparts. Dichotomous with the use of natural elements is Wenwu's choice of the seemingly technological Ten Rings, displaying a symbolic conflict between new and old.
[Related: Movie Review: 'Free Guy' demonstrates successful world building, fails narrative depth]
Given the epic action, an exclusively theatrical release of "Shang-Chi and the Legend of the Ten Rings" would make sense, but the decision to not simultaneously launch the film on Disney+ sparked controversy. Disney's CEO called the release schedule an interesting experiment, a statement that Liu himself denounced. However, the film, being the second majority-minority movie in the franchise, speaks for itself and serves as a memorable entrance into the new era of the MCU.
Because of the thrilling action both in one-on-one and group combat, "Shang-Chi and the Legend of the Ten Rings" is worth the theater watch for those who are comfortable doing so. The plot is unlike any other Marvel film, as it touches on Chinese legends, ancient villages and cultural traditions. At its root, the movie is a tale of family, growth, power and culture – all important and universally relatable aspects of human life – told in a whimsical yet heartfelt way.
From skillful combat to complex characters, "Shang-Chi and the Legend of the Ten Rings" is a perfect 10.