Student launches virtual jewelry store with support from other small businesses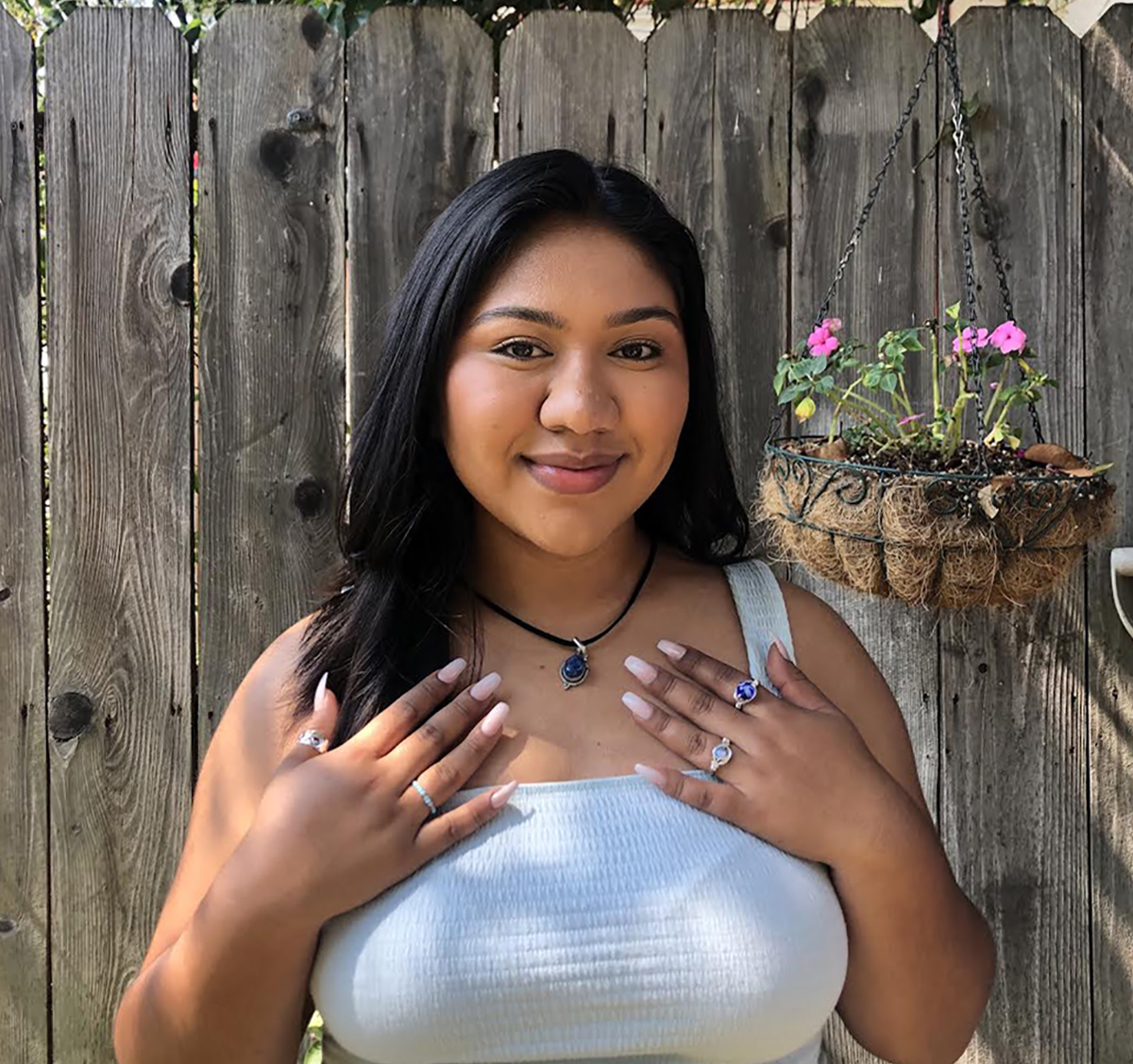 Third-year human biology and society student Lesley Avila Rojas is the owner of jewelry store Aroma Jewelry. Run through Instagram, the shop specializes in selling rings, which are custom-made to fit the customer. Other small business have helped Rojas grow her shop, she said. (Courtesy of Jose Avila)
This post was updated Aug. 22 at 6:56 p.m.
Aroma Jewelry's products are mementos for life.
Inspired by a lifelong love for jewelry and crafts, third-year human biology and society student Lesley Avila Rojas launched Aroma Jewelry in March. Through Instagram, Rojas sells custom handmade rings crafted from metallic wire and colorful beads. In the past, she collected jewelry from local sellers or while traveling, but when the pandemic struck, she said she decided to learn how to make her own with the help of online tutorials.
"I would find little videos, or even TikToks sometimes, of how to make (jewelry)," Rojas said. "Then I would add my own take on it to make it more unique."
When Rojas' friends and family took notice of her handmade accessories, she said she eventually began promising many of them their own rings. Realizing how many people were interested in her designs, she said she ultimately decided to launch a shop dedicated to her jewelry.
When starting her business, Rojas said the creativity and designs behind the shop Earth Fairies Co., owned by UCLA alumnus Rocio Diaz, inspired her to launch Aroma Jewelry. Ideas for Rojas' products were also rooted in accessories from her culture, such as artisanal jewelry from Mexico and Guatemala, she said.
"I'm half Mexican and half Guatemalan," Rojas said. "Whenever I visit my family over there, I always see a lot of handmade (jewelry), and it really inspires me how much love and passion they put into everything they make."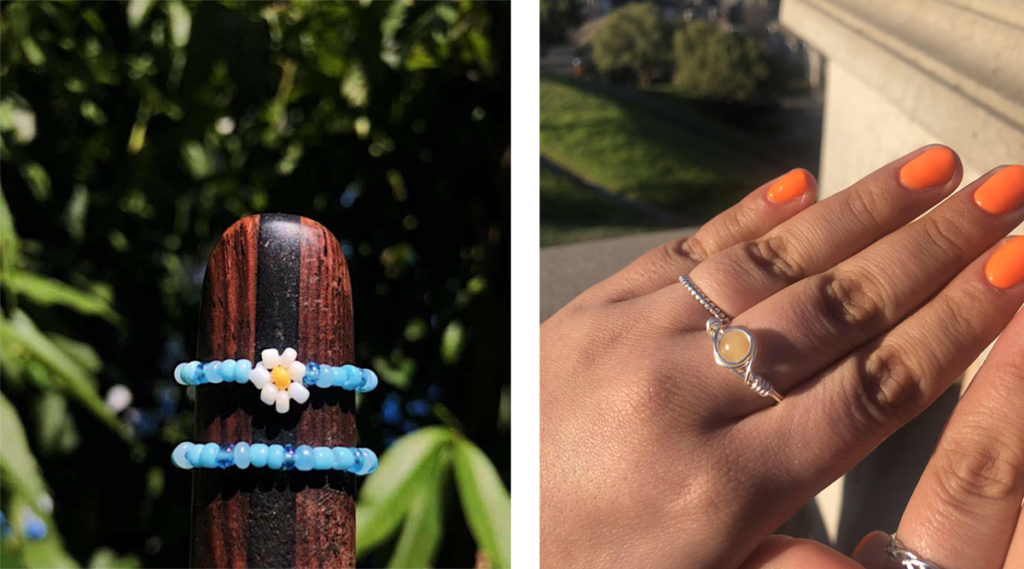 [Related: Alumnus-run jewelry company rooted in sustainability puts the planet first]
Since launching the shop, Rojas has released three different collections – the Celestial Ring Collection with silver rings, the Golden Hour Collection with gold rings and most recently the '70s-inspired Flower Power Collection of beaded flower rings. Rojas said her Golden Hour Collection was intended to embody the feeling of summer by incorporating warm tones.
Starting a new business carries its own learning curves, but other small businesses helped Rojas learn to manage her own, she said. For the launch of her first collection, she said a Bay Area photographer on Instagram took photos of each ring. Another friend of Rojas who runs Red Dragon Cosmetics, a small natural cosmetics business, assisted by offering advice and tips on how to run her shop, such as the best times to post on social media when promoting products.
Support from her friends and fellow students has allowed Rojas to grow her business as well. Grupo Folklórico de UCLA, of which Rojas has been a member since her freshman year, commissioned Rojas to create a set of rings for a group of performers ahead of its Fiesta Mexicana 2021, Grupo Folklórico's annual dance showcase. Aranza Guzman, alumnus and former Grupo Folklórico coordinator, said the club decided to order matching rings from Rojas not only to boost Aroma Jewelry but also to memorialize its performance.
"(Aroma Jewelry) is providing … really cute rings, but it's also providing the opportunity to create those memories and those connections," Guzman said. "A memory or a bond between you and your friends wearing the ring (forms)."
The dancers decided on jade tones and gold rings after voting on which color would look best with their dresses, Guzman said. She has since worn the memento from Fiesta Mexicana for other special occasions, she said, such as for her graduation pictures and at commencement.
"It feels like I'm carrying a piece of (Rojas) wherever I go, which is something that I cherish," Guzman said.

[Related: Student unwinds, displays creativity through Instagram-based jewelry business]
Other Aroma Jewelry customers include a high school friend of Rojas, Carlos Figueroa, who said he has supported Aroma Jewelry by purchasing products for himself and reposting Instagram content to spread the word. An important detail of the rings is that they are custom-made to fit the buyer's size, Figueroa said, so they know they will receive an accessory that fits perfectly.
In the future, he said he would love to see Rojas expand her business by introducing different kinds of jewelry, such as earrings that match the rings. Transitioning to a website would also be a great way for her shop to grow, he said.
For Rojas, she said being a bilingual Latina has helped her broaden her consumer base and ensure her Spanish-speaking customers feel comfortable ordering from her. Women of color who are business owners empower her, so operating a Latina-owned business is a source of pride, she said.
"I really want (customers) to feel like what they bought was made with a lot of love and a lot of intention behind it," Rojas said. "I really care about making it as perfect as possible to try to make them happy."