Album review: 'Happier Than Ever' reveals Billie Eilish's future is far from a lost cause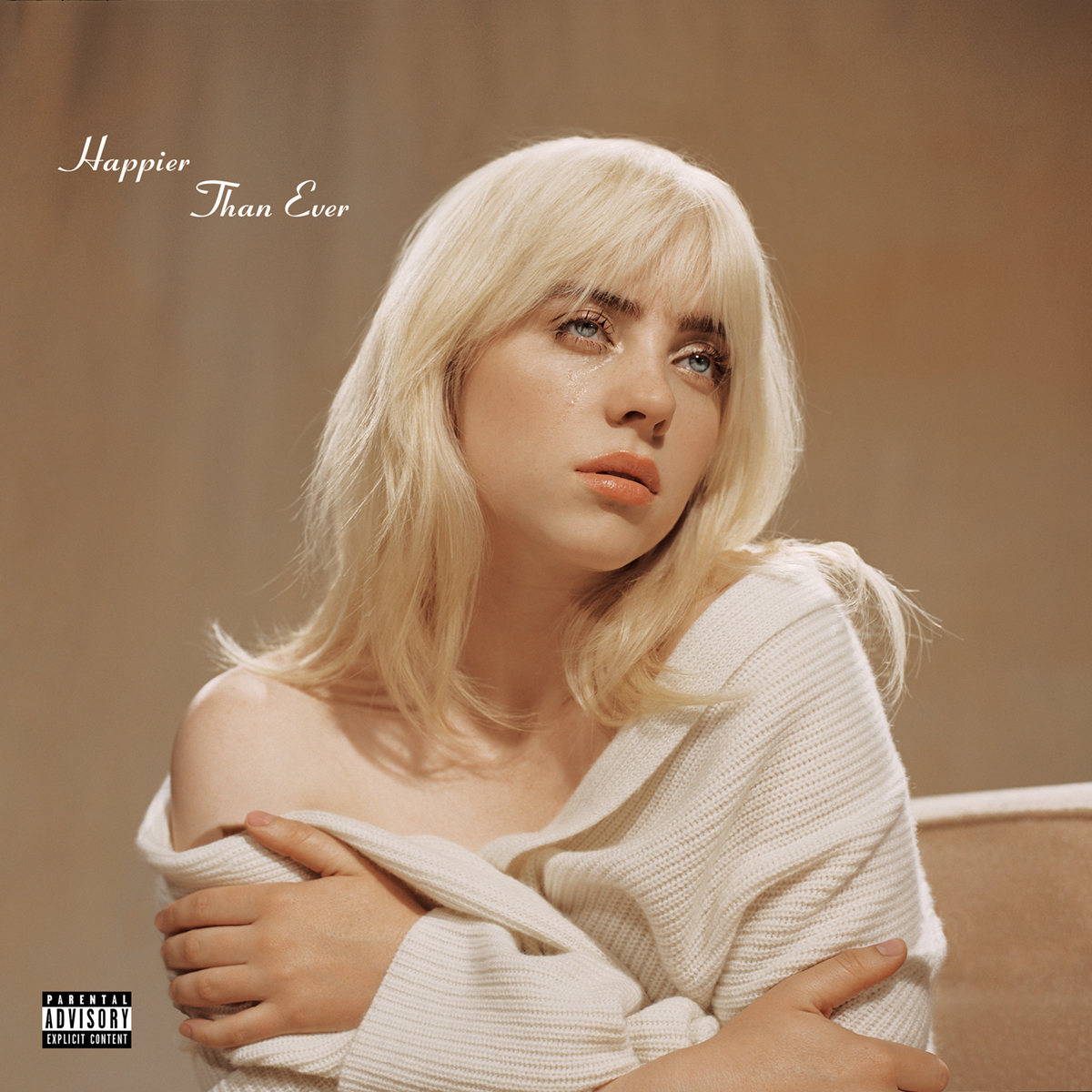 (Courtesy of Darkroom/Interscope Records)
"Happier Than Ever"
Billie Eilish
Darkroom/Interscope Records
Released July 30
This post was updated Aug. 1 at 5:54 p.m.
This time around, Billie Eilish is happier than ever.
The long-awaited sophomore record of the young artist comes after her Grammy-award-winning debut album "When We All Fall Asleep, Where Do We Go?" While its predecessor opted for a mostly darker electro-pop sound to complement its thematically heavy nature, "Happier Than Ever" strikes a balance in simultaneously softening and sharpening her edges.
With the delightfully simple pulse of the keyboard driving opening track "Getting Older," Eilish recounts her experiences of growing up and the complicated wave of emotions that come with it. While she skirts around her past trauma as she alludes to instances of sexual abuse, Eilish hints at the album's theme of honesty in the track's ending lyrics before it abruptly finishes with no instrumentals on the last word.
Pulling a full 180, "I Didn't Change My Number" forgivably rocks the listener out of the steady rhythm of the previous track with startling sounds of Eilish's dog growling, to which she simply responds with an unfazed "OK." The refreshing change of pace and shift in tone understandably reflect her lack of sympathy for a lover who's wronged her, clarifying, "I didn't change my number/ I only changed who I believe in." Later on, "Lost Cause" relays the same message but uses a bass-heavy groove, not shying away as she boldly addresses her true feelings about their character.
[Related: Album Review: Dodie's debut album showcases artist's honesty, musical growth]
Slowed back down in "Billie Bossa Nova," Eilish sweetly serenades a newfound romantic interest through her own version of the referenced samba, complete with an imitation of the traditional claves used. The more suggestive version of the sultry samba, "Oxytocin," reveals Eilish's sexual desires more explicitly than in her earlier music. The layered harmonies induce a psychedelic fever dream synonymous with club music, fitting for a song named after the so-called love hormone.
Drawing from her choral roots, Eilish's signature harmonies shine front and center with more angelic vocals in "Goldwing." But for a somewhat surprising mid-song transition, "Goldwing" builds tension as it repeats the same harmonies to create a more unsettling techno beat rounded out by a subtle synth base.
"OverHeated" maintains the electronic theme, likening Eilish to a computer that is "overheated, can't bе defeated/ Can't be deleted, can't be repeated." With the same production minus the staccato drumbeat in "OverHeated," the warped organ sounding the horn of a train anchors "Not My Responsibility" as the narration plays over from her pre-pandemic tour's short film about the double standards of her choice in clothing and body shaming.
After its initial release more than a year ago, "my future" is the first single to appear on the album's track list with "Your Power," "NDA" and "Therefore I Am" following each other toward the end of the record. Agreeably moving from a down-tempo, melancholic vibe to a more cheerful, upbeat view of what's to come, "my future" is the first of many times in which Eilish brilliantly juxtaposes two different attitudes and their respective musical accompaniments within a song.
Nearly all the way at the end of the album, the title track epitomizes this contrast in perspective and sound as the gentle strum of a ukulele effortlessly turns into a gritty guitar with added gang vocals in which Eilish yells over herself singing. The latter half of the song is reminiscent of those that 2000s indie rock bands would play to close out their shows with drums building momentum to provide a much-needed sense of catharsis as Eilish expresses how much happier she is without a certain someone in her life.
[Related: Album review: girl in red experiments with genres in new album, but falls short of emotional depth]
Eilish evokes the stylings of torch singer Julie London in the beginning of "Happier Than Ever" as well as "Your Power" in their effectively calming acoustic instrumentation. Other songs that proudly echo the sensual vocalist include the vulnerably charged piano ballads "Halley's Comet" and "Male Fantasy." The jazz vocals in "Everybody Dies" also fall into this anecdotal category, but Eilish stays true to her contemporary electro-pop sound as she did with previous singles "Therefore I Am" and "NDA."
While it may seem that Eilish has moved on from the alternative image of her former record, the more fleshed-out element of her soft-spoken dreamscape aesthetic instead conveys her grasp on her own duality. By weaving seemingly disparate songs into a cohesive sonic and lyrical experience, Eilish demonstrates that she can masterfully handle life's complexities with the perspective of someone far beyond her age.
With the promise "Happier Than Ever" delivers, Eilish is not the only one in love with her future.