Movie review: 'Space Jam: A New Legacy' evokes ghosts of basketball stars past in vibrant sequel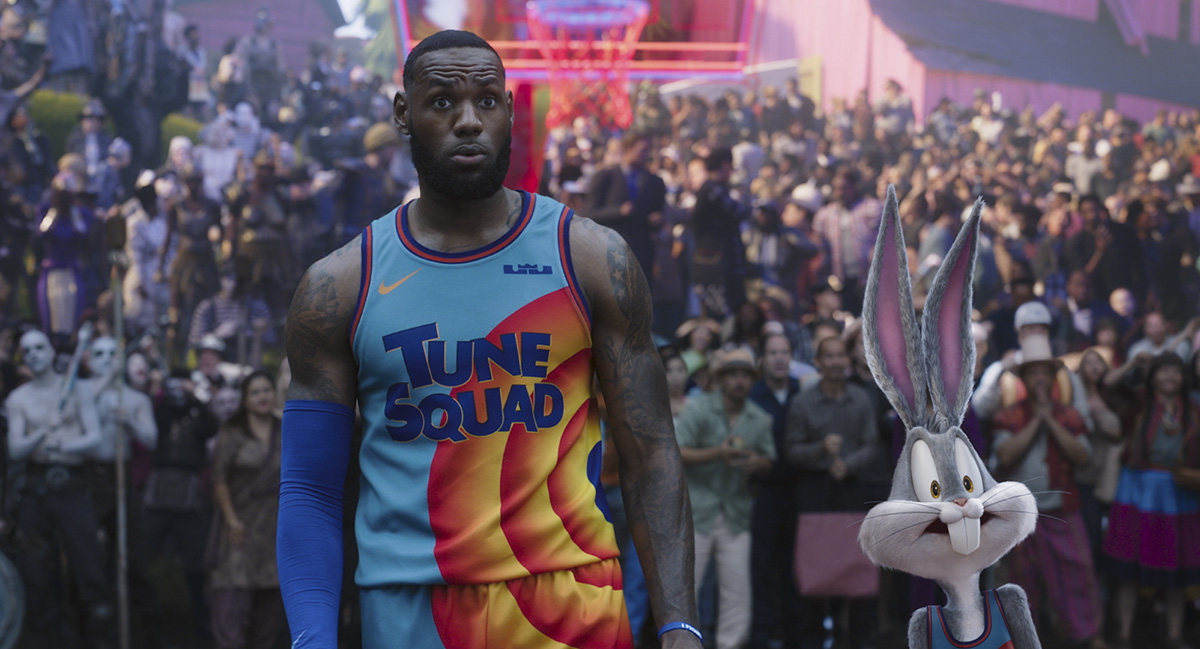 (Courtesy of Warner Bros. Pictures)
"Space Jam: A New Legacy"
Directed by Malcolm D. Lee
Warner Bros.
July 16
LeBron James once said his motivation was a ghost that played in Chicago.
The ghost he was referencing, of course, was Michael Jordan, who was widely regarded as the greatest basketball player of all time – until James crashed those debates in recent years – and the star of the 1996 blockbuster, "Space Jam."
After five years and another NBA championship since the interview, the Los Angeles Lakers forward is following in Jordan's off-the-court footsteps by reprising the feature role in the sequel, "Space Jam: A New Legacy." 25 years after Jordan starred in the original, Bugs Bunny and the Looney Tunes crew once again take on the basketball court with a generational star to compete for their survival.
[Related: Film preview: Summer films bring an abundance of bright visuals, action scenes to life]
But unfortunately, "Space Jam: A New Legacy" falters in the same way that many sequels to successful films do, particularly because of such a long time gap in between. Although it is technically a standalone, much of the story feels rushed and forced in favor of kindling nostalgia for fans. That doesn't mean it doesn't have its moments, and it's still worth a watch – especially for fans of the sport.
James is known to be a family man and an upstanding role model off the court, so it's no accident that his relationship with his fictional family members, particularly his son Dominic "Dom" James (Cedric Joe), sets up the main conflict and plot. Much to his father's chagrin, Dom prioritizes video game development over basketball. While at Warner Bros Studios, he is taken by a self-aware A.I. named Al G Rhythm (Don Cheadle), who then uses Dom's video game algorithm to challenge the elder James to a basketball game to keep him in the multiverse.
With this, the Warner Bros multiverse – controlled by Al G – is introduced, and it becomes obvious that the producers took full advantage of the drastically improved production technology since the nineties. After being sent to the Tune World, James finds Bugs Bunny (Jeff Bergman), who reveals that his own family – the rest of the Looney Tunes squad – is scattered throughout the multiverse after their decrease in popularity. The concept lays the foundation for an exciting spin featuring the internet and video game world but unfortunately becomes a bit hectic and feels more like a shameless self-advertisement from Warner Bros at times.
As Bugs Bunny and James search for the rest of the Looney Tunes to assemble a team, viewers are taken through various fictional worlds based around Harry Potter, DC Comics, Game of Thrones, Rick and Morty and more. It becomes a bit overdone, however, and briefly teasing these crossovers or adding various characters as spectators to the climactic match doesn't do much to enhance the film.
Despite the repetitive and unnecessary self-plugs by Warner Bros, the vivid, colorful animations and visual effects add a refreshing and entertaining twist, ultimately becoming one of the best aspects of the movie – particularly during the final basketball game. The seamless transition between reality and the many different Warner Bros worlds essentially saves this aspect of the film, as it's hard to deny the effort that went into producing the impressive animations. To enhance the comedic aspect, James, unlike Jordan in the original "Space Jam," spends much more of the film in animation form, helping limit the awkwardness that surfaced when Jordan stood around the Looney Tunes crew.
[Related: 'Gossip Girl' season 1 recap – episode 1: 'Just Another Girl on the MTA']
Keeping the film entertaining, animated video game-like variations of NBA stars Damian Lillard, Klay Thompson, Anthony Davis and WNBA stars Diana Taurasi and Nneka Ogwumike make up James and the Looney Tunes' opposing team, the Goon Squad. Along with the athlete-studded cast, James is also well-complemented by exciting cameos from stars like Michael B. Jordan and Ernie Johnson, as well as a seemingly never-ending amount of easter eggs and sports or pop culture references.
Despite the overwhelmingly critical initial reviews, what viewers need to understand is that "Space Jam: A New Legacy" is intended as a fun, kid-friendly yet nostalgic sequel for fans of the sport or cartoon, though outsiders can certainly enjoy it too. James has made a few cameos in films before, but it would be unrealistic to expect a flawless storyline or top-notch acting from the basketball player.
While James wasn't able to capture his fifth championship this season, he's come one step closer to catching the "ghost" of Michael Jordan.
Moon is currently an assistant Sports editor on the women's basketball, men's soccer, track and field and cross country beats. He was previously a contributor on the women's basketball and women's tennis beats.
Moon is currently an assistant Sports editor on the women's basketball, men's soccer, track and field and cross country beats. He was previously a contributor on the women's basketball and women's tennis beats.