The class of 2021 embraces silver linings during hybrid commencement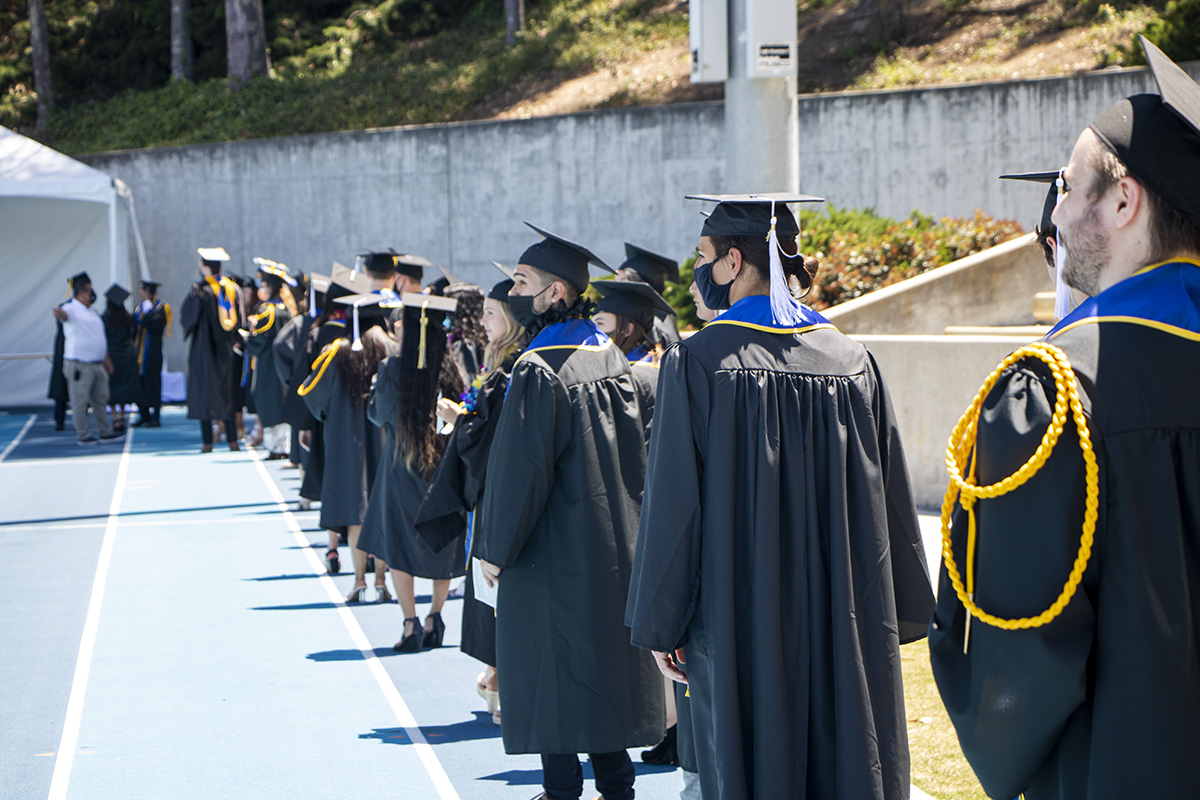 Graduating students walked across the stage at Drake Stadium from June 10 to June 15. Although commencement remained virtual, many were able to celebrate in-person processions with proof of COVID-19 vaccination or a negative test result. (Noah Danesh/Daily Bruin)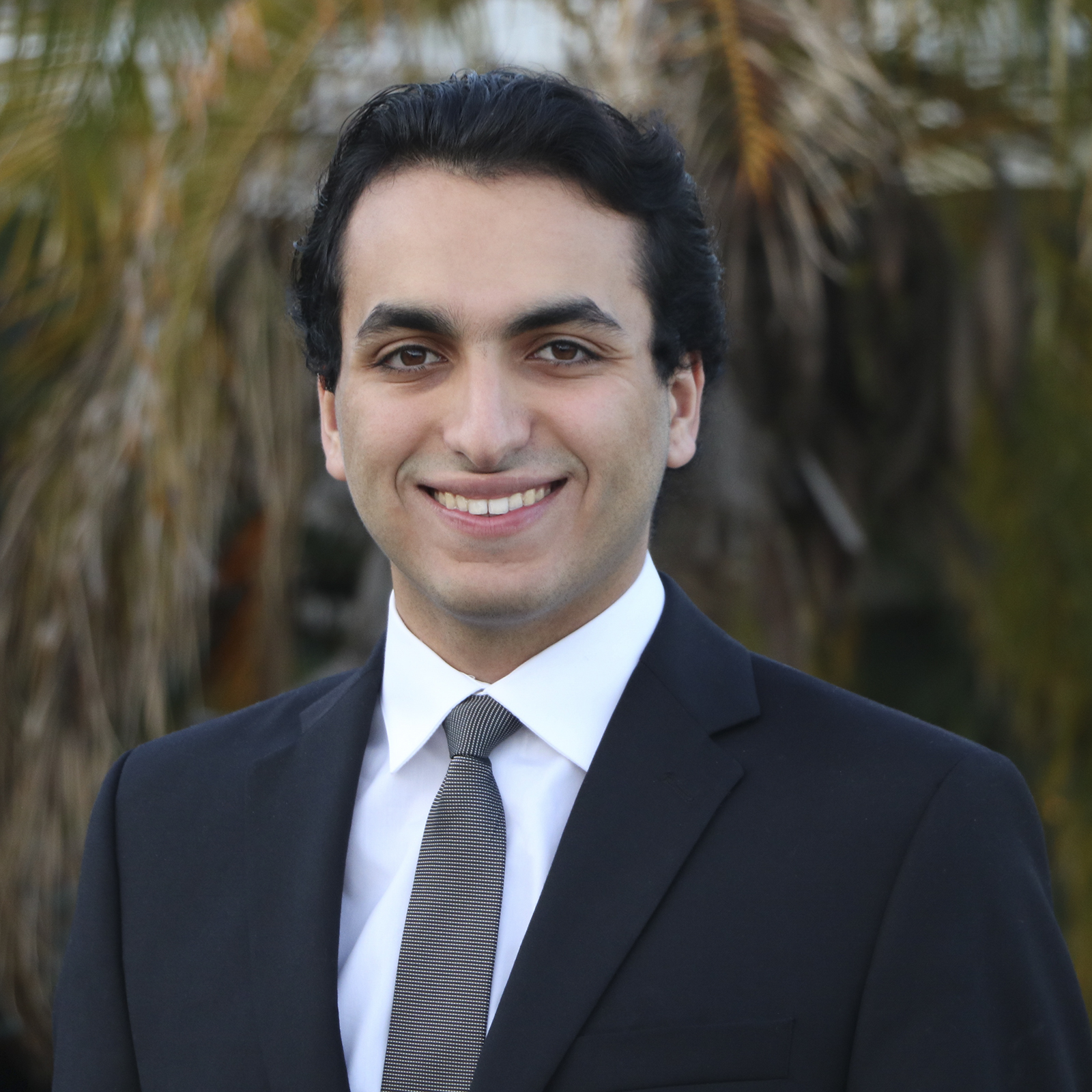 This post was updated June 27 at 9:01 p.m.
UCLA held in-person graduation processions for the class of 2021 from June 10 to June 15 at Drake Stadium.
Amid decreasing COVID-19 case numbers in Los Angeles County, UCLA decided to implement hybrid graduation for the class of 2021, with in-person processions in addition to online ceremonies. UCLA transitioned the class of 2020's graduation last year to entirely virtual following the COVID-19 outbreak.
Students could sign up for a slot between 9 a.m. and 6 p.m. to participate and were allowed to bring up to two guests. UCLA required students and guests to either have proof of a COVID-19 vaccination or a negative COVID-19 test to enter the procession.
The processions were also livestreamed on UCLA's commencement website.
[Related Link: UCLA to offer limited in-person procession for class of 2021 students]
After checking in and verifying their COVID-19 vaccination or test, students walked around the track of Drake Stadium, then across a stage where they had their photos taken – with up to 230 graduates walking across the stage an hour. Guests waited near the stage, and a prerecorded congratulatory address from Chancellor Gene Block played periodically on Drake Stadium's large scoreboard screen.
UCLA College held a virtual commencement June 11, which included an alumni address, student speakers and messages from the deans.
Some schools and departments across UCLA also held their own mix of virtual and in-person events – the UCLA Samueli School of Engineering, for example, held a virtual ceremony June 13 in addition to a dedicated in-person event at Drake Stadium on June 12.
Lucky Shulman, a graduating design media arts student who attended the in-person graduation, said she wishes every student could be on the field together but likes that the hybrid model allows each student to get a more personalized time to celebrate than in a traditional ceremony.
More than 9,600 undergraduate students and 4,500 graduate students are expected to receive degrees this year, according to an emailed statement from UCLA spokesperson Alison Hewitt.
Maggie Marazita, a graduating geography/environmental studies student, said she is happy students are getting some form of the traditional celebration – even with limited capacity and masks.
"It's a mix of emotions," Marazita said. "I'm extremely happy to be done with college and moving into the next chapter of my life, but I'm also very happy that I'm able to continue to experience UCLA for this last day."
Faatimah Mahadi, a graduating anthropology student, said the in-person graduation was especially monumental for her since she is the first in her family to graduate from college.
Mahadi's mother, Ferrah Razak, said she appreciates UCLA holding an in-person procession because it acknowledges all of the graduates' hard work.
"Being the parents of the graduates – it's just the most awesome, most proud moment in my life," Razak said.
Megana Saripella, a graduating neuroscience student, said she appreciates that this format makes it easier for her family to focus on her moment crossing the stage. Saripella added she is thankful she had the opportunity for an in-person event.
"We're excited to be here," Saripella said. "Excited that we got anything. I know last year didn't get that much."
Joshua Efren Avila, a graduating political science student, said he felt the Drake Stadium ceremony provided an opportunity to slow down and appreciate the occasion.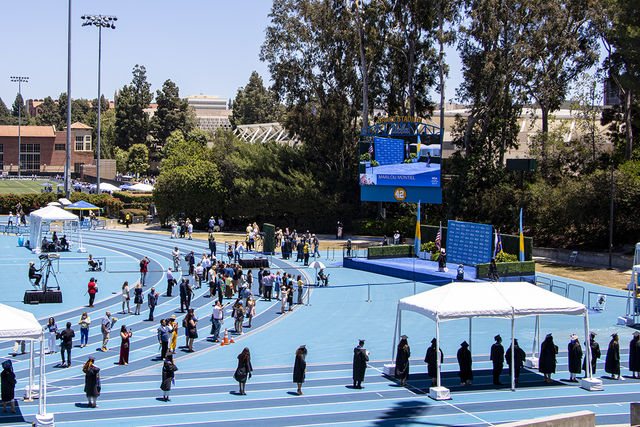 Avila, whose parents both attended UCLA, was glad that an in-person event was held this year and said he liked that his parents could be close to the stage to watch him, which would be unlikely in a traditional ceremony.
His mother Carmen Avila said she was proud of all the work her son accomplished in order to graduate.
"It's surreal," Carmen Avila said. "I can't believe it. I feel like I just dropped him off four years ago."
It was special to be able to share the significant moment with her family and friends, said Isabella Sanzi, a graduating physiological science student. Sanzi added she is glad to be in person to complete this chapter of her journey.
The event was particularly special for some graduating students who were transfer students.
Mina Mansour, a graduating chemical engineering student, transferred to UCLA in 2019 and only experienced a fraction of his time at UCLA on campus before the university transitioned to online learning.
He added he is glad he could at least celebrate the end of his college experience in person.
"I think that it is a great thing to be in person for this one," Mansour said.
Many students, such as Alysia Garcia, also had mixed emotions about graduating. The graduating physiological science student said she was happy her family could attend her procession, but the experience reminded her of the moments she missed at UCLA.
"This past week felt normal being around everyone, and it just made me sad since this is what I was missing out on my whole senior year," Garcia said. "You just have one week of this and everyone's gone again."
Frances Vano, a graduating French and linguistics student, said she wishes her friends could have all graduated together at the same time instead of across different time slots but said she is happy they have the option to watch her cross the stage on the procession's livestream.
It feels rewarding to be graduating from UCLA with a degree that will help carry her throughout life, said Liza Freiberg, a graduating political science and Spanish student.
"When I put on the gown, and the sash and the cap and just walked through the stadium, it did feel very special and deserving because not everyone gets the opportunity to do this," Freiberg said.
Shulman said the experience of an in-person procession was a valuable closing to her time at UCLA.
"I'm finally feeling a bit of a wave of emotion for the first time because I feel like it has been a bit anticlimactic being online," she said. "This is my first moment actually taking it all in and feeling teary-eyed."