Westwood businesses wrestle with financial losses, hope for post-pandemic revival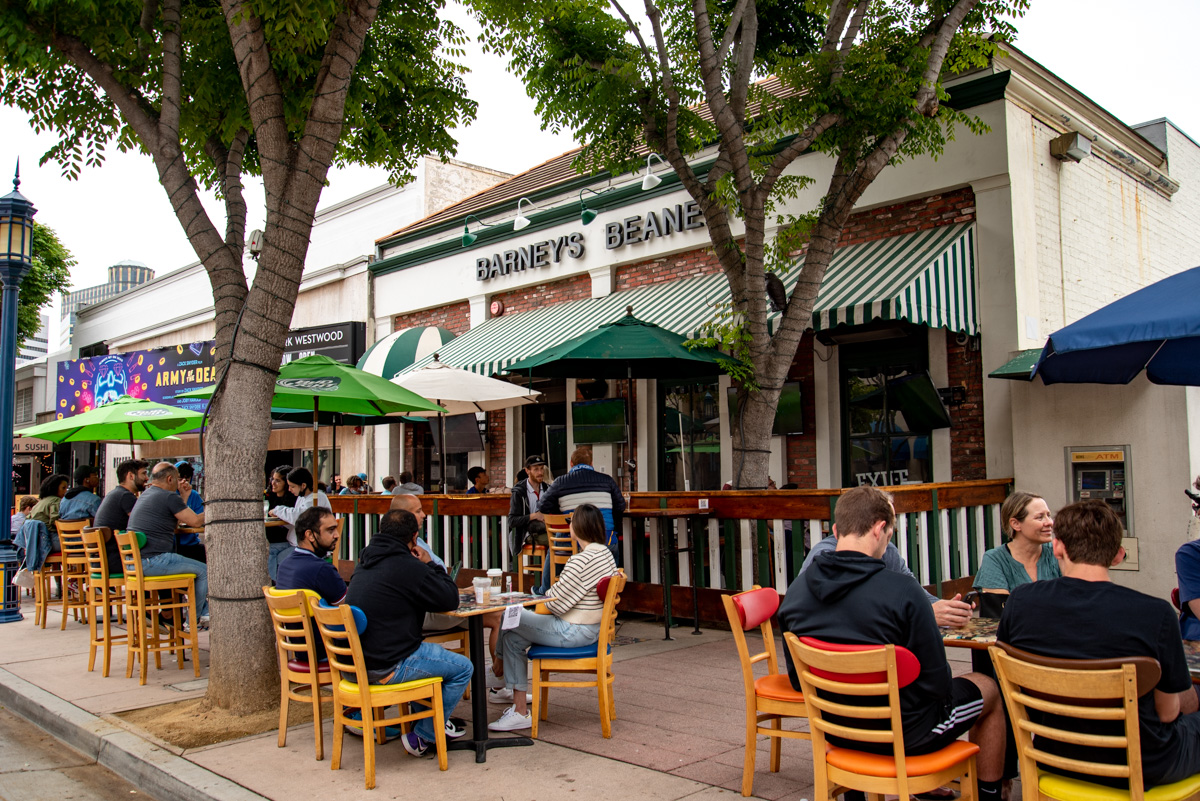 Businesses in Westwood are expressing optimism for the future, as rising vaccination rates and the coming fall quarter present new opportunities. (Anika Chakrabarti/Assistant Photo editor)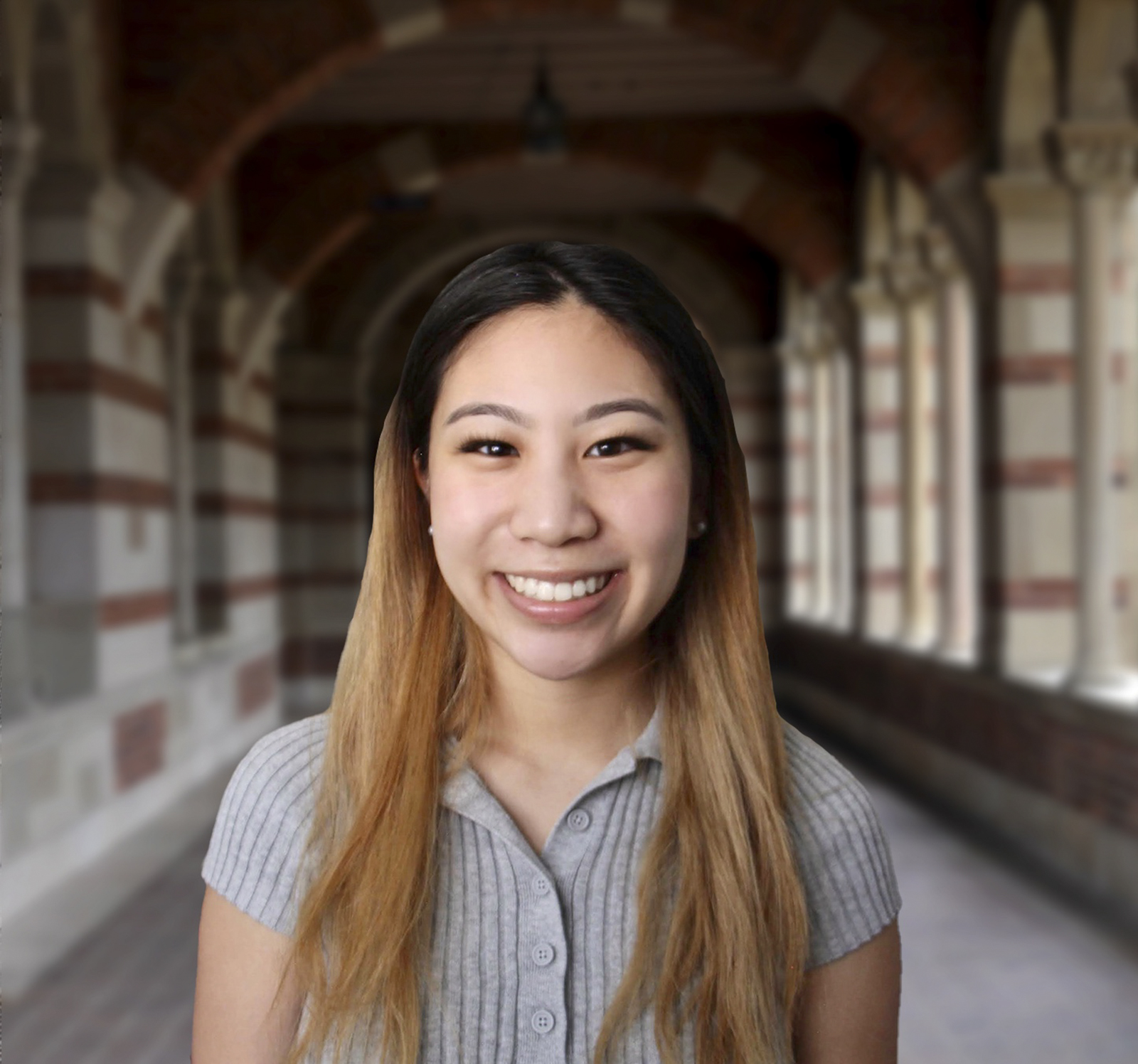 Many Westwood businesses are looking forward to new opportunities amid rising vaccination rates and easing of the public health guidelines instituted because of the COVID-19 pandemic.
[Related: The Stack: Westwood Business Turnover: An analysis of the impact of the COVID-19 pandemic on Westwood businesses]
In Westwood, at least 41.1% of the total population has been fully vaccinated. California will fully open June 15 if hospitalization rates are low and vaccine supply is sufficient, according to a statement from Gov. Gavin Newsom's office.
Theresa Nguyen, a shift lead at Meet Fresh – a Taiwanese dessert shop – said the store's desserts, like their icy taro ball and grass jelly soup, attracted crowds during the store's opening at the end of 2020, but their novelty has since worn off.
"We started off pretty strong, I think, and attracted a lot of large crowds because it was really new, and a lot of people wanted to try something like Meet Fresh. It's a very niche type of desert, especially in an area like Westwood. … But then lately, I think after that kind of area of newness, we have been getting a lot slower," Nguyen said.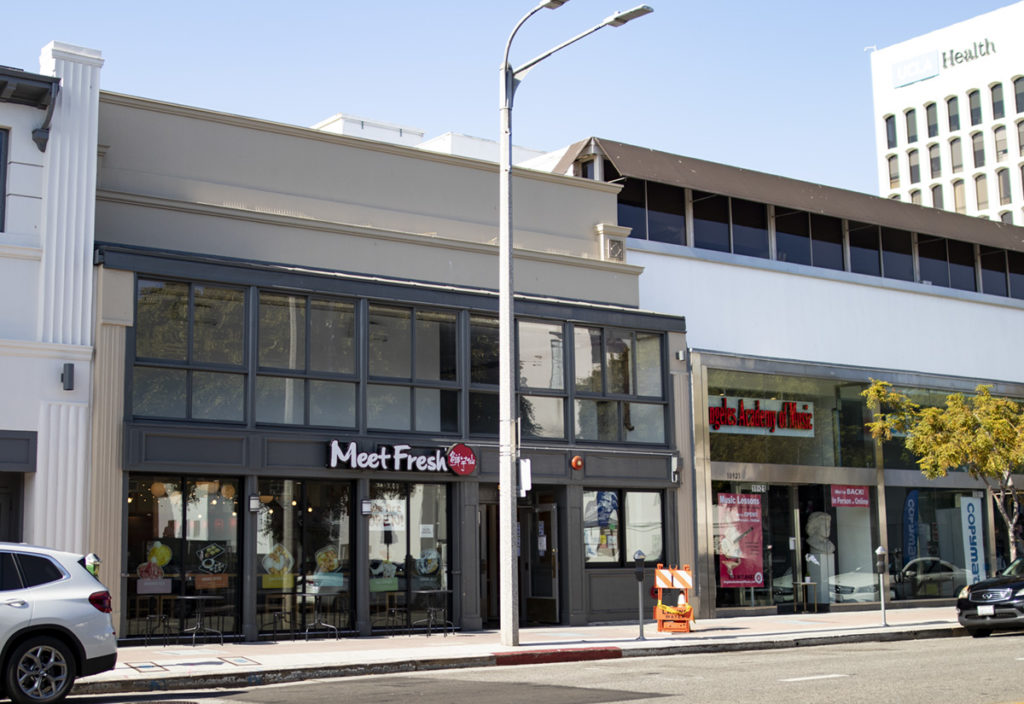 Nguyen added that Meet Fresh is hoping to increase sales by offering study areas for students. Many students already have begun hanging out with friends or sitting and studying there, she added.
Some Westwood Village businesses are hoping for an increase in customers as Bruins return to campus in the upcoming months, said Andrew Thomas, the executive director of the Westwood Village Improvement Association.
Some large retailers, like Victoria's Secret, closed, but smaller stores survived relying on personal relationships with their customers, Thomas said.
Ian Flores, a manager for the boba tea house Sharetea, said the store's customer base was essential for Sharetea to remain open. Food delivery services like DoorDash also helped increase sales volume when business was slow, Flores added.
"We would have had to close … if we only relied on people walking in-store, which we couldn't because everything got restricted in the first few months of the pandemic," Flores said.
Flores said he anticipates more people coming to Sharetea because of increased vaccinations and an influx of customers in Westwood. Diners from nearby restaurants, like Barney's Beanery and Ami Sushi, are increasingly stopping by Sharetea for a post-dinner boba fix, Flores added.
However, the upcoming months won't necessarily be all smooth sailing for businesses, Thomas said.
Government organizations are finding ways to offer relief during the pandemic, and it can be difficult to navigate these services, Thomas said. There was uncertainty about how some funds could be used, as many funds were originally limited to staff and labor but later expanded to be eligible for covering rent and other costs, Thomas added.
The government has created grants and loans to aid small businesses during the pandemic, such as the Restaurant Revitalization Fund, Paycheck Protection Program, Economic Injury Disaster Loans and the Small Business Disaster Relief Loan Guarantee Program.
Thomas also said smaller businesses have more difficulties when applying for loans. Family-owned business owners juggle many responsibilities that may prevent them from being able to complete the application process or find lenders, he added.
Amid lower revenues and other financial woes, Thomas said many businesses have been paying reduced or deferred rent but will need to pay full rent around June 15.
"That's the time that I'm worried about because I'm worried about businesses that can't meet that back rent, and what happens then?" Thomas said.
Vicken Bamokian, owner of Campus Shoe Repair, said rent is his business's biggest issue because they are behind on payments. He added governmental programs assisting small businesses – such as the Paycheck Protection Program – provide limited financial help because his business does not have a large payroll.
"It helped, but it's not that much because it's not that much (of an) amount, because we don't have a big payroll. It's all linked to the payroll, the PPP," Bamokian said.
[Related: The Quad: The Paycheck Protection Program and how it has affected Westwood businesses]
Nguyen said Meet Fresh is barely making enough money to cover rent and is losing money overall because of business costs. There were unexpected fees not covered by rent costs such as hundreds of dollars a month to pay for a trash can or a few employee parking spots, she said.
As Bruins return to Westwood for the 2021-2022 academic year, Thomas said he expects fall to be a new peak for Westwood Village businesses since local stay-at-home orders began.
"Westwood Village is a shopping district," Thomas said. "It's a little different than a lot of places where the holidays are the big time for shopping, you know. Here, it's back-to-school. It's when UCLA opens up again. That's when things are really bumping."