UCLA film student refuses to romanticize sensitive topics in 'Here's to My Love'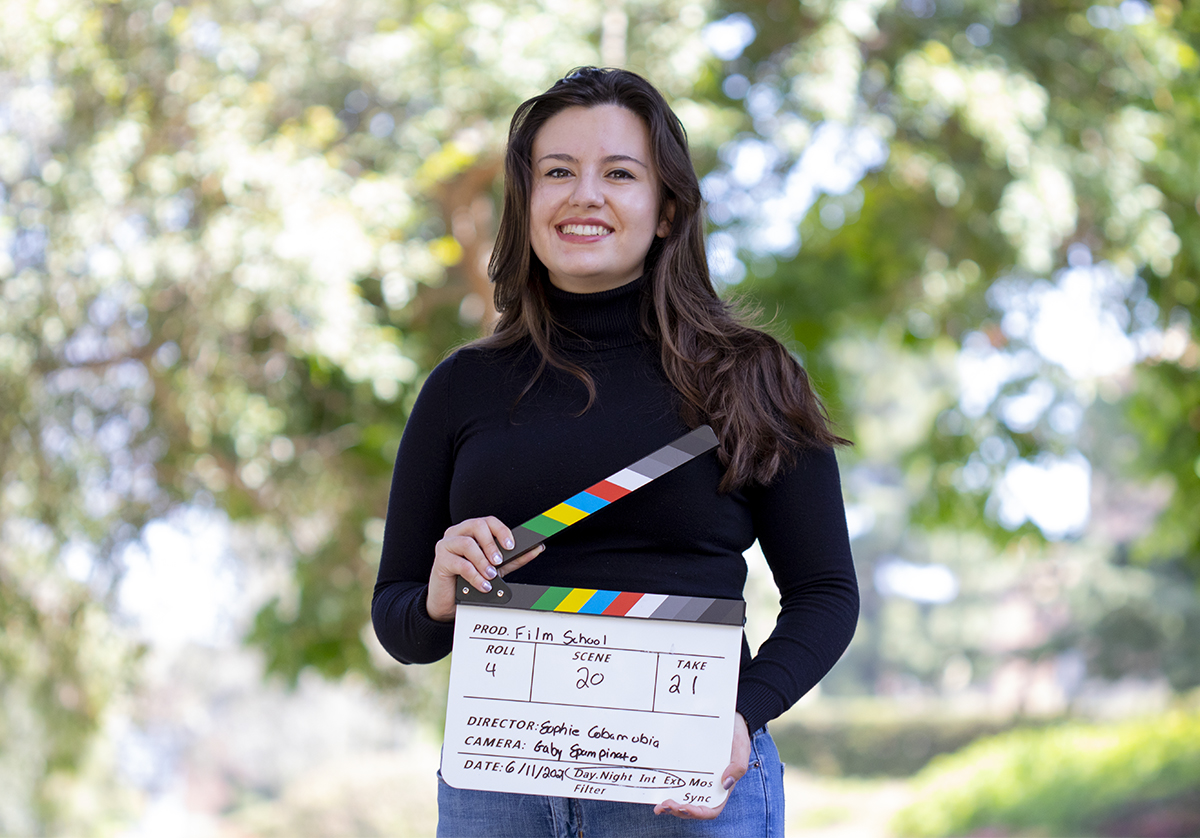 Fourth-year film and television student Sophia Cobarrubia challenges the romanticization of suicide in her senior thesis project. Though the project faced setbacks amid the COVID-19 pandemic, Cobarrubia said she was willing to delay production in order to do her film justice. (Kristin Jean Pischel/Daily Bruin)
Sophia Cobarrubia is denouncing the romanticization of suicide through short film.

The fourth-year film and television student began crafting a narrative for her senior thesis project after noting the relationship between lovers and suicide in classical literature. The film, currently titled "Here's to My Love," follows a woman with depression named Casper (Natalie Couture) and the ghost of her favorite author, Anne Jones (Lucy Krubiner), whose suicide she intends to emulate. Overall, Cobarrubia said her script focuses on Casper's journey as she battles to find faith in herself and regain her own narrative amid a strong connection with the ghost.
"What I really wanted to do was show someone who 100% believes in the beauty … of the writer that she loves and then walks away from it," Cobarrubia said, "(She) is able to take a breath, to look at herself, to look at this writer and say, 'That's not me.'"
Cobarrubia said a notable example of literary romanticization of suicide appears in "Romeo and Juliet," as the story's trope of two people loving each other so much that they have to die is made to be both tragic and beautiful. The song "Vincent" by Don McLean also influenced her script, she said, with the particular lyric, "You took your life, as lovers often do." Cobarrubia said she wishes to challenge this idea that McLean highlights, hoping to convey through her film that being in love doesn't mean someone should have to take their life.
[Related: Students delve into diverse narratives of popular films in new 'Iridescence' podcast]
Lead actress, producer and third-year economics and English student Natalie Couture said it is important for her to portray these heavy topics in authentic ways. She said she intends to pull inspiration from her own experiences with depression and anxiety to deliver a performance that's not embellished or romanticized, but rather authentic and real.
Though the pair had worked together before, Cobarrubia said Couture was not the person she had initially envisioned for the role of Casper. During the casting process, however, Cobarrubia said she realized that Couture was a perfect fit because she understood Cobarrubia's vision of incorporating cruel humor into an intense atmosphere.
As her senior thesis project, Cobarrubia said she had originally intended to follow a directing concentration within the School of Theater, Film and Television, which would have seen her film produced last fall. However, after COVID-19 pandemic guidelines were announced, she said she realized having restrictions would hinder the creative direction of her project.
"If I was going to make a film this year, I had to do something that was … actually going to push me in a way that wasn't … my roommates in my tiny, little dark apartment," Cobarrubia said. "It was really hard to make that choice and it was never a choice that I hoped to have to make."
[Related: UCLA film student draws on Filipino heritage in thesis project 'Beauty Queen']
After making the decision to delay production until July, Couture said the team has worked primarily on the preproduction process. As producer, Couture said she was tasked with mediating the budget, finding crew members and obtaining permits for shooting locations. With the hope that COVID-19 restrictions will be lifted by summer, Couture said she is optimistic the crew will not run into any unforeseen challenges during filming.
"Thankfully, we're making the movie at a point now where people have been working on projects, and there's kind of a template for how to make the films with COVID-19 restrictions," Couture said. "We're not the first people attempting to do it, so I'm definitely thankful that the entertainment industry and other student films have kind of set a precedent that we can follow when shooting this summer."
Once production begins, the crew intends to shoot the film in the Pacific Northwest in order to create a natural look, said Gabriela Spampinato, a graduate student in film and the director of photography. Drawing inspiration from films like "Portrait of a Lady on Fire" and "Swiss Army Man," Spampinato said she wants the film to have a mystical, fantastical feeling while also incorporating the Pacific Northwest's vegetation, fog and organic environment.
As her first large project, Cobarrubia said she intends to submit the film to festivals upon its completion early next year. But whether or not the film gets accepted into festivals, Cobarrubia said her main focus is on the film's production and its ability to tell an authentic story – one that strays from the norm by highlighting a person's ability to walk away from the romanticization of demoralizing thoughts.
"(Making a film) about something that I care about … with a bunch of people that I care about, with a 90% female crew, that is an accomplishment," Cobarrubia said.