California to provide monetary incentives to improve COVID-19 vaccination rates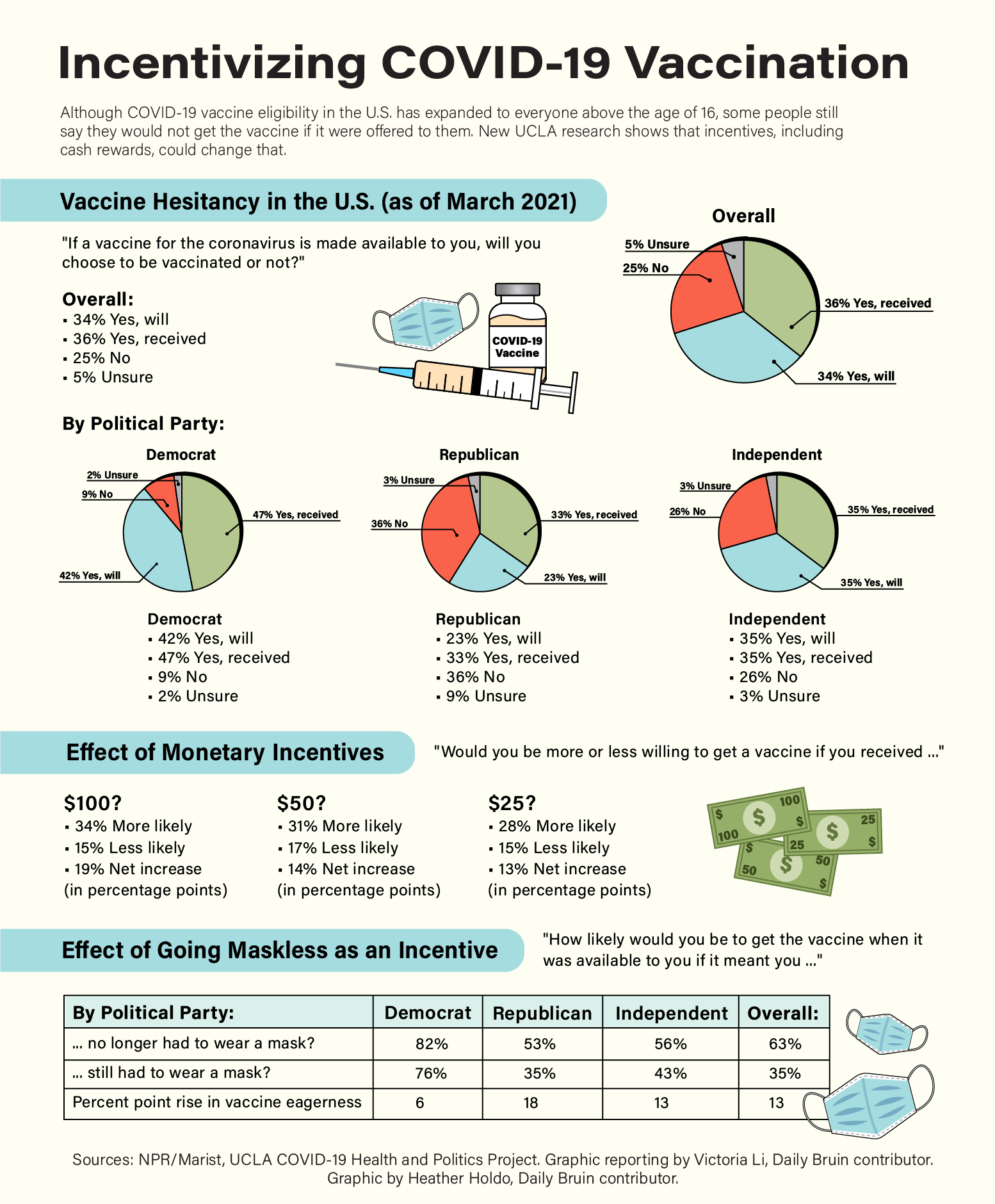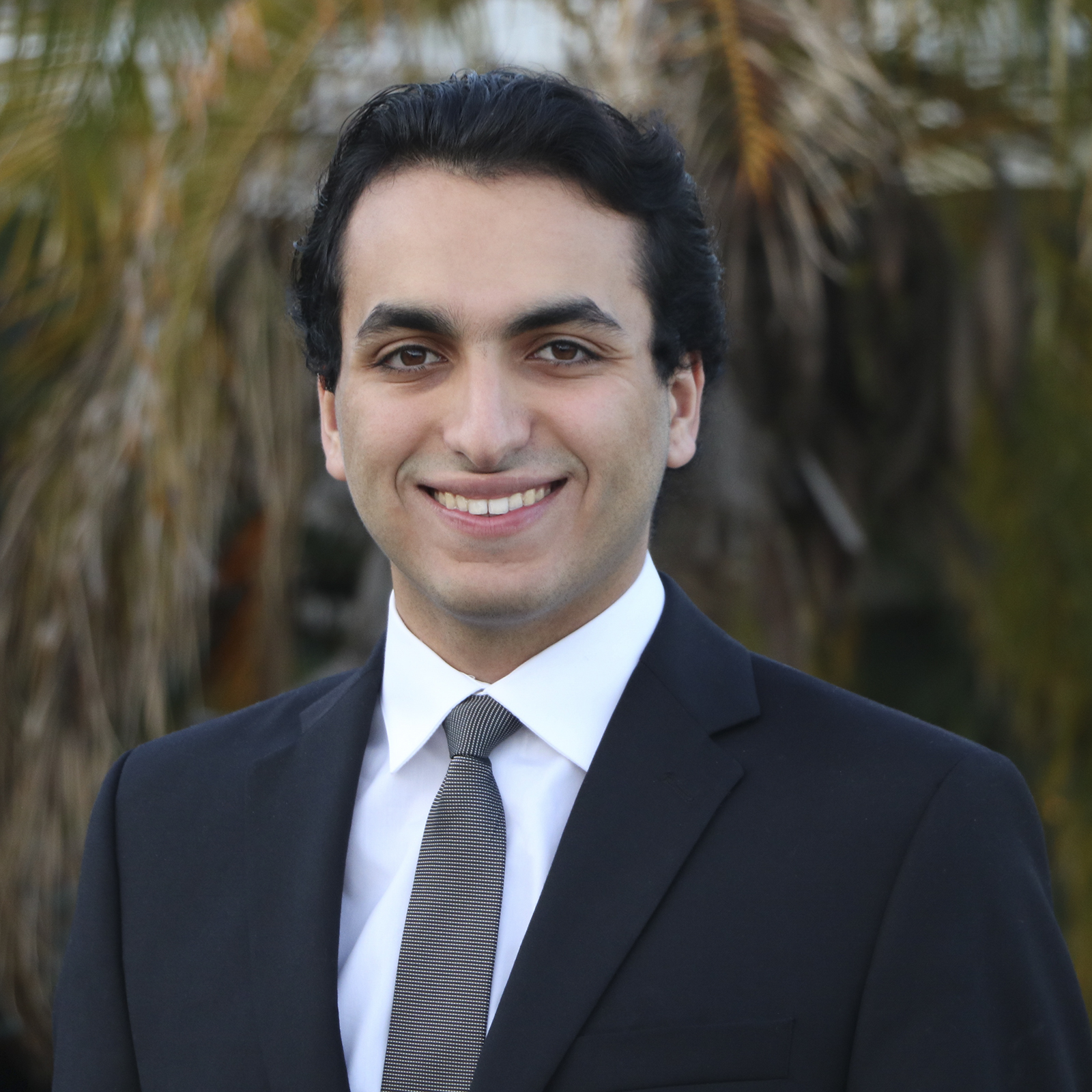 Current results from a UCLA-led survey study suggest that a cash reward is likely to motivate people to receive the COVID-19 vaccine.
Researchers with the UCLA COVID-19 Health and Politics Project found that 31% of people would be more likely to get vaccinated if offered a $50 cash incentive. $25 and $100 incentives also increased people's inclination to receive the vaccine.
The results for this part of the randomized controlled study were based on more than 7,200 survey responses from unvaccinated people between March 24 to April 14.
The state of California is providing reward incentives for individuals to get vaccinated.
Gov. Gavin Newsom announced Thursday that California will provide $50 incentive cards to 2 million people who complete their COVID-19 vaccination beginning May 27 as part of a $116.5 million program called "Vax for the Win." Individuals who get vaccinated as part of the program will receive a text message with a prepaid card redemption code.
Californians who are at least partially vaccinated will also be eligible for cash prize drawings, including 30 winners each receiving $50,000 and 10 winners each receiving $1.5 million. All people in California who have been previously vaccinated are also eligible for the cash prizes.
"We're putting aside more resources than any other state in America," Newsom said at a press conference Thursday. "We're making available the largest prizes of any state in America for those that seek to get vaccinated."
More than half of Californians are fully vaccinated against COVID-19, according to a state dashboard, but 12 million eligible people in California have not yet gotten the vaccine.
Dr. Arash Naeim, a principal investigator of the UCLA study, said states and local governments are working to find ways to encourage people who have not yet been vaccinated.
"There is not going to be one solution for everyone in how to nudge people in the right direction," said Naeim, the chief medical officer for clinical research at UCLA Health.
Some who are unvaccinated may be nudged by a monetary incentive, Naeim said, while others might be nudged by restoring some freedoms, like foregoing masks.
For example, the UCLA study found that lifting masking requirements could be an effective incentive, with an increase of 13 percentage points in all individuals' level of vaccine eagerness if they would no longer need to wear a mask.
Others may need to be persuaded by educational campaigns that address common misconceptions about vaccines, Naeim said, though educational campaigns may not be able to nudge those who do not trust government or scientific sources of information.
"People that are concerned about the degree of testing safety, and are open to data driven efforts to better understand that, can conceivably be nudged with information if it's delivered in the proper way," Naeim said.
[Related: Social media campaigns provide education about COVID-19 vaccines]
Dr. Neil Wenger, another principal investigator of the study and a professor of medicine, said it is important to tailor the vaccination program to different populations.
The study found different responses to vaccine messaging, including differences based on political affiliation.
For example, the study found that messaging about the removal of masks raised Republicans' eagerness by 18 percentage points, while it raised Democrats' eagerness by 6 percentage points.
However, financial incentives for vaccines may have potential drawbacks. The UCLA study also found that 17% of people would be less likely to receive the vaccine if there was a $50 incentive.
"There may be some people who feel like, 'Well, why is it that someone has to pay me to get it if it's supposed to be so good for me?'" Naiem said.
Even with drawbacks, Wenger said the research shows that even small financial incentives can substantially increase the proportion of people who become vaccinated, so it makes sense to use incentives when in a rush to increase vaccination rates.
Andrea Gasca, a first-year nursing student, said she believes the $50 incentives and cash prizes will help motivate college-aged students to get the vaccine.
Benjamin Liker, a third-year chemistry/materials science and political science student, said he thinks his unvaccinated friends will be swayed by the new incentive program since the vaccination process has been inconvenient for many of them.
"As more people get vaccinated, it's closer to our goal of herd immunity, and getting money in pockets is good, so I feel like it's a win-win," Liker said.
Wenger said he believes that beyond incentives, there is a moral responsibility to get vaccinated because of the danger of COVID-19 spread and new variants.
"People feel responsibility morally within society," Wenger said. "The more that we can get people to recognize that responsibility and act appropriately, the better off we are as a society."