Movie review: 'Cruella' delivers powerful acting, soundtrack despite its lack of plot originality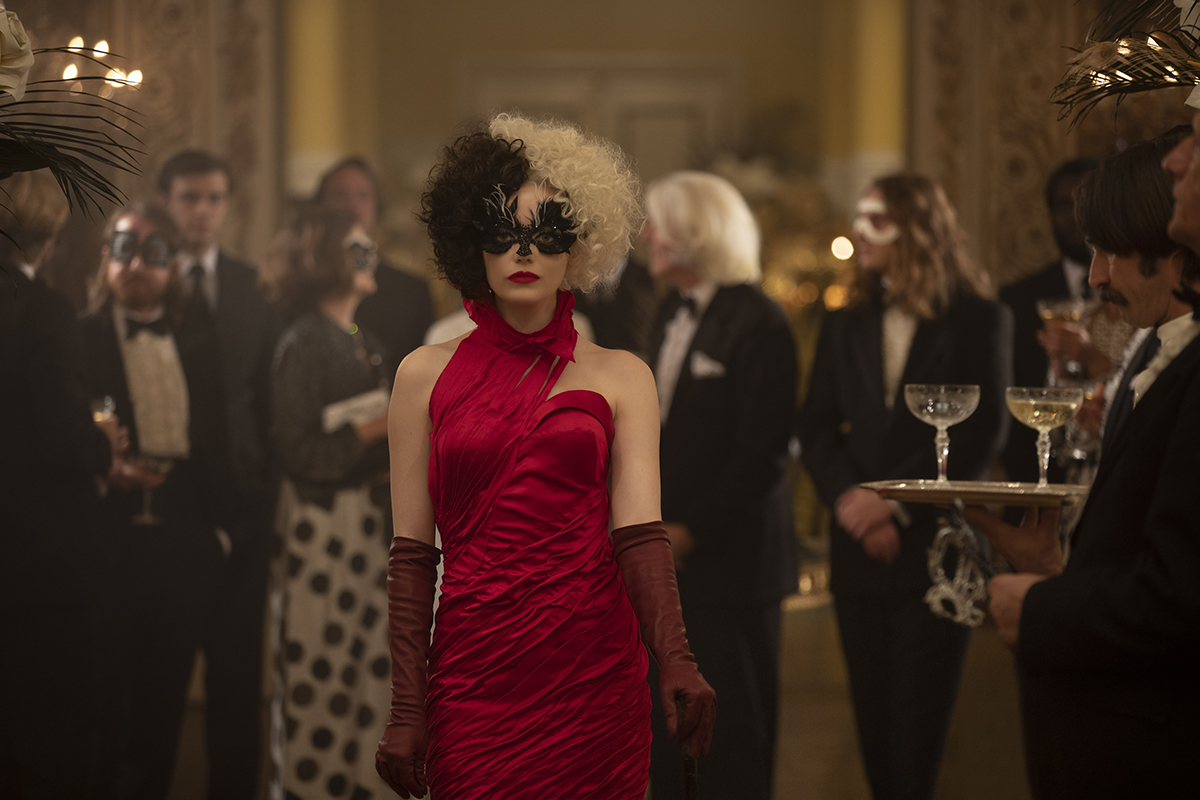 (Courtesy of Laurie Sparham)
"Cruella"
Directed by Craig Gillespie
Disney+
Released May 28
"Cruella" mixes '70s fashion, edgy music and its famous Dalmatians in a prequel that would be almost too cruel to miss.

Much like its 2014 film "Maleficent," Disney's newest live-action follows the origin story of the notorious villain in the Disney classic "101 Dalmatians." Now playing in theaters and streaming on Disney+ with premier access, "Cruella" takes place in 1970s London amid the contrasting worlds of fashion and music. With a polished visual aesthetic juxtaposed over a rock-dominated soundtrack, the film successfully answers viewers' questions about the villainess but fails to create a novel background story for Cruella without borrowing from other popular films.
"Cruella" opens with a young Cruella de Vil (Emma Stone) – who at that point went by Estella – and her mother Catherine (Emily Beecham) traveling around England while the latter pursues a failed fashion career. With her signature two-toned black and white hair, Estella creates a reputation for herself at school as someone who doesn't put up with bullying, regardless of the consequences. The film then quickly, albeit ambiguously, explains Estella's hatred for Dalmatians, the origin of her nickname "Cruella" and how she finds her way to London, prompting viewers to grow more curious about Estella's background.
[Related: TV review: 'Friends: The Reunion' leaves fans nostalgic while celebrity guests distract]
In a stale and overused plot move reminiscent of "Oliver Twist," Estella befriends a pair of orphaned pickpockets, Horace (Paul Walter Hauser) and Jasper (Joel Fry), forming a notorious trio of conniving thieves. The three grow up together and Estella eventually lands a janitorial job at a department store where she catches the eye of a renowned fashion designer known as the Baroness (Emma Thompson) which begins her ascent into the fashion world. This predictable but satisfying career transition for Estella promptly establishes where Cruella gets her trademark red lipstick and grants Estella the opportunity to pursue her dream of becoming a well-known designer.
Unfortunately, the main plot points of the film begin to deteriorate as Disney lazily borrows themes directly from the 2006 film "The Devil Wears Prada" in an effort to build suspense. With an overbearing and selfish boss who overworks all of her employees, the Baroness clearly has no personality traits other than being a narcissist and embodying a '70s version of Miranda Priestly. In attempting to portray the cutthroat nature of the fashion world, Disney sacrifices what could have been an engaging and original look into 1970s London fashion, leaving viewers feeling as though they are experiencing deja vu.
However, one thing the film executes effectively amid the lack of plot originality is interweaving a soundtrack full of pop and rock classics. The implementation of songs from musical groups like Queen, the Bee Gees and Supertramp successfully adds a deeper element to Cruella's character as a fashion revolutionary despite her more conservative surroundings. The music sharply contrasts the more polished visuals, and it is this displacement that allows the soundtrack to perfectly emulate Cruella's eccentric character.
[Related: TV review: 'Shadow and Bone' needs more depth, character development in future seasons]
Though the film addresses various questions about Cruella's past, like her upbringing, how she knows Horace and Jasper as well as her relationship with Anita (Kirby Howell-Baptiste), it fails to account for a key element in "101 Dalmatians" – why she wants a Dalmatian fur coat. The Dalmatians themselves turn up at various points throughout the film, but their presence feels forced and random as the origin of the spotted canines is never explored thoroughly.
Fortunately, this large gap in Cruella's storyline is offset by Stone's mastery of the character as her seamless transition from misfit to fashion icon leaves viewers wanting to sympathize with Cruella, regardless of her malevolent actions in "101 Dalmatians."
Though it tends to borrow heavily from other stories, "Cruella" successfully provides audience members with important plot points that explain elements of "101 Dalmatians." The film provides interesting background on the classic villain and helps the audience understand the character's ruthless pursuit of justice, despite a large gap in the storyline.
With a classic rock soundtrack and revolutionary wardrobe, Disney has managed to create an entertaining film fit for the devil.