'BFE' brings Asian American story of belonging to the virtual stage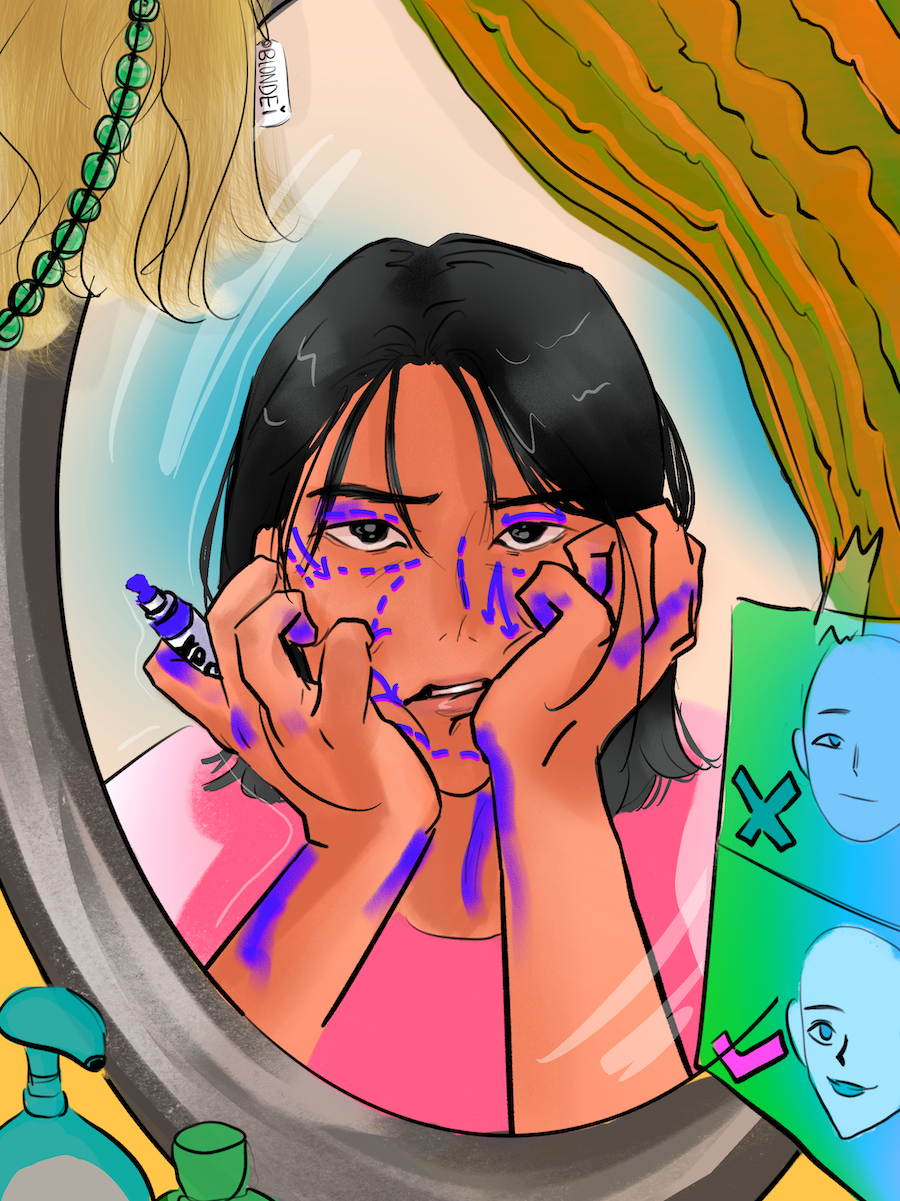 (Jocelyn Wang/Daily Bruin)
"BFE"
May 15-16
Online
Free
This weekend, UCLA's center stage will be accessible to anyone around the world.
The School of Theater, Film, and Television will be streaming its departmental play, "BFE," Saturday and Sunday. Directed by graduate student May Fei and written by Julia Cho, the play tells the story of Panny and her family's tumultuous experiences in the isolated town of BFE, Arizona. The town has been plagued by mysterious disappearances of conventionally beautiful blonde girls who are roughly Panny's age. Played by first-year theater student Katia Choi, the protagonist and her family are the only Asian Americans in the city, and as a result, Fei said the protagonist feels immense pressure to conform to Eurocentric beauty standards despite the missing person cases.
"My character specifically, Panny, struggles a lot with her insecurities and her own self-worth as a person," Choi said. "She places a lot of value in her looks, and that drives a lot of the decisions she makes in the play."
To complicate things, quarantine intensified the amount of preproduction work required to get "BFE" ready for streaming. With crew and actors living in different locations, Fei said the actors had to master time management and readjust their acting techniques to work within the confines of a Zoom rectangle. The crew shipped lights, props and costumes to the actors, thus leaving them entirely responsible for their own set changes.
In the past, Fei said she has performed both domestically and abroad in places such as Russia, Mexico and China, and she is in the midst of her second graduate degree that she will receive in the realm of on-stage producing. Despite these qualifications, Fei said her work did not prepare her for transitioning her work onto a purely online platform.
"From the first time I started learning directing, I couldn't ever foresee doing theater on a virtual platform," Fei said. "The reason I love theater is because I'm a super nostalgic person. I love just sitting in one space and looking at the empty stage, seeing the lighting, seeing the acting."
[Related: Grad student's thesis project explores hardships, liberation in short dance films]
Though the play occurs mainly through the eyes of Panny, Choi said her whole family receives a bit of the spotlight as each member reflects on their own personal life challenges. Panny's mother, played by first-year theater student Isabelle Roth, is the driving force behind most of Panny's insecurities – when around her mother, Panny never feels beautiful, Roth said. Conversely, fourth-year theater student Joshua Poon said his character, Panny's uncle Lefty, is quiet but keenly observant of the world around him as he privately grieves over the sacrifices he has made to help Panny's family.
"My biggest attachment to this show is Panny's character," Poon said. "Her struggle with her self-worth and feeling like she's unequal to everyone else, and feeling different because of her ethnicity and background. I feel like that's something I continue to struggle with in my own life today."
Although the play was written in 2003, Fei said it is still extremely relevant as it deals with the timeless issues of growing up, conforming to beauty standards and confronting prejudice. These issues hit home for many of the actors – Poon said he decided to audition for "BFE" after realizing the story is told from an Asian-American perspective that's similar to his own.
[Related: Alumna's film 'I Blame Society' brings humor to dark side of entertainment industry]
Like Poon, Roth said she was excited to be a part of a play with predominantly Asian American representation. Though she knows that "BFE" is a somewhat dark story, she said it is also a story that needs to be told, especially in 2021.
"In the climate of COVID and the rise of anti-Asian hate crimes, I think it's really important for the audience to look at the message of this story of an individual girl struggling with her identity and be able to … expand it into empathy with the entire Asian community and other marginalized communities in general," Roth said.
In showing "BFE," Fei said she hopes audiences will not only learn about the lived experiences of Asian Americans but that they will also understand the universality of the issues that the play addresses through its characters. She said she realizes that quarantine may have intensified many of these personal struggles. So, she hopes by helping audiences relate to Panny's mother's fears of isolation, Lefty's search for companionship and Panny's struggle with her own beauty, viewers will feel less alone in fighting their own demons.
"I hope (audiences) enjoy watching," Fei said. "I hope they laugh during the performance. I hope they feel closer to love after this performance. I hope they feel that they are not that isolated, and they should not give up on being closer to others."