Artists at Play hosts free virtual plays showcasing Asian American resilience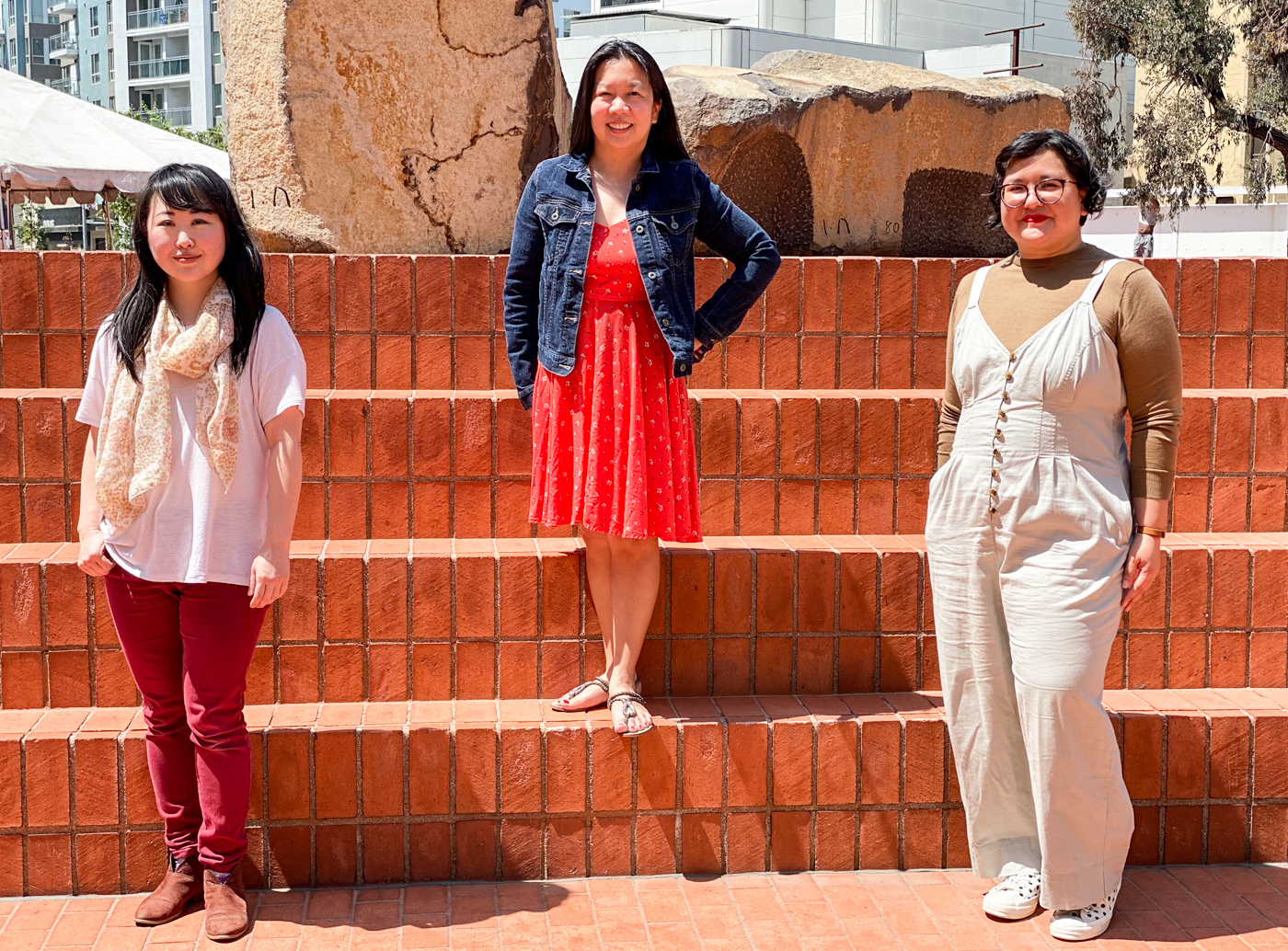 Julia Cho (left), Stefanie Lau (center) and Marie-Reine Velez (right) are the founding members of the theater company Artists at Play, which produces theatrical programming that focuses on the Asian American experience. (Chelsea Westman/Daily Bruin)
"Question 27, Question 28"
May 8 – May 21
Online
Free
The Los Angeles-based theater company Artists At Play embodies Asian American resilience as it breaks through the hardships of virtual theater.
In honor of Asian American and Pacific Islander Heritage Month, Artists at Play is hosting free virtual performances starting with the play "ALLOS: The Story of Carlos Bulosan," which ran from April 24 to May 7. Next up is Chay Yew's "Question 27, Question 28," available now for streaming until May 21 through the company's website. The latter production was first performed onstage in 2004, and Yew said the title alludes to the controversial questionnaire that the American government sent to Japanese American men during World War II, demanding their loyalty as they were placed in internment camps.
"The important thing about experiencing the play again in this particular time is to understand that (AAPI hate) is not new," Yew said. "This has happened before. The fact that it was not normally taught in schools or articulated in narratives in film and TV media led Asian Americans to become invisible."
UCLA alumna Stefanie Lau said she along with Julia Cho and Marie-Reine Velez founded Artists At Play in 2011 to bolster AAPI representation. Lau echoes Yew's sentiment as she said the plays highlight the historical precedents of the violence inflicted against the Asian American community today while also underscoring Asian Americans' resilience in facing systemic issues.
"We are not just the violence that has happened to us," Lau said. "Japanese Americans who were in internment camps still celebrated weddings, birthdays and the birth of children and grandchildren. There was happiness in all of this."
[Related: Alumna's film details source of LA water supply, emphasizes Indigenous voices]
One of the theater company's core values is rooted in the endeavor to respectfully and accurately portray the culture they exhibit through their plays, and Lau said Artists At Play does this by working with creatives who have an in-depth knowledge of these cultural nuances. For example, she said "ALLOS" has a heavy Filipino American cast, and it's through this collaborative work that the theater company is able to justly present the play. Furthermore, she said "Question 27, Question 28" is presented in partnership with the Japanese American National Museum, which allowed them to create an authentic story and play-going experience.
Reflecting a core value of Artists At Play, Yew's "Question 27, Question 28" is a documentary play based on records and historical accounts of Japanese Americans victimized by the United States' response to the Pearl Harbor bombing. He said the play particularly focuses on the experiences of Japanese American women in World War II internment camps because their points of view were often overlooked by fellow creatives.
But because plays usually demand to be experienced live in person, Lau said virtual theater has its shortcomings. The digital formatting of the shows separates the actors from their audiences, which makes it difficult to form connections with each other. But she said the online setting also mitigates accessibility issues as patrons no longer have to worry about the commute and the play's affordability.
[Related: Theater review: 'Someone Else's House' immerses audience in eerie virtual experience at home]
Moreover, Lau said the hardships of virtual theater widened doors for collaboration between creatives, with actors from different locations partaking in the same projects. Kenneth Chiu, who works alongside Lau to promote Asian American theatrical works as president of Asian Pacific Alumni of UCLA, said he applauds the actors' ability to remain effective in their storytelling despite the constraints of online production.
"(Actors) don't have the luxury of full sets and lighting and some of these other things that enhance their performance," Chiu said. "You can really appreciate the acting and the storytelling because that's what you're left with."
Ultimately, Lau said a goal of these virtual plays is to educate patrons about the stories of the Asian American community. Despite Artists At Play's limited resources, she said their team does their best to fill in the gap of what mainstream institutions have often failed to provide: a platform that accounts for the diversity within the Asian American community.
"Oftentimes, when you talk about Asian American stories, they're very much conflated with East Asian stories," Lau said. "It's not to say that those experiences aren't important, but we do know that there are lots of different countries in Asia, many ethnicities, many experiences. (Other people) say that this is Asian American history, but ultimately, it is also part of American history … and we can't ignore that."